Max Verstappen was back to his usual dominant ways after a stellar qualifying the Red Bull driver delivered another masterclass to dominate the 2023 Japanese Grand Prix on Sunday.
It is the soon-to-be triple F1 World Champion's first victory at Suzuka, his 13th victory of the season and the 48th of his career. As Red Bull sealed the 2023 F1 Constructors' World Championship thanks to his efforts alone, while teammate Sergio Perez endured a miserable, even humiliating, DNF on his team's great day.
Fittingly, Max clinched the title for his team – solo! Enough said.
From the start, Verstappen roared off the line aggressively closing off the two McLarens in his mirrors to take the lead he was never challenged for thereafter. He crossed the line on lap 53, 19 seconds ahead of his closest rival. It was a typical masterclass of dominance: in other words, Max was on another planet!
Beaming, Verstappen reported in Parc Ferme: "Unbelievable weekend. To win here was great. The car worked really well on every compound. The most important thing was to win the constructors. Very proud for everyone working at the track and at the factory. We are having an incredible year."
No win yet, but a great day for McLaren with Lando Norris taking a fine and well-worked second place, ahead of Oscar Piastri who played the team game to allow his teammate into second to try to chase the RBR way ahead.
Of course, Norris did not catch Max, but did enough for his fourth podium of the season and Piastri taking his first podium (of what is sure to be many) on a great weekend for Mclaren, and a substantial points haul for the resurgent team.
Norris said afterwards: "Another amazing day for us, a P2 and a P3. My start was very good. I almost had Max. Max is Max as well so I didn't have much chance into Turn Two. But I tried and the pace was extremely strong comparing to everyone.
"We're not close to Max but we are not miles away either so I'm very happy. Also for Oscar as well, it's his first podium in Formula 1 so congrats to him. We're getting there. We are pushing and the progress we have made is pretty outstanding.
"I'm very proud of the team and the steps forward we are making every weekend. A first double podium together with Oscar," Norris pointed out.
Piastri added: "It feels pretty special definitely. I will remember it for a very, very long time.  I can't thank the team enough for giving me this opportunity.
"There are not many people who get this opportunity in their whole life and I've managed to have it in my first season. It wasn't my best race ever but it was enough to get a trophy at the end, so super happy," admitted the young Australian.
Charles Leclerc was fourth, albeit 43 seconds down on the leader at the end of the race with Ferrari teammate Carlos Sainz in sixth. A weekend in which Ferrari was third in the pecking order, when last Sunday they ruled the roost.
In fifth place from seventh on the grid, Lewis Hamilton split the Reds after an eventful Grand Prix. Battling hard with teammate George Russell, coming off better as on fresh tyres at the end the #44 car found its legs.
In the sister car, George gambled on a one-stop strategy that compromised him at the end. He finished seventh on an underwhelming day for Mercedes, fourth in the pecking order at Suzuka.
Fernando Alonso was great entertainment again. The Aston Martin driver made a bunch of places on the opening lap before an early Safety Car was called after a messy first lap.
Several cars were involved in skirmishes, but both Alfa Romeos were the worst off. Perez was also involved, pitting with a damaged front wing.
Alonso survived and was central to several battles in a car that needed hard driving. His effort was rewarded with eighth place, while teammate Lance Stroll was forced to DNF with a rear-wing failure.
The final two points-paying places went to Alpine with Pierre Gasly in P9 and Esteban Ocon P10. A solid result after a weekend in which the French team were on the back foot.
A final word from 2023 World Champion Red Bull team boss Christian Horner: "It's been the most amazing race for us and most amazing year. It's a testament to all the men and women back in the factory at Milton Keynes. To Red Bull and all our partners, it's a collection of an incredible effort of everyone doing their bit to achieve results like we have done and Max is on just another level at the moment."
Report in progress…
2023 Japanese Grand Prix Result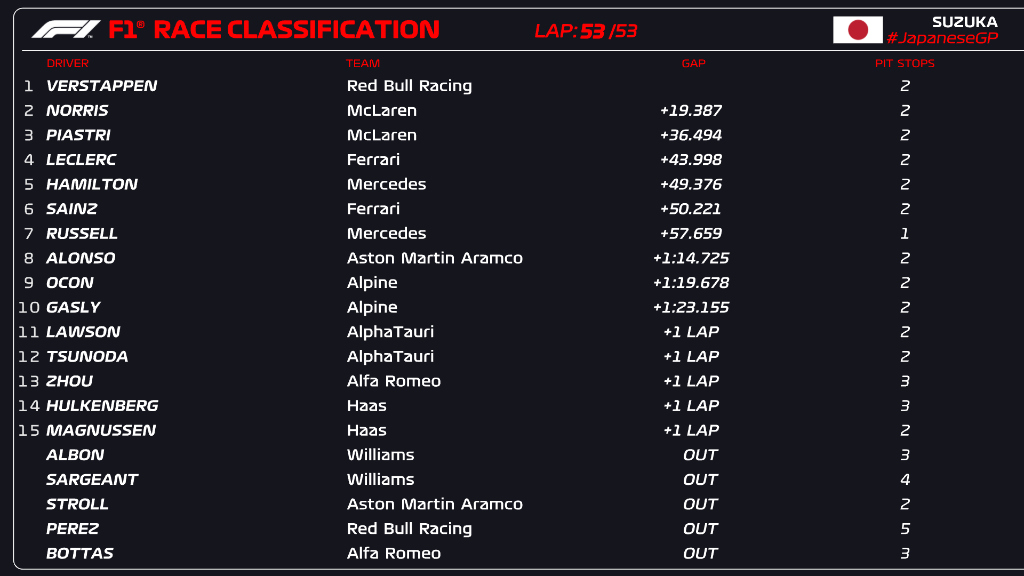 This is how the 2023 Japanese Grand Prix unfolded:
Verstappen got off the line, outdragged feisty Piastri and took the lead. Behind his it was scrappy, chaotic even, with bits flying off cars on the main straight flinging debris onto the racing line.
Several cars were involved, but both Alfa Romeos were worse off. Perez was also involved with a damaged front wing. Safety car deployed. And when the RBR rejoined, he made a hash of it and was given a 5 second penalty for speeding into the pitlane.
Restart order: VER-NOR-PIA-LEC-SAI-ALO-HAM-RUS-LAW-TSU. Notable climbers are Alonso up to sixth from 10th on the opening lap, and Lawson in the top ten, ahead of Tsunoda, after going wheel to wheel with his teammate. Perez is down in 18th. Safety car in on Lap 4, immediately Verstappen gaps it with McLaren's and the rest chasing.
Russell gets by Hamilton, on Lap 6 into the chicane, but the seven-time F1 World Champion gets past on the main straight again. Respectful and fair. Bottas spins into the kitty litter, he pits for a check and emerges last. All cars in the running.
At the front by 2.5s, Verstappen sets the fastest lap.
Lap 10 order VER-NOR-PIA-LEC-SAI-ALO-HAM-RUS-LAW-TSU. Stalemate at the front. Both AlphaTauri's running in the top ten, dive into the pits for tyres.
Gap at the front between VER and NOR, 4.5 seconds on lap 12, just as Alonso made an unforced early first stop.
Perez was in the wars, desperate and clumsy he clattered into the Haas of Magnussen. A dreadful afternoon for the teammate of the runaway leader. The Mexican reported that the car "does not feel right" and told to retire the car.
On lap 14 VSC deployed, just as Piastri dived into the pits. Of the top ten PIA, OCO and ALO were the only stoppers at that point.
At the front, Verstappen was ten seconds ahead of Norris, and the Ferrari duo couple of seconds adrift.
The Merc pair were fighting hard, Hamilton made an error which brought Russell into his mirrors before the team pitted Lewis who made some hefty defensive moves on his teammate.
Verstappen pits on lap 17, and emerges third with only Sainz and Russell ahead, yet to stop.
Lap 20 order VER-RUS-PIA-NOR-LEC-OCO-ALO-SAI-HAM-TSU. Sainz stops leaving only Russell yet to stop.
Alonso dropping back was unhappy with the timing of his stop: "You've thrown me to the lions" declared the veteran.
Sainz, Hamilton and Ocon soon past Alonso, as Stroll parks in the garage with a failed front wing the team reported later to Alonso, assuring him no threat to his car. DNF for the second Aston.
At the front P2-placed Russell, on a different strategy to all, was 9.5s behind leader Verstappen until lap 25 when the Merc dived in for a stop.
Piastri was 11 seconds adrift, in second place with Norris in his mirrors and wanting to get by before the McLaren swapped their cars. With Leclerc fourth a further 5s adrift and Sainz 2.5s behind him.
Lap 26, Sargeant DNF and lap later Albon also DNF. Attrition was playing its hand. As Alonso makes a second stop.
Lap 30 order VER-NOR-PIA-LEC-OCO-HAM-RUS-GAS-ALO-TSU. Norris setting the fastest laps is 14s behind Verstappen who was in total control.
In the Red Bull garage they were getting Perez's car ready to go out again to serve his penalty and for it not to carry over to a grid penalty for Qatar. Tsunoda pits from P10 for Hards. Ocon pops into the top ten as a result.
Stalemate among the top ten. Sainz a couple of seconds behind Leclerc the closest contest out there until lap 35, when Leclerc and Hamilton dived in to the pits for their final stops.
A couple of laps later Norris pits from second. Hamilton sets the fastest lap two seconds faster than anyone, the undercut on Sainz worked.
Lap 38 pitstop for leader Verstappen. Sainz followed a lap later. Russell was again the only non-stopper in the top ten at that stage.
Lap 40 order VER-NOR-RUS-PIA-LEC-HAM-SAI-ALO-OCO-GAS. For good measure, Verstappen sets the fastest lap by a whopping two seconds, before turning the wick down again. The gap at the front is pegged at 15s.
Russell stalked by Piastri, one on old tyres the other on fresh ones, the McLaren sweeping past into third into Turn 1.
Perez did his out lap, and served his penalty before returning the Red Bull to the pits for a DNF, finally! Russell's gamble, to do one less stop, under pressure.
Leclerc was next past the #63 Merc after a long battle. Russell is down to sixth with ageing rubber. Hamilton was now a couple of seconds adrift of his teammate.
On lap 49, to avoid more wheel banging Russell in fifth was told by the Merc pitwall to give Hamilton position, with Sainz bobbing and weaving behind them. Russell was not happy and said as much over the radio. Lap 50 Sainz was through.
---
Japanese Grand Prix Preview
In the wake of one of the most memorable Qualifying laps in Formula 1 history, Red Bull's Max Verstappen starts today's Japanese Grand Prix as outright favourite to win and also, with Sergio Perez playing his part, do enough to seal the 2023 Constructors' world title for their team.
Singapore is looking more and more like a blip in a remarkable season for the F1 World Champions, star driver and team, with the RB19 a tricky but fabulous piece of kit to drive, and no one drives it better than Max as his 12 wins this season prove. And THAT lap yesterday.
Playing clairvoyant, one can see Verstappen rushing off into the distance whether he has a good start or not, because he can win with that car from anywhere, and cruise into the distance for win his 13th win, with Sergio Perez carving his way upfield, with a podium possible with that car, as he proved at Monza not too long ago.
And thereafter Red Bull will do their usual raucous celebrations wearing "2023 F1 World Champs" T-shirts as they squirt champers all over the place and deservedly so.
Who can realistically stop them in Japan today? No one. But if you are forced to hazard a guess: McLaren are in it to win it finally. With the incredible Oscar Piastri starting on the front row for the first time, with Lando Norris lining up in third behind Max, it's one against two. Maybe them?
If the two play cleverly, they could cause a surprise. Provided they catch a sniff of the #1 car. To start with a double-pronged attack off the line would be nifty, presuming Max fiddles during his launch phase (perhaps the only tiny chink in his armour) because beating the #1 Red Bull into that famous Turn 1 will be key to having a chance in the race.
That is likely to be Piastri's goal, with the bonus being Norris sneaking by into second. A one-two McLaren dictating the pace at the front may be a wish too far for neutrals wanting a race like the one we had last Sunday at Marina Bay. Nothing wrong with wishful thinking.
Beyond McLaren, who have really upped their game since this batch of upgrades broke cover. Both cars now with them bolted are second in the pecking order at Suzuka, and not too far off the one Red Bull, yet well off Max.
Can Lando and Oscar beat Max today at Suzuka?
A double podium today for Zak Brown's team, run by Andrea Stella, will be a just reward for the Woking folk who have turned their season around and returned the famous team back to front-runner status. The top step will be a fairytale for either of the McLaren lads, amid Verstappen's fables.
Fresh from their first win of the season, Ferrari were not the force they were in Singapore. Nevertheless, a more subdued Ferrari was still good enough for fourth on the grid for Charles Leclerc with Singapore winner Carlos Sainz in sixth. Podium possible. Win unlikely.
Also off the boil, considering they were Mercedes, victory contenders a week ago but this weekend they struggled. Lewis Hamilton was the best of the Mercedes pair but down in P7 with George Russell in P8, a second off the pace in Q3 when all firepower is on the table.
Outside chance of a podium for Hamilton who can never be discounted, especially when he moans. Normally a precursor to a massive performance from the seven-time F1 World Champion, he will need one to celebrate on the podium come Sunday afternoon. Russell… George should focus on bringing his Black Arrow home in one piece.
Worth noting, the quartet of young drivers starting the race at the front represent the future of F1, and how spoilt GP fans are going to be when the four all get into winning cars.
Other Japanese Grand Prix sideshows:
Yuki on home soil has been good value. Can he blow the roof off the place with a podium? That would be sweet. It's Suzuka, it rains, shit happens, anything can go down today!
Watch Fernando in the ever-slower Aston Martin and by how much he continues to destroy teammate Lance…
Can hapless Logan keep his Williams in one piece for a GP distance?
Alpine? Alfa Romeo? Haas? Where are you guys?
Round 16 of the 22-race 2023 FIA Formula 1 World Championship:
Lap distance: 5.807km. Total distance: 307.471km (53 laps)
2022 pole position: Max Verstappen (Netherlands) Red Bull one minute 29.304 seconds
2022 race winner: Verstappen
Race lap record: Lewis Hamilton (Britain) Mercedes, 2019: One minute 30.983 seconds.
Start time: 0500GMT (1400 local)
Red Bull will retain their constructors' championship if they score one point more than Mercedes and Ferrari do not outscore them by 24.
Red Bull currently have a 308-point advantage over Mercedes and 332 over Ferrari, with only 309 points — including those from sprint races and fastest laps — still to be won after Suzuka.
Should Red Bull end the weekend only 309 points clear of Mercedes, they will still be champions on race wins.
Sunday's race will be the 37th Japanese Grand Prix in world championship history and 33rd at Suzuka.
The narrow, high-speed circuit is old-style in a figure-of-eight layout, with fast corners Degner 1 and 2, Spoon and 130R, taken at 295kph.
Of current drivers, Hamilton has won five times in Japan (2007 at Fuji, 2014, 2015, 2017, 2018) and Fernando Alonso twice (2006 Suzuka and 2008 Fuji). Other winners are Verstappen (2022) and Valtteri Bottas (2019).
Mercedes have won six of the last seven Japanese Grands Prix.
Ferrari last won at Suzuka, a Honda-owned circuit, with Michael Schumacher in 2004. The German won the Japanese Grand Prix a record six times.
In 32 races at Suzuka, the winner has come from the front row on 27 occasions and been on pole in 16. Kimi Raikkonen won from 17th on the grid in 2005 with McLaren.
Nine of the last 16 winners have started on pole.
AlphaTauri's Yuki Tsunoda is the only Japanese driver on the starting grid.
Victories, Pole Position, Podium & Fastest Laps
Verstappen has won 12 of 15 races this season, his record run of 10 wins in a row ending in Singapore last Sunday.
The Dutch driver has 47 wins from 178 starts and is fifth on the all-time list. Alain Prost, with 51, is fourth.
Red Bull have won 14 of 15 races, with Ferrari's Carlos Sainz winning in Singapore. Red Bull have also had a team record six one-two finishes in 2023.
Hamilton has a record 103 victories from 325 starts but has not won since Saudi Arabia in December 2021. Aston Martin's Alonso has 32 wins, most recently in Spain in 2013 with Ferrari, from a record 370 starts.
Ferrari's Sainz is chasing his third pole in a row.
Hamilton has a record 104 poles.
Red Bull have been on pole 10 times this season. Ferrari's Charles Leclerc took the top slot in Azerbaijan and Belgium, Hamilton in Hungary and Sainz in Italy and Singapore. Verstappen has eight poles for 2023.
Six teams and 10 drivers have made a podium appearance this season: Red Bull, Alpine, Aston Martin, McLaren, Mercedes and Ferrari.
Verstappen's fifth place in Singapore was the first time he had been off the podium since Brazil last November.
Verstappen holds the record for most podiums in a season — 18 in 2021 — and has had 14 so far in 2023. Michael Schumacher is the only driver to have finished on the podium in every race of a season, in 2002.
Seven different drivers have taken fastest laps this season – Alonso, Alfa Romeo's Guanyu Zhou, Verstappen (6), Perez (2), Hamilton (3), Mercedes's George Russell and McLaren's Oscar Piastri.