Max Verstappen took his ninth pole position of this Formula 1 season and will start the 2023 Japanese Grand Prix from the top spot ahead of Oscar Piastri and Lando Norris.
From the start of the weekend at Suzuka, Verstappen was hell bent on showing that the struggles of Singapore were behind him as he topped all free practice sessions and completed the job with pole on Saturday.
And he so in style, blowing the competition away by almost six tenths of a second with a monster of a first sector that no one could even dream of. He was two tenths faster than everyone else in sector 1 only.
Behind Verstappen, Piastri delivered his best ever qualifying in his rookie season, beating teammate Norris on a track he has never driver before. He will start from the front row alongside Verstappen.
With Norris being third, the Ferraris of Charles Leclerc and Carlos Sainz just lacked the firepower to fight for the front row start, but the Monegasque was the faster Scuderia driver this weekend, beating the Spaniard by over three tenths of  a second.
Mercedes as well could not join the fight at the front and had to settle to being the fourth fastest team at Suzuka this weekend.
Yuki Tsunoda, on a day when his contract was renewed with AlphaTauri for 2024, rewarded the team with a Q3 finish, ninth, while Fernando Alonso wrung his AMR23's neck to put it tenth on a day when the Green cars were way off the pace.
A final word worth noting that Leclerc, along with Valtteri Bottas and Zhou Guanyu will be under investigation after qualifying for being two slow on outlaps in Q1.
VERSTAPPEN TAKES POLE! 👊

Piastri grabs P2, Norris P3!#JapaneseGP #F1 pic.twitter.com/9Sey45QX2c

— Formula 1 (@F1) September 23, 2023
What the top three said after qualifying
After taking his 29th F1 career pole, Verstappen said: "First I went to say a big thank you to the fans for supporting us the whole weekend and everyone is passionate about Formula 1.
"Incredible weekend so far. Especially in qualifying when you push it to the limit, it felt really really nice," he reflected. "We had a bad weekend in Singapore but I already felt from the preparation we had that this would be a good track.
"You never really know how good it would be but from Lap 1 it has been really nice. You try to find little improvements here and there and to be on pole here is fantastic," the Red Bull ace concluded.
Second-placed Piastri told Jean Alesi: "The first lap was pretty solid. I was happy with it. The first chicane I could have done a bit of a better job but it was a good lap.
"Second lap my first sector was good and the next two sectors not so good. But happy to end in P2, it has been a really good weekend for the team so far.
"We have got upgrades on the car, they are quick, and we thought we would have a decent chance around here. But you've still got to make it happen and so happy to be second and the team second and third. Very, very happy," he insisted.
Asked by the Frenchman about the run towards the first corner in Sunday's race, the Australian said: "It's the first time I've started on the front row for a while.
"It will be cool. There is only one car ahead to try and overtake so I'll try and make that happen," Piastri concluded.
On his first visit to Suzuka, Oscar sticks it on the front row! ✨

Mega job, @OscarPiastri! 🤩#JapaneseGP #F1 pic.twitter.com/LlHb8vUHiJ

— Formula 1 (@F1) September 23, 2023
Norris added: "It's been a very good day for us. As a team, P2 and P3. A great job by Oscar and as usual by Max.
"I was pretty happy with my laps. Tricky. It's not an easy circuit to put everything together. It's so quick around here," he added.
"The smallest of mistakes and it can make a big amount of lap time. I'm happy. It's a good day and a good position for tomorrow.
"We hope for a good result tomorrow but it's going to be difficult. Max is doing a very good job, Red Bull are always doing a very good job, so we will do our best to make their life difficult and have a good race tomorrow," the Briton concluded.
Q3: Verstappen simply unstoppable
Verstappen, Norris and Piastri all had two new sets of Soft tyres available to them in Q3, after opting to run only one time in Q2.
All the other drivers had one set of used Softs and the additional new one that Pirelli provides to those who make it into Q3.
After the first run, the standings were: Verstappen – Piastri – Norris – George Russell – Sergio Perez – Alonso – Lewis Hamilton – Tsunoda – Leclerc – Sainz
Ferrari opted for only one run in Q3 using the only new set of Soft tyres available to them. Risky…
In the end, Verstappen took pole by 0.581s from Piastri who was second fastest for McLaren, a major achievement for the rookie. Norris was third fastest, 0.616s off the pace and 0.035s behind his teammate.
Leclerc was fourth fastest in the Ferrari, 0.665s off pole and was 0.108s ahead of Sergio Perez who was fifth in the other Red Bull. Not a good showing for the Mexican who one again was beaten hard by his teammate, 0.773s off his pace.
Singapore Grand Prix winner Sainz was only good for sixth in the #55 Ferrari almost one second off the pace and 0.308s slower than Leclerc.
Hamilton managed seventh in the Mercedes and beat Russell this time around. The seven-time F1 Champion was a painful 1.031s off the pace of Verstappen but 0.311s faster than his teammate who was eighth fastest.
Tsunoda was a strong ninth in the AlphaTauri, 1.426s away from the top and 0.257s faster than Alonso who once again saved the day for Aston Martin to take tenth fastest.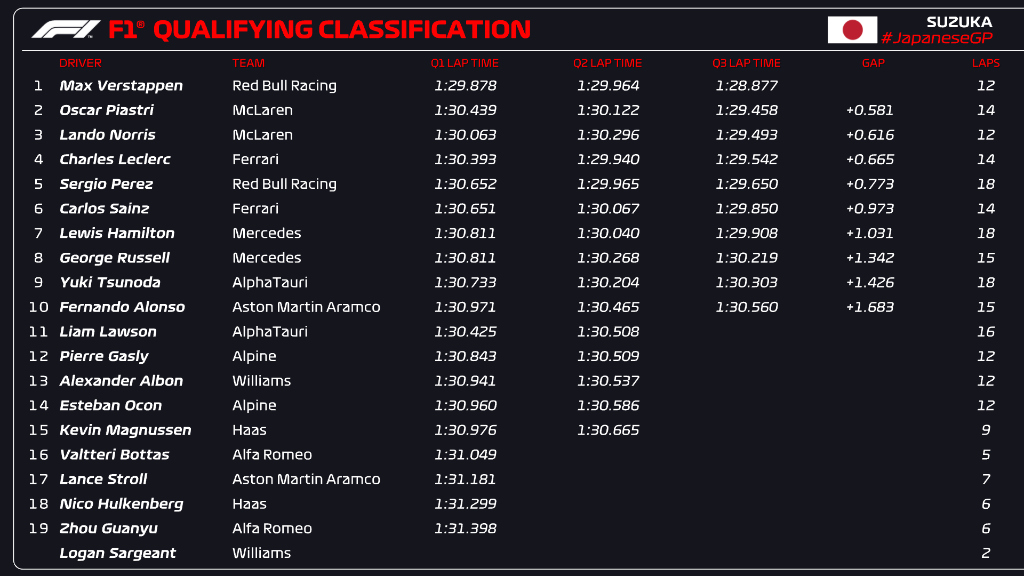 Q2: Leclerc leads the way
Several drivers hit the track in Q2 with used Soft tyres to set a banker lap, before another run on new Softs, with Verstappen leading the pack.
Verstappen's first time in Q2 was a tenth slower than the one he posted in Q1, as he was on used tyres. Piastri and Norris on new Softs were slower in their first effort, second and third respectively.
After the first run the order was: Verstappen – Piastri – Norris – Perez – Tsunoda – Leclerc – Sainz – Russell – Hamilton – Lawson.
Alonso who barely made it out of Q1 was 11th and had a major challenge to try and make it into Q3 at Suzuka.
One final run in Q2!

Magnussen, Gasly, Ocon, Alonso and Lawson are currently in the drop zone 👀#JapaneseGP #F1 pic.twitter.com/024Z78OtcX

— Formula 1 (@F1) September 23, 2023
With the second run of Q2, replay showed Piastri stranded in the pitlane, with McLaren mechanics running  to wheel him back into the garage.
As it turned out, Verstappen, Norris, and Piastri decided there was no need to run again with the times they set on their banker laps enough to make it into Q3. They can save a set of Softs this way.
That meant the Leclerc in the Ferrari on new Softs lead the way into Q3, 0.024s ahead of Verstappen in second while Perez was third 0.001s behind his teammate.
Again Alonso made it into Q3 by the skin of his teeth beating Liam Lawson by 0.043s into tenth.
Despite his best effort, Lawson was knocked out of Q2 and will start the race in Sunday from 11th on the grid, ahead of Pierre Gasly who was 12th fastest, 0.001s behind the Kiwi.
Alex Albon was 13th fastest in the Williams 0.597s off the best Q2 time, and 0.049s ahead of Esteban Ocon who was 14th fastest in the second Alpine.
Kevin Magnussen was 15th fastest in the Haas.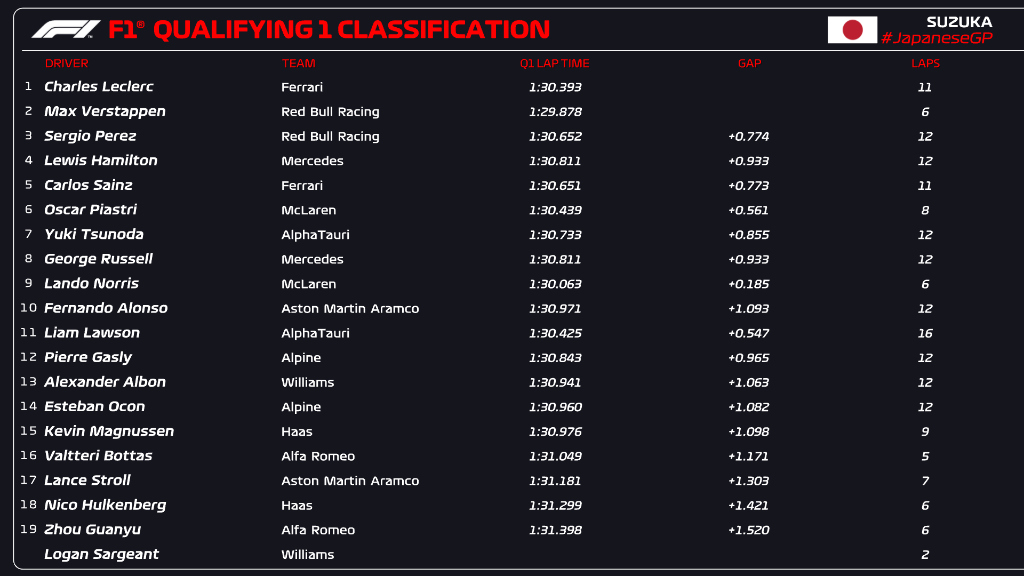 Q1: Logan Sargeant crashes again!
Conditions remained clear for qualifying, but the conditions were slightly cooler than FP3, with track temperature dropping down to 38 degrees while ambient temperatures were 27 degrees.
The final practice showed that Verstappen was the man to beat, while Norris and Piastri in the McLarens were his closest rivals in qualifying, and while Ferrari dropped back a bit, they cannot be discounted, as we also wait to see what Hamilton and Russell can do.
Welcome to qualifying at Suzuka! 🤩#JapaneseGP #F1 pic.twitter.com/ImCtCdTv7F

— Formula 1 (@F1) September 23, 2023
From his first flying lap in Q1, Verstappen dipped into into the 1:29s, despite not being the cleanest of laps for the Dutchman.
Hamilton who was on his flying lap in the Mercedes reported that his seat was getting hot. He was sixth fastest at that moment.
But it wouldn't be a proper F1 weekend if Logan Sargeant did not crash and indeed the American rookie obliged, as he lost control over his FW45 in the final corner and ended up in the barriers with considerable damage. That guy is totally out of his depth…
Naturally the Red flag was out and the session was stopped until the stricken Williams is cleared from the track.
🚩 RED FLAG 🚩

Logan Sargeant crashes heavily at the final corner

Driver is OK#JapaneseGP #F1 pic.twitter.com/L6XBcd5WO2

— Formula 1 (@F1) September 23, 2023
The Ferraris were both on timed laps when Sargeant crashed and brought out the Red flag, while Nico Hulkenberg and Albon had their laps times deleted for violating track limits.
On the other hand, Leclerc, Valtteri Bottas, and Zhou Guanyu were noted by the stewards for being too slow on their out laps.
Williams Team Principal James Vowles, now facing another hefty repair bill thanks to his struggling driver did not hold back.
He said on Sky Sports F1: "He's only got himself to blame for that one I'm afraid, Logan. He could have backed out of it. The drivers who have had the twitch, the snap of oversteer, have backed out of it.
"The difference when you're on a qualifying lap is the eagerness to keep the throttle down sometimes takes over rational sense.
"The most important thing is he was able to jump out of that ok," Vowles concluded.
The session was resumed with a little over seven minutes on the clock and the Ferraris set out to post lap times. Leclerc went third fastest, Sainz was fifth.
The final moments were a bit of a frenzy with several driver eager to set a second lap time to make it into Q2, which meant some crazy traffic.
Form an orderly queue, please! 🫣

The pressure is ON with three minutes of Q1 to go 👀#JapaneseGP #F1 pic.twitter.com/UEz3fmB7ny

— Formula 1 (@F1) September 23, 2023
In the end, Verstappen lead the way into Q2, 0.185s ahead of Norris in second, with Leclerc third, 0.515s off the pace.
Lawson was an excellent fourth after another run in Q1 to make sure he made the cut.
The first driver to miss out on Q2 was unsurprisingly Bottas, who missed out by 0.073s to Kevin Magnussen who was 15th.
The Finn will line up 16th on Sunday's race grid, ahead of Lance Stroll in the Aston martin who was 17th, 0.132s behind Bottas.
Hulkenberg was 18th fastest in the Haas ahead of Zhou in the Alfa Romeo who was 19th.
Sargeant was dead last with no time set.