Formula 1's governing body, the FIA, has ramped up its promised campaign to combat the scourge of online abuse by launching a website to further promote the cause.
The advent of social media has come to the point that hate, racism and abuse, by cyber bullies and outright troublemakers, online are at an all-time high, with the various platforms unwilling to root out the menace with the tricky algorithms that control the narrative of all news on the globe.
With anyone able to spew hate and abuse without much consequence, as traffic aka money is king in the internet world, blocking the baddies would mean a massive loss in traffic (aka revenue) one has to imagine. So the news (sports and F1 of course included) narrative is clouded by ulterior motives.
In particular, the feud between Max Verstappen and Lewis Hamilton created huge divisions in the sport, vocalised on social media platforms such as Twitter, Facebook and Instagram. Before TikTok exploded on the social media scene.
Late last year, the driver with the biggest social media following across all platforms combined, Hamilton described online platforms as increasingly toxic, joining a chorus of drivers at odds with the digital maggots that infest the internet.
Seven-time F1 World Champion, Hamilton said at the time: "Social media is getting more and more toxic as the years go on and we should all come off it, ultimately. Mental health is such a prominent thing right now. So many people are reading the comments, the stuff that people say, and it is hurtful."
Verstappen agreed, adding: "Social media is a very toxic place. I think it's just the sport is more popular so there are more people watching, so more people are writing. I think it's just that.
"It's not great that they are allowed to write these kinds of things so I hope we can come up with a kind of algorithm that stops people from being keyboard warriors because these kinds of people… they will never come up to you and say these things in front of your face
"Why? Because they're sitting in front of their desk or whatever at home, being upset, being frustrated, and they can write whatever they like because the platform allows them to. Yeah, that can be really damaging and hurtful to some people and it's not how it should be," lamented Verstappen, who is en route to his third successive F1 world title.
Most F1 drivers and many race officials have been subject to anything ranging from unacceptable abuse to death wishes and the like. Terrible stuff that needs addressing. Step up the FIA with more ammunition for the fight.
In December last year, FIA President Mohammed Ben Sulayem unleashed a war cry of sorts when he told reporters: "I'm going to fight it with all the power that I have. We are getting the support. One of our stewards from Spain was abused on social media – that cannot be accepted.
"If we allow this to happen, it's only a matter of time [until] the damage to our sport will be beyond repair," warned Ben Sulayem.
Ahead of the website launch, the President added: "The FIA is fully committed to preserving the sporting environment as a welcoming and respectful community for all. This campaign underscores our determination to combat hate speech and online harassment on digital platforms and we invite our coalition  partners to join us in this movement."
Below is the next FIA battle plan to combat the scourge, which we on GRANDPRIX247  fully support.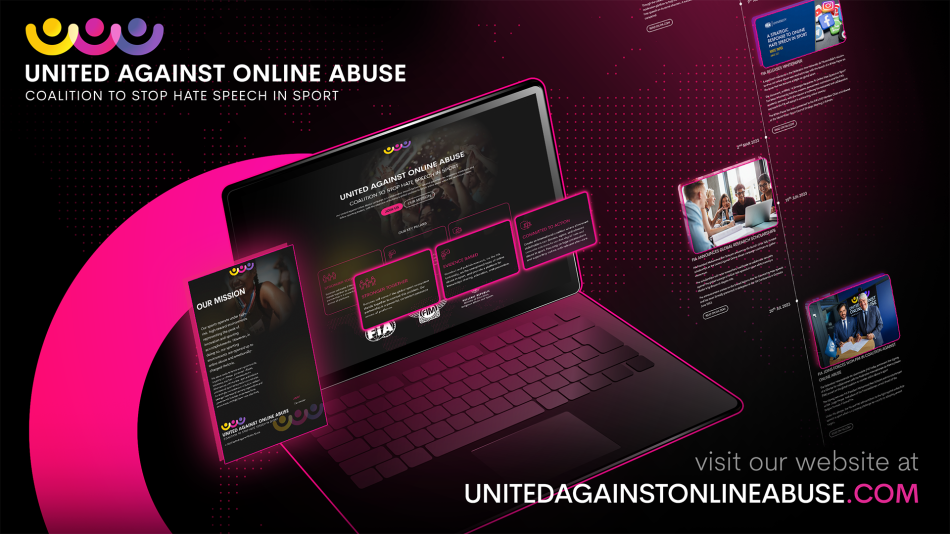 Official FIA Press Release:
The Fédération Internationale de l'Automobile (FIA), the governing body of world motorsport, is proud to announce the official launch of its dedicated website for its ground-breaking "United Against Online Abuse" campaign.
In an era where digital communication has become ubiquitous, online abuse presents a challenge for global sporting organisations, governments and regulatory institutions. The launch of the dedicated website is a significant milestone in the campaign's journey as the FIA remains dedicated to fostering a safe and inclusive sporting ecosystem.
The newly launched campaign website, www.unitedagainstonlineabuse.com, will serve as the central hub for resources, information and support related to the campaign's mission, guided by three core principles –  strength in unity, adopting a research-led approach, and commitment to action by supporting our athletes, fans, officials and partners who are the many targets of this issue.
As key highlights, the website will host:
Campaign Updates: Stay informed with regular updates on the initiative's progress, including events, partnerships, and collaborations.
Educational Resources: Access a wealth of informative legal articles, videos and guidelines on recognising, preventing and addressing online abuse alongside exploring insights and findings from our Master's Scholars in collaboration with the FIA Foundation and Dublin City University.
Community Engagement Hub: A space for sharing united voices among key stakeholders as a pledge to create a united front.
FIA President, Mohammed Ben Sulayem, expressed the federation's unwavering commitment to combatting online abuse, saying: "The FIA is fully committed to preserving the sporting environment as a welcoming and respectful community for all. This campaign underscores our determination to combat hate speech and online harassment on digital platforms and we invite our coalition  partners to join us in this movement."