Carlos Sainz delighted the thousands of the Tifosi that flocked to Monza to support their beloved Ferrari, and took pole position for the 2023 Italian Grand Prix.
It was Sainz's fourth Formula 1 career pole position, his first at Monza, as he was able to deny Max Verstappen a 29th career pole by a negligible 0.013s, in what turned out to be one of the closest qualifyings this season.
Charles Leclerc was third fastest in the other Ferrari 0.067s off the pace of his teammate.
Sainz showed that his form from the start of the weekend at Monza was not a fluke, despite it being very close with Verstappen who in the end had to settle for second, unable to deny the Tifosi their celebrations.
The best thing for Ferrari was that Sainz, and Leclerc, who were under investigation for going around the track too slowly in Q1 were off the hook, as the stewards decided they did nothing wrong, so can keep their first and third starting positions.
Both drivers did well to perform calmly in Q3 given they set out for the final runs with the risk of a penalty in the back of their minds.
George Russell did well to take fourth place for Mercedes on a tough day for the eight-time Formula 1 Constructors' Champions, ahead of Sergio Perez in fifth.
Pure passion, pure emotion 🥹

Incredible scenes for @CarlosSainz55 in Monza! #ItalianGP #F1 @ScuderiaFerrari pic.twitter.com/QGkWYK0odc

— Formula 1 (@F1) September 2, 2023
What the top three qualifiers said
"Wow, honestly," an elated Sainz said in parc ferme after qualifying. "It was such an intense Qualifying. We were very on the limit and on that last lap I knew I had some lap time to come and I went for it.
"Goosebumps since I crossed the finish line and watched the crowd," he revealed. "Everywhere we go it is just noise, encouragement, support- the best feeling you can have as an athlete.
"Tomorrow I will give it everything to get that P1," he vowed. "Let's see if we can battle Max. Normally in the long run he is quicker but I am going to give it my all."
📻: "TELL ME WE HAVE IT?! TELL ME WE HAVE IT?! @Carlossainz55, we can confirm, you have it 😉

Pole position at the 2023 Italian Grand Prix belongs to you! 🙌#ItalianGP #F1 @ScuderiaFerrari pic.twitter.com/MIfd2pfA82

— Formula 1 (@F1) September 2, 2023
Verstappen will have to work harder to get his tenth consecutive grand prix win this season, but knows he has the RB19 to do that come Sunday.
He said after qualifying: "It was good, I think we made some god improvements compared to yesterday.
"You could see in every Qualifying session it was very tight, so I'm happy to be second today," he admitted. "It's nice to see (Ferrari on pole in Monza), but of course tomorrow we'll try to win the race.
"Normally we have a quicker race car, but let's just enjoy today and then we'll focus on tomorrow," the Red Bull ace concluded.
Leclerc was playing second fiddle to Sainz all weekend, but was happy to be third, he added: "My feeling can only be amazing with the tifosi.
"On my side, I am a bit disappointed, I obviously wanted to be first," he continued. "But seeing that Carlos is P1 is great for Ferrari, he has done an incredible job all weekend.
"Qualifying I managed to put everything together so I am really happy. We should be happy, especially on my side I have been struggling a lot.
"The (fans) are just incredible. I don't smile often when I am P3 but when I have this support it is an amazing feeling," the Monegasque concluded.
Q3: Extremely close but Sainz emerges on top
The track temperatures dropped from 41 to 39 degrees as Q3 started and the Soft tyres finally made an appearance, as the heat turned up for the final top ten shootout of qualifying for the Italian Grand Prix.
Verstappen had a scruffy first lap in Q3, as he dipping into the gravel in the second chicane, but kept his foot down to finish the lap and put a banker on the timing charts.
That meant the Dutchman was third fastest behind the Ferraris of Leclerc and Sainz after the first round of laps in Q3, 0.099s off the pace set by Sainz.
Replays show Max Verstappen dips it into the gravel on his flying lap, leaving the Dutchman sitting in P3 #ItalianGP #F1 pic.twitter.com/2CjD3Wqb1O

— Formula 1 (@F1) September 2, 2023
After the second round of Q3 hot laps, Sainz pipped Verstappen to take pole at Monza with a lap time of 1:20.991, 0.013s faster than the Red Bull man, and 0.067s faster than his teammate Leclerc in third.
Russell was 0.377s off the pace in fourth, nevertheless a decent performance given Mercedes' shortcomings this weekend, while Perez fifth almost four tenths slower than Verstappen.
Alex Albon was superb one again for Williams, sixth fastest at the end of qualifying, 0.466s away from the benchmark time beating the McLarens of Oscar Piastri and Lando Norris, as well as Mercedes' Lewis Hamilton on his way.
The Thai driver was 0.025s faster than Piastri who was seventh fastest in the first McLaren, and in turn was 0.035s faster than Hamilton in eighth.
Norris had to settle for ninth fastest and was 0.438s faster than Fernando Alonso who was tenth and over one second off pole in the Aston Martin.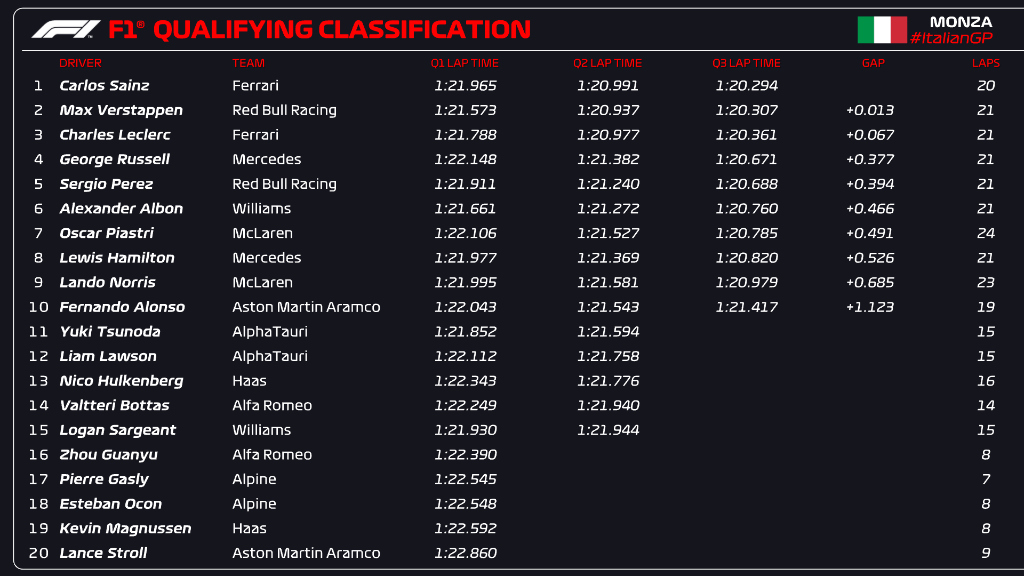 Q2: Ferrari into Q3, but under pressure of penalty
Q2 started with both Ferrari drivers under pressure of an investigation as they were deemed to have violated the Race Director's instructions and did not stick the maximum allowed lap time of 1:41.000 while driving around the track, a decision taken to help avoid traffic.
Ferrari's Charles Leclerc and Carlos Sainz are under investigation for not following the maximum lap time instructions! #ItalianGP #F1 pic.twitter.com/Golp5zC2Bc

— Formula 1 (@F1) September 2, 2023
That meant both Sainz and Leclerc would have to do their best in qualifying and then await until the stewards decide their fate after the session was over.
All remaining 15 cars set out on track with Medium tyres bolted on them as mandated by the "Alternative Tyre Allocation" qualifying format.
The final three minutes saw all 15 car simultaneously head out on fresh Medium tyres for a final Q2 run, which means crazy traffic was eminent.
Verstappen also lead the way out of Q2, with a lap time of 1:20.937, 0.040s faster than Leclerc in second as Sainz was third fastest, 0.014s further down the road. Perez was fourth.
Yuki Tsunoda was the first driver to miss out on Q3, 11th fastest, dropping out by 0.013s as losing out to Norris who was tenth fastest, barely making it into Q3.
Liam Lawson did well to get out of Q1, but Q2 was as far as he was going to advance, 12th fastest, and 0.018s ahead of Nico Hulkenberg who was 13th fastest.
Valtteri Bottas was 14th fastest and 0.004s ahead of Logan Sargeant who was 15th.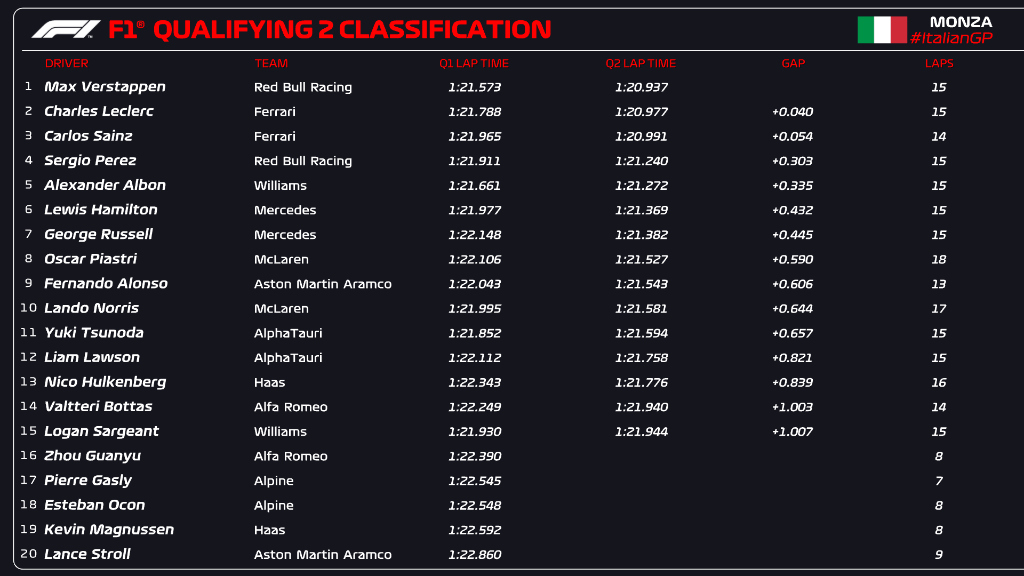 Q1: Both Alpine are out
The track temperatures at the start of qualifying were higher than FP3, 41 compared to 38 degrees, while the ambient temperatures were 28 degrees also rising from 26 degrees from the final practice.
As per the "Alternative Tyre Allocation" all drivers would have to use the Hard Pirelli compound throughout Q1, with Medium in Q2 and the Soft only allowed in Q3.
Verstappen lead the pack and posted the fastest time, only for his lap time to be deleted as he exceeded the track limits at Turn 7. That put Albon at the top of the timing screens temporarily.
Alonso also had his first timed lap deleted as well also exceeding track limits at Turn 7. Stroll exceed the track limits at Turn 2 and also lost his lap time.
Norris, on a timed lap, had a moment with Esteban Ocon in the Alpine who was getting ready to start a flying lap.
That was close 🫣

Lando Norris nearly veers into Esteban Ocon whilst on his flying lap! #ItalianGP #F1 pic.twitter.com/q9xTXONOaH

— Formula 1 (@F1) September 2, 2023
The Mercedes drivers, Hamilton and Russell, started Q1 on a new set of Hard tyres, but soon returned to the pits and bolted on a new set of Hards to make sure they make it into Q2.
Ocon had a moment at Turn 10 and went hard on the kerbs, losing his lap time, and was soon on the team radio asking Alpine to check the floor of his A523.
With two minutes remaining from Q1, Pierre Gasly's time was deleted for exceeding the track limits at Turn 2, putting more pressure on the Frenchman, as the infamous Monza traffic started to have an impact.
Piastri was also under pressure as he lost his lap time for exceeding the track limits at Turn 8.
In the end, Verstappen lead the pack in Q2 with a 1:21.573 and 0.088s faster than Albon in second, while Leclerc was third fastest as Tsunoda was fourth.
The first driver to lose out on a Q2 appearance was Alfa Romeo's Zhou Guanyu who lost out by 0.047s to Hulkenberg who was 15th in the Haas.
Behind Zhou, in 17th was Gasly, who was 0.155s slower than the Chinese driver and 0.003s faster than teammate Ocon who will line up 18th on Sunday's race grid.
Kevin Magnussen was 19th fastest while Lance Stroll was dead last in 20th.