Max Verstappen took his 26th Formula 1 career pole position in Qualifying for the 2023 Austrian Grand Prix fending off the rampant Ferraris.
Dominant as he may have been, Austria Qualifying was not straightforward for the reigning F1 Champion, who like several other drivers, fell prey to the track limits as he had a couple of his lap times deleted in Q1 and Q2 for violating the limits.
And while Verstappen survived to get back into Q3 and take pole, teammate Sergio Perez did not and failed to keep it within the white lines in Q2, meaning he was down in 15th. It was a shame as the Mexican seemed to have the speed for a change this weekend.
Ferrari were the second fastest team out there, Charles Leclerc second fastest while Carlos Sainz was third fastest, on a day where Mercedes and Aston Martin faded.
Verstappen: It's very difficult because of the track limits
Speaking after Qualifying, Verstappen admitted it was tough to keep his RB19 within the track limits; he said: "It's very difficult because of the track limits.
"We don't do it on purpose but with these speeds and the high-speed corners it's so hard to judge the white line. We could see today that a lot of people get out. It was about surviving, even Q3 you just want the banker lap, it takes out the joy a little bit.
"But it was still a very good lap. So very happy to be on pole," he maintained.
"It's always very tricky around here and the cars are big and heavy," the double F1 Champion went on. "Judging it on a line this wide (very small), with these speeds are very high.
"We know this is quite a different weekend with the whole format. Tomorrow will be a very different day but at least the car is quick, which is the most important thing," he concluded.
Second-placed Leclerc added: "It feels good to finally have a clean qualifying again and be back on the front row. The feeling has been a bit better in the last few races and then in Q1, Q2 it was about building up to that lap in Q3.
"I managed to put everything that I wanted in that last lap of Q3, very close to Max. Not enough today but overall I don't think we expected to be so close to the Red Bulls so it's a good step forward," he added.
"Race pace looked quite good in Montreal," he responded when asked about his race prospects. "Consistency is where we need to focus so we will have to see on Sunday if we have the same pace as Montreal.
"Red Bull right now is quicker on race pace so it will be difficult but if we can put them in difficulty we will do it all," the Monegasque concluded.
Sainz reflected on his Qualifying, he said: "It was good – I think we had a strong qualifying as a team, and I definitely felt like we've made some progress recently. Closer to Max than expected throughout qualifying, so overall, we need to be happy.
"We have a lot of weekend ahead of us, at least for today we put ourselves in a good position for Sunday to try and get a podium with both cars.
"I think tomorrow will be a different day, a different forecast, different track conditions, so it could also be a very different picture, so we just need to stay focused," he warned.
"Obviously, we are in parc ferme, so we can't improve the cars a lot from today to tomorrow but we will look into the smallest details to see where we can improve," Sainz concluded.
Q3: Ferrari could not deny Verstappen
Ferrari's Leclerc tried his best to deny Verstappen his fourth consecutive pole position by ultimately failed by 0.048s, unable to beat the 1:04.391 marker set by the Red Bull ace.
Sainz seemed to be on the pace as well throughout Qualifying, and was third fastest, 0.142s behind his teammate, as it remains of the Scuderia's pace in Austria so far can carry on during the race on Sunday.
Lando Norris was superb for McLaren and made great use of his upgraded MCL60, to set the fourth fastest time on Friday, a 1:04.658, 0.267s off the pace.
Lewis Hamilton could not manage more than fifth, 0.428s away from Verstappen's session-topping time, while George Russell dropped out from Q2.
Lance Stroll beat Fernando Alonso for the second time in a Qualifying this season, sixth fastest, 0.018s ahead of Alonso in seventh.
Nico Hulkenberg had another strong Qualifying for Haas, eighth fastest and 0.080s ahead of Pierre Gasly, ninth in the Alpine.
Alex Albon rounded off the top ten for Williams.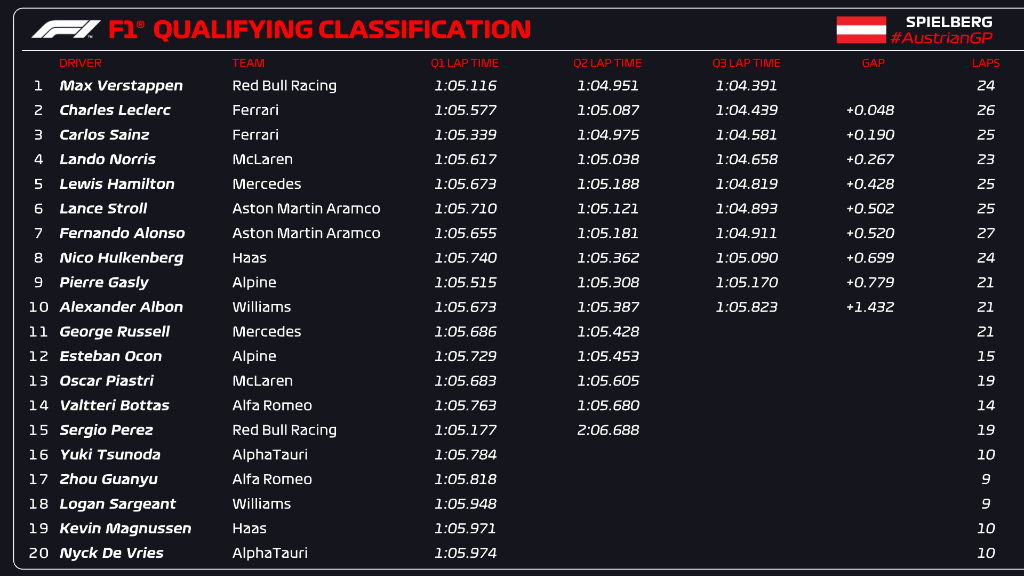 Q2: A carnival of deleted lap times sees Perez eliminated
Early on in the session, Verstappen and Perez put it the first and second fastest laps, but those were soon deleted by the stewards for violating track limits. That meant Norris held the fastest the time for some time.
Verstappen wasn't happy, he said over the team radio: "This is a joke honestly with these track limits, f@cking ridiculous."
He soon set the fastest time again just after that, as Alonso's first lap was deleted as well putting pressure in the Spaniard to get into Q3. Perez also lost his second attempt and third with no time enough to do another attempt.
Russell was another driver who lost his lap time, as well as Ocon.
Again, Verstappen set the fastest time in Q2, a 1:04.951 with Sainz second fastest, 0.024s behind the Dutchman, as Norris was third fastest 0.063s behind Sainz.
As for those who were eliminated, Russell was 11th fastest missing out by 0.041s with Esteban Ocon 12th fastest, 0.025s behind the Briton.
Oscar Piastri was 13th fastest for McLaren with a 1:05.605 and one and half tenth behind Ocon while Bottas was 14th fastest with a lap time of 1:05.680.
Perez who failed to set a timed lap within the track limits three times will start the race on Sunday from 15th on the grid.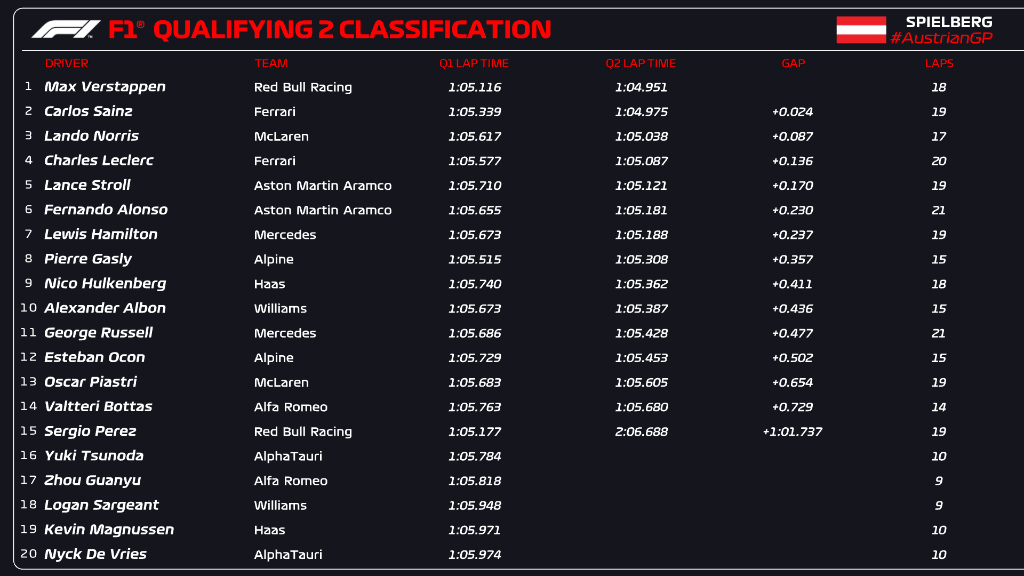 Q1: Bottas interrupts the session
Following the weekend's only practice session earlier on Friday, the clear conditions continued into Qualifying, with ambient temperatures 28C while the track temperatures was 43C.
Drivers wasted to time once the pitlane as open, and head out to set their first lap times of the session, keeping in mind that traffic will play a key factor on such a short circuit – 4.318km.
With 12 minutes remaining from the session, the Yellow flag was brought out as Bottas spun coming out of Turn 1 and couldn't get going. That turned into a Red flag.
However, the Finn finally got his Alfa Romeo restarted and head back to the pits.
Worth noting that the stewards were busy deleting laps for drivers who exceeded the track limits, Hulkenberg, Norris, Sainz, and Verstappen to mention a few.
Drivers raced back out on track after the Red flag ended, especially those who had deleted laps times, to set valid ones and avoid an early shower. 11 minutes remained on the clock.
With Q1 concluded, Verstappen was the fastest driver with a 1:05.116, with teammate Perez chasing in the sister Red Bull, 0.061s behind in second. Sainz was third in the Ferrari, 0.223s behind the leader.
The first driver to drop out of Q1 was Yuki Tsunoda who missed out by 0.021s, beaten by Bottas into Q2, and will start the race from 16th on the grid.
Zhou Guanyu was 17t fastest in the Alfa Romeo, with a 1:05.818, with Logan Sargeant in 18th, 0.130s behind Zhou.
Kevin Magnussen was 19th fastest with Nyck de Vries dead last, as the whole grid was separated by less than one second, a normal thing given how short the track is.