This weekend sees the 100th birthday running of the iconic Le Mans 24 Hour endurance race. A sell-out for the first time, the great race, its World Endurance Championship and the parallel US-based IMSA sportscar series are also on the threshold of an incredible if not the greatest new sports racing era yet.
With the dominant Toyota Gazoo Racing out to win its fifth Le Mans on the trot, challenged by Ferrari, which returns looking for comeback glory for the first time in 50 years. Porsche back after five, and Cadillac, Peugeot, and exotics Glickenhaus and Vanwall are out for a piece of the 24 Hour's new Hypercar era. So there's very good reason why you won't get a Le Mans ticket for neither love nor money.
The Le Mans masterplan has worked a treat
The FIA World Endurance Championship's master plan has worked a treat. While the centennial race has attracted an incredible entry, the thrilling new machinery all teams will bring out of the woodwork to Le Mans this weekend is perhaps the most exciting of all.
Unlike many other series, while the cars are controlled in many ways, the rules still make for incredible variety too. So let's dive under the sleek skins of these incredible new machines and learn why, exactly, the Le Mans 24 Hour is on the threshold of becoming motor racing's next big thing.
To start, the Le Mans Hypercars are divided into two categories. Both compete for overall honours. The Porsche, Cadillac, and several future teams will run to a more rigorous LMDh (Le Mans Daytona Hypercars) rules set. Toyota, Ferrari and Peugeot abide by the LMH (Le Mans Hypercars) ruleset and enjoy broader freedom of design.
The Toyota is the Le Mans Hypercar to beat
Toyota Gazoo Racing's pioneering GR010 Hybrid Le Mans Hypercar has won thirteen of the fifteen WEC races it has started since the start of the new era, en route to the team's fourth respective World Maker's and Drivers' Championships on the trot. The GR010 also went on to win Toyota Gazoo Racing's fifth consecutive Le Mans 24 Hour in a 1-2 finish last year.
The GR010 Hybrid is powered by a 520 kW direct-injection biturbo 3.5 litre Toyota V6 engine driving the rear wheels via a 7-speed sequential gearbox. It is aided and abetted by a 200 kW front axle electric motor generator powered by, and harvesting energy for a lighter, more rigid lithium-ion battery. The 2023 Toyota has aero tweaks like dive plane canards, and downsized rear wing endplates for better manoeuvrability and stability.
The Balance of Power weight-optimised GR010 Hybrid has to be the favourite as it heads to Le Mans with the sole intention of lifting Toyota Gazoo Racing's sixth consecutive Le Mans 24-Hour winner's trophy and its own GR010 hat-trick. Toyota's crack Number #7 crew, Mike Conway, Kamui Kobayashi and José María López, as well as Brendon Hartley, Sébastien Buemi and Ryo Hirakawa in the #8 car, are charged with that responsibility.
Ferrari 499P: big Le Mans shoes to fill 50 years on
The LMH Ferrari 499P is powered by a 296-derived 3-litre biturbo V6 turning the rear wheels via a sequential 7-speed gearbox. Like its Hypercar rivals, the 499P is backed by 200 kW motor-generator on the front axle to deliver electric all-wheel drive on demand. The 499P's e-motor is powered by a bespoke Ferrari F1-inspired 900 V battery hybrid energy recovery system. It must also be able to power the car to a regulation electric 120 km/h.
There's a good reason why the lead Ferrari is number 50. It's fifty years since Maranello's last Le Mans entry. This means that the 499P has some big shoes to fill. Ferrari enjoyed huge World Sportscar Championship success over the years, winning the championship no less than 13 times until the early 1970s. Ferraris have won the Le Mans 24 Hour nine times, the Mille Miglia eight times and Targa Florio seven times. All alongside its Formula 1 effort.
Ferrari returned to the WEC at the beginning of 2023 with its in-house developed 499Ps. They are run by the successful Italian Ferrari endurance racing team AF Corse. Antonio Fuoco, Miguel Molina and Nicklas Nielsen will drive Ferrari number 50 at Le Mans this weekend. James Calado, Antonio Giovinazzi and Alessandro Pier Guidi are entered in the #51 499P.
Wingless Peugeot 9X8 out to defend French home glory
Le Mans' third LMH Hypercar is the Peugeot 9X8 Hybrid. It succeeds the French carmaker's 1990s 905 and 2008-10 908 Le Mans winners. Designed to take full advantage of open Hypercar freedoms, and one new regulation in particular, the 9X8 forsakes its rear wing in favour of full aerodynamic ground effects. The 9X8 however continues the Hypercar trend of a petrol rear engine and an electric motor up front.
Like the Toyota and the Ferrari, the Peugeot 9X8 is powered by an albeit smaller capacity 500 kW 2.6-litre biturbo V6 engine driving the rear axle via a 7-speed sequential gearbox. A 200 kW motor-generator unit powers the front wheels via a single-speed reducer, or harvests energy to charge the car's 900-volt high-density battery.
Paul di Resta, Mikkel Jensen and Jean-Éric Vergne drive car 93. The 94 is piloted by Loïc Duval, Gustavo Menezes and Nico Müller. Peugeot is out to win its fourth Le Mans 24 Hour. Its splendid Group C 905 beat Porsche, Jaguar, and Mercedes to win in 1992 and 1993, while the turbodiesel hybrid 908 beat Audi to Peugeot's most recent Le Mans victory in 2009.
Porsche leads the LMDh kit Hypercar charge
The Porsche and Cadillac Le Mans entries are both built to the WEC's LMDh 'Kit Hypercar' regulations. Short for Le Mans Daytona hybrid, teams have the choice of one of four standard LMP2-based aluminium honeycomb core carbon fibre monocoque chassis. Teams are free to mount their own bodywork on either a Dallara, Ligier, Multimatic or Oreca chassis. Each chassis is fitted with the standard LMDh hybrid system and transmission.
Built by Multimatic, the Porsche 963 draws inspiration from Porsche's 1980s Le Mans winning 956 and 962s. Powered by a 500 kW version of Porsche's biturbo 4.6-litre 9RD V8 originally found in the Porsche 918 and later developed to power the Le Mans Porsche RS Spyder it is paired with the stock LMDh hybrid kit. The 1,030 kg 963 has its own Porsche-designed bodywork too
Porsche Penske Motorsport has entered three cars for Dane Cameron, Michael Christensen, and Frédéric Makowiecki drive car number 5. Kévin Estre, André Lotterer and Laurens Vanthoor are in number 6. And the 75 entry for Mathieu Jaminet, Felipe Nasr and Nick Tandy. António Félix da Costa, Will Stevens and Ye Yifei will share a fourth Hertz Team Jota Porsche 996 number 38. Porsche returns to Le Mans after five years away in 2023. It is looking for its 20th 24 Hour victory after last winning in 2017 with the 919 Hybrid.
Thundering Cadillacs and a proud Le Mans heritage
The Cadillac V-Series.R runs the Dallara LMDh chassis option. It has Cadillac Design conceived bodywork, contemporary trademark Caddy vertical lighting and floating blades. The thundering Caddy is powered by an all-new GM Performance and Racing Propulsion team developed a normally aspirated 5.5-litre Cadillac V8. Of course, coupled to the standard LMDh Hybrid system and 7-speed sequential transmission.
Cadillac's three Le Mans campaigners include two factory entries. The number #2 V-SeriesR driven by Earl Bamber, Alex Lynn and Richard Westbrook. Sébastien Bourdais, Renger van der Zande and Scott Dixon are in car 01. There's also the third privateer number 31 Action Express entry for Pipo Derani, Alexander Sims and Jack Aitken. Although Cadillac has never won at Le Mans, it has a proud 24 Hour history stretching back to the 1950s.
The Porsche and Cadillac's LMDh hybrid pack uses a standard carbon-fibre plastic reinforced pneumatic sequential 7-speed Xtrac P1359 transmission. That's coupled to a Williams hybrid system powered by a 50 KW rear-mounted Bosch electric motor generator. Teams then fit their own engines to the standard chassis and hybrid transmission. While the Le Mans LMH and LMDh Hypercars are all unique in many ways, they are subject to FIA World Endurance Championship Balance of Power regulations to ensure a level playing field.
Don't forget the combustion only Hypercars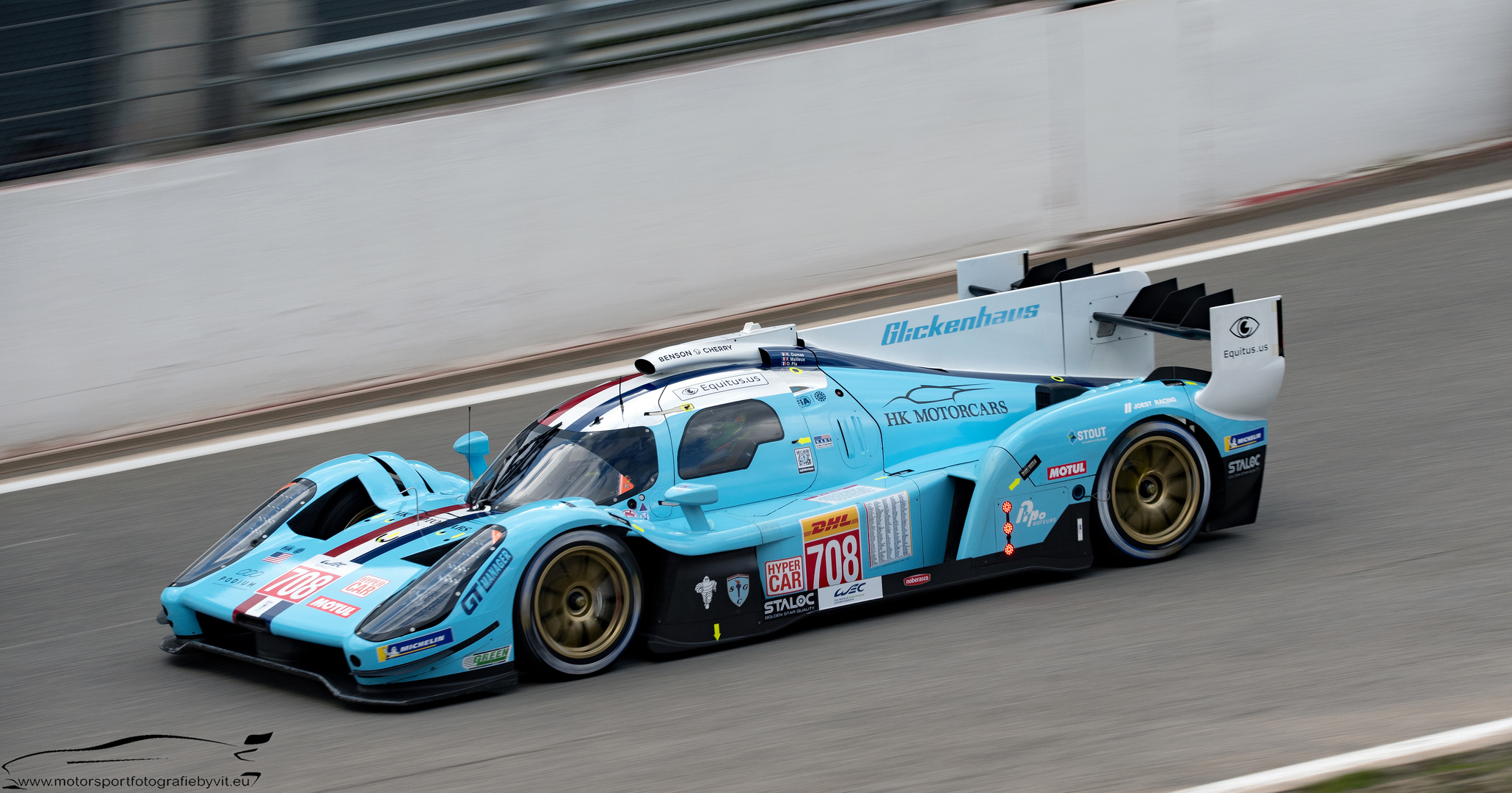 Not all of this year's Le Mans Hypercar entries are hybrid. Two good old exotic and exciting combustion-only teams, Glickenhaus and Vanwall round off the 2023 24 Hour Hypercar line-up. Scuderia Cameron Glickenhaus is no stranger to Le Mans. It is back for another shot with a couple of Podium Advanced Technologies-developed SCG 007 LMHs. The non-hybrid Le Mans Hypercars also run to a slightly lesser minimum weight.
Powered by a non-electrified pure combustion 515 kW PIPO P21 3.5 litre biturbo V8, the SCG 007 turns a X-Trac 7-speed sequential manual transmission. The old-school Glickenhaus entries will be piloted by a crack driver line-up. Ryan Briscoe Romain Dumas and Olivier Pla will drive car 708. Nathanaël Berthon, Esteban Gutiérrez and Franck Mailleux have been entrusted with the number 709 entry.
Last but not least, the Vanwall Vandervell 680 brings an iconic Formula 1 name back to the World Endurance Championship 65 years on. The ByKolles Racing team acquired the Vanwall name to power its Le Mans campaign. While also not a hybrid, the carbon-fibre composite monocoque Le Mans Vanwall is powered by a naturally-aspirated 500 kW 556 Nm 4.5 litre Gibson GL458 V8. It will be driven by Esteban Guerrieri, Tom Dillmann and Tristan Vautier.
Le Mans has a thrilling Hypercar future
There is of course also a grid of that threatened Le Mans species of LMP2 prototypes due to be phased out after 2024. Never mind the Ferrari, Porsche, Corvette, and Aston Martins GTs that will long have a 24 Hour presence. And there's even a NASCAR Chevy racing this year. But the Le Mans Hypercars are here to stay. Toyota, Ferrari, and Peugeot have all committed to long-term LMH programmes, while also seeding several more future privateer entries. Porsche and Cadillac already have seven new LMDh entries between them.
LMDh however promises to take Le Mans, the WEC and the US IMSA Sportscar series to incredible new heights. Not only are Porsche and Cadillac committed, but several other manufacturers are poised to join the fray. BMW and Acura-Honda are already racing in IMSA, with BMW confirmed for Le Mans 2024. Alpine-Renault launches its 2024 LMDh car at Le Mans on Friday, and Lamborghini also joins next year. And we're confident that there will be more, too.
Sportscar racing, the WEC, Le Mans, and IMSA are set to explode into something quite incredible. The cream of global supercar makers crop are set to fight it out on the greatest racetracks and in the most iconic races around the world. This is why Le Mans is already a complete sell-out for the first time this weekend.
So, unless you already have a ticket, there's little option but to follow Le Mans on TV, or via live streaming or timing. Find a way to watch the 100th running of the iconic 24 Hours from 16h00 CET on Saturday 10 May. What you may learn will certainly serve you well leading into the next great motor racing era. Bring it on!