Max Verstappen won an incident-packed and tense Monaco Grand Prix, Round 6 of the 2023 Formula 1 World Championship; even with the rain coming down and a barrier clip here and there, the Red Bull driver was untouchable in Monte Carlo on Sunday.
We billed this race as "Verstappen versus Alonso chased by the rest" and it is pretty much how the script panned out for the 69th edition of F1's Crown Jewel Grand Prix, the sport's latest GOAT winning with ease.
Yes, Verstappen is a GOAT, in the mould of modern heroes such as Ayrton Senna, Michael Schumacher and Lewis Hamilton. At 25, he will simply get better, which is astounding to think. F1 fans of this era are privileged to watch the sporting phenomenon, in which Max is, getting better and better with every outing in the remarkable Red Bull RB19.
That was his 39th F1 career win, his fourth of the season, again raising his game to another level by winning the coolest race in the world by a massive 27 seconds, better than anyone today, in the dry, in the slippery and in the wet conditions.
Verstappen was masterful it was a Senna-esque Monaco Grand Prix
In retrospect, the Dutch ace won this race when he wrestled his Bull through the final sector of his final Q3 lap to steal pole position, when the odds were stacked against him on an ever-changing track. It was masterful, at Monaco it was Senna-esque.
That was the hard part, on Sunday he controlled his pace and managed his tyres masterfully, to take a comfortable 27 seconds victory over the evergreen Fernando Alonso, who gave it his all throughout the 78-lap race, hanging on in the ten seconds zone waiting for the driver of the #1 car to make a mistake. Senna once did while leading in Monaco… But not Max, not today.
Verstappen said after his second win at the Principality: "It was quite a difficult one because we were on the medium and Fernando was on the hard. We didn't want to go that long but we had to stay out with the rain coming. The tyres were graining and then the pace picked up a little bit but it was still very tricky to drive. Then it started to rain and we had to make the call to go onto the inters.
"It was incredibly slippery and when you are that far in the lead you don't want to push to hard but also you don't want to lose too much time so it's quite difficult in that scenario. I clipped the wall a few times and it was super difficult out there. But that's Monaco.
"It's super nice to win Monaco, and it's super nice to win it in the way we did today with the weather and everything, to stay calm and bring it home," added Max, who now has 144 points and leads the 2023 F1 WDC by 39 points; his closest challenger Red Bull teammate Perez, last year's winner, scoring no points after starting last thanks to crashing out during qualifying on Saturday.
Alonso shines for Aston Martin while Stroll bombed badly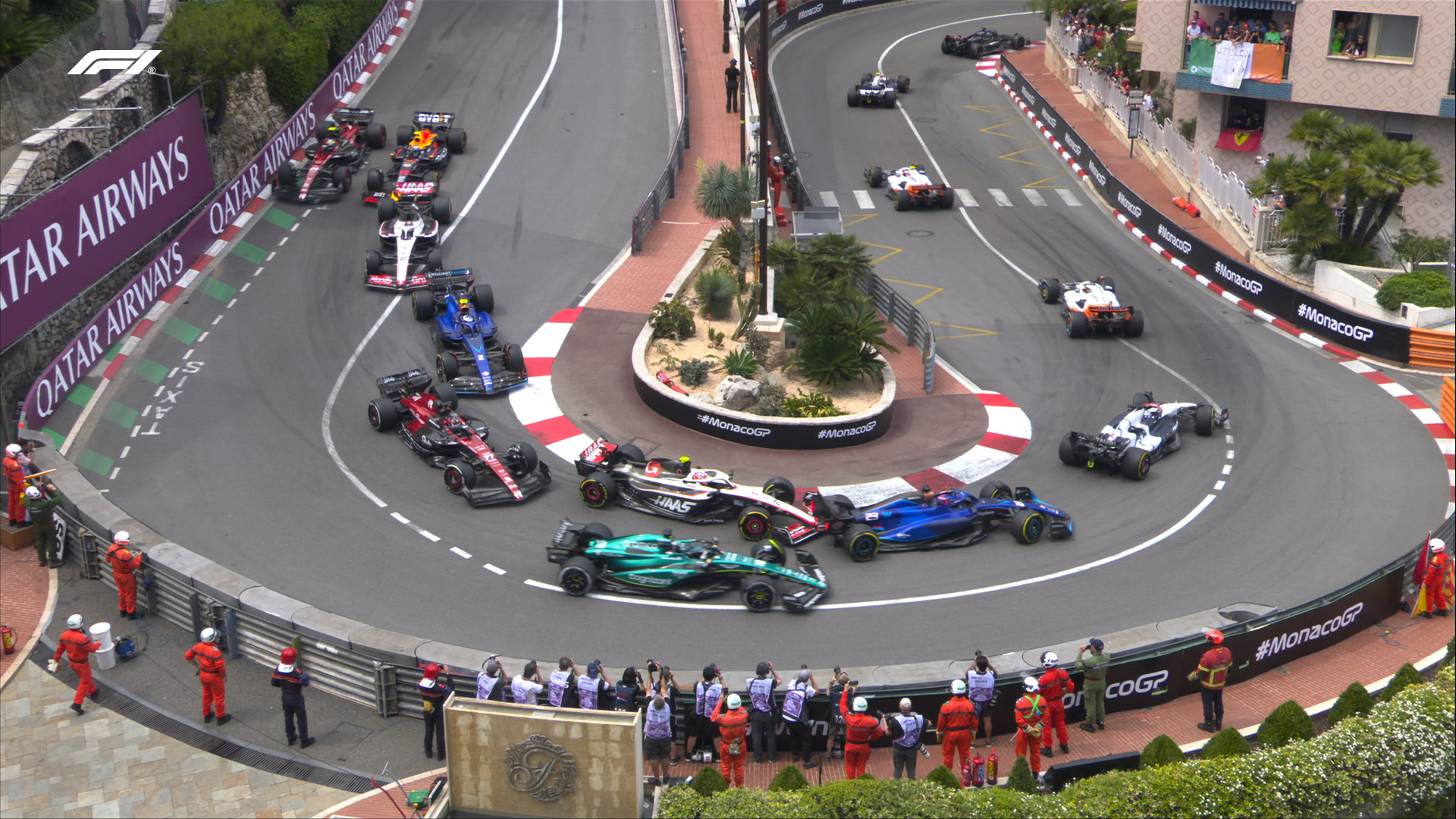 The Spaniard's race to second place was again stellar, best of the rest and making a mockery of his untouchable Aston Martin teammate Lance Stroll's presence on the F1 grid.
The Spanish veteran toiled hard all weekend at the sharp end of proceedings, while his younger teammate bumped into just about everything, on lap 56 the Aston Martin his billionaire father built for him cried enough, one bump too many.
There is no race like the Monaco Grand Prix, to separate the boys from the men in this sport.
Alonso, who as usual was a main man on Sunday for Aston Martin, summed up his 2023 Monaco race in parc ferme: "It was difficult and we started on the hard tyres, so gave up the possibility into turn one. We hoped to play the long game with the strategy but Max drove super well on the medium tyres to extend that first stint. We didn't have any chance then the rain made things a bit complicated out there."
As for the changing conditions: "No full power on the lap, braking was extremely fragile into Turn Five and 10. It was not easy. I was surprised there were no incidents, safety cars. Everyone did an amazing job to keep the cars on the track," concluded the 41-year-old Spaniard.
Behind Alonso, his former teammate Esteban Ocon enjoyed one of his best races, the Alpine driver delivering a gutsy performance, as he had a double F1 World Champ while being chased by a seven-time F1 World Champion in Hamilton. The Frenchman was resolute and made few mistakes, despite going wheel to wheel on several occasions, to take a well-deserved podium in what is as close as he will be to a home race.
Ocon: Este-besty is on the podium baby!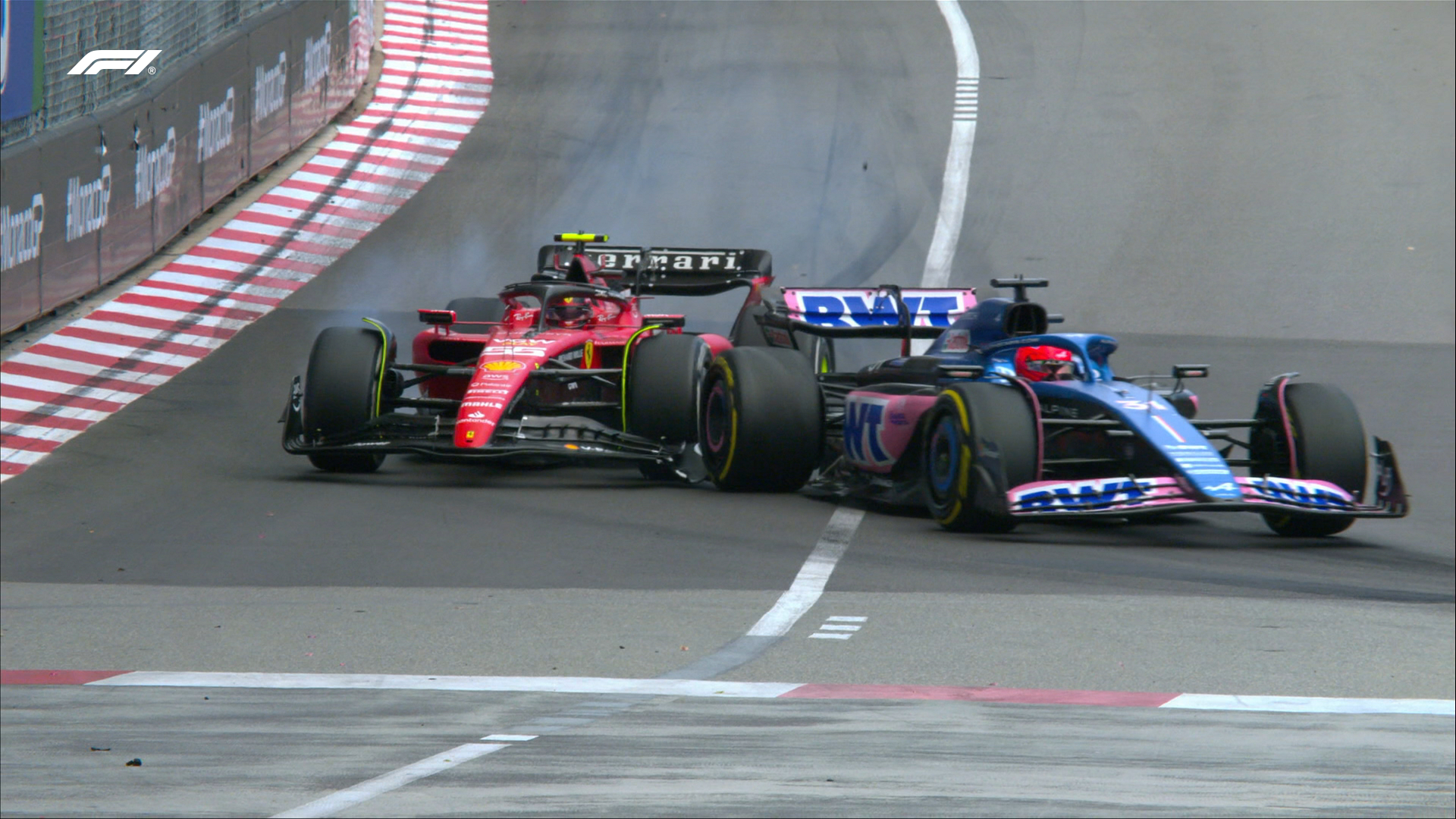 The Frenchman was chuffed with his podium: "We've done it. What a superb weekend from everyone in the team. We improved the car from beginning to end and we didn't make a wrong step at any time – even when we put the inters on it was the perfect lap. It's been a while since I've been on the podium and I hope this is the first of many.
Hamilton gave it what he had, the heavily revised W14 is not the "silver bullet" they may have hoped for, but fourth place will be a timely boost for Mercedes, enhanced by Russell's equally strong showing to finish fifth.
Ferrari could not win last year with two cars on the front row, so no surprise they had another forgettable afternoon. At one point Carlos Sainz looked good for third, harassing Ocon for third, but it all went pear-shaped when he started arguing with his strategists, not to mention clipping the Alpine's rear tyre and braking his front wing on one overtaking attempt.
In the end, Charles Leclerc survived a home race to defy his apparent jinx, to finish a disappointing sixth with Sainz dropping down to eighth. Not a good weekend for Ferrari.
A double points score for Alpine with Pierre Gasly seventh was just the tonic the team needed, as was the double points finish for McLaren's hard-working duo Lando Norris and Oscar Piastri finishing P9 and P10 respectively.
Out of the points, Yuki Tsuonda had a strong race, looking good for a top ten until the AlphaTauri driver had another red mist tantrum moment when under attack that saw him drop down to 15th, behind teammate Nyck de Vries who did a solid, if not stellar job, to bring it home 12th and unbent, at the end of what must've been his trickiest race.
The Williams boys hardly featured, with Alex Albon 14th and rookie Logan Sargeant 19th and showing just why he does not belong in F1 at this stage of his career. 'Mistake-strewn afternoon' best sums up his first Moanco GP.
2023 Monaco Grand Prix Result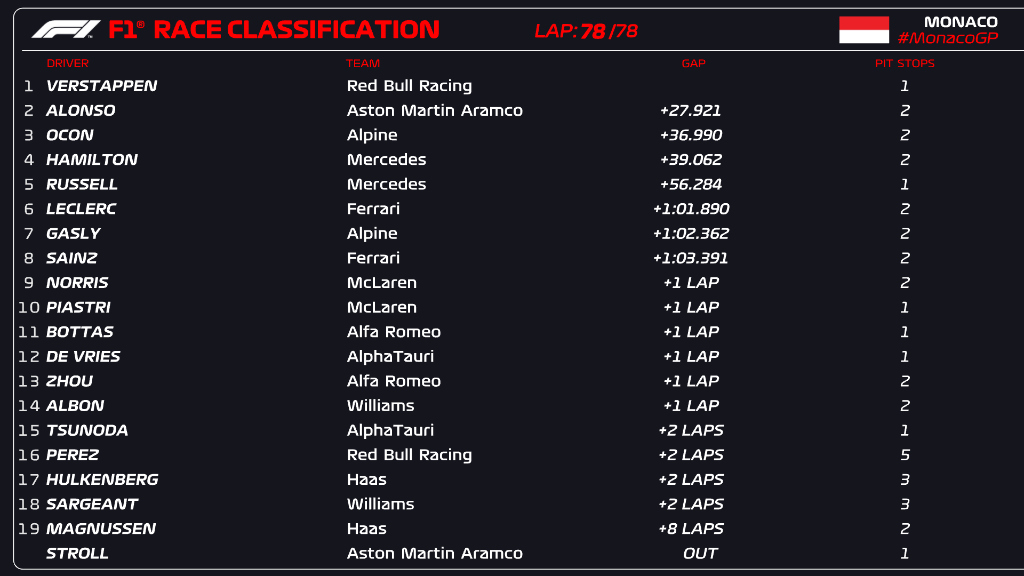 This is how the 2023 Monaco Grand Prix unfolded: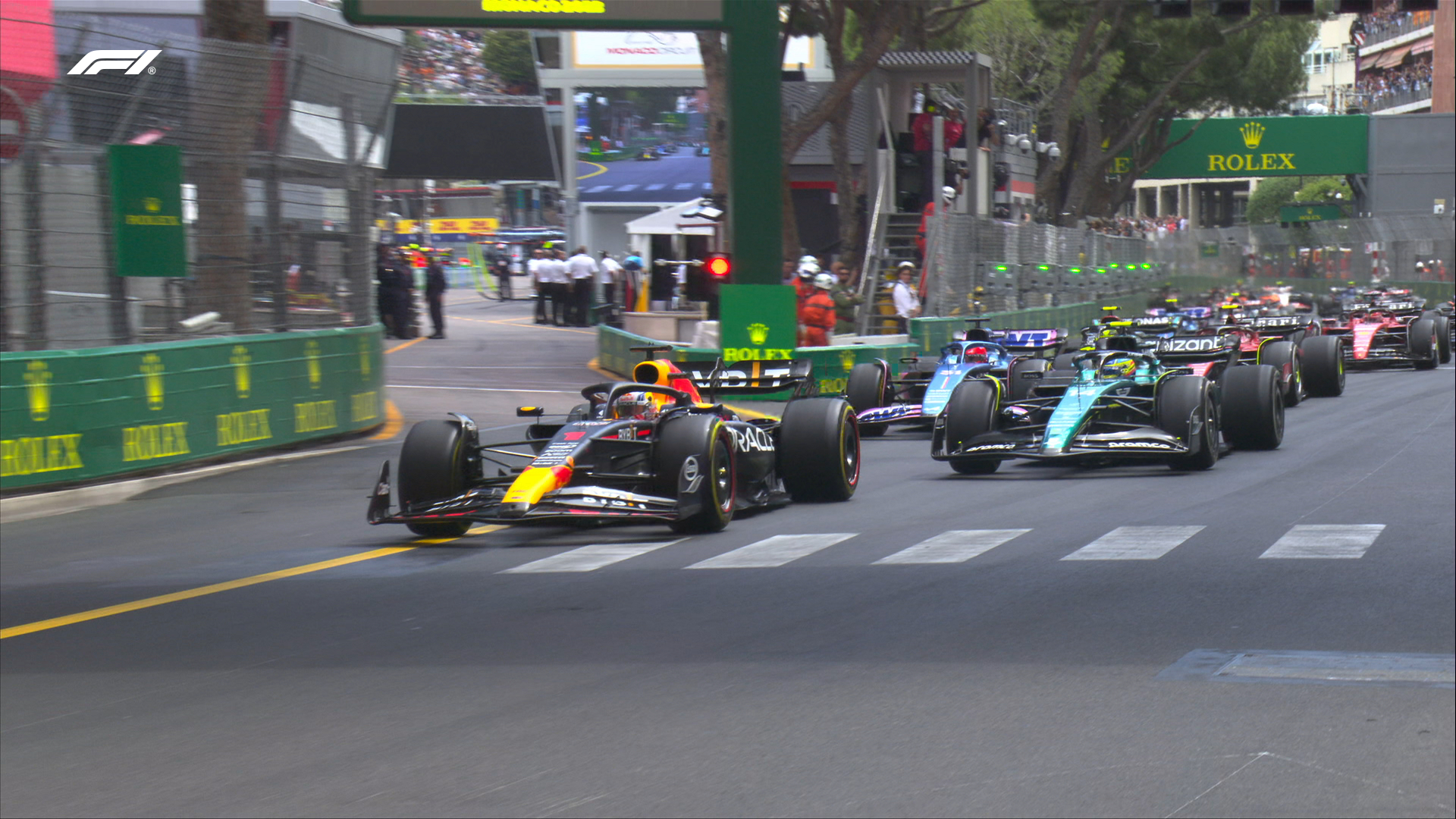 All the front runners made great starts, Verstappen leading the snake around a surprisingly orderly lap, except for a melee at the back end of the field with a clumsy Stroll dropping down the order, as Perez pitted from the back and made up a couple of positions and the early change of tyre meaning he could run to the chequered flag.
By the end of the second lap, on Pirelli Mediums Verstappen was 1.4s ahead of Alonso on the white band Hards, the lead growing at about half a second per lap, with Ocon in third, a second behind but slower, the top ten pretty much as they started.
Lap 10 the top ten order was VER-ALO-OCO-SAI-HAM-LEC-GAS-RUS-TSU-NOR, the RBR driver 2.3s ahead and Ocon falling back fast, with Sainz and Hamilton, Leclerc and Gasly all within five seconds. Perez, in clear air for a while, was setting fastest laps in 18th with errant Stroll in his sights.
On lap 12, Ocon on slow rubber was being gobbled up by Sainz, breaking its front wing but the Spaniard opted to stay out despite the damage. It was very late, heavy-footed and overly ambitious despite the Ferrari driver's protestations: Ocon did not weave under braking.
A lap later, Alonso reported a puncture at the front but was told all was "Ok" and carried on. Verstappen increased the lead to five seconds, the Aston out of its sweetspot at this point. Perez was 46 seconds behind his teammate, stuck in traffic the Mexican was check-mated.
Ocon continued to fall back, but behind him, Sainz had dropped back 1.5s with a stalemate behind him as Hamilton, Leclerc, Gasly and Russell toed the line.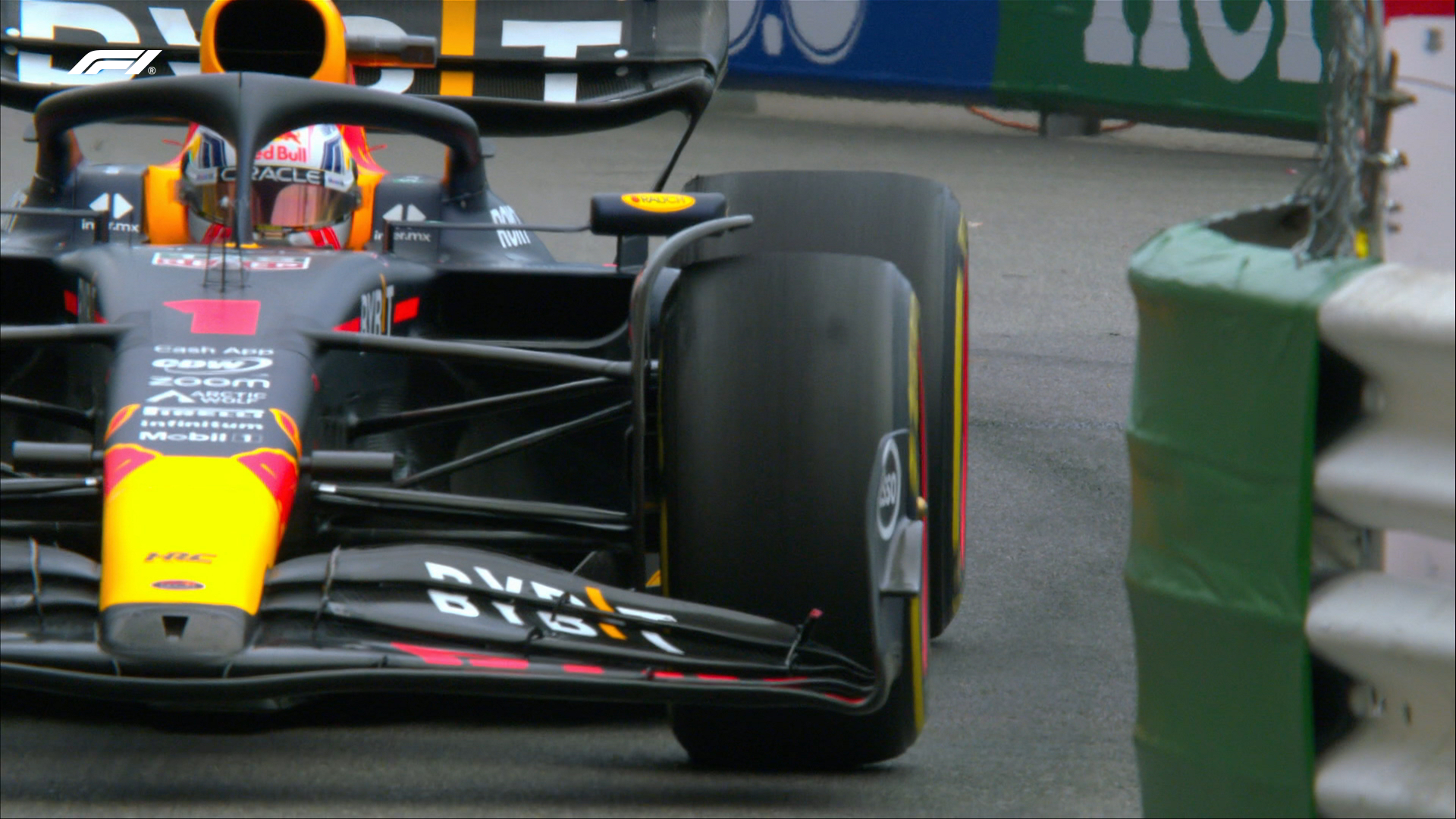 Lap 20 the order was VER-ALO-OCO-SAI-HAM-LEC-GAS-RUS-TSU-NOR, no change in the top ten as they still ran as they started. Perez was the only real mover, up to 16th and pumping fastest laps. At the front, teammate Verstappen was in control. By lap 25 he was a dozen seconds ahead of Alonso who was seven seconds ahead of Ocon and the chasers towing the line behind the Alpine.
On lap 21, Sainz was called in but stayed out. Obvious Ferrari bluff. Again eight laps later the Red men popped out into the pit apron at the end of lap 29 . Less obvious bluff.
Lap 30 VER-ALO-OCO-SAI-HAM-LEC-GAS-RUS-TSU-NOR, with Verstappen set to lap teammate Perez. Alonso sensed a chance to close the gap as the leader slowed for the backmarkers ahead. Within a couple of laps, Alonso had the gap down to seven seconds.
Hamilton was the first of the big hitters to pit at the end of lap 32.
Verstappen got by Perez, towing his teammate past Stroll into the chicane which the second Red Bull cut to take the position. Ocon in the pits at the time had a tardy stop. Sainz pitted too, but did not do enough to get by the Alpine driver despite the French team's fumble during the stop. It was close.
Sainz was livid with his Ferrari team, scolding them and blatantly questioning their decisions over the radio, providing insight into the obvious mistrust between Ferrari drivers and their strategists in the heat of battle.
Ferrari told him they pitted him to cover Hamilton, at which point the Spaniard fumed: "I don't care about Hamilton."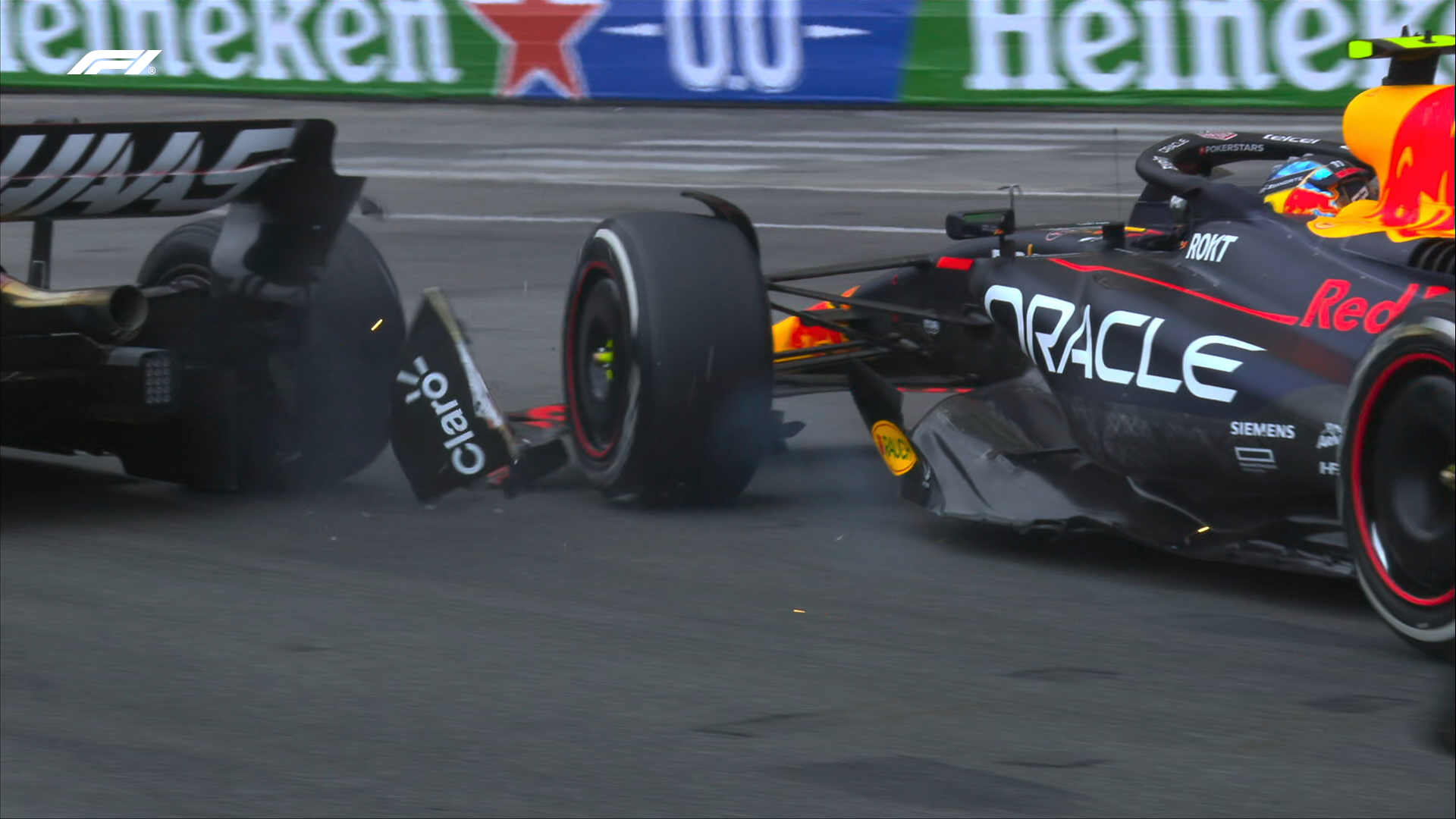 On lap 35, Alonso was into the meat of backmarkers, while Perez's nightmare weekend continued as he tagged Magnussen's Haas. It was never on.
Changes in the order manifested on lap 40, albeit pitstop instigated as drivers had yet to stop. The top ten crossed the line: VER-ALO-LEC-GAS-RUS-OCO-SAI-HAM-TSU-NOR with Hamilton on Hards popping fastest laps. The gap from Verstappen to Alonso was nine seconds, with Leclerc a further nine seconds adrift in third. The top five had not stopped.
That changed on Lap 45 as Leclerc peeled into the pits, emerging behind Hamilton but on fresher rubber.
Lap 50 the top ten order was VER-ALO-RUS-OCO-SAI-HAM-LEC-GAS-TSU-NOR, but the skies were dark, rain spotting down. By lap 53 the umbrellas were out. Sainz versus Ocon was back battling for fourth, Russell yet to stop as parts of the track were getting wet.
Part 2 of the race was on! Decision time for strategists, when to pit. Russell was first with Inters bolted on, with others following suit, with Alonso sticking to slick Mediums.
On lap 55 Ocon spun out in Sector 2 which was drenched. Verstappen pitted for Inters, the Ferrari duo on Mediums in trouble. Alonso also conceded and was back in for Inters like the rest of his rivals.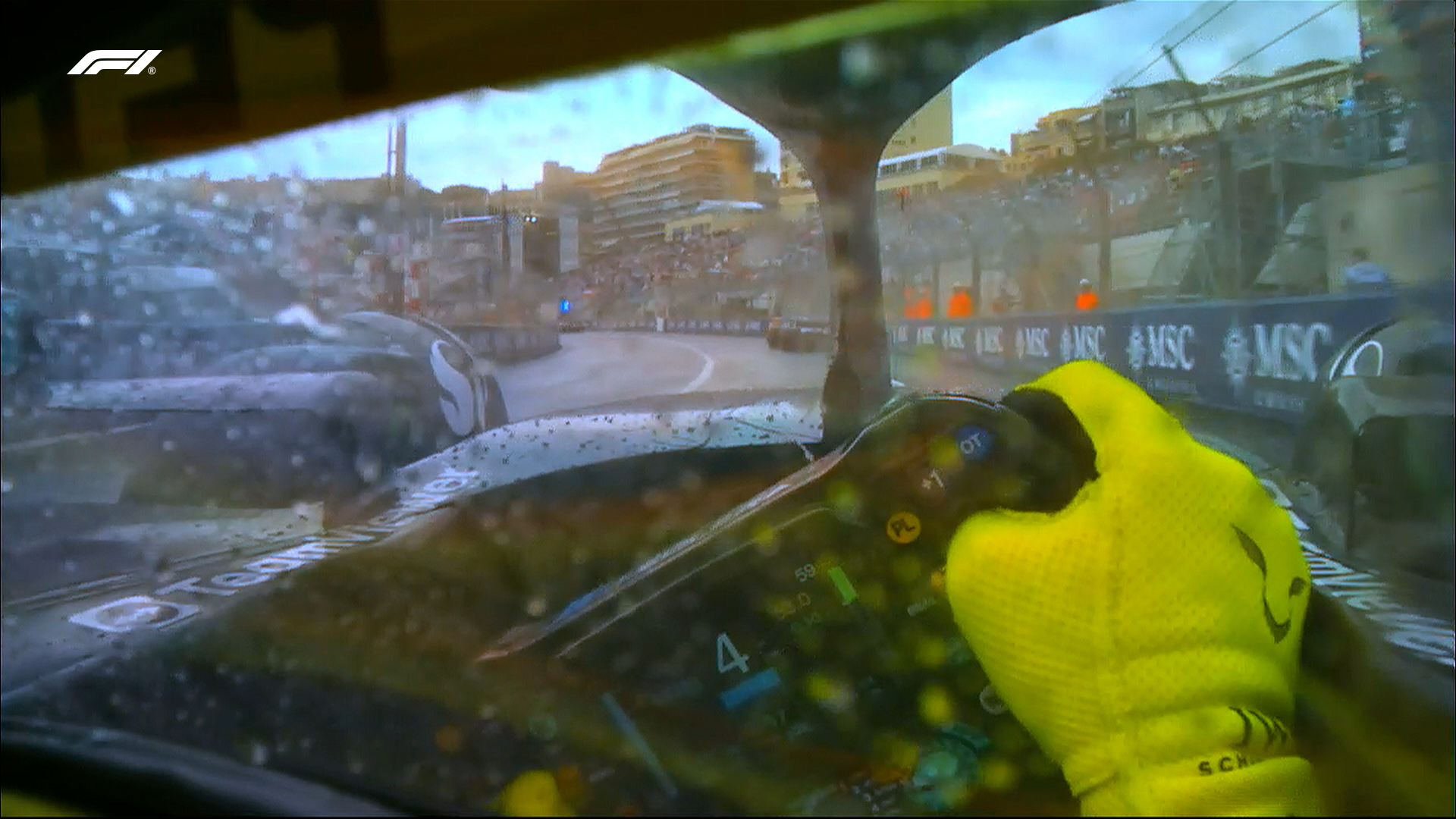 A crazy Monaco five minutes expected to turn the race on its head did not, even though some were caught napping and others not, the order remained relatively unchanged in the points-paying positions VER-ALO-OCO-HAM-RUS-LEC-GAS-SAI-TSU-NOR.
Hamilton was relishing the conditions, setting fastest lap after fastest lap and eyeing Ayrton Senna's podium record at the Principality.
By lap 60 the drivers on slicks were doomed, as they slid around without control with the top ten order stable: VER-ALO-OCO-HAM-RUS-LEC-GAS-SAI-TSU-NOR with Hamilton closing in on Ocon the closest battle.
It was decidedly dangerous out there, as Hamilton pointed out over the radio to his team, with a track ranging from slithery-wet to one-inch-deep-wet, causing Russell and Perez colliding when the Mercedes went too deep at Mirabeau, while Magnussen could not keep the Haas going straight.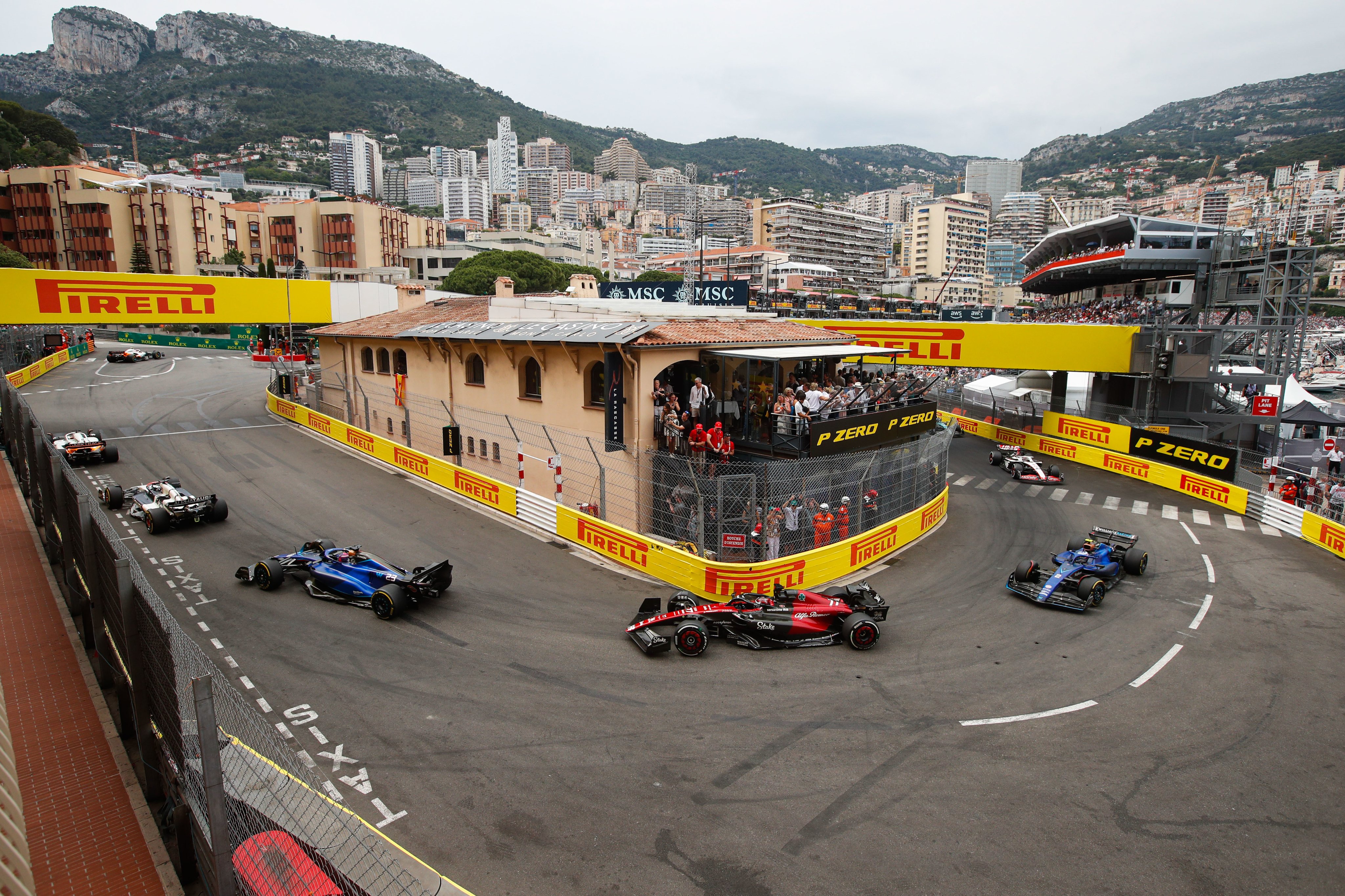 Lap 60 it was still VER-ALO-OCO-HAM-RUS-LEC-GAS-SAI-TSU-NOR making up the top ten, and it was clear that even if the rain stopped the track would remain treacherous and not for slicks again on the day.
Verstappen led by nearly 20 seconds, with Alonso second and a dozen seconds ahead of Ocon in third, chased by Hamilton and the rest in his spray including Russell who asked the team if he could have a stab at overtaking Ocon, but HAM just went quicker.
With a dozen laps to go, a dry line started forming with the only real battle between Gasly defending from Sainz, cutting corners in the process, at the same time Norris nipped past Tsunoda to take ninth into Turn 1, with impressive rookie Oscar Piastri in the other McLaren making the exact same move a lap later to take tenth.
Tsunoda spun on lap 69, dropping down to 13th as controlled mayhem ensued, plenty slithering and sliding, credit to the F1 class of 2023 for keeping it so clean; no red flags and limited broken carbon fiber is a welcome relief considering the conditions during an enthralling two hours of Grand Prix racing at the sport's crown jewel: Monaco.