Under immense pressure on Saturday, Max Verstappen claimed pole position for the 2023 Monaco Grand Prix after a thrilling qualifying beating "animal" Fernando Alonso by the slightest of margins.
Verstappen looked good for pole from the start, with Alonso pushing him hard throughout the qualifying, especially after Sergio Perez put himself out of contention following his crash in Q1.
In the end, Q3 turned out to be an edge-of-the-seat affair with several driver taking turns at the top of the timing screens, even Alpine's Esteban Ocon, but when Alonso put in his final hot lap of Q3, it was clear that it would be between him and Verstappen.
Verstappen was the last driver to cross the line, and after an electrical lap, scraping every barrier just enough to take his first pole position in Monaco, denying Alonso by a mere 0.084s.
It was one of those qualifying sessions when one would've been happy if either Alonso or Verstappen took pole, as both put on a tantalizing performance, any of their a worthy pole sitter.
Charles Leclerc was third fastest in the Ferrari, 0.106s off the pace of Verstappen, but the Monegasque will be under investigation after qualifying for impeding Lando Norris.
Verstappen: You need to go all out and risk it all
Verstappen spoke after qualifying; he said: "I'm very happy. We knew that this was going to be a little bit of a struggle to get everything together. Yesterday wasn't the best start but we kept on improving and kept on being better.
"In qualifying you need to go all out and risk it all. My first sector wasn't ideal in my final lap, I was a bit cautious but then I knew I was behind so the last sector I just gave it everything I had, clipped a few barriers and was very happy to be on pole here for the first time," he explained.
"We need a clean start tomorrow. It's a short run to Turn 1. In Monaco anything can happen, a Safety Car, rain, you name it. There's always a bit of chaos involved. Race pace wise the car is quick so that is not the problem. Just need to keep it clean and calm," the Red Bull ace added.
Alonso: It's a very short run into Turn 1
Alonso, who has not been on pole in F1 since 2012, said afterwards: "I feel good. Obviously pole position means a lot in Monaco but today Max was a little bit faster, which is a shame. I think first row on the grid here for us is quite a big thing. The last sector seemed to be our weakest point on the circuit.
"Let's see tomorrow what we can do in terms of strategy, if there is any weather coming. We will try to win it," the Spaniard vowed. It's a very short [run] into Turn 1," he responded when asked about the race start alongside Verstappen.
"We normally have a good start. Max is a bit inconsistent so maybe [he] has one of those bad ones tomorrow," the Aston Martin veteran concluded.
Leclerc was a disappointed third; he said: "I'm not satisfied with P3, but on the other hand we need to look at the situation we are in with the car. It was very tricky qualifying, the weekend for me especially, we struggle a lot on bumps compared to the other cars.
"But in qualifying the car was a bit more alive, I was a bit more at ease with the car and we managed to do P3, very close to the pole position. So all in all happy, but I would prefer to be first of course.
"I guess a little bit more luck than the other years, I don't know how is the forecast, yesterday it looked like maybe we'll have some rain. So if this is the case anything is possible and I will go for it anyway and let's see where we end up," the Ferrari driver concluded.
Q3: The best of two generations slug it out
Max Verstappen and Fernando Alonso delivered an epic fight for pole position in Monaco, the latter claiming over the team radio that he was driving like an "animal".
In the end, the reigning Formula 1 Champion's pole time was only 0.011s faster than the pole time set by Charles Leclerc around Monaco in 2022, a 1:11.365 compared to 1:11.376 from Leclerc last year.
Alonso was 0.084s shy of Verstappen's time, with Leclerc a further 0.022s down the road in third.
The surprise of Q3 had to be Esteban Ocon, who held the fastest time briefly, but ended up fourth fastest in the Alpine, 0.188s off pole, a respectable performance from the Frenchman in the Blue and Pink car.
Carlos Sainz was only good for fifth fastest in the other Ferrari, and was 0.265s off the pace, with Lewis Hamilton less than a tenth behind the Spaniard in sixth place.
Pierre Gasly capped off a decent qualifying for Alpine, seventh fastest, but almost four tenths slower than his teammate. Nevertheless, a strong performance from the under-pressure outfit.
George Russell was eighth fastest for Mercedes, sixth tenths down from the benchmark time, and was 0.118s faster than a superb Yuki Tsunoda who posted the ninth fastest time for AlphaTauri.
Lando Norris's mechanics were able to fix his car for Q3, but couldn't do better than tenth.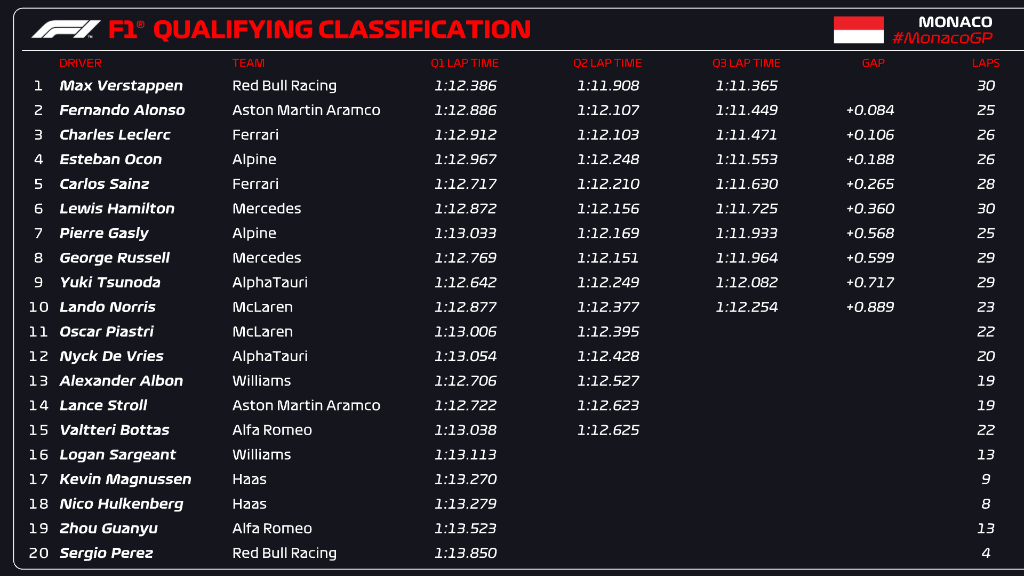 Q2: Lewis Hamilton makes Q3 by the skin of his teeth
Max Verstappen's strong form carried on in Q2, as the Dutchman was once again the fastest of the ten cars that qualified into Q3 with a lap time of 1:11.908.
Charles Leclerc was second fastest, 0.195s behind Verstappen, while Fernando Alonso was third fastest, 0.004s behind the Monegasque.
Lewis Hamilton was under risk till the final second of Q2, where he put in a lap good enough for fifth fastest, a 1:12.156.
The first casualty from Q2 was McLaren's Oscar Piastri who was 11th fastest, and lost out by 0.018s to his teammate Lando Norris, who made it into Q3 despite hitting the barriers at the swimming pool chicane, the McLaren mechanics scrambling to fix the #4 MCL60 in time for Q3.
NORRIS HITS THE BARRIER!

It's a hefty whack for the McLaren driver 😲

He manages to make it back into the pits….#MonacoGP #F1 pic.twitter.com/13dmAD9EKr

— Formula 1 (@F1) May 27, 2023
Nyck de Vries was 12th fastest in the AlphaTauri, 0.033s behind Piastri, while Alex Albon was 13th fastest in the Williams with a 1:12.527.
Lance Stroll disappointed in Q2 and will line up 14th on the Sunday's grid, over seven tenths off the pace set by Verstappen.
Valtteri Bottas was 15th fastest in the Alfa Romeo with a lap time of 1:12.625.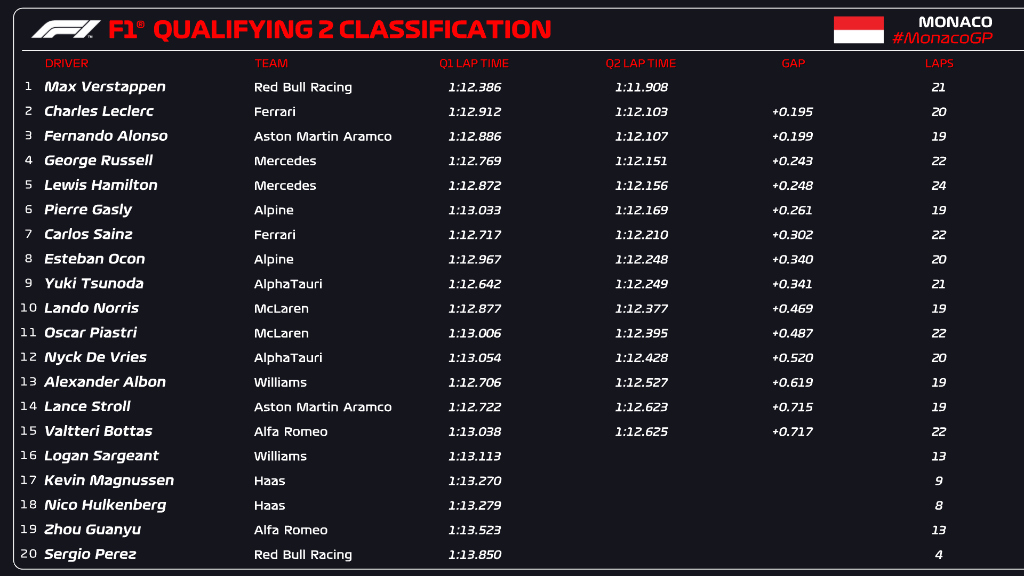 Q1: Sergio Perez bins it
Qualifying in Monaco started in clear and dry conditions, with the main point being: Who will fall prey to traffic in Q1 as twenty cars slug it out to set a time?
Seven minutes into the session, Sergio Perez crashed heavily at Turn 1, losing the rear of his car after missing his braking point, and smashing onto the barriers demolishing the rear right side of his RB19.
It was a pity for the Mexican as he seemed to be very close to Max Verstappen from FP3 and would've had a decent chance of fighting for pole. What make matters even worse is that Perez's car might need a new gearbox.
That naturally brought out the Red flags as the stricken Red Bull was cleared and the barriers were fixed. The session was resumed with 11 minutes on the clock.
And we're back in action for Quali! ✨

11 minutes remain in Q1 #MonacoGP #F1 pic.twitter.com/9qbJNmjcWF

— Formula 1 (@F1) May 27, 2023
Max Verstappen led the pack into Q2, fastest of all with a lap time of 1:12.386, with Yuki Tsunoda second fastest, 0.256s behind while Alex Albon was third fastest, 0.064s behind the AlphaTauri driver.
The first driver to lose out on Q2 was Logan Sargeant who missed out by 0.059s, and will start the Grand Prix from 16th on the grid.
Kevin Magnussen was 17th fastest followed by teammate Nico Hulkenberg in 18th, the pair separated by 0.009s.
Zhou Guanyu was 19th fastest for Alfa Romeo, while Sergio Perez will start Sunday's race from dead last after his crash.