Ex-Formula 1 driver Marcus Ericsson will attempt to become the first driver to claim back-to-back Indianapolis 500 wins since Helio Castroneves did so in 2001-02, while fan favourite Tony Kanaan gears up for his final race at the famed Brickyard on Sunday.
Ericsson, who will start from 10th position on the grid, will face the 500-mile race with a different feeling after last year's dramatic victory gave Chip Ganassi Racing their fifth Borg-Warner Trophy.
"It's always so special to come here to the speedway, especially in May, but to come here as a defending champion, it's just something different," the 32-year-old Swede told IndyCar earlier this week. "The confidence I come here with, the attention from the fans when you are a winner, it's so different. I try to compete, but at the same time, embrace and enjoy that."
Yet eyes will also be on 48-year-old Tony Kanaan, Indianapolis winner in 2013, who will bring the curtain down on his career at the "Greatest Spectacle in Racing".
"I'm going to leave it all out there, and if that's good enough to win, fine," the 2004 IndyCar Series champion told reporters after qualifying on Saturday.
"Probably for the first time, I won't be sad, because I won't be (thinking) 'I have to do it next year'. I'll try to enjoy it with all my friends, my family and my fans."
Kanaan's fellow Brazilian, Castroneves will again look for a fifth Indy 500 victory to become the outright most successful driver in the history of the race.
Palou will start from pole and try to be the first Spaniard to win the Great Race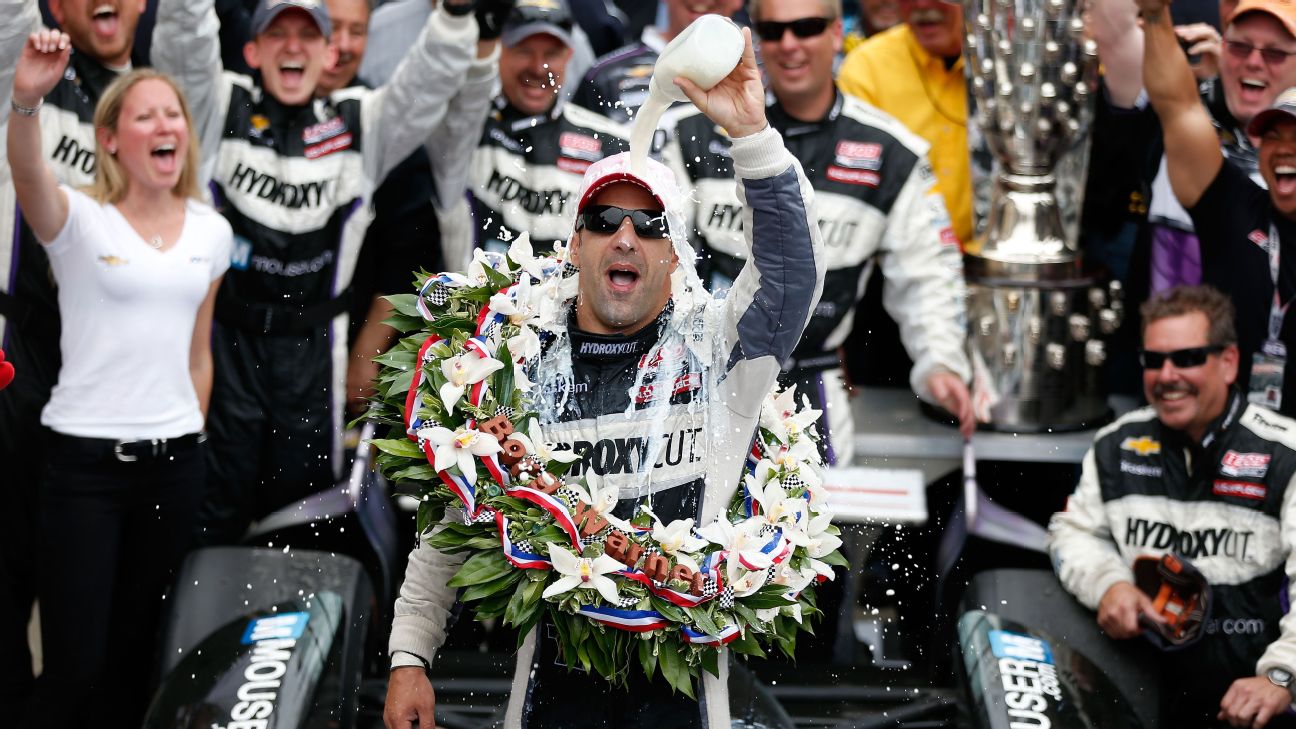 Castroneves has starred in IndyCar since winning the 500 on his first two attempts in 2001 and 2002. After a third title in 2009, the 48-year-old did not win again until 2021 but failed to successfully defend his title in a seventh-place finish last year.
However, it is 26-year-old Spaniard Alex Palou who will start first on the grid after producing the fastest four-lap average speed in history for an Indy 500 pole winner with 234.217 mph.
Palou will be aiming to convert pole position into victory, a feat achieved on 21 previous occasions.
In a starting field with nine former Indy 500 winners, Katherine Legge will be the only woman after two years without female drivers at the Brickyard.
The Briton, who was involved in an accident with compatriot Stefan Wilson earlier this week, had the fastest single qualifying lap (231.596 mph) and four-lap qualifying average (231.070) for a female driver in Indianapolis 500 history.
Legge, who is making her first 500 appearance since 2013, told American broadcaster ABC: "Ten years ago most of the Indy fans were men. Now there are as many women as there are men and they come to me and say that I'm racing for every woman out there. I feel responsibility, but I also feel an immense amount of pride." (Reporting by Janina Nuno)