The 2023 Australian Grand Prix was a 58-lap race, but it took a dramatic, plenty-bent-metal lap at the very end – after a red flag – to decide the result of an action-packed, drama-filled afternoon.
Late in the race, the Haas of Kevin Magnussen suffered a burst tyre when he smacked the wall before he parked it, triggering a full safety car with four laps to go. Then, Red Flag! A two-lap sprint to decide this Grand Prix.
Lap 56 restart order: VER-HAM-ALO-SAI-GAS-STR-PER-NOR-HUL-OCO
When the lights went out, what ensued was total chaos, and another Red Flag as carnage ensued, cars were strewn everywhere, probably the most expensive afternoon of bent metal for this generation of cars, the order now: VER-HAM-SAI-HUL-TSU-NOR-PIA-ZHO-BOT-PER
Alonso, Gasly, Stroll and Ocon were the big losers; both Alpines totally wrecked, after their drivers collided on that fateful restart lap.
And it is still not over, we think… Over to the (bumbling?) FIA appointed F1 race stewards and their Race Director who decided to start the race again (!) with the cars in the same order as per the previous restart for a formal no racing final parade lap to end the 37th Australian Grand Prix, F1's 1082nd (among the most chaotic) race.
The podium: winner Max Verstappen (Red Bull), second to Lewis Hamilton (Mercedes) and Fernando Alonso (Aston Martin) in third.
Verstappen: I just tried to avoid contact
After his 37th career F1 victory, his first in Australia, and the second of the season, increasing his lead in the 2023 F1 World Championship standings, Verstappen said: "We had a very poor start, and lap one I was careful because I had a lot to lose and they had a lot to win.
"After that, the pace of the car was quick – you could see that straight away. We were always there, waiting for the DRS for the chance to pass. But with these red flags, I don't know.
"The first one, maybe you can do it but the second one I don't understand. So, it was a bit of a mess, but we survived everything and we won, which, of course, is the most important thing.
As for his battle with Hamilton, in which he was unusually conservative, Verstappen said: "From my side, I just tried to avoid contact. It's quite clear in the rules what you're allowed to do on the outside, but clearly, it's not followed.
"It's okay, we had good pace and we passed them anyway, but it's something for the next race to take into account. It's great to win here – my first win, it's been a while for the team as well so very very happy," added Red Bull's reigning F1 World Champion.
Hamilton: I definitely didn't expect to be second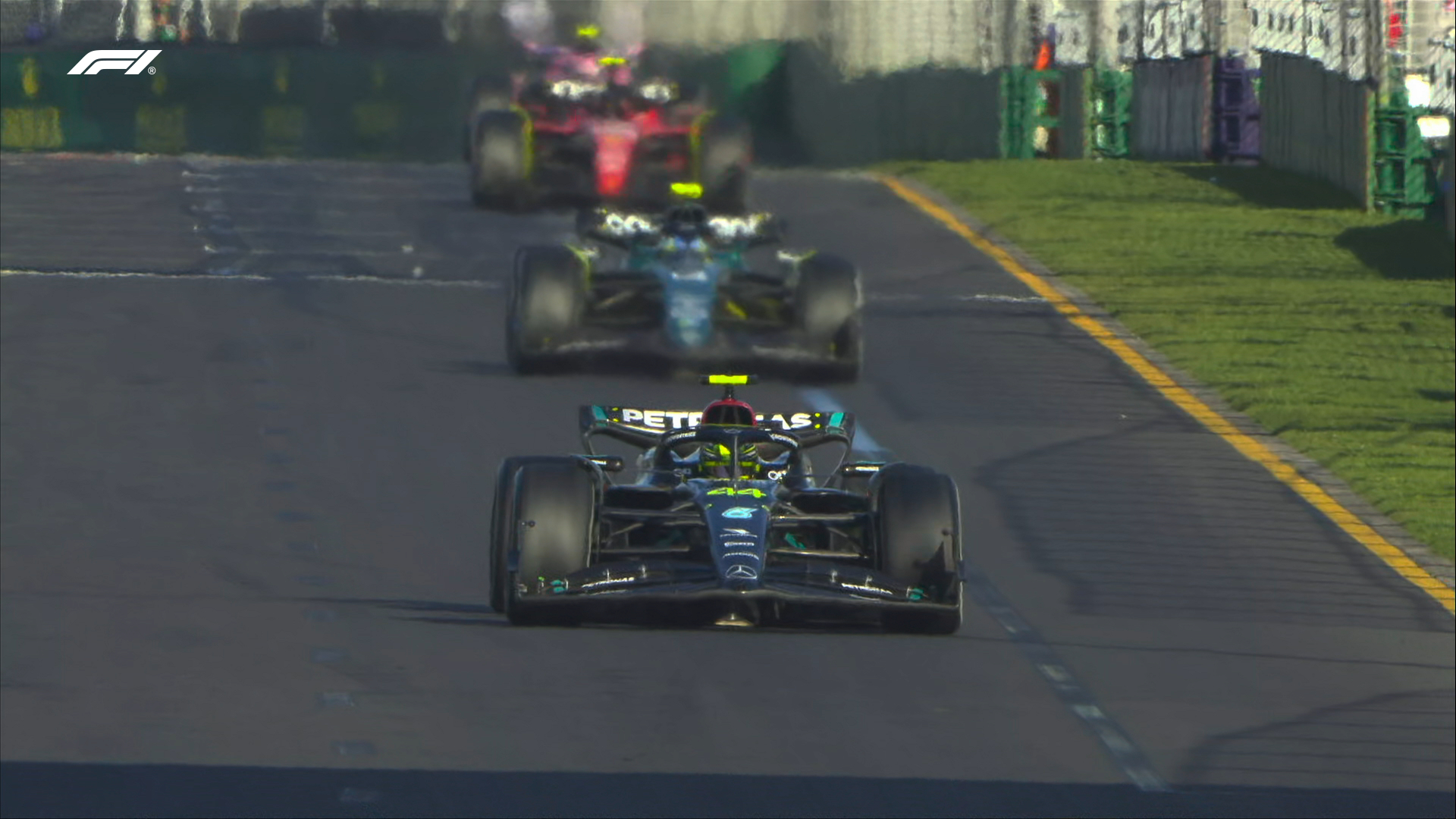 The seven-time F1 World Champion said on the occasion of his incredible 192 podium: "It was (a crazy race). I have had the best week here this week. It was really unlucky for George today. On our side, we have got to look into our reliability, which has generally been really good, so that is really unfortunate.
"Otherwise to get those points is really amazing today. I definitely didn't expect to be second. So I am super grateful for it. I still feel uncomfortable in the car, I don't feel connected to it so I am driving as best I can with that disconnect and I am working as hard as I can to try and create that connect but it is a long project.
"But still, considering we have been down on performance and the straight pace compared to the Red Bulls, for us to be up here fighting with Aston, it is just amazing at this point in the season.
"We have got to keep on fighting. Big. big thank you to everybody back at the factory, let's keep pushing. If we can close that gap, it is going to be tough, but it isn't impossible," declared an elated Hamilton.
Alonso: A rollercoaster of emotions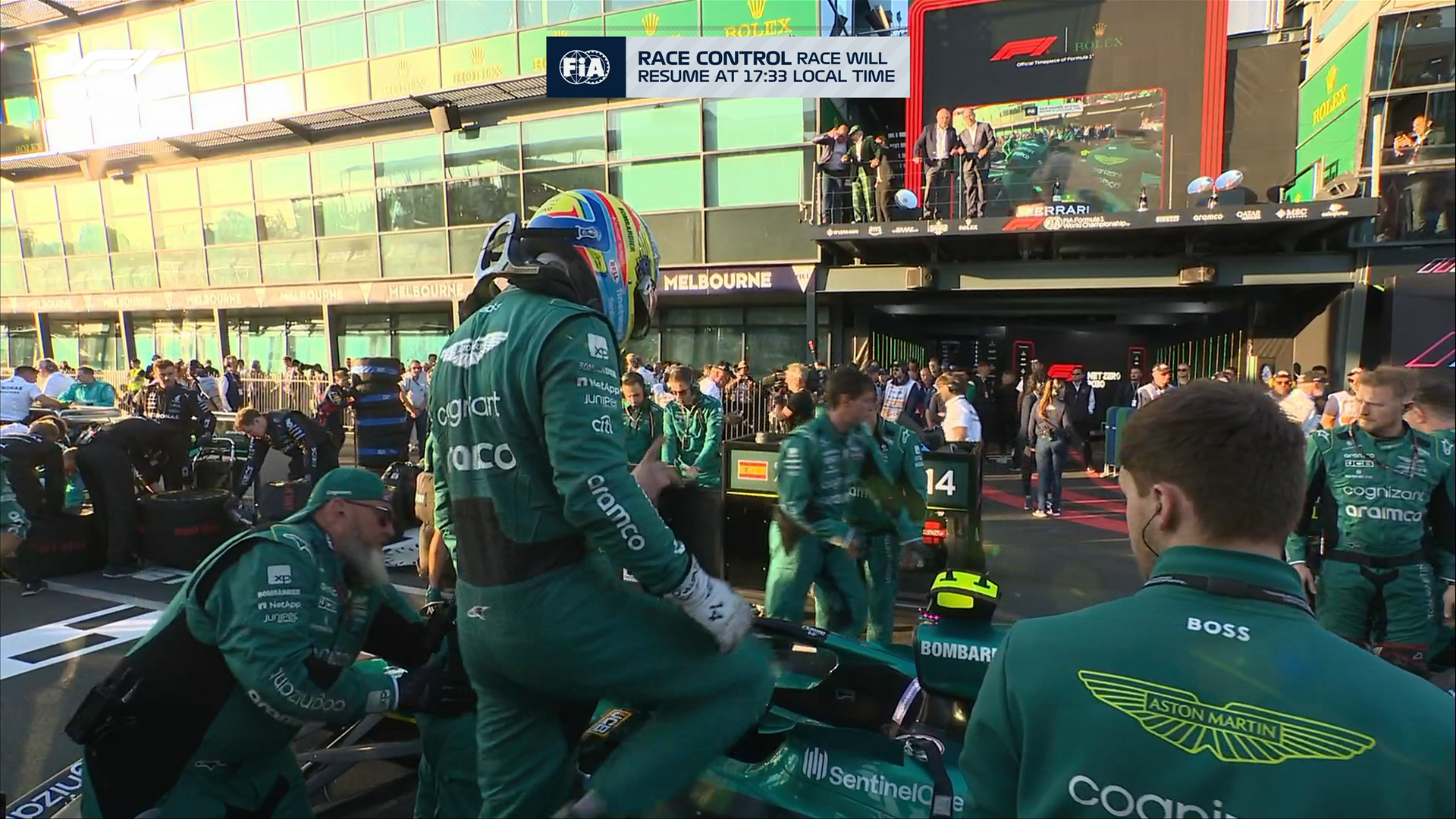 The Spanish veteran summed up his third podium in three starts so far for Aston Martin: "We had a rollercoaster of emotions with many things going on. It was difficult to understand what was going on at the end but it was a good race for us.
"The first red flag helped up because George [Russell] and Carlos [Sainz] came in and we got places for free. The second one probably didn't help us," added Alonso, his 101st podium in F1.
Beyond the podium three, Lance Stroll (Aston Martin) in P4, followed by Sergio Perez (Red Bull) P5 from after starting from the pitlane, then Lando Norris (McLaren) P6, Nico Hulkenberg (Haas) P7, rookie Oscar Piastri (McLaren) P8 on his neighbourhood soil, Zhou Guanyu (Alfa Romeo) P9 and the final point to Yuki Tsunoda (AlphaTauri).
Carlos Sainz (Ferrari) received a five-second penalty for causing a crash with Alonso, dropping him out of the points to 12th, a terrible weekend for the Reds under their new boss Fred Vasseur.
Before the mayhem…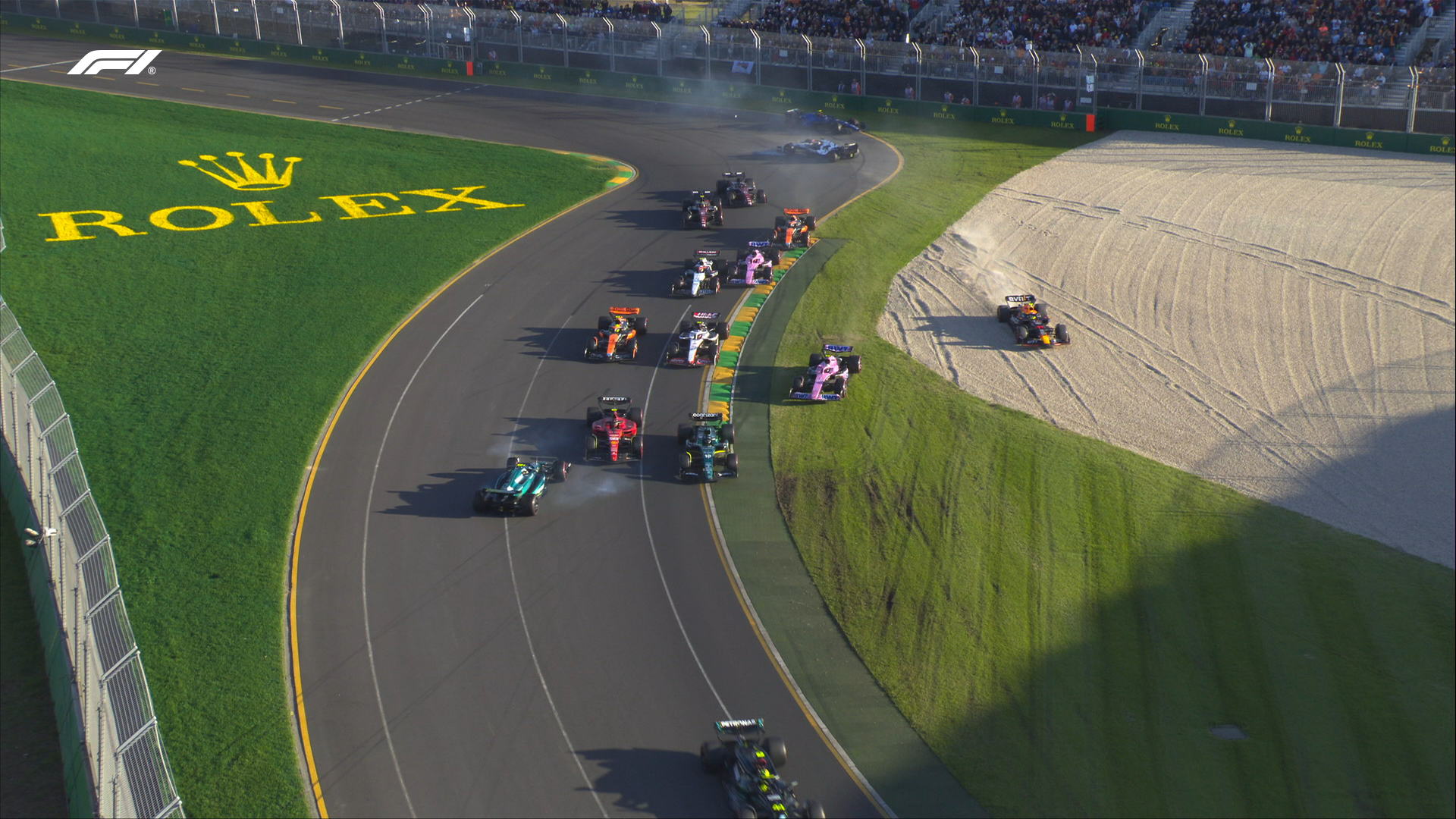 As expected before, no one could stop Max Verstappen today in Melbourne, as he powered to a commanding victory over two Formula 1 legends: Lewis Hamilton P2 and Fernando Alonso P3. The Dutch ace had to work hard and smart to claim his first victory in Melbourne, keeping well away from the mayhem behind him.
But Verstappen was very lucky as he grassed it while leading comfortably, for a split second it seemed the win would end in the bin, but crucially he kept the Red Bull heading in the right direction as it journeyed on the grass. Lucky.
Early on with safety cars, VSCs and even a Red flag stoppage and a pair of very fired-up Mercedes, Verstappen might have felt hindered, after being blitzed by both Black cars on the opening lap.
But the Dutchman tapped into that "maturity" everyone admires, by not going toe-to-toe with his rivals, his nemesis Hamilton in particular, early on in the race; he kept his powder dry until the coast was clear for him, attacked at the exact right time, and thereafter, unhindered the #1 Red Bull disappeared into the distance.
And then 'won' the final two-lap sprint but it was not the walk in the park that many expected! Almost though because Adrian Newey's Red Bull RB19 is an awesome piece of kit.
Nevertheless, it was yet another enthralling Grand Prix in Melbourne.
The drama started early at a packed Albert Park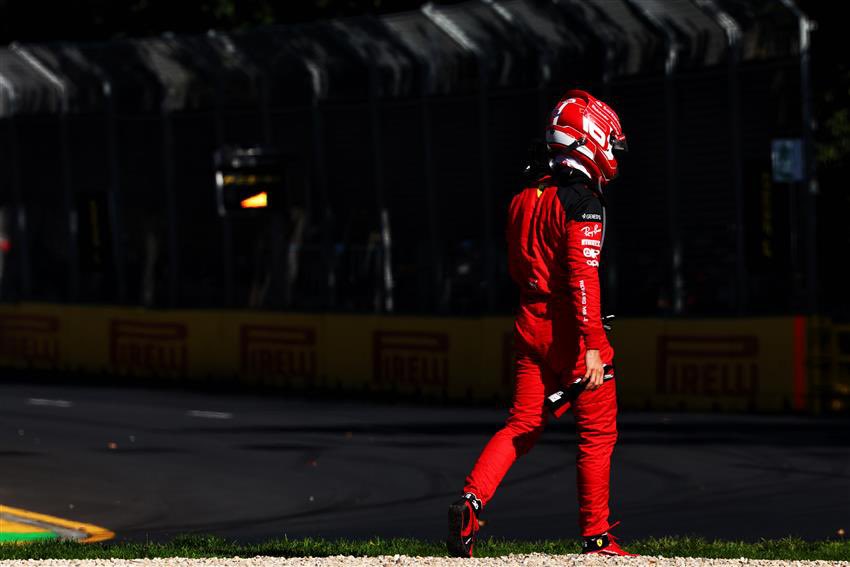 Ferrari's season went from bad to worse as their ace Charles Leclerc made an error on the opening lap, tagged by Lance Stroll's Aston martin, the Monegasque beached his car and headed to the paddock for a very early shower and another huge disappointment for the Tifosi.
Not long after, Alex Albon, star of the show to this point, overdid it and crashed at high speed, triggering a Red Flag stoppage to clear the debris.
When they pitted, George Russell, who had just pitted lost the advantage, his dream of a win already dead in the water at that point. Then the PU of the #63 Merc went poof.
Just before that, Lewis Hamilton was easy prey for Verstappen on the restart, the Red Bull rocketing past the powerless to defend Mercedes. Max was gone thereafter. Game over for the win… we thought.
Albon went from hero to zero when binned his Williams while running as high as sixth
Lap 1 saw an immediate yellow when Stroll tagged Leclerc when the Red car moved into the path of the Aston Martin, sending the Ferrari into the gravel strapped. The Ferrari beached. Safety Car. Leclerc DNF.
But at the front, Russell made a superb start, and was side by side with Max, a proper drag race, the Mercedes nipping ahead. Soon Hamilton, was looming, and pounced for a Mercedes one-two, the order RUS-HAM-VER-SAI-ALO-ALB at the restart. Game on!
At the front, Russell and Hamilton had Verstappen in their mirrors, the trio running almost together. Lap 6 Hamilton started showing his nose to his teammate.
Lap 7, a Safety Car triggered when Albon binned it. At which point Russell relinquished the lead to fit hard tyres as did Sainz, a Red Flag a few minutes later turned what might have been an inspired strategy into a losing call.
Restart. HAM-VER-ALO-GAS-RUS-STR but not for long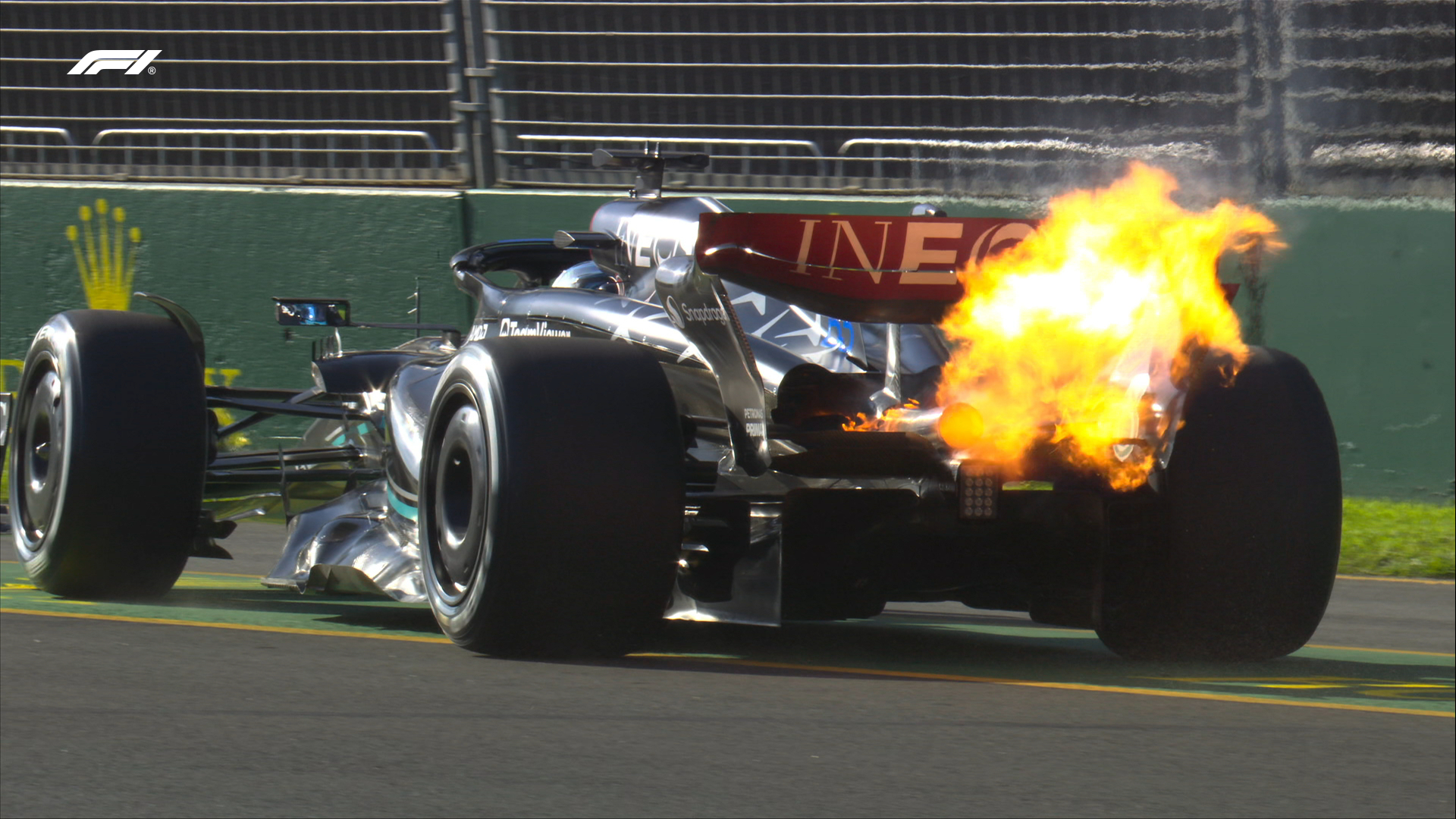 Once the DRS was on Verstappen cruised past Hamilton, the Red Bull still on "another planet" has so often has been written this season.
Behind the reigning F1 World Champ, with Hamilton and Alonso chasing, with Russell getting by Gasly to take fourth; Stroll rounding out the top half dozen, with Sainz fast approaching and nipping past the Aston Martin. the Ferrari showing handy pace relative to those around it.
At this point Perez was 15th, little progress made from the back of the grid but soon found the sweetspot, to move up the order, picking off one rival per lap.
At this point, Alonso was getting quicker and quicker, popping fastest laps, towing the luckless Russell.
On Lap 17, Alonso was in Hamilton's DRS zone just as Russell's Mercedes went up in flames, the driver parking his smoking car at the pit exit. Sad end to a weekend for him, he had the pace for a podium, perhaps even a win. His first engine failure since joining the team.
A Virtual Safety Car was deployed to remove the Merc. The order at the front was: VER-HAM-ALO-GAS-SAI-STR-HUL-NOR-TSU-PIA were the top ten when the track went green.
Once in front Verstappen was in control until the chequered flag amid the mayhem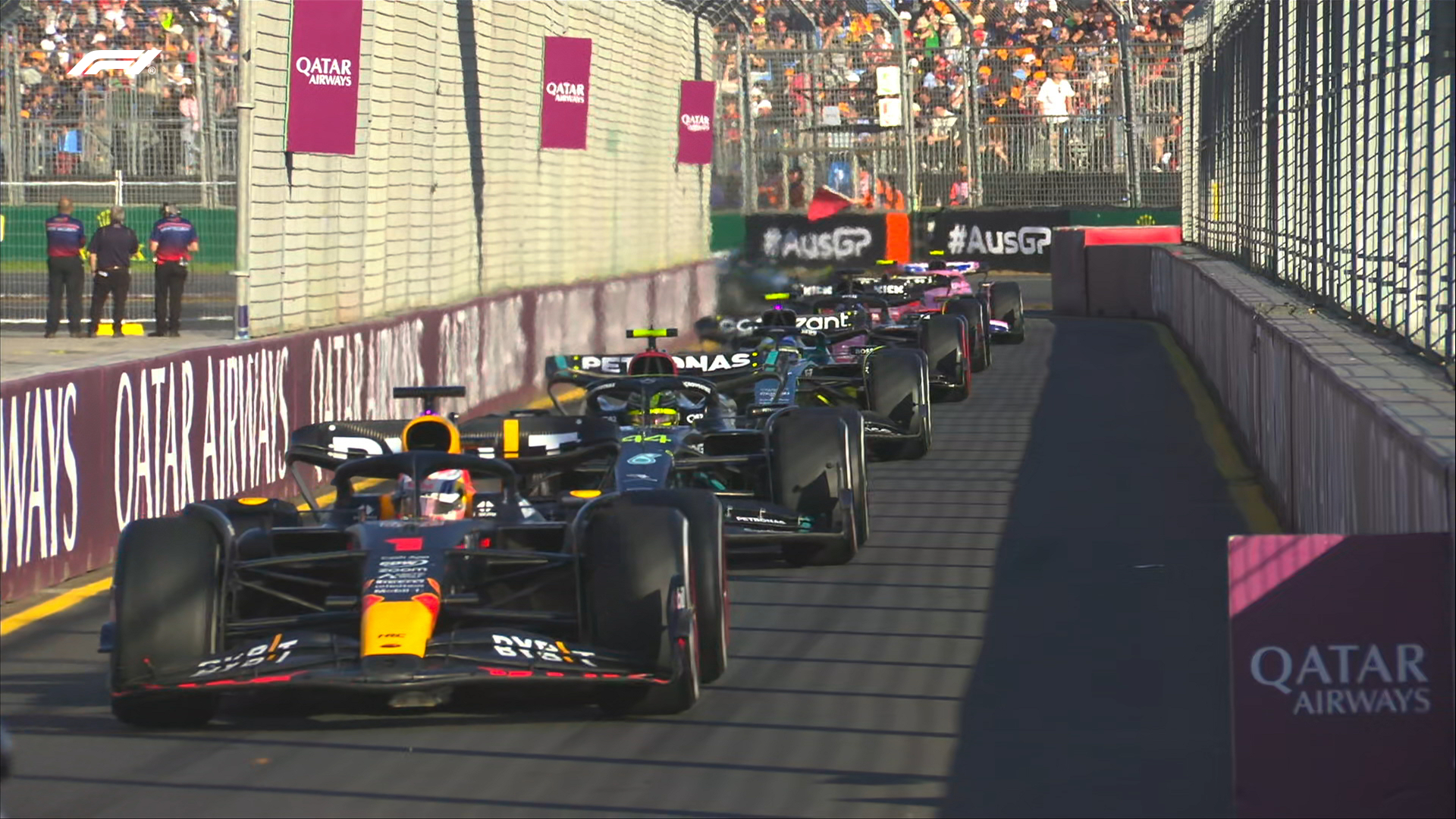 Verstappen was now well in control, almost four seconds up the road churning out fastest laps while his teammate Perez scorched to the top ten with some monster overtakes with the mega-RB19 in fine fettle. What a car, a proper rocket!
The big battle was for fourth, GAS-SAI-STR running within a second and a bit. On Lap 25, Sainz sold Gasly a dummy to take fourth, the Spaniard sniffing a podium.
Lap 34. Verstappen led by almost ten seconds, Hamilton in second was wary of his tyre life while Alonso, 1.6s behind his fellow veteran started reeling in the Merc, a tenth here and there with Sainz stalking the pair of F1 legends. A stalemate at this point in the top ten.
The order: VER-HAM-ALO-GAS-SAI-STR-HUL-NOR-PER-OCO
Perez was still making progress, albeit 20 seconds down on his teammate at the front, and ten seconds away from a podium.
Lap 47, Verstappen pushing for the fastest lap got on the grass and nearly binned it, he caught the Red Bull but lost a couple of seconds.
The next movement in the top ten came on lap 52, when Norris got the better of Hulkenberg with a sweet move, to take eighth place before the final Red Flag and the crazy restart.
The key moment came when Magnussen suffered a burst tyre when he smacked the wall before he parked it, triggering a full Safety Car with four laps to go. Then, Red Flag! A two-lap sprint to decide this Grand Prix, not quite as the Sprint turned into a patade.
The FIA-appointed F1 race stewards and their Race Director decided to start the race again (!) with the cars in the same order as per the previous restart for a formal no-racing final parade lap to end the 37th Australian Grand Prix, F1's 1082nd (among the most chaotic) race.
When the sun set over Melbourne, Sainz's handed a ten seconds penalty from the FIA Stewards for causing a collision, much to the anguish of the Spaniard who dropped out of the points.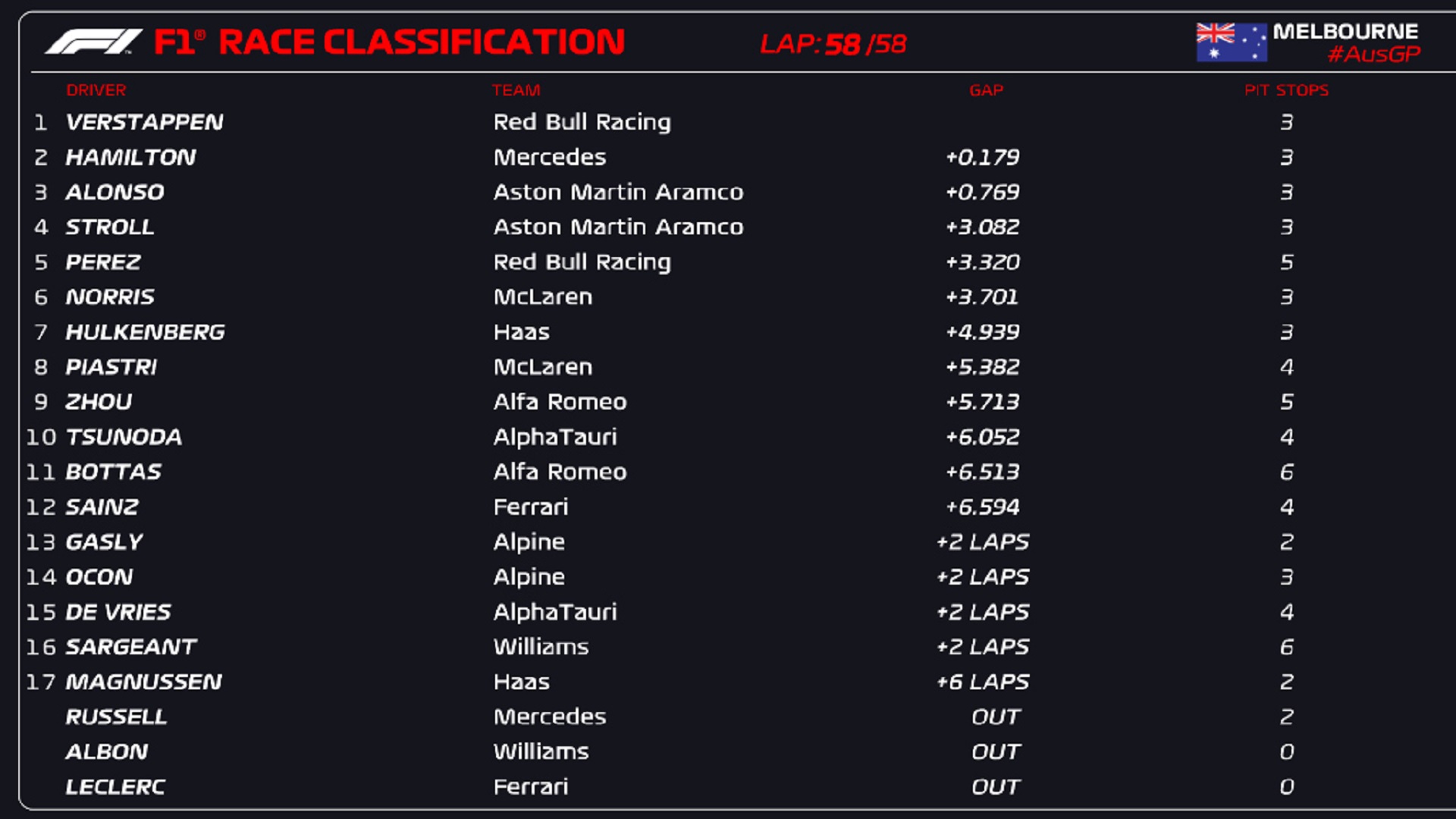 ---
2023 Australian Grand Prix Preview
Max Verstappen starts the 37th Australian Grand Prix from pole position, the Red Bull double Formula 1 World Champion easy favourite to win today.
Can he be stopped by a resurgent Mercedes duo? What about Fernando Alonso? Or will reliability be their Achilles Heel and play a role in the script?
In Jeddah, Verstappen suffered a driveshaft failure which earned him a grid penalty and, during the race, he complained about a similar issue, while teammate Sergio Perez – masterful two weeks ago in Saudi Arabia – was not in a good place all weekend in Melbourne, a failure of sorts caused him to spin out and beach his car.
Is the Red Bull really as reliable as Max believes it is?
But Verstappen is adamant that "reliability is not the problem" at Red Bull, perhaps not but tempting fate in such a manner could boomerang him Down Under. Some things best left unsaid…
Perez's zero-laps qualifying session means the Red Bulls are top and bottom of the 'grid sandwich' with Max the top slice and Checo, the bottom one, the Mexican starting at the back of the grid. While the Mevican's day is sure to be torrid, in contrast, the Dutchman could cruise to victory if his race pace is anything like what he enjoyed at the first two races.
Next to Verstappen on the grid and behind him are the Mercedes duo, with his nemesis Lewis Hamilton lining up behind him and besides him George Russell on the front row. Also worth noting and keeping an eye on, on row two is the Renaissance Man, Fernando Alonso starting fourth on the grid with 'El Plan' in full swing for the veteran.
The battle between F1's Young Guns and the Old Guard has never been this close
Thus up front, brightest of the F1 Young Guns, Max and George, to be stalked off the line by the greatest of the Old Guard, Lewis and Fernando. Turn 1 will be very interesting…
How long the Mercs can hang on to the #1 Bull remains to be seen. While Russell gloated about the reduced deficit, he might get a reality check during the race; last time out in Saudi they were lacking one-second-plus to the Red Bulls, per lap!
Also in the mix should be Lance Stroll, the Rich Kid who is very bad when his car is below-par, but with a good one (as the AMR23 has proved to be) the Canadian can be very good. Whatever the case, an interesting battle between the Mercedes customers and the works brigade.
The problem that Mercedes have is that they aren't sure what car they will have on Sunday, because Saturday's unearthed pace was a surprise to all and a dream come true according to Hamilton. Will it be a Sunday of pain or more joy for the once-serial F1 World Champs?
Ferrari were underwhelming all weekend, in qualifying too as they have slithered to fourth in the pecking order, and sliding into the clutches of an immensely tight midfield. Notably, one second separated the top ten cars in Q3 when all the chips were down, half a second separated the five fastest, suggesting F1 teams are closer than they have ever been.
If there was a surprise in Melbourne qualifying on Saturday, it has to be Williams driver Alex Albon who starts from eighth and is the proverbial cat among the pigeons today. How long he can mix it in the top ten, before he goes backwards, if he does, of course, will be interesting.
In contrast, the Alpines were disappointing again, with Perre Gasly ony good for ninth, and Esteban Ocon worse in 11th, the pair split by Nico Hulkenberg in the Haas who has looked strong all weekend, relative to his teammate Kevin Magnussen down in 14th.
The "Big One" to watch is what Perez can do from last on the grid, in a race which is expected to be of high attrition. He will for sure be in survival-first mode, with a great deal at stake considering his F1 title-winning ambitions and where his teammate is starting, aka P1. But there is P2 to go for to maximise the damage limitation.
If any car can, the RB14 can, and if any driver can, Jeddah-style Checo can. Let's see.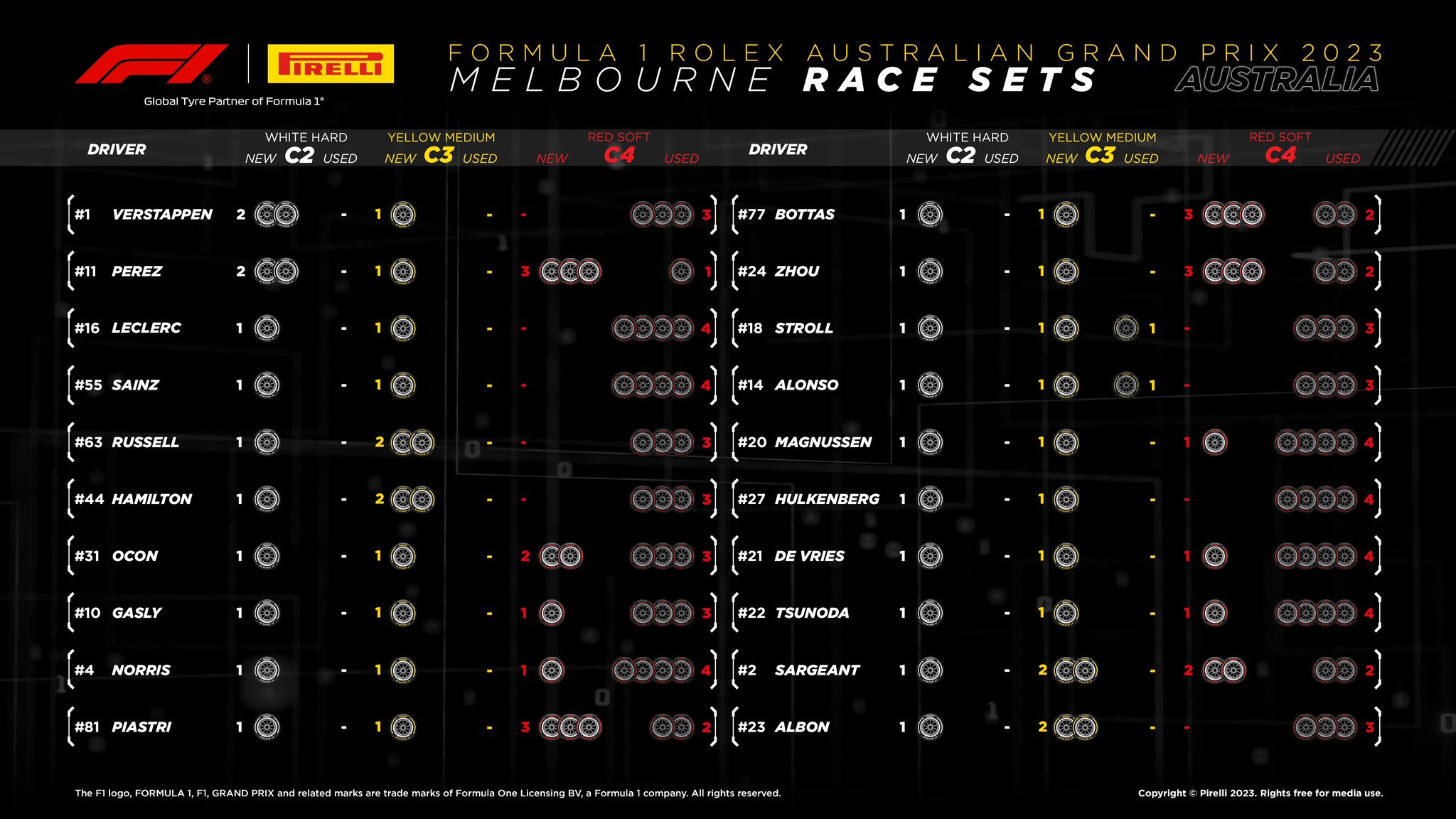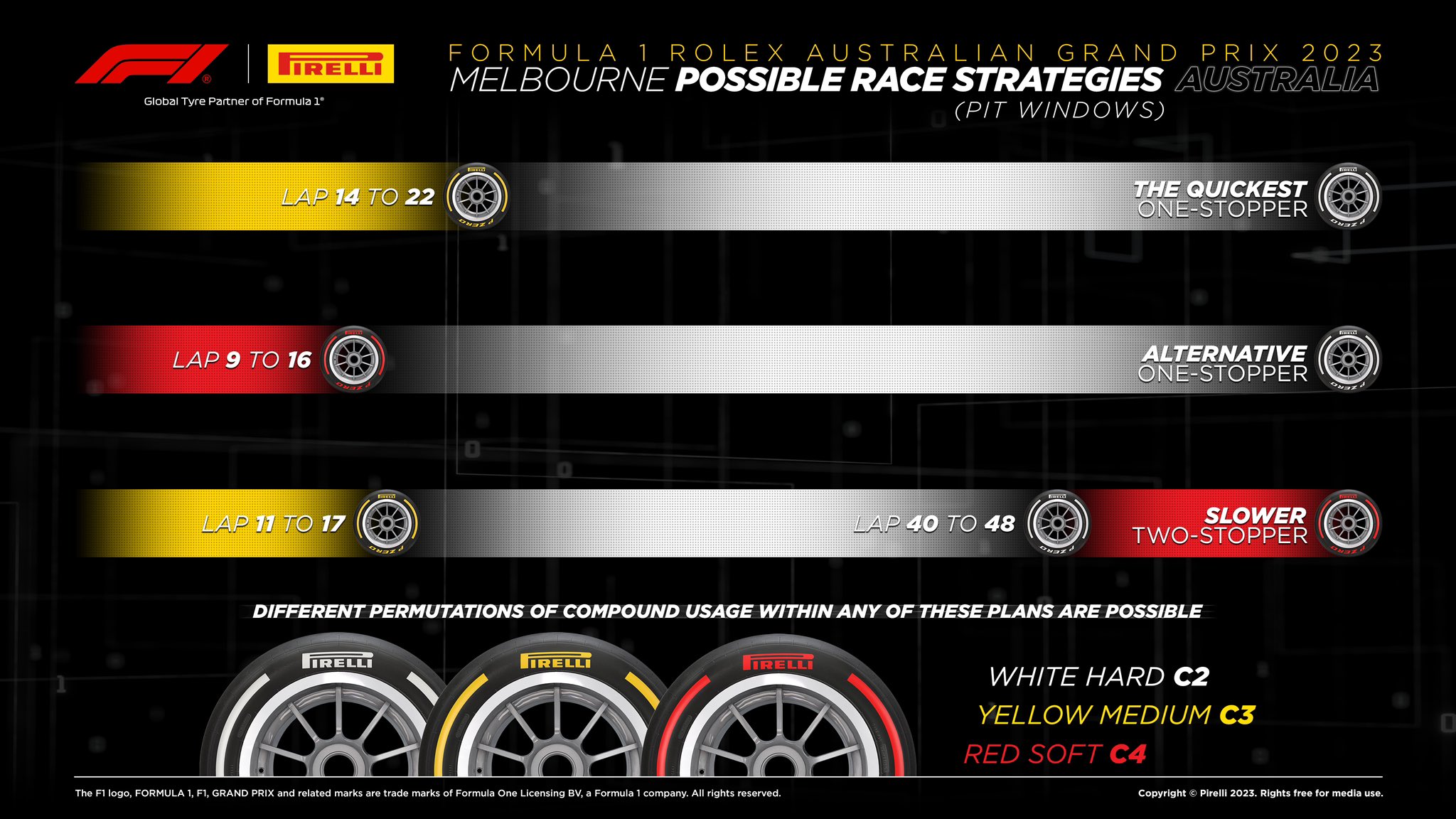 Australian Grand Prix Stats & Info by Reuters
Australian Grand Prix, Round 3 of the 23-race 2023 FIA Formula 1 World Championship
Track: Albert Park, Melbourne
Lap distance: 5.278km. Total distance: 306.124km (58 laps)
2022 pole position: Charles Leclerc (Monaco) Ferrari, one minute 17.868 seconds.
2022 winner: Leclerc
Race lap record: Leclerc (2022) 1:20.260
There was no grand prix at Albert Park in 2020 and 2021. The circuit was shortened by 28 metres, with two turns taken out and seven corners modified, for last year's race and is now considered a new layout from 2019.
A fourth DRS zone has been added for this year.
Start time: 0500 GMT (1500 local)
McLaren rookie Oscar Piastri is the only Australian in Sunday's race.
No Australian driver has ever won a home grand prix.
There have been 14 Australian F1 drivers since 1950 and two world champions — Jack Brabham and Alan Jones.
This year's race will be the 26th to be held at Albert Park, and 37th Australian Grand Prix. It was held in Adelaide, as the final race of the year, between 1985 and 1995.
Four current drivers have won before in Melbourne: Fernando Alonso (2006), Lewis Hamilton (2008, 2015), Valtteri Bottas (2019) and Leclerc (2022).
Ferrari great Michael Schumacher won a record four times in Australia.
Hamilton has been on pole in Melbourne a record eight times (2008, 2012, 2014-2019).
McLaren have won a record 11 times in Australia, with Ferrari on 10.
The lowest starter to win was Britain's Eddie Irvine from 11th in 1999 for Ferrari. Sixteen of the 25 races in Melbourne have been won from the front row.
Leclerc last year achieved his first ever 'grand slam' in Melbourne – pole, leading every lap, win, fastest lap.

RACE WINS & POLE POSITION
Hamilton has a record 103 career victories from 312 starts but his most recent was in Saudi Arabia in December 2021.
Red Bull's double world champion Max Verstappen has 36 wins from 165 starts.
Red Bull have won 12 of the last 13 races and 18 of the 21 since the 2022 Australian Grand Prix.
Aston Martin's Alonso is on 32 wins, his last coming in his home Spanish Grand Prix in 2013 with Ferrari, from a record 357 starts.
Hamilton has a record 103 career poles.
Sergio Perez's pole for Red Bull in Saudi Arabia was only the Mexican's second in Formula One. The first, last year, was also in Jeddah.
LAPS LED
Alonso is the only driver apart from the Red Bull pair to have led a race this season.
PODIUM
Alonso is chasing his third podium finish in a row. The last time the Spaniard did that was in 2013 (Belgium, Italy, Singapore) with Ferrari.
SAFETY CAR
The safety car has made an appearance in three of the last five dry races in Melbourne. It was deployed twice last year.
MILESTONE
This weekend's Australian Grand Prix will be Red Bull's 350th F1 race as an entrant. The team made their debut in Melbourne in 2005. They are chasing a third successive one-two finish, something they have never before achieved.