Red Bull were so dominant in Formula 1's Bahrain Grand Prix season-opener that Mercedes rival George Russell suggested they could win every race this year, a claim team boss Christian Horner played down despite their dominant display on Sunday.
The Briton was not alone in pointing to such a scenario, even if such a sweep would be unprecedented in a championship that started in 1950 with far fewer rounds than the current record 23.
The mood in the paddock after Sunday's race at Sakhir, and the airport talk among departing insiders, reflected a realisation that Red Bull may have given only a glimpse of their real pace.
Double F1 world champion Max Verstappen finished 11.987 seconds ahead of Mexican teammate Sergio Perez and 38.6 seconds clear of Aston Martin's third-placed Fernando Alonso, who provided welcome thrills and emotion.
The Ferrari of Carlos Sainz was 48 seconds behind the winner and Verstappen was also racing without pressure, holding plenty in reserve.
"Red Bull have got this championship sewn up," Russell told reporters after finishing seventh. "I don't think anyone will be fighting with them this year. They should win every single race, that's my bet."
Team principal Horner naturally played down such talk and said Sunday had still been a tense and nervous experience because so many things could go wrong: "We're not taking anything for granted. Let's see Jeddah in two weeks, Melbourne after that.
"Once we've got two or three circuits under our belt we'll get a much better picture of strengths and weaknesses of our car and our opposition. Twenty-three races is a marathon … we fully expect our rivals to come back hard in the future races," added the red Bull team principal..
The Bulls won 17 of 22 last year, and Verstappen all but two of those. The same again this year?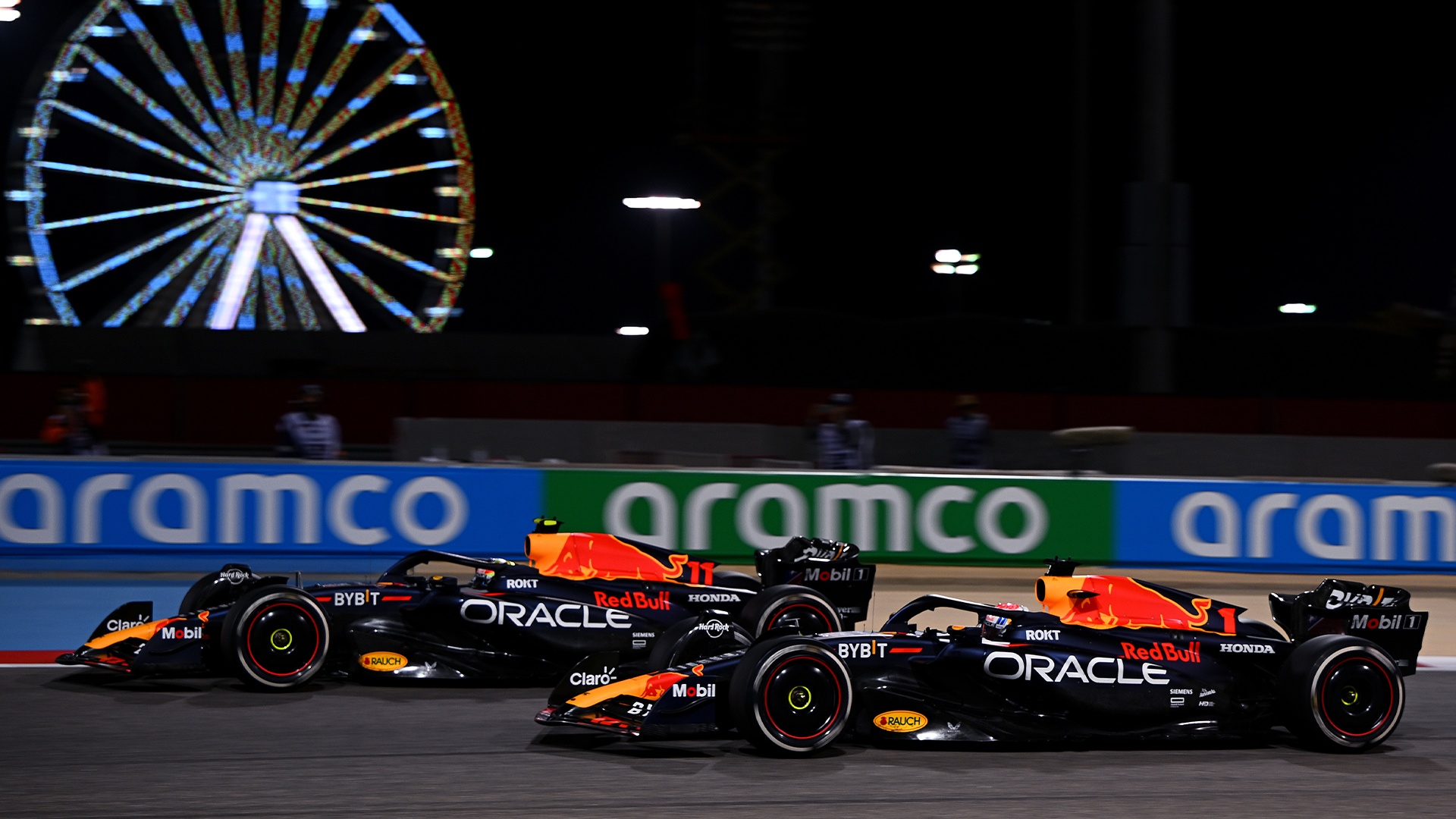 Mercedes in the past decade, McLaren with Ayrton Senna and Alain Prost in 1988, and Michael Schumacher with Ferrari in the early years of this century were all similarly dominant but none managed to hog the top of the podium all year.
In 1988, McLaren won 16 of 17 races but Gerhard Berger broke the run with an emotional victory for Ferrari at Monza less than a month after the death of team founder Enzo.
Teams can turn things around, as Russell showed last year when he won in Brazil after wrestling earlier in the campaign with a bouncing car, but the budget cap and limited wind tunnel time makes things harder.
Red Bull have now won 10 of the last 12 races but reliability, crashes and errors can never be ruled out — even if Verstappen is getting better and better and makes few mistakes.
The Dutch driver retired in Bahrain last year while he was second and behind Ferrari's Charles Leclerc, whose car broke down this time.
"It has been a great start for us, for the whole team, so this is not something we were used to," said Verstappen. "We are very happy at the moment but we always keep working.
"This is a great start but we also know that throughout the season you have to keep on developing," added the Red Bull ace. (Reporting by Alan Baldwin)
Heading home from Bahrain a little wet ngl 😅🏆 pic.twitter.com/Kjan1irRQy

— Oracle Red Bull Racing (@redbullracing) March 6, 2023