Red Bull ace Max Verstappen powered to a comfortable victory at the 2023 Formula 1 season-opening Bahrain Grand Prix, starting the defense of his and his team's titles in the best manner possible.
The Dutchman was untouchable since he put his Red Bull on pole for the race in qualifying on Saturday, Sunday was the type of walk in the park we became accustomed to late on during his dominant second Championship season last year.
History will have it that, Verstappen won the 1080th Grand Prix in the history of the sport, at the start of the 73rd Formula 1 season; his first season-opening win, and his first F1 victory in Bahrain.
We asked the questions in our preview (kept for the record below this post) if Max could be stopped in Bahrain? Answer: No! In 2023, unlikely on the evidence of tonight's Round 1.
Verstappen was masterful on the night, never put a foot wrong and is not going to be beaten easily any time soon, Perez is solid as ever which could mean a litany of one-two finishes in the races ahead for Red Bull, or at least until their rivals get their collective acts together.
Super Max 🥇#BahrainGP #F1 pic.twitter.com/HhrYTX50dK

— Formula 1 (@F1) March 5, 2023
Verstappen said in parc ferme after the race: "It was a very good first stint where I made my gap and from there it was just looking after the tyres. You never really know what is going to happen later on in the race so we wanted to have the right tyres in good condition as well.
"Very happy to also finally win here in Bahrain. I think we have a good race package. We can definitely fight with this and also a big thank you to the team again for what they have done over the winter to have a quick race car again."
Before celebrating his 27th F1 podium finish, Verstappen's teammate Perez, added: "It's a great start. If we look back at last year and how we started here, it's really it's nice. We've worked really hard over the winter, so it's great to see everyone enjoying the first race and we've got a really strong package.
"Today the start put me out of contention for the race, but finishing second is the maximum I could do today. I think I'm getting closer [to Verstappen] every session," ventured the Mexican who finished ten seconds adrift of Max, on Sunday at Sakhir.
Aston Martin have ambushed the pecking order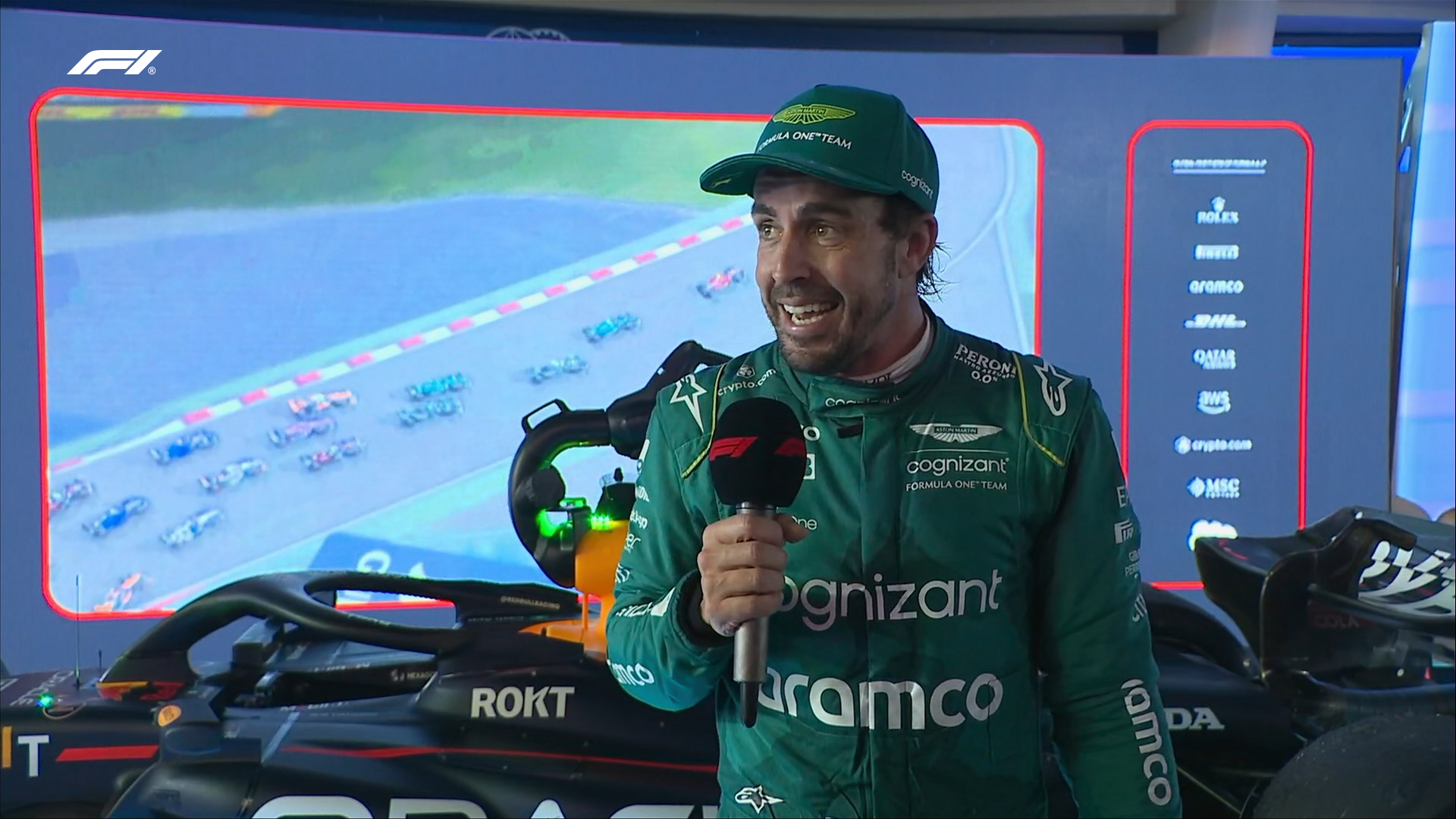 Alonso's third is a milestone for the oldest driver on the grid and the long-suffering Aston Martin; when last did a Mercedes customer team beat the Works boys?
A fourth force at the sharp end is more than welcome, with the Spaniard, at last, enjoying a fine and most welcome resurgence, for his 99th F1 podium, a popular and well-celebrated one at that. The Driver of the Day without a doubt!
Alonso, clearly delighted, summed up his evening: "It is amazing for the team. It was great.  To come here and finish on the podium in the first race of the year, it is amazing what Aston Martin did over the winter to have the second best car on race one.
"This is just unreal! We had not the best start today and we had to pass on track. It was more exciting, more adrenaline," beamed the 41-year-old like a rookie savouring his first podium. Priceless.
In sharp contrast to their former driver, Ferrari will be disappointed with a mere fourth place while their rivals bagged maximum points, Leclerc won this race last year after all but this time no points thanks to the DNF, Sainz was never really on it this whole weekend. Hardly an ideal start and a harsh reality check for Fred Vasseur after his first race in charge of the Scuderia.
Lewis Hamilton finished fifth, but a huge 50-seconds down on Verstappen who turned down the pace for the latter half of the race, confirming that Mercedes are in dire straits after race one, with a great deal of ground to catch up, and being beaten by their customers Aston Martin will hurt.
Energy levels 💯#BahrainGP @AstonMartinF1 pic.twitter.com/0DNMMCk8He

— Formula 1 (@F1) March 5, 2023
Indeed it was Stroll in the other Aston, not fully fit finishing sixth, splitting the Mercs after nipping past Russell to relegate him to seventh late in the race. Lawrence Stroll's mega-project is starting to bear fruit if today was anything to go but, a solid car that sticks together even when it bounces off things, and then showed an extremely handy pace late in the race.
This is no fluke, the AMR23 is the real deal and if they keep the momentum going, it will get very interesting as they ambush the top of the F1 pecking order. Are they second now, only bettered by Ferrari? For now, it seems that way.
Valtteri Bottas drove a solid race, tapping into his experience to finish eighth for Alfa Romeo while his teammate Guanyu Zhou toiled to a disappointing 16th place.
Had Alonso not claimed the Driver of the Day accolade, the man who replaced him at Alpine – Pierre Gasly – might've been it, the Frenchman turning the last spot on the grid into ninth place with a solid showing while his teammate Esteban Ocon made a fool of himself all afternoon, before calling it an early day.
The final point went to Alex Albon who proved to himself that the Williams is not so bad after all, as he delivered an impressive performance as did teammate Logan Sargeant who was faultless all weekend to finish 12 in his first F1 race, and best of the other rookies on the grid.
AlphaTauri's Nyck de Vries was 14th while Oscar Paistri suffered a DNF in the McLaren.
Verstappen was never troubled as he edged away for F1 win number 36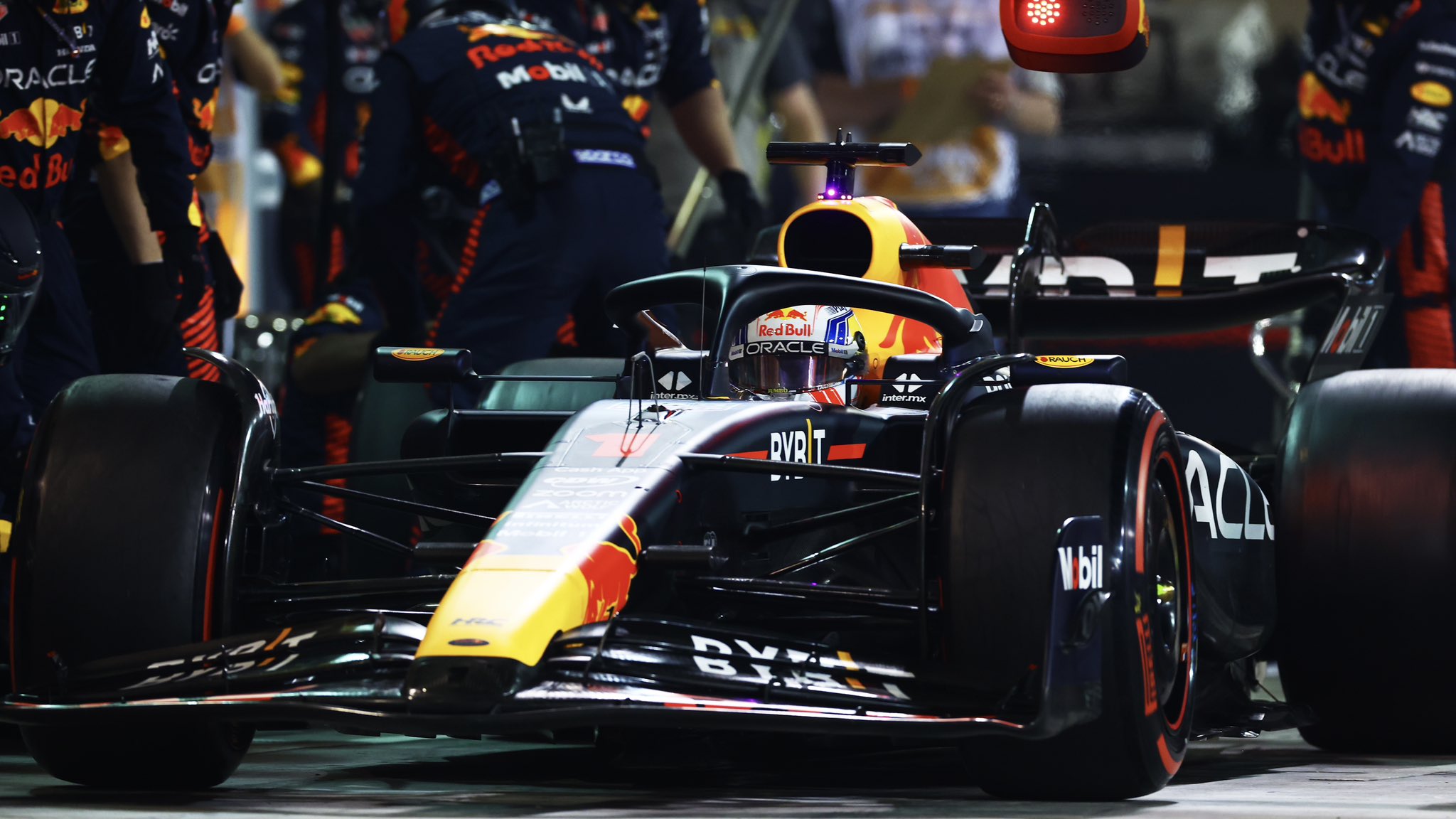 It was a frantic start with some argy-bargy, surprisingly with nothing super serious or bent metal apart from a clearly rusty, not 100% fit, Lance Stroll clattering into his teammate Fernando Alonso costing Aston Martin dearly, the Mercedes duo benefitting from the episode.
Lap 10: the order was unchanged up until Bottas, who dropped behind Stroll.
At which point, Verstappen was seven seconds up the road and setting fastest laps, Leclerc stalked by Perez and Sainz four seconds off the Red Bull driver and Hamilton a couple of seconds in his mirrors, with Russell itching to get by his teammate, shadowed by Alonso, 30 seconds separating the top ten at this point.
Lap 12: with Alonso on the back wing of the Merc, Russell complained of no grip left on his Pirelli red band softs. But they kept him out, while Hamilton was the first of the big hitters to pit on lap 13 at which point Alonso muscled his way past Russell in defence mode, the Aston Martin now in fifth.
Lap 14: Leclerc and Sainz were in for slick (finally!) pitstops by the Ferrari crew. Russell was also in but his stop a little tardy, emerging behind Alonso. At the front Verstappen was hammering fastest laps before he too dipped into the piots leaving Perez in the lead.
Lap 16: Oscar Piastri's disappointing debut weekend ended with a steering wheel glitch cutting short his first Grand Prix as McLaren are set for a season of pain with a woeful car. Norris was down from 11th to 14th at this point. He pitted a little later with an issue, as the nightmare of 2015 and 2017 looms for Zak Brown's team.
LAP 15/57

Oscar Piastri's first F1 race is over 😖

Looks like an electrical issue has ended his night#BahrainGP #F1 pic.twitter.com/5xJ2wrCI27

— Formula 1 (@F1) March 5, 2023

Adding insult to injury, the fall from grace comes at their 'home' race in front of the Bahrain Mumtalakat Holding Company big-wigs and its shareholders.
On track at the sharp end, Perez finally pitted on lap 18, emerging third between the Ferrari duo. On lap 20, Verstappen led by a dozen seconds.from LEC-PER-SAI-HAM-ALO-RUS-BOT-STR-ALB.
Perez kept charging with fastest laps closing in on Leclerc, before the Red Bull swooped to take P2 with the #1 car leading by 15 seconds on lap 27.
Leclerc slipped to third, but 12 seconds of Sainz in the other Ferrari, Hamilton trailing him by just under four seconds and Alonso chasing a couple of seconds adrift.
At this point, Russell was subdued dropping back six seconds seventh up on the Aston ahead with Stroll not far behind.
Ferrari pitted Leclerc on lap 34, which prompted Red Bull to cover with Perez in a lap later, followed by Alonso pitting from third. Verstappen made his last pit visit on lap 37 emerging 13 seconds up on second-placed Checo, and that's where Max stayed to notch up win 36.
Alonso versus Hamilton was epic and one of the race highlights
Lap 37 delivered one of the highlights of the race, a titanic battle between with the best of the Old Guard, F1 legends and former teammates, Hamilton and Alonso dueling, the Aston nipping past masterfully with a delightful tarmac dribble. The Samurai was on the fly!
As a contest, the podium places were over at this stage, Verstappen, Perez, Leclerc and Sainz all running lonely races until Leclerc's Ferrari suddenly rolled to a halt with an apparent self-induced system shutdown. His race over, scooter ride to the paddock is how his season started.
This promoted Sainz and everyone behind him a position, this on lap 42 it was VER-PER-SAI-ALO-HAM-STR-RUS-BOT-ALB-GAS, and a shout-out for Alpine's Pierre Gasly from last on the grid into the top ten.
In contrast on lap 44 Esteban Ocon's embarrassing evening came to an end, the Frenchman was hopeless, penalised so many times we almost lost count.
Lap 55, Spanish civil war erupted as Sainz and Alonso went wheel to wheel, rubbing rubber until the Aston got past the Ferrari to snatch third place from his countryman, a little bounce here and there as he muscled through, think how that must hurt John Elkann and delight Lawrence Stroll.
60 laps into the race it was VER-PER-ALO-SAI-HAM-STR-RUS-BOT-GAS, with only Sainz and Hamilton in a DRS range battle at that point.
The Red Bulls well in control and went on to score an impeccable one-two and a perfect start to the 2023 F1 season for the World Champions. Ominously so.
In closing, a final word to Leclerc who with the benefit of an enforced early shower, summed up what we all saw at the season opener in Bahrain: "We expected to be on the back foot this weekend, especially in the race to Red Bull… that team is on another planet right now."
2023 Bahrain Grand Prix Result: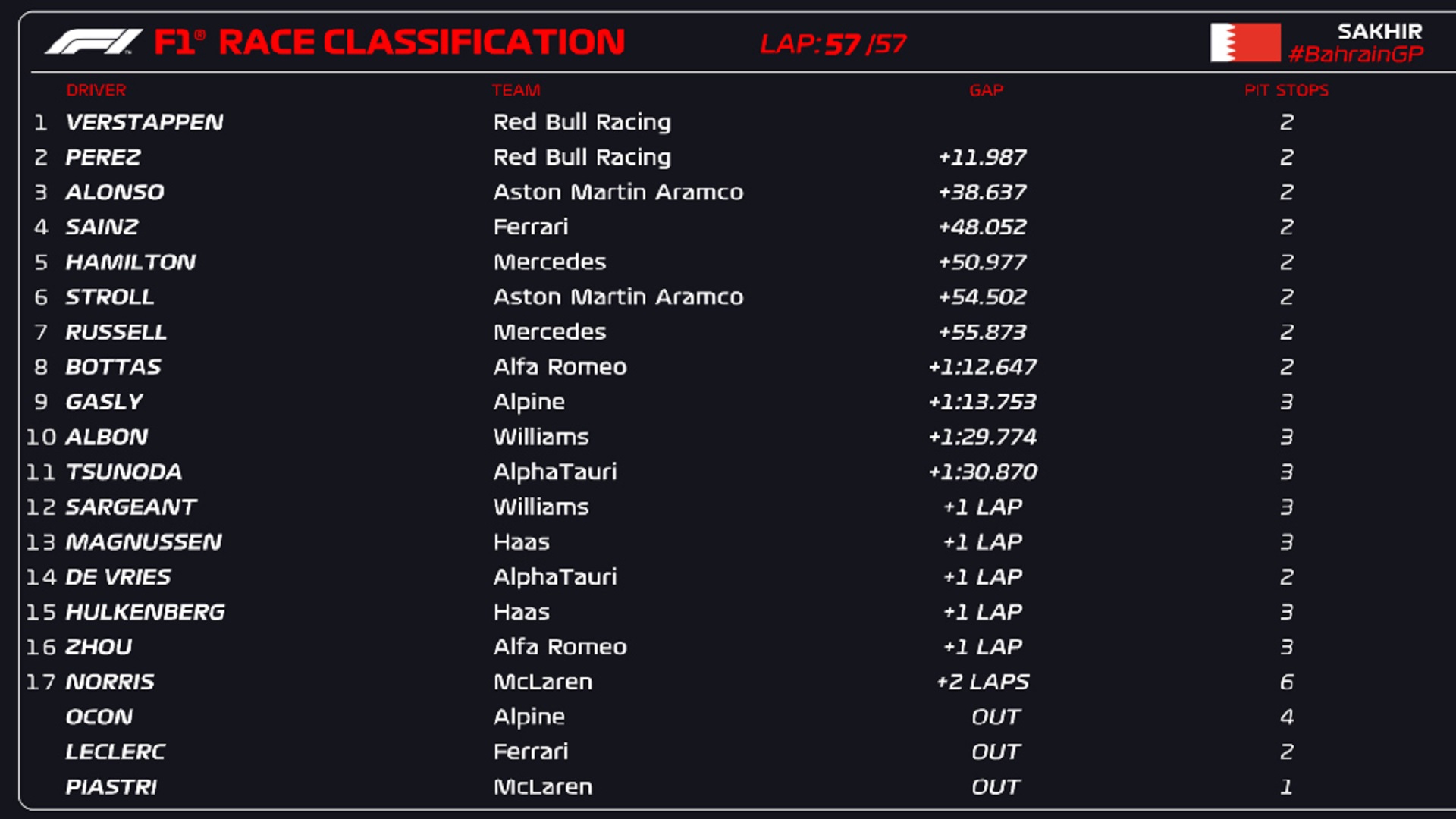 ---
Bahrain Grand Prix Preview: Can Max be stopped today? In 2023?
From where I sit, Red Bull drivers Max Verstappen and Sergio Perez should turn a front-row lockout, for the Formula 1 season-opening Bahrain Grand Prix, into a one-two by the end of today.
The F1 World Champs have been oozing confidence since day one of testing, already yesterday, ahead of qualifying, dialing their RB19 in for race pace and still annexing row one after an intriguing session on Saturday. Max and Checo have a rocket in their hands which triggers the inevitable pressure on dominant teams: after yesterday's heroics, a first and second is now required from the chaps.
Anything less will be an underachievement, a double-edged sword if there was ever one for the Bulls as there is a proper trouncing in the making today, as a pumped-up Verstappen seeks his first Bahrain Grand Prix win to add to the 35 he already has on his CV.
On the evidence of the past two days in Bahrain, it appears that Perez closed the pace gap to Verstappen, at least in Bahrain for now, the Mexican veteran seemingly more at ease with the rocket that Adrian Newey and his team have built.
However, the rules of engagement between the pair seems a little blurry despite the shenanigans of last year, when it spilled over that the 'Dream Team' had occasional nightmares. Are they resolved? Not if Perez's recent "I won't help them if they don't help me" comments are anything to go by.
The waiting is over. Welcome to race day.
#Rolex #BahrainGP @ROLEX pic.twitter.com/8hDLD9abRJ

— Formula 1 (@F1) March 5, 2023
Behind the Benchmark Boys, it is extremely close, although Ferrari appears closest, whether the gap grows when race pace comes into play remains to be seen. That they can't match RBR would be a fair guess.
Charles Leclerc will give it his best shot, seemingly happy to start third behind Max and could spoil the show if the SF-23 has magic race pace; ditto Carlos Sainz in the other Red car. The Spaniard might be in win-it-or bin-it mode, as he is capable of both when the pressure is on, as it is with Fred Vasseur gazing on, his first Grand Prix in charge of the legendary team.
Throw into that the Hype Train turned to Reality Check, as very big-budget Aston Martin finally got their sums right with a decent car in the AMR23 allowing Fernando Alonso to strut his stuff and claim fifth on the grid; no anomaly that he will start from fifth on the grid.
No anomaly? Yes. The car is good enough for one-and-a-half-handed, plus big-toe impaired, Lance Stroll (with only a couple of hours of seat time in his new car since his bike crash) to put the Aston eighth on the grid. Fully fit he would for sure be further up than that because the Billionaire's Son in a good car tends to be a good driver.
Time for Aston Martin to shine?
A podium at the Bahrain Grand Prix – he won it in his 2010 debut for Ferrari – would be a rich reward for a resurgent Alonso, whose tenacity, ferocity, and audacity, at forty-something, has to garner respect no matter if you are a fan or not. His presence at the sharp end has energized this season; we await the quotes with relish!
As an F1 fan, one should wish the Spaniard well and hope that big boss Lawrence Stroll realizes a dream with a victory for Team Green; perhaps unlikely at this stage but to quote the great Murray Walker's priceless line: "Anything happens in Grand Prix racing, and it usually does."
Mercedes prompt the inevitable phrase: How the mighty have fallen? A team that once won ten or more races per season, relentlessly for more than a decade, lost their winning ways faster than a blink, also rans chasing Red Bull and Ferrari, whose design concepts are the way to go as the rest of the grid copy one or the other.
Introducing….the 2023 opening titles 😍#F1 pic.twitter.com/WzrK5nVyhE

— Formula 1 (@F1) March 2, 2023
But not Mercedes as they pursue their lost cause stubbornly when a year ago after the first test in Barcelona they had the best car, a conventional one which they binned in favour of two flops, well, last year's one for sure, and this year's one? We'll see…
For Lewis Hamilton, he faces not only trying to beat the best of the best in the best cars, but he also has to beat George Russell in the sister car, which he is finding no easy easy task as the Young Gun again out-qualified him, they will line up sixth and seventh, also letting it be known that race setup was how they qualified.
And you will be excused some serious deja vu when Alonso and Hamilton rub paint, which they might well do, and also how Verstappen and Perez handle the feisty Spaniard should he get a sniff of the Red Bulls today.
Behind the leading posse in Bahrain the pursuers are plentiful and varied
Has there ever been a midfield as close as this? Perhaps the closest ever. In among the thick of things, it was good to see Nico Hulkenberg up in 10th in his comeback race, and a wake-up call for Kevin Magnussen who was only good for 17th in the Haas.
From what we saw in qualifying, variety is the spice of F1 midfield life with every team having a car in the mix, along with both Alfa Romeos and the AlphaTauri of Yuki Tsunoda in the heart of it all. Credit to the Japanese driver, who was allegedly read the riot act by his Red Bull bosses, as he delivered 14th when it mattered while highly-rated new teammate Nyck de Vries will start his second F1 race from 19th on the grid.
Lando Norris and Esteban Ocon seem to be punching over their weight, if their teammates are anything to go by, while the Williams is not as bad as many predicted, despite moaning about being last earlier during the weekend, Alex Albon was good for 15th and teammate Logan Sargeant 16th.
McLaren look to have a woeful car, while Alpine (despite the preseason hype) are also suspect. For the French team's new recruit Pierre Gasly, last on the grid will be hard to stomach no matter what. Expect him to make amends in the race if he has a half-decent car under him.
Of the rookies, Sargeant was the pick of the trio, almost making it into Q2 in his debut qualifying; Logan's time tied with Norris' effort but set afterward, which dropped the American out after Q1. Nevertheless, he was in a better place than Oscar Piastri and De Vries who were better by their respective teammates. Welcome to F1 Class of 2023!
Finally a qualifying pecking order suggestion ahead of the 19th running of the Grand Prix of Bahrain:
Red Bull ahead, Ferrari next; Aston Martin and Mercedes almost tied; followed by small margins with Haas ahead of Alfa Romeo, Alpine, McLaren, Williams and AlphaTauri. If and how this order changes, in race trim, remains to be seen…
Podium Prediction: P1 Verstappen, P2 Perez and P3 Sainz
Bahrain Grand Prix Information & Statistics:
Round 1, 2023 F1 World Championship
Venue: Bahrain International Circuit, Sakhir
Lap distance: 5.412km. Total distance: 308.238km (57 laps)
2022 winner: Charles Leclerc (Monaco) Ferrari
2022 pole: Leclerc. One minute 30.558 seconds
2022 fastest race lap: Leclerc, 1:34.570.
Lap record: 1:31.447 seconds, Pedro de la Rosa (Spain), McLaren 2005.
Start time: 1500 GMT (1800 local)
The race, on the site of a former camel farm south of the capital Manama, is now in its 19th edition after starting in 2004 as the first grand prix in the Middle East. It was not held in 2011 due to social unrest.
The track offers one of the most abrasive surfaces of the season and tyre degradation is high.
Hamilton is the most successful driver at the race with five wins at Sakhir, all with Mercedes. Fernando Alonso, now at Aston Martin, has won three times.
Ferrari have won the Bahrain Grand Prix seven times.
Red Bull's Sergio Perez took his first F1 win, in his 190th start, at Sakhir in 2020 while with Force India (now Aston Martin).
RACE WINS & POLE POSITION
Seven times world champion Lewis Hamilton has a record 103 career victories from 310 starts but is chasing his first since 2021.
Hamilton also has a record 103 career poles from 310 starts.
OPENER
Verstappen has yet to win a season-opening race or the Bahrain Grand Prix.
DEBUTS
Logan Sargeant (U.S.) at Williams and Oscar Piastri at McLaren are the two debutants. AlphaTauri's Nyck de Vries is also a rookie but has one race to his credit as stand-in last year for Alex Albon at Monza.
Piastri will be the 15th Australian to race in the sport.
Sargeant is the first American since Alex Rossi in 2015 to race in F1 and will be the first to do a full season since Scott Speed at Red Bull-owned Toro Rosso (now AlphaTauri) in 2006. (Compiled by Reuters)