The 74th edition of the Formula 1 World Championship will be the very first campaign for Nyck de Vries, Oscar Piastri and Logan Sargeant. How will the three rookies fare in 2023?
We have Nyck de Vries, who's super-sub performance at the 2022 Italian Grand Prix earned him a seat with Alpha Tauri. Oscar Piastri replaces fellow compatriot Daniel Ricciardo at McLaren following a difficult few weeks of negotiations between the Woking outfit and Alpine for the rookie's services. Finally, American racer Logan Sargeant has been drafted in by Williams, in the hopes that he will perform better than the outgoing Nicholas Latifi.
Of course, each of the three drivers will be racing for different teams which vary in terms of outright pace; it would be unfair to Sargeant in the Williams to be pitched against Piastri in what we expect to be a much more competitive McLaren machine. Instead,
The F2 Report will compare each driver against the other by looking at their respective pasts, and then seeing how they might fare against their new teammate for 2023. Previous experience in F1 machinery will also be of vital importance as we determine how quickly the three F1 rookies will adapt to their new wheels and hit the ground running in the upcoming campaign.
Oscar Piastri
It's fortunate that the drama between Alpine and McLaren ended some months ago on relatively amicable terms, which will allow Piastri to focus on his racing. But that is not to say that the Aussie will be full of nerves as he heads to Bahrain in under a month's time. After all, he hasn't had much in the way of practice leading up to the first race of the season.
He took part in the post-season test at Yas Marina following the conclusion of the 2022 season, but other than that Piastri really hasn't driven an F1 car as much as Sargeant or de Vries. More significantly however, he hasn't competed at a professional level for well over a year by now, which will certainly hamper his race craft and adaptability in the early parts of the season.
All of this makes it exceedingly difficult to imagine Piastri getting the better of teammate Lando Norris this year, who is already in his fifth year in F1 and has proven to be one of the most talented drivers on the current grid. But there's no denying that Piastri has raw talent in spades, as he has shown time and time again in the junior racing categories. He is arguably the fastest of the three rookies.
From his most recent crowning for the 2020 Formula 2 Drivers' Title, to his Championship-winning charges in 2018 and 2019 at Formula 3 and Formula Renault Eurocup respectively, Piastri only knows victory. This year will be a tough one for him mentally, as he will finally be racing against drivers of a similar echelon in what will most likely be a midfield-running McLaren.
I'm sure we will see glimpses of Oscar's impeccable race craft this year, but it will take time for him to show his true potential as he not only gets to grips with the MCL60, but also attempts to dust off the cobwebs of 12 months of inaction.
Logan Sargeant
Logan Sargeant will perhaps be the least stressed of the trio heading into the Bahrain Grand Prix. He has done more laps in F1 cars than the others, particularly in the 2022 generation of cars. The American partook in practice sessions in the final four rounds last year, which will have aided tremendously in getting to grips with the new regulations.
Furthermore, Sargeant will be racing for Williams, a team which has struggled for form in the last few years. There isn't a huge burden of expectation resting on his shoulders, except that he should really do better than the guy he replaced, Latifi. No one knows for sure where Williams will be in the pecking order in 2023, but I sure hope that Sargeant can pick up some points this season and make the growing American fanbase proud.
I did say that Piastri is the most naturally talented of the three, but Sargeant has actually beaten the Australian driver on two occasions over a season they both competed in: the 2016-17 Formula 4 UAE Championship and the 2018 Formula Renault Eurocup. On the other hand, Piastri has only outscored Sargeant once, in the 2017 F4 British Championship. However, Sargeant is yet to be Champion in any open-wheel series he has competed in.
Sargeant's teammate for this year will be Alexander Albon, by now a thoroughly experienced F1 mainstay who pulled off some spectacular performances in the underpowered Williams in 2022. I don't see Sargeant outshining Albon, not this year at least.
Nyck de Vries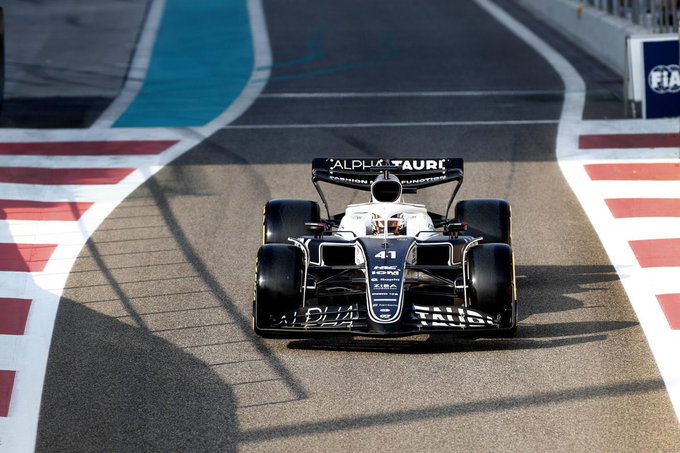 Out of this year's three rookies Nyck De Vries is probably the most likely to outscore his more experienced teammate and, is also the oldest of the trio, with a single Grand Prix start and a points finish to his name.
Let's not forget that the Dutchman took ultimate glory in the 2019 F2 Championship, while Yuki Tsunoda's best result in the same category was third the year after. Despite the Japanese driver now being in his third season in F1, he has been outclassed and overshadowed by his previous teammate Pierre Gasly fair and square, and is prone to the intermittent on-track error.
Meanwhile, de Vries has been racing in Formula E for the last three years, taking the Championship Title in 2020-21. He even replaced the ailing Albon at Williams for the Italian Grand Prix last year at the very last minute, scoring points in a decided backmarker car and figuratively obliterating temporary teammate Latifi in the process. Not only is the Dutch driver fast, but he is also able to adapt to unfamiliar machinery quickly, which will do him wonders in his battle for points in 2023.
I expect de Vries to be quick right away, and he has a good chance of outscoring Tsunoda over the whole year. This will make the Japanese driver's position in the sport tentative should a new challenger in the Red Bull ranks appear from F2, such as Dennis Hauger for example.
(function(d,s,id,u){
if (d.getElementById(id)) return;
var js, sjs = d.getElementsByTagName(s)[0],
t = Math.floor(new Date().getTime() / 1000000);
js=d.createElement(s); js.id=id; js.async=1; js.src=u+'?'+t;
sjs.parentNode.insertBefore(js, sjs);
}(document, 'script', 'os-widget-jssdk', 'https://www.opinionstage.com/assets/loader.js'));