The Red Bull driver started from seventh on the grid after qualifying second fastest behind Ferrari hero Charles Leclerc on Saturday, but on Sunday he was his clinical self as he powered to victory in a race that ended, disappointingly, behind the safety car.
It was Verstappen's first visit to the glorious Italian Grand Prix podium at Monza, and his 31st F1 career victory, his 11th of the year and fifth win in a row; today's triumph on the 100th historic anniversary of the Temple of Speed.
Amid unsporting boos from loser fans, Verstappen summed up his race in parc ferme after the 53 laps race: "We had a great race. On every compound we were good. Unfortunately, we didn't get a restart at the end but overall we had a really good day. It was really enjoyable to drive today.
"A great day for us. It took a bit of time to be on a great podium like this," added Verstappen whose victory today means he leads the 2022 F1 drivers' championship standings by 116 points from Leclerc; Red Bull now top the F1 constructors' table by 139.
But what a downer it turned to be in the end, but it could be said that at the time the safety car came out the race was already over, that it ended as a damp squib was due to fate rather than incident.
Verstappen won the Italian Grand Prix long before the safety car came out to spoil it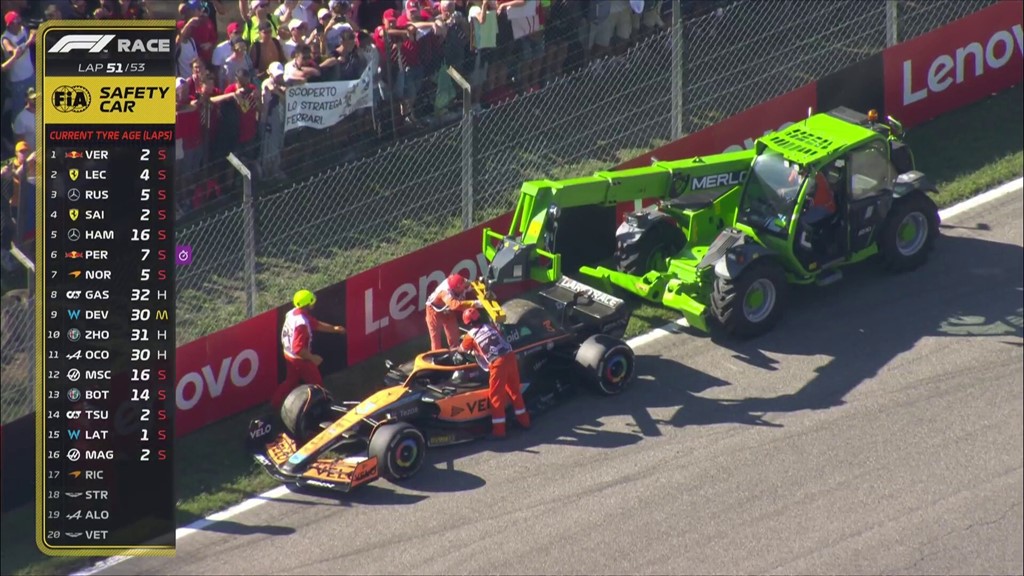 Leclerc's strategy may have cost him the race, a two-stopper was ambitious and did not look to be working hence his disappointment to find out there would be no racing after Daniel Ricciardo's McLaren broke down late in the race.
Leclerc summed up his afternoon: "The end was frustrating, I wish we could have had a bit of a race. Unfortunately we were second because of what happened before. It's a shame, but I gave it all today. I wish I could have won in front of the amazing Tifosi but I just couldn't."
George Russell took the final podium place for Mercedes, but he will be the first to admit that there was no way he was going to challenge Ferrari or Red Bull. Nevertheless, the Briton did a solid job yet again.
The Mercedes driver denied Carlos Sainz a podium; the Spaniard finished fourth after an impressive and ruthlessly efficient charge from 18th on the grid. Lewis Hamilton recovered from his shaky start to claim fifth ahead of Sergio Perez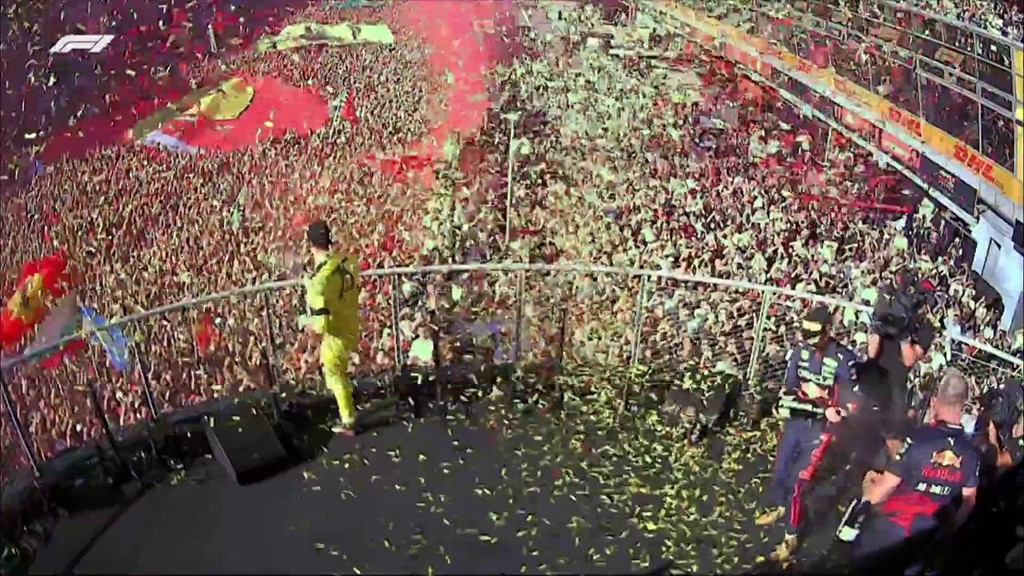 The Red bull veteran was sixth after early brake issues compromised his race, but a good recovery considering he started 13th on the grid, but will be mindful of how Sainz and Hamilton beat him from further back on the grid.
Lando Norris was in several big battles, but was struggling relative to McLaren teammate Daniel Ricciardo, who was never going to win as he did last year, having a good day until his car stopped playing ball.
Among Norris' foes was AlphaTauri's Pierre Gasly who spent the day defending after starting fifth on the grid, eventually sliding down to eighth.
Nyck de Vries gets Driver of the Day and points on his F1 debut for Williams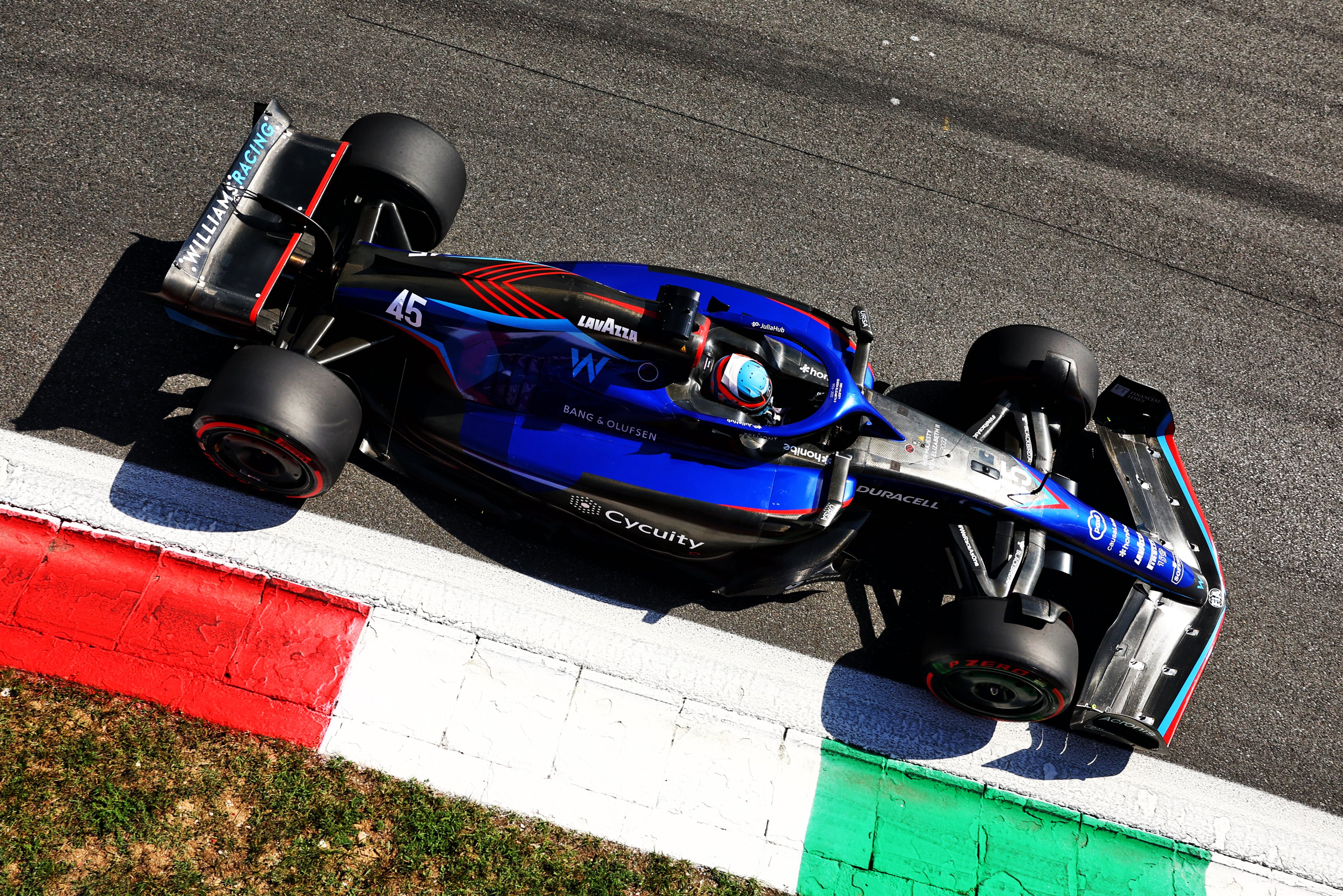 Gasly had his hands full with surprise F1 debutant Nyck de Vries, whose first Grand Prix earned him driver of the days and points too! It was an epic entrance to the sport at the highest level, in a car he hardly knew he obviously humbled Williams teammate and regular driver Nicholas Latifi.
The Dutch 27-year-old can no longer be ignored as everyone saw what he is capable of, that he won Driver of the Day is a testament to how impressive he was in the deep end, where he swam quite comfortably. A star is born springs to mind.
The final point went to another impressive rookie Zhou Guanyu, surviving the midfield mayhem, of which he was constantly part of, to finish tenth is another feather in his cap.
Luckless on the day was Fernando Alonso who retired with technical issues, on a bad day for Alpine with Esteban Ocon out of the points in 11th.
Misery continues to plague Aston Martin with Sebastian Vettel and Lance Stroll suffering DNFs.
Winning team boss Christian Horner, summed up the disappointment at the end of what should been a day of celebration: "We don't want to win a race under a Safety Car. It's something we've talked about for many many years, that they should finish racing."
In other words, nothing changed or was learnt from that controversial night in Abu Dhabi less than a year ago, this time the consequences were not as explosive however it is still an embarrassment for the governors of this sport, the FIA.
2022 Italian Grand Prix Result:

The build-up to the race will be remembered for the minute's silence for the late British Queen
That was followed by the Italian national anthem sung by legendary Italian tenor Andrea Bocelli, setting a somewhat sombre mood ahead of the race in glorious sunshine.
The race got underway after a night and morning of confusion over the grid, until a couple of hours before they released the topsy turvy starting order for the race. Of course, Leclerc remained in pole and from there led into Turn 1.
And off he went with all eyes on Verstappen, who immediately set about scything his way through the field, effortlessly by lap 5 of 53 the Red Bull chased the leader Leclerc, the gap never more than a couple of seconds.
Behind him, those starting deeper than they normally would had mixed fortunes. Hamilton from P19 was clumsy into T1, the Champ out of sorts in traffic and had to watch Yuki Tsunoda, from last, get ahead early on. Only by lap ten did Hamilton get by to take 14th.
In contrast, Sainz, in superb form, was the other big mover from 18th on the grid, the Ferrari driver was seventh by lap ten, clinical with his moves. The Reds were in a good place.
Misery continues for three time Monza winner Vettel, a poor show on his last visit to the venue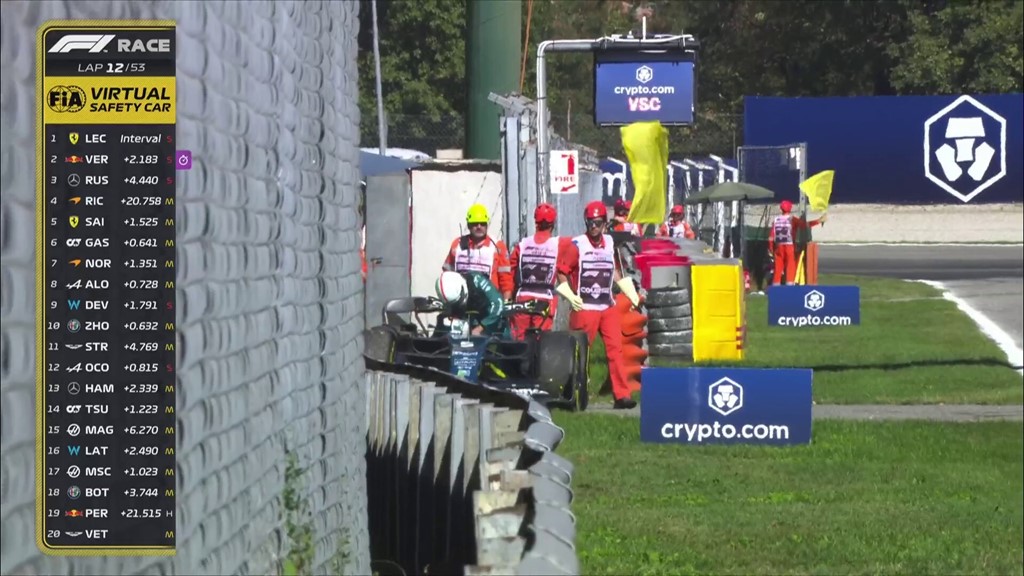 Lap 12 things changed, Sebastian Vettel's misery continued as he parked the Aston Martin, a brief VSC saw Ferrari pit Leclerc, handing the lead to Verstappen, emerging 12 seconds behind second-placed Russell and just in front of Ricciardo.
At that point Lap 15, Sainz was, incredibly in fourth with his teammate not far ahead. The order was VER-RUS-LEC-SAI and then a gap to the rest.
By lap 20 it was a stalemate, only Leclerc in the top five had stopped, with 6-7 seconds gaps between all the top runners. It was also when a flurry of pitstops began.
By the time Russell pitted on lap 24, Verstappen had a ten-second lead. A lap later Red Bull pitted their man, the crew servicing the #1 car in an astounding 2.4 seconds!
Leclerc was ten seconds up ahead on older tyres and sure to need another stop, Verstappen had it done by that point as he started to reel in the leader at about a second per lap with fresher tyres, and simply on another planet as he has been most of this season.
Leclerc on softer tyres made little inroads into Verstappen's lead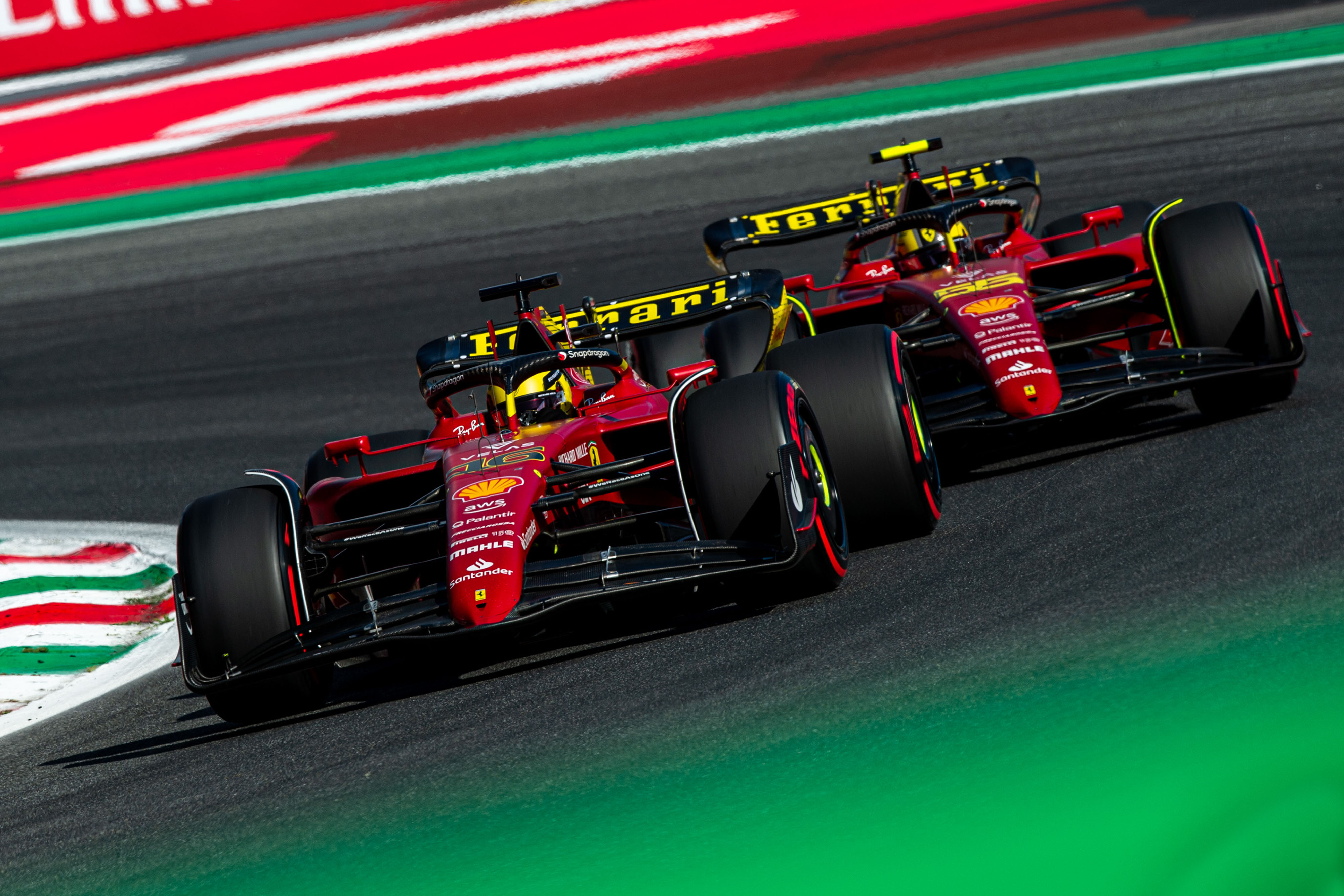 On lap 34 Leclerc, the Ferrari emerged 20 seconds behind the #1 Red Bull car up ahead. Game on? No really as it turned out.
Meanwhile, Hamilton recovered well after the sluggish start, his fight with Gasly and Norris, and a lap later out-braking Ricciardo; by lap 38 the seven-time F1 World Champion was sixth with Norris, given a free pass by McLaren teammate Ricciardo, chasing his compatriot.
Perez had also made a good recovery drive after his early issues, in a lonely fifth.
The top four on Lap 40 were VER-LEC-RUS-SAI.
Between first and second, the gap remained around 20 seconds as Leclerc's Ferrari on fresh softs took time to reduce the gap on the leader whose Red Bull was on ageing medium tyres.
With ten laps to go, Perez pitted again – another monster stop of 2.1 seconds by the RBR crew – the Mexican emerging seventh with work to do on the new softs.
At the front, Leclerc was putting in the fastest laps in his chase but the gap stayed pegged at around 17 seconds.
Then, Ricciardo stopped on track prompting a full safety car on lap 48 and a cacophony of pitstops for just about everyone… for nothing!