Winning the 2022 Sao Paulo Grand Prix, his first Formula 1 win, George Russell is the 113th man to win in the top flight, joining legends of the sport for what is sure to be many more victories.
The 24-year-old Englishman came of age today,  that first win finally bagged, on the occasion of his 81st F1 start for the driver earmarked by Mercedes to fill the big shoes of Sir Lewis Hamilton when their knight retires.
Russell's superb performance on Saturday in the Sprint Race, dispatching Max Verstappen with class and confidence to claim the top spot start for today's Grand Prix, a day where again he was faultless, even masterful. His charge off the line was impressive with a handy lead after only a few corners, then again an impeccable restart made one think that this was one of those inevitable wins.
Indeed it was, Russell's finest day in the sport, amid a tough first season with Mercedes, their previous dominance AWOL until of late. But when on song, as it was today, 'King George' showed his team that with a half-decent car he is a winner, as he did today.
Russell: Memories start flooding back, starting with my mum and dad at go karting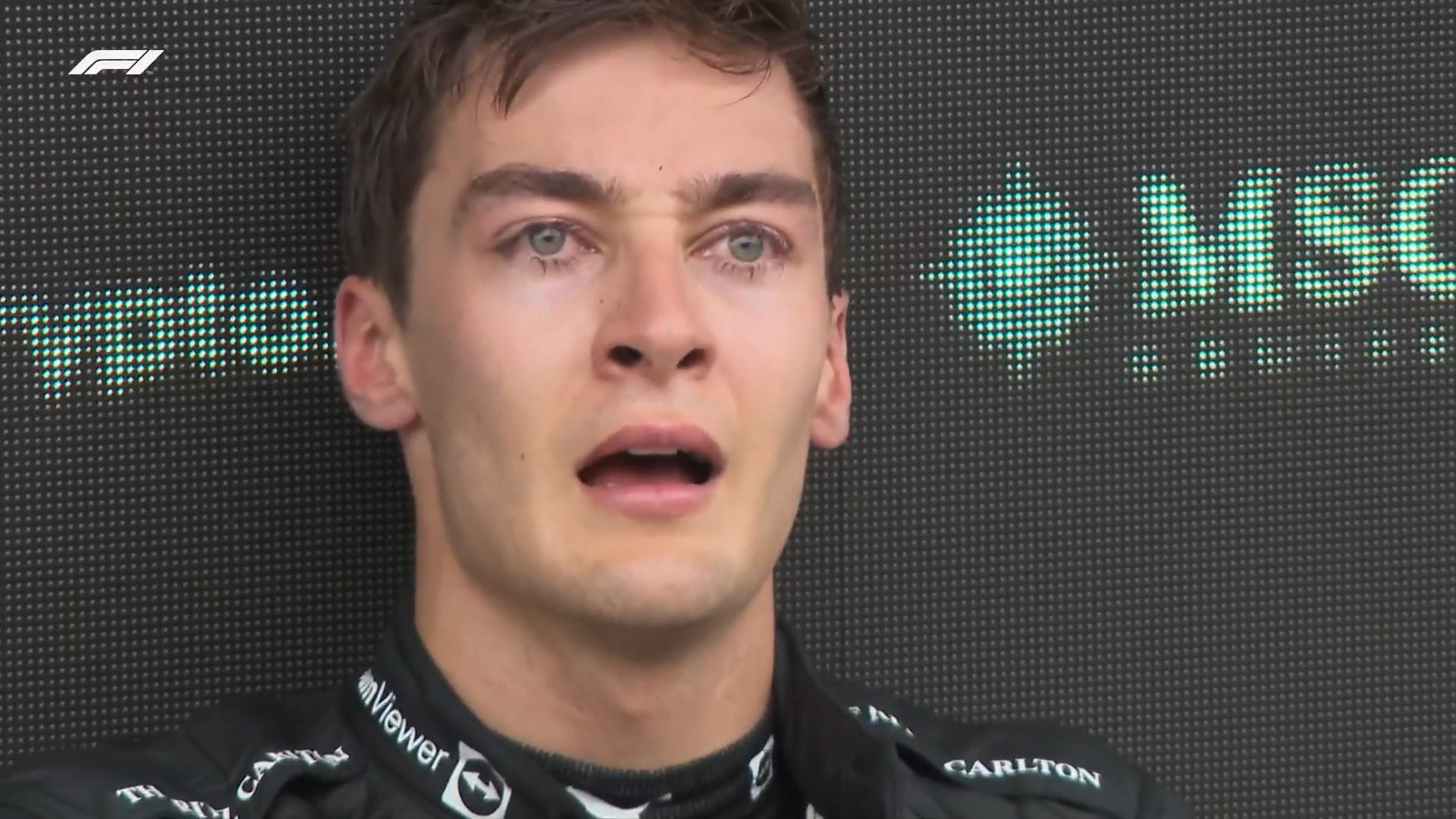 Speaking to MC Felipe Massa, in parc ferme afterward, Russell said of his maiden F1 victory: "What an amazing feeling. Just a huge thank you to the whole team for making this possible.  It has been an emotional rollercoaster this season.
"This was a tough race, but I felt in control. Lewis was super-fast and when I saw the Safety Car, I thought this is going to be a really difficult end, he put me under so much pressure. I am speechless.
"On the in lap, all of these memories start flooding back, starting with my mum and dad at go karting and going through to all of the support I have had from the rest of my family, my girlfriend, my trainer, my manager. The list is endless. I can't thank them all enough, I am super proud," added Russell.
He won the Sprint on Saturday, and on Sunday he went the distance! Your newest Grand Prix winner, Mr @GeorgeRussell63!#BrazilGP #F1 pic.twitter.com/97SGdUOXig

— Formula 1 (@F1) November 13, 2022

Hamilton in the sister car, gave it his all, closing the gap to a second with three laps to go but ran out of laps, the winner of 103 F1 races was nevertheless delighted for George's win number one. And finally, after their worst season in a generation, Mercedes are back!
Credit to the seven-time F1 world champion for a gutsy fightback, after the inevitable but unnecessary paint-scraping with Verstappen, to finish second, saluting his team and the sport's newest winner in the process: "A huge congratulations to George. What an amazing drive he did today.
"He did an amazing qualifying yesterday, so he truly deserves it. To my team, so proud of everyone back at the factory and here. This is an incredible result.  We've worked so hard through this year to get a 1-2 and to get a win, and so this is hugely deserved by everybody so a huge thank you."
As for the 'love-tap' between he and Verstappen early in the race, Hamilton said: "What can I say, you know how it is with Max…
"Big thank you to everyone in Brazil. I've had one of the best weeks of my life with how everyone's accepted me here so excited to come back again," concluded Hamilton.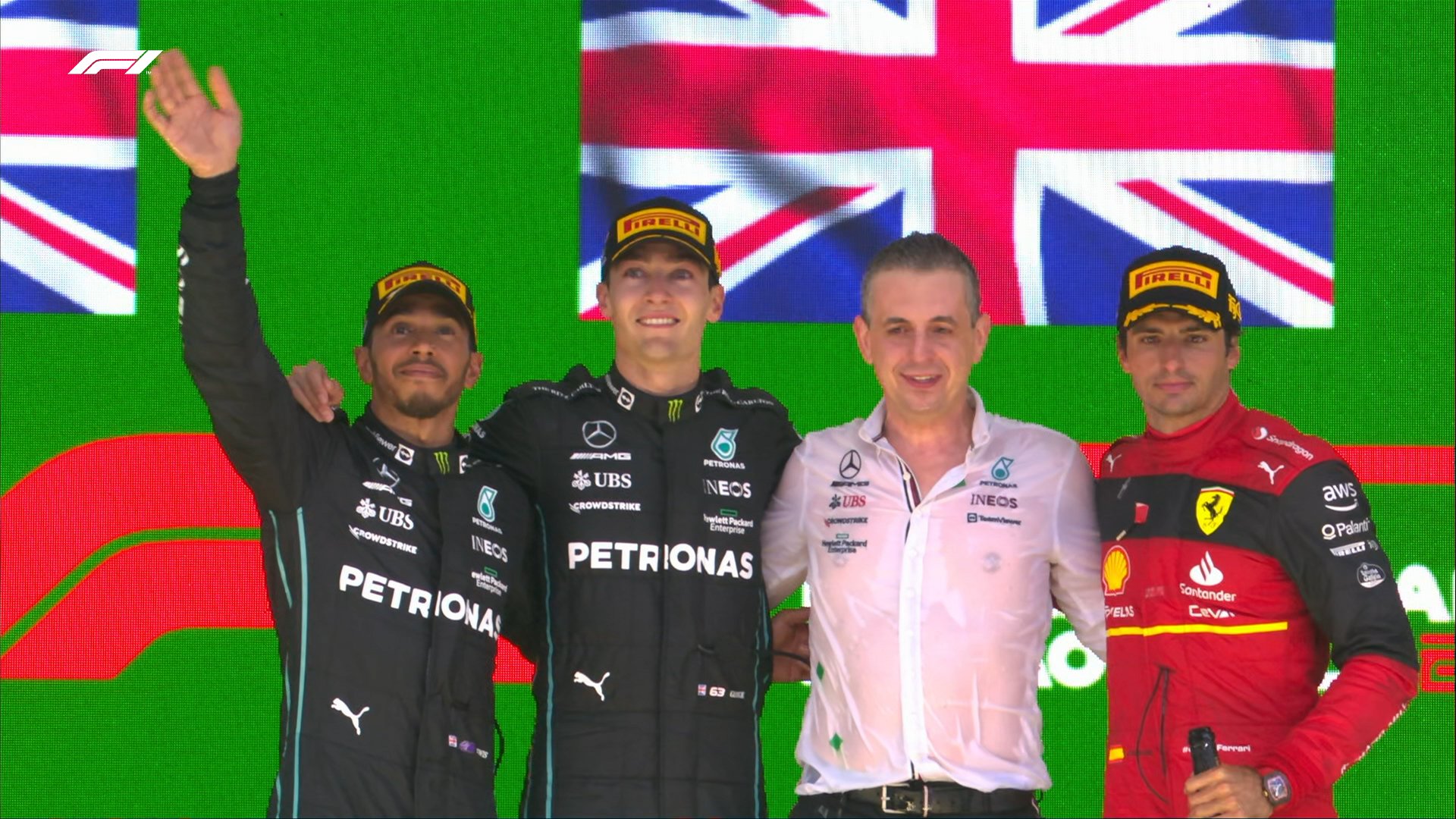 Ferrari's best on the day was Carlos Sainz who finished third despite an eventful race that included burning brakes during a pitstop before the Spaniard found a good rhythm, late in the race, to get by Checo Perez and take a well-earned final podium spot from seventh on the grid.
Sainz reported to Massa before the podium ceremony at Interlagos: "I think overall it was a good race. We did have some problems there at the start with the brakes on fire.
"It meant we had to commit to a three-stop which maybe wasn't the fastest given the degradation. From there I pushed back out to try and catch Checo. I think we can be happy with that. It is a shame that Merc are so quick but congratulations to George," concluded Sainz.
In the other Ferrari, Charles Leclerc was in the wars with Lando Norris' McLaren which set him back as he dropped down the order and spent the afternoon recovering to finish a worthy fourth.
Veteran Alpine driver Fernando Alonso was also in the wars, but again he survived the midfield argy-bargy best of all to finish an impressive fifth place, ahead of both Red Bulls which would have given the French team a kick.
Verstappen's shameful lack of sportsmanship not helping teammate Perez shows his true colours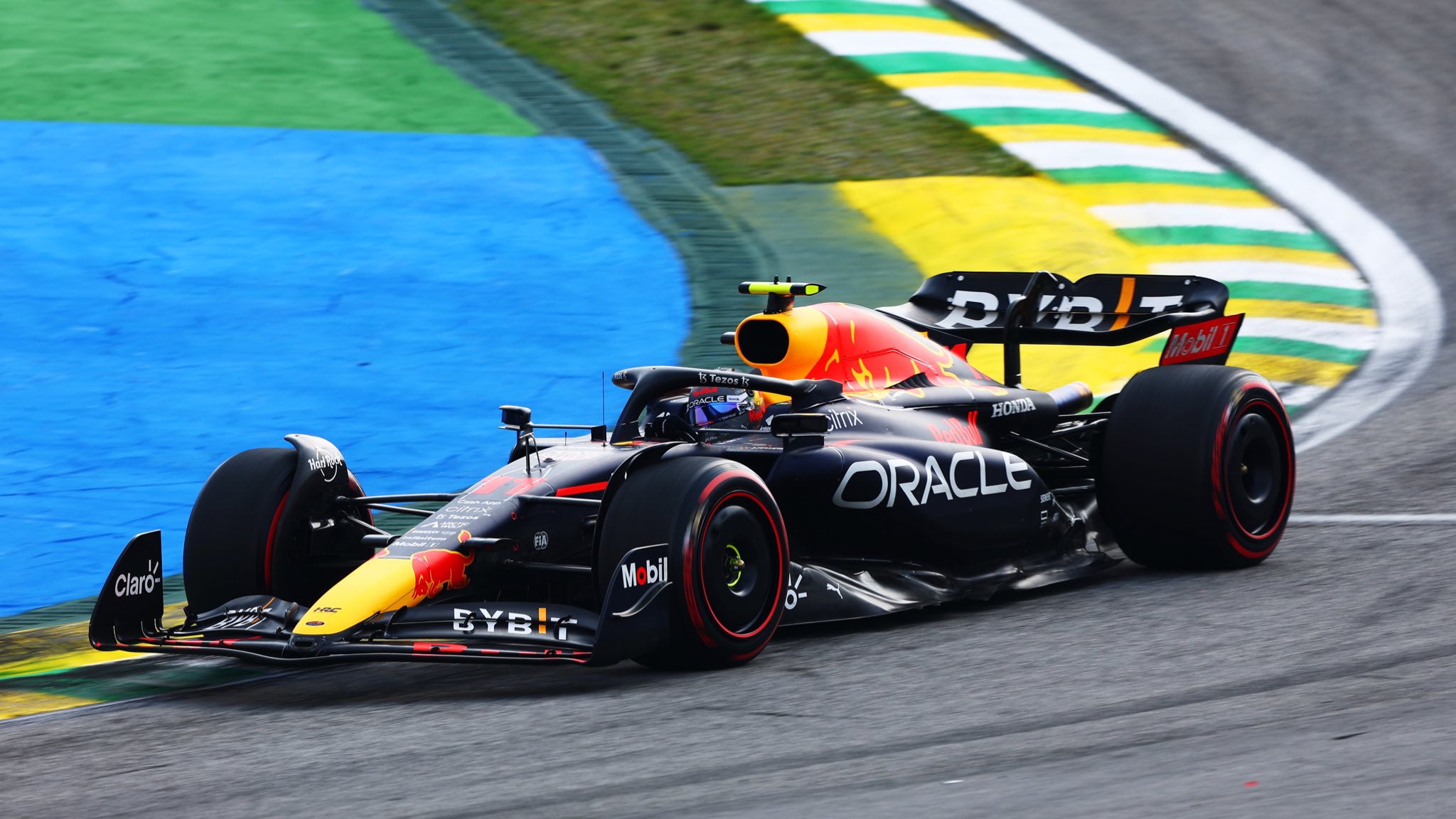 The recently crowned 2022 F1 World Champions were not in a good place this weekend, they erred badly on Saturday with the tyre choice for Verstappen, then in the race, Max could not resist his usual 'no-can-pass' tactics on Hamilton early on in the race, which saw the Red Bull come off second best.
To add to the collective misery, Max disobeyed a team order to allow teammate Sergio Perez to pass to help the Mexican in his aim to finish second in the championship, one-two for Red Bull drivers in 2022. But Verstappen refused to help the wingman who aided him so much this season and last. It was shameful of the Dutchman who finished sixth, Perez seventh. Disappointing for those who believed he changed his ways.
Max did not need those two points, the lack of class and sportsmanship leaves a sour taste no matter how you look at it.
On a day McLaren imploded with two DNFs, neither Lando Norris nor Daniel Ricciardo finished, Alpine had two cars in the points, from nowhere on the start grid, with Esteban Ocon eighth and compliant when told to not fight Alonso.
Valtteri Bottas had a steady race to finish ninth, ahead of the two Aston Martins of Lance Stroll taking the final point and Sebatsian Vettel missing out on points in his final Grand Prix in Brazil.
King George 👑#BrazilGP #F1 pic.twitter.com/ttyVnPCWfI

— Formula 1 (@F1) November 13, 2022
Sao Paulo Grand Prix as it happened: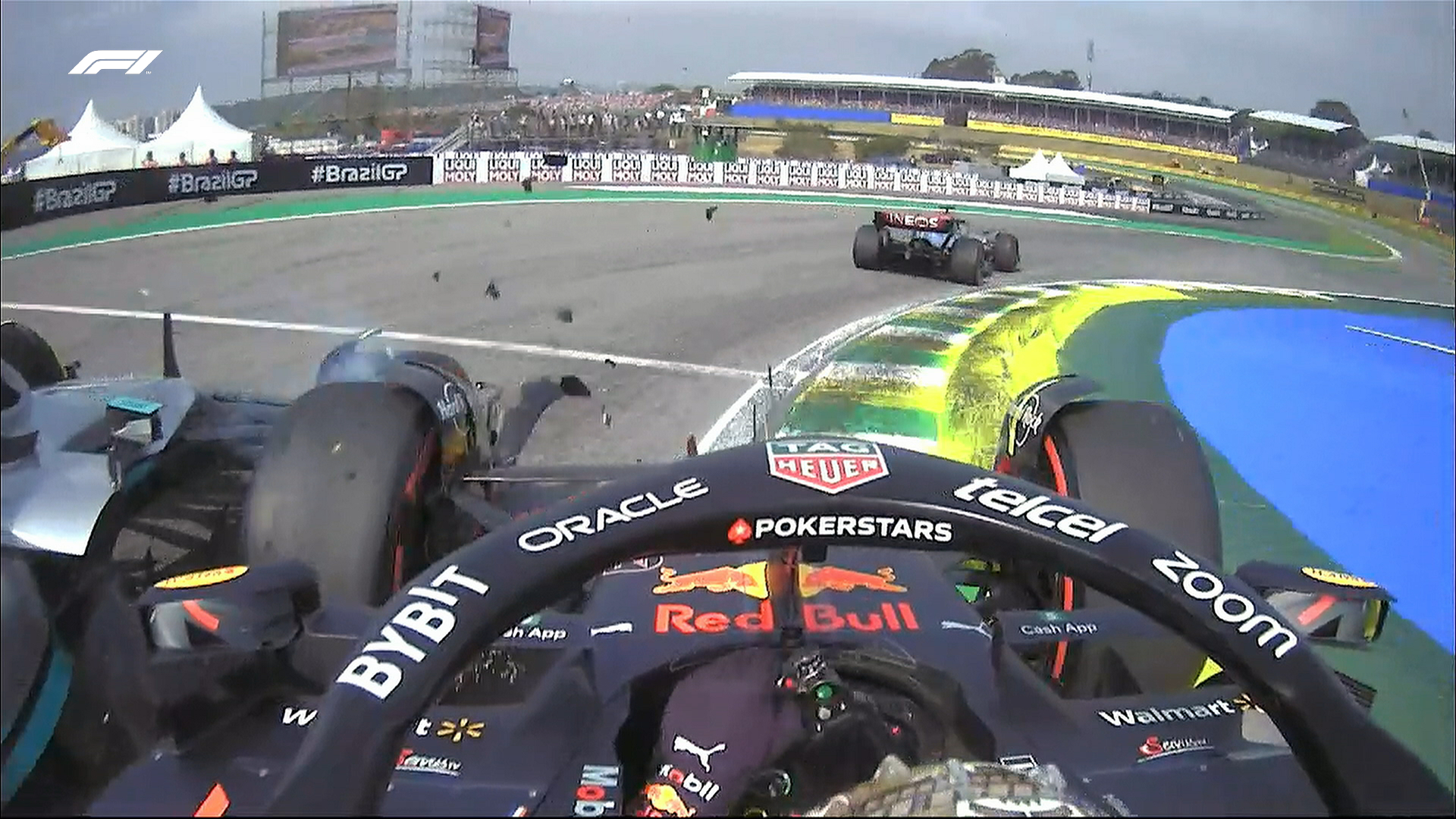 Mini-chaos began shortly after Russell got off the line brilliantly with Hamilton tucked in behind, Norris had a go at the Red Bulls but the order remained the same.
Moments later Ricciardo tapped Magnussen who spun into the McLaren. The safety car was out, and two DNFs without a lap completed.
The order when they were released at the end of lap six was RUS-HAM-VER-PER at the front.
Through the Senna-S the inevitable happened as Hamilton and Verstappen collided, the Red Bull pitting with damage but Hamilton was able to carry on.
Max got a penalty for what seemed like a racing incident, and credit to the Champ for making little of the news when he was told over the radio; the Dutchman gives space to Leclerc and even Russell in times of battle but, for whatever reason, the #44 Silver car is a red rag to the Bull.
Almost simultaneously, Leclerc got a clip from an out-of-control and sliding McLaren of Norris, tapping the Ferrari into the wall, the Ferrari returned to the pits for repairs while the Orange car continued in fourth but a five-second penalty put the blame on him.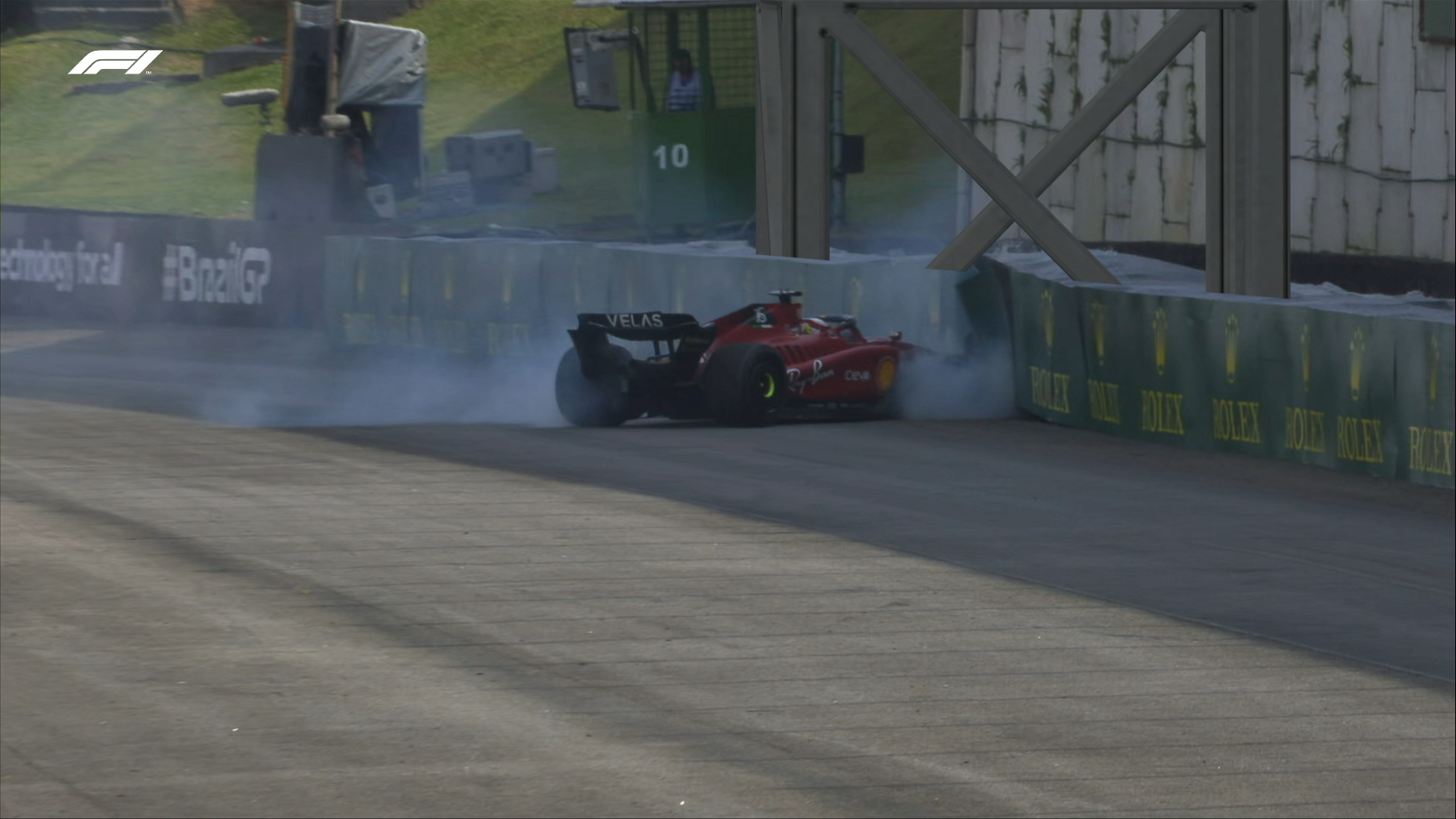 At this point, Russell led Perez by nearly two seconds at the front, with Sainz four seconds behind on mediums, the only driver in the top seven with the yellow band Pirellis.
Verstappen was 17th after a pitstop to repair the Red Bull, while Mercedes had slid to sixth, behind Vettel clearly relishing his final Grand Prix in Brazil.
Behind the top six, Gasly was seventh latched on to Hamilton and Norris, with Schumacher having a great drive in eighth, with Bottas and Ocon rounding out the top ten and Alonso 11th, the Alpine drivers up six spot and making up for their Sprint Race shenanigans on Saturday.
The Spaniard was the first to pit for a second set of mediums.
The other Spaniard, Sainz was having burning brake issues with his Ferrari and on lap 16 dipped into the pits for softs, smoking wheels and all.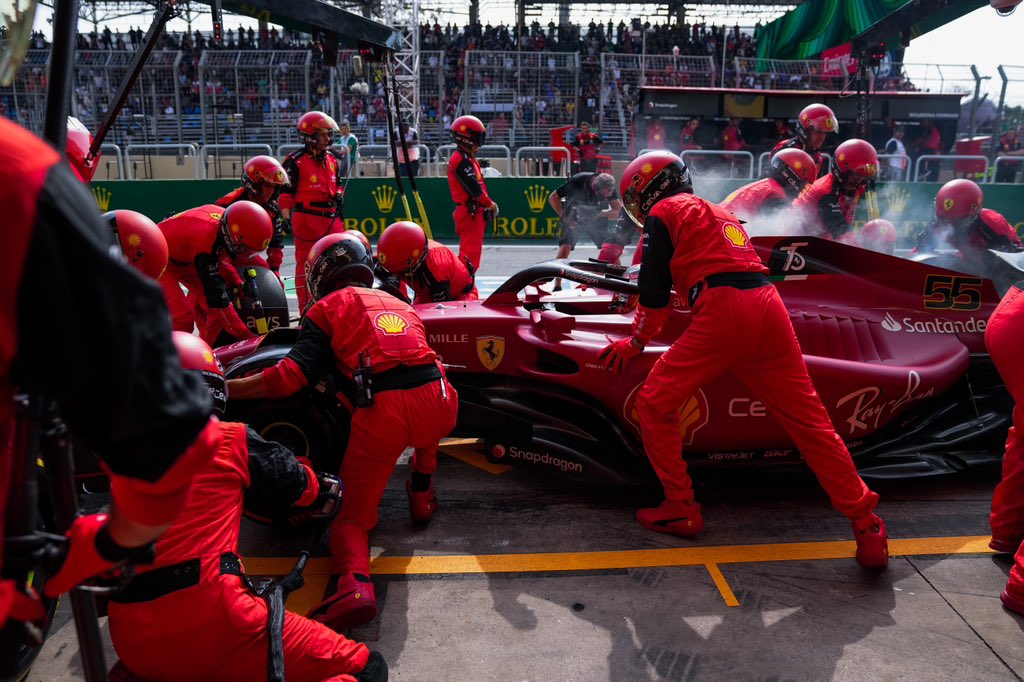 At the front, lap 20, Russell called to go long, clearly in the zone with a 2.3 seconds lead over Perez. with Hamilton a further five seconds up and Vettel a man on a mission in fourth.
Perez was the first to pit which triggered a slew of stops by the pace setters, leaving Hamilton in the lead on the tyres he started on, Russell on fresh Mediums emerged ten seconds behind.
On lap 29, Hamilton pitted emerging fourth, the order with all first stops over it was RUS-PER-SAI-HAM fighting for the podium, Russell leading by five seconds and Perez, with a three seconds gap to third-placed Sainz and Hamilton a further five seconds back, 14 seconds or so down on his teammate in the lead.
Behind the top four, Alonso pitted from fourth on lap 36, but a slow stop did not help his cause making his hard work meaningless. The veteran emerged 15th.
Bottas was fifth followed by Vettel, Ocon, Norris, Leclerc and Schumacher.
Around lap 40, Hamilton started to close the gap to Perez, both Mercs fastest cars on track at that point, the once serial winners finally finding the sweetest spot of the season in the W13.
On lap 44, Hamilton was all over the back of Perez, both on Mediums, the Mercedes was clearly superior; the #44 car got by boosted by DRS into T1 as lap 45 clicked over; at the same time, Russell was about ten seconds up the road.
A Silver Arrows one-two was on the cards as the race unraveled
That kid with a dream is now a Grand Prix winner. 🥹#BrazilGP #F1 pic.twitter.com/i1cncEHhX5

— Formula 1 (@F1) November 13, 2022
The order stayed pretty much the same until on lap 52 Norris' McLaren had had enough and stopped on track, prompting a virtual safety car, then a full VSC, triggering a flurry of pitstops. A double DNF for the Woking outfit, the first such result since 2017.
The field followed the safety car for quite some time before they were released for a real final ten-lap sprint in this order: RUS-HAM-PER-SAI-BOT-LEC-VET-OCO-ALO-VER the top ten.
After their coming together in the Sprint Race 24 hours earlier, Ocon and Alonso were nose to tail for the restart when the Alpine radio ordered the Frenchman to behave. He did.
After forgetting Tusnoda in the pack, lapped, the Race Director sent them off with Russell scurrying off with Hamilton behind on Softs, with Perez third on Mediums, and two Ferrari duo Sainz and well-recovered Leclerc, on Softs, loomed large in the Red Bull's mirrors.
Sainz was third on lap 63, a clean move on Perez with Leclerc slipping by a lap later, then Alonso with the freshest soft tyres and Verstappen closing in fast on the Mexican who had no defense on the Mediums.
In the closing stages, Hamilton had Russell in his sights, stalking, but the younger driver did not flinch to claim a well-deserved and masterful win today.
Sao Paulo Grand Prix Result