Max Verstappen won the Mexico City Grand Prix, Round 20 of the 2022 Formula 1 World Championship, after a race of cat and mouse with his old foe Lewis Hamilton and with it the Red Bull driver becomes the first to win 14 races in an F1 season.
As has become the norm, Verstappen made no mistakes on the day, powering from pole position towards Turn 1 with the Mercedes duo tucked into his slipstream but that Honda PU on the Red Bull is no longer a "Formula 2" engine but rather the fastest piece of kit out there, and he hung in to the top spot.
Behind him, front-row man George Russell had a clumsy opening lap, and before he knew it he was fourth, with local hero Sergio Perez nipping by too.
Verstappen opened an early second and a bit gap at the front, but Hamilton pegged it as he stalked the Red Bull. But the Red Bull driver had whatever the Mercs had well covered.
He's too good! 💪#MexicoGP @Max33Verstappen pic.twitter.com/9gaFmN1oJ4

— Formula 1 (@F1) October 30, 2022

By starting the race on Softs and then changing to Mediums, Red Bull gave their driver two options: go to the end with the Mediums or stop for Softs late in the race. Mercedes snookered themselves by going Mediums first then Hards. It was not the right strategy to win the race today.
And of course, Verstappen hardly needs a helping hand to win races such is his impeccable form and confidence, and thus he claimed his record 14the victory of the season and his 34th career F1.
Speaking to MC Marc Gene, Verstappen said in parc ferme of his history-making victory: "Of course the start helped me out a lot for the rest of the race. We were also on a different strategy to the other cars around us but again, an incredible result.
"The pace of the car was really nice. We had to look after our tyres because it was a really long stint on the mediums but we made it work. It's an incredible atmosphere and we love to come here. It's been an incredible year so far, we are definitely enjoying it and we'll try to go for more," added the Champ.
Mercedes snookered themselves with a dubious strategy for both their drivers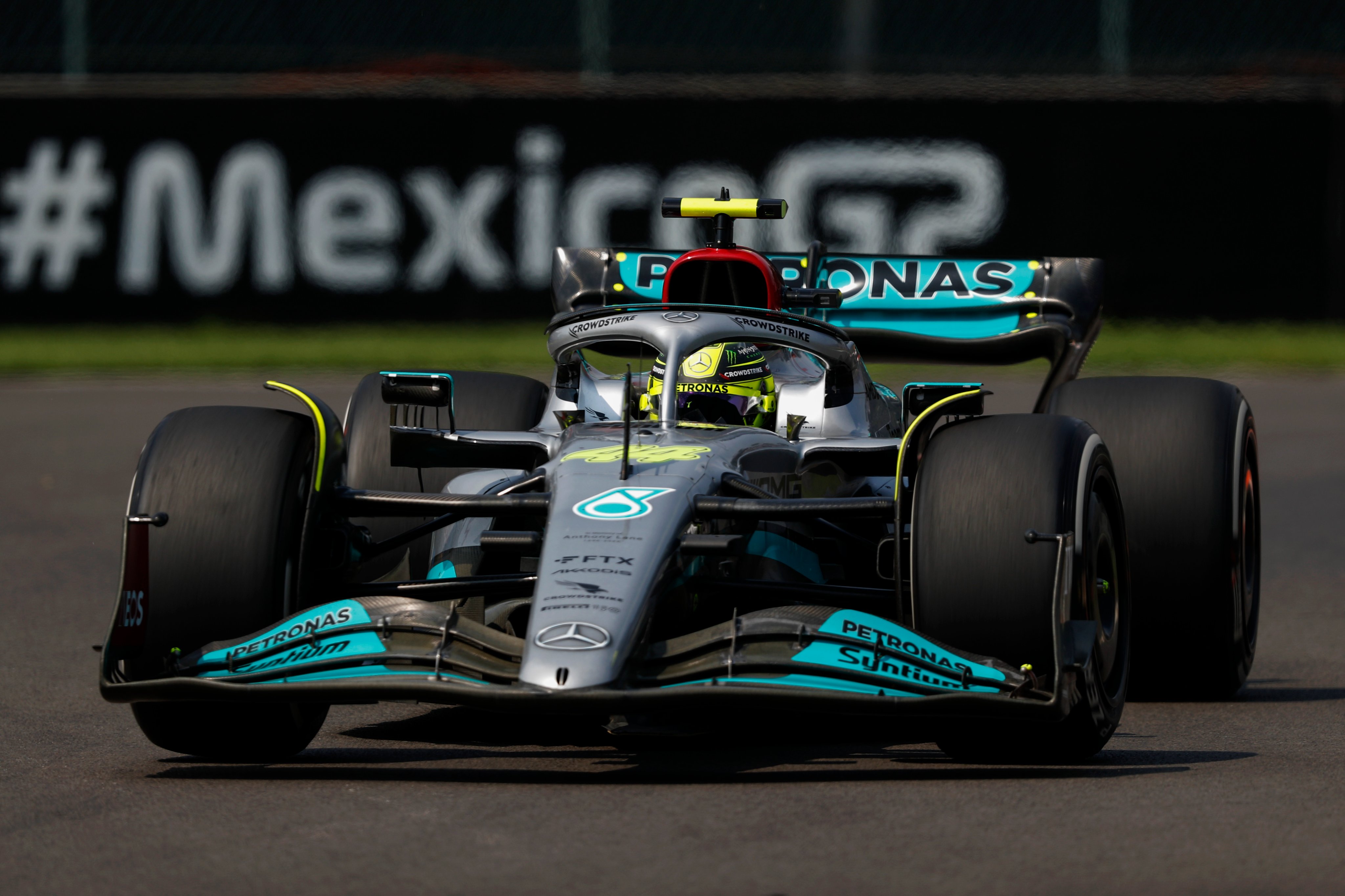 In contrast to his archrival in Blue, Hamilton was compromised as Mercedes snookered themselves and had to settle for second, with local hero Sergio Perez third making it an identical podium to the one at the same venue last year.
Hamilton threw everything at the chase, but simply had no answer and no options to seriously attack when it mattered.
He summed up his afternoon: "This has been an amazing crowd, definitely a bit awkward this time around with boos all day. But, nevertheless, I have so much love for Mexico and for the people here. What a great race and event they've put on this weekend.
"I was so close in that first stint but I think the Red Bull was clearly too fast today and ultimately, maybe they had the better tyre strategy. I'm not sure (the hard) was the right tyre at the end. I thought we should have started on the soft but obviously, we had the opposite tyre. It was okay in the first stint but that hard tyre was just an offset.
"Congratulations to Max, it's great to be up here and separate the two," concluded the seven-time F1 World Champion after his 190th F1 podium finish.
This year's Mexico City Grand Prix podium exactly the same as last year's
A magnificent seventh double podium of the season 🏆🏆#MexicoGP pic.twitter.com/Th9NnDD9UB

— Oracle Red Bull Racing (@redbullracing) October 30, 2022
For Perez it was third again, the crowd expected more as did he but that did not dampen the enthusiasm of the stunning podium ceremony that Mexico City delivers for our F1 heroes.
Amid wild celebrations with his overjoyed father and family entourage, Perez reported: "I gave my best today, you know at the start. I really pushed hard. Unfortunately, we had a little bit of a bad stop which prevented the undercut on Lewis.
"Overtaking is so difficult and as soon as I got behind him it was really difficult. It's a good podium, I really wanted more in front of these fans today but third place is still a good place to be," declared Mexico's favourite son, today.
In the other Mercedes, George Russell started from second on the grid but never recovered from a clumsy first lap, crossing the line almost 50 seconds behind the winner, and again outraced by his teammate Hamilton on the day. The gap between the pair in the standings with two rounds remaining is down to 15 points.
For Mercedes, they are now only 40 points down on Ferrari in the 2022 F1 Constructors' Championship standings with second place up for grabs.
A forgettable day for Ferrari when were never in it this weekend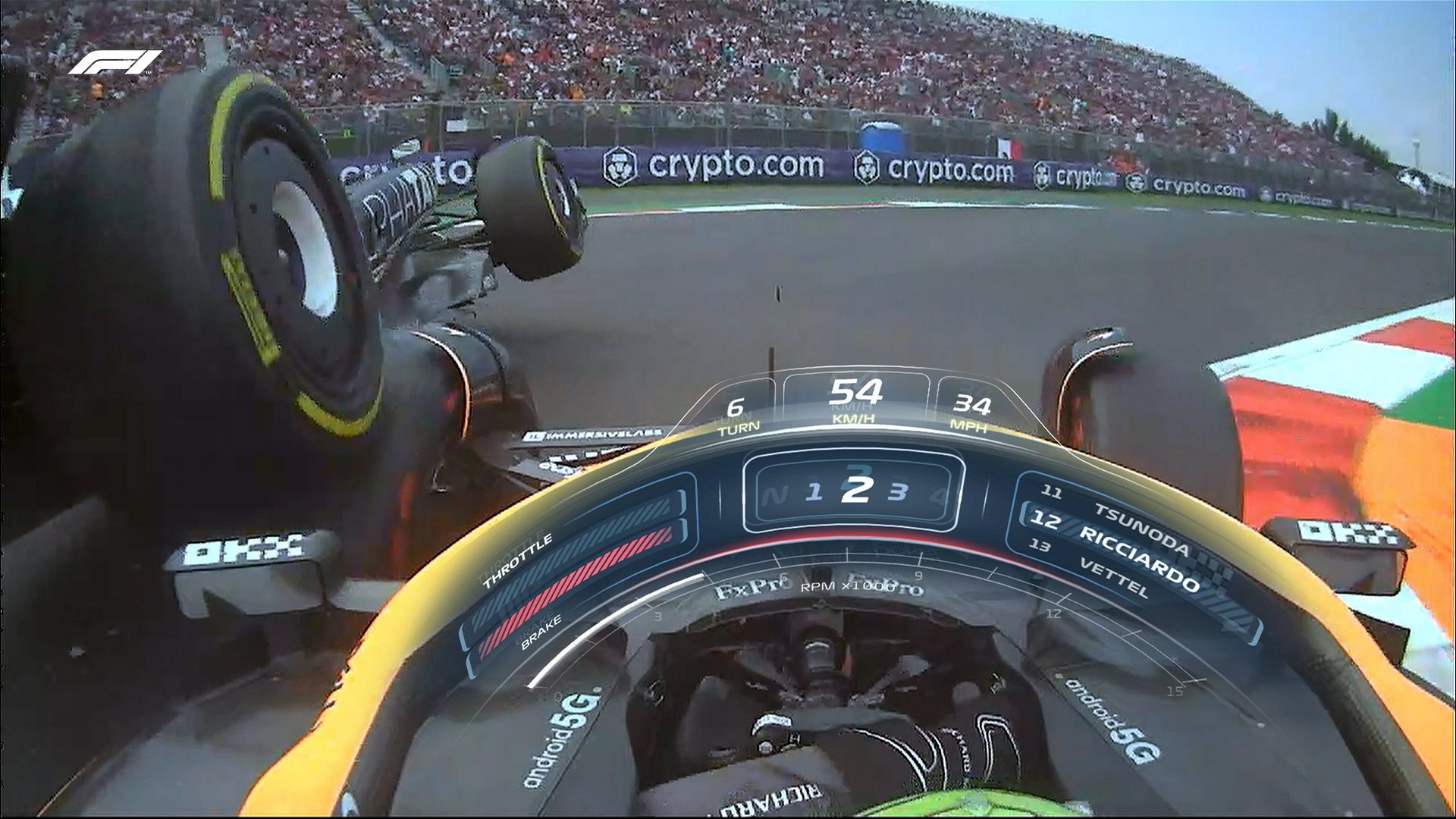 Today, Ferrari were never in it. Mexico exposed the weakness of their package at high-altitude, and as a result Carlos Sainz and Charles were distant fifth and sixth respectively, a minute behind Verstappen will not make for a happy debrief for the Reds.
In what could be his third last race in F1, Daniel Ricciardo enjoyed one of his better performances, the McLaren driver handed a ten seconds penalty and two points on his licence for thumping into Yuki Tsunoda's AlphaTauri.
Then Dan recovered with a gutsy drive, wrestling his way to cross the line seventh and the Driver of the Day award for his efforts, his teammate Lando Norris was ninth, the pair split on the results sheets by Alpine's Esteban Ocon in eighth. The trio survived a race long battle with Fernando Alonso.
The luckless veteran denied some big points when the Alpine expired on him for yet another disappointing DNF.
The final point went to Valtteri Bittas and Alfa Romeo, the Finn had a stellar qualifying but the performance did not translate to race pace.
How the 2022 Mexico City Grand Prix unfolded:
On a bright hot afternoon, Verstappen blitzed off the line as the red lights turned out, with the Mercedes tucked under his wing but the Red Bull ace had it covered, Russell got clumsy allowing Lewis Hamilton to nip through in T1, before Perez moved through to third a couple of turns later.
Notably of the top six, the Mercs were on Pirelli medium compound tyres, while around them Red Bull and Ferrari were on the red band Softs. The midpack was mostly on Mediums.
Russell started second and found himself fourth with the low-starting Ferrari duo large in his mirrors. Meanwhile, Verstappen eked 1.3 seconds over Hamilton at the end of a clean first lap for the whole field.
Behind the front six, the Alpines got ahead of Norris with Alonso seventh, ahead of Bottas, Ocon and then the McLaren driver rounding out the top ten after half a dozen laps.
Mercedes opted to start on Mediums and the Red Bulls went for Softs
At the front, Hamilton had leader Verstappen pegged at just over a second with Perez a couple of seconds further down in third, with Russell keeping him honest.
It was intense at the front, notably, even on the softer rubber Verstappen was unable to pull away significantly from Hamilton on the Mediums with the race on 15 laps at that point, he was two seconds ahead.
Red Bull were first of the big boys to pit on lap 24, Perez was in but it was a slow stop as the rear left was stubborn, costing him a couple of seconds.
Hamilton still had Verstappen checked at under two seconds, the Mercedes driver happy with his tyres as was Russell, now in third. But Verstappen was unhappy and he was in at the end of lap 55 for Mediums. It was a quicker stop than his teammate, the Champ's Red Bull emerging from the pits just ahead of Sainz, who had yet to stop.
At the front, it was Hamilton five seconds ahead of Russell and 14 seconds ahead of Verstappen, who began a charge while behind him Perez was gobbling up the Ferraris.
But Verstappen was reporting issues while shifting, he was starting to sound flustered as he chased the Mercs ahead.
Ferrari once again fumbled Sainz's stop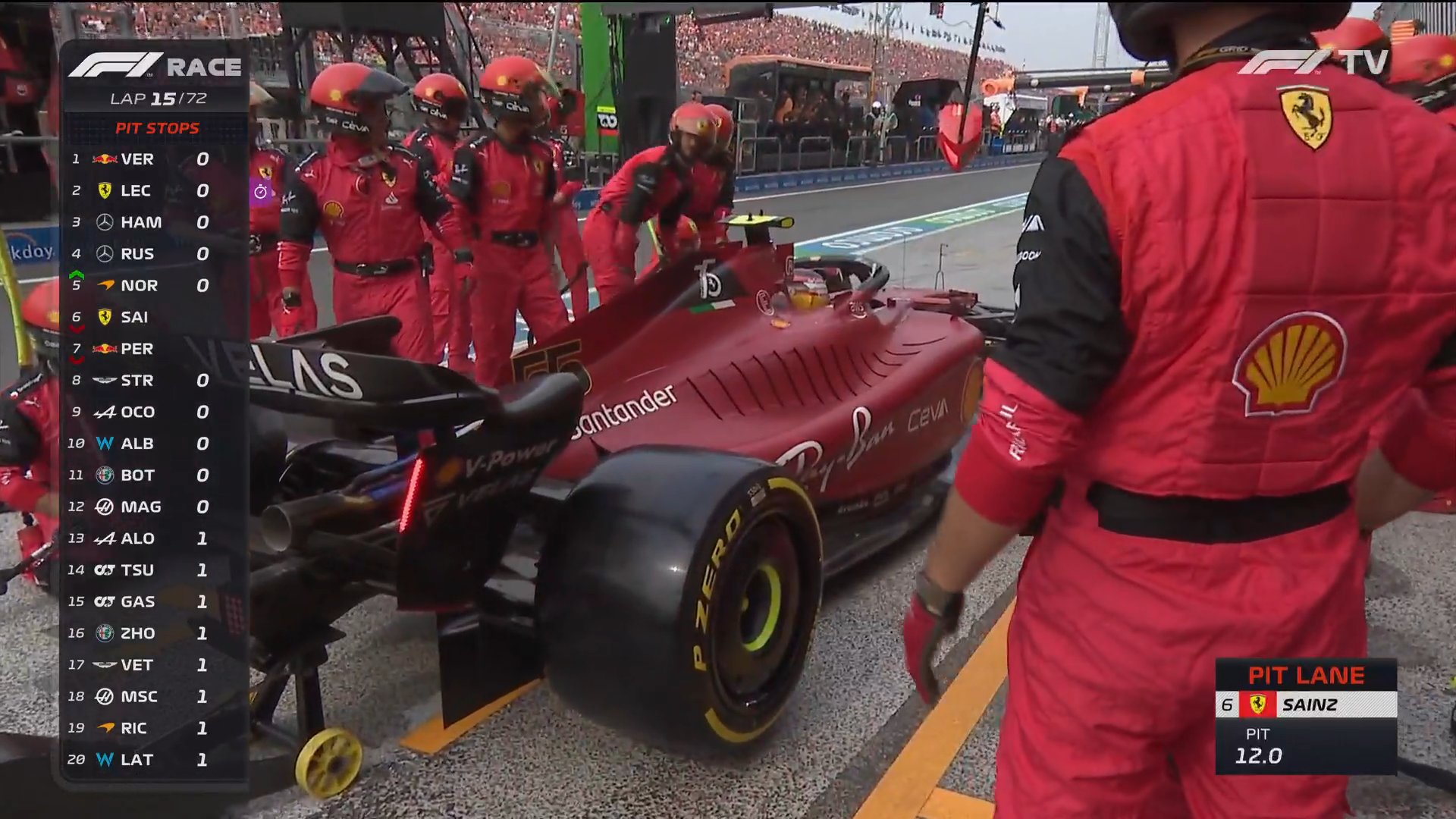 Hamilton pitted on lap 30 swapping the Medium for Hards, the dethroned World Champions playing what they reckoned was their ace to get Hamilton his first win of the season, and indeed the first for the W13. But there was still work to do. Russell was keen on the Soft but needed to go much futher with the Mediums he started with.
That triggered a flurry of stops, with Sainz in for a Ferrari fumble, just not slick enough.
At the front, on lap 33 Russell led without having stopped, with Verstappen nine seconds adrift, and Hamilton six seconds behind. But all was not well with the #1 Red Bull.
A lap later the #63 was in the pits for Hards, re-emerging behind Perez at what was just about the halfway mark. The top four had all stopped.
It was finely poised at the front, Verstappen on Mediums leading the chasing Mercedes pair shod with the Hards, and Perez also on Mediums. Who made the right call?
38 laps into it, Perez had Hamilton in his sights and closing in as the Red Bull driver started putting down a slew of fastest laps.
Behind the leading four, the Ferrari Charlies were in a battle with Alonso, the Alpine veteran running until lap 41 when they pitted him for Hards. But the best of the Reds, Sainz in fifth was a whopping 40 seconds down on the leader with Leclerc a couple of seconds adrift.
Mercedes drivers were both unhappy with their Hard tyres
Both Hamilton and Russell reporting their dissatisfaction with the Hards almost at the same time, to their pit wall. While Perez was popping purples on a regular basis.
Notably, Daniel Ricciardo, who started 11th, was up to seventh with the same tyres he started with, stopping on lap 44 and dropping down to 13th.
But he showed that the Yellow band mediums were capable of a very long stint, which was good news for Verstappen at the front whose team now had the option of having the World Champ to stop for fresh Softs or stay out with what he had on.
Mercedes had no such luxury, if the Hards were not up to it they had no other options.
In a largely incident-free race, Ricciardo – once the master overtaker – showed his desperation when he lunged into the AlphaTauri of Yuki Tsunoda as they battled for 11th. It was a clumsy move, from a driver whose A-game eludes him. FIA race stewards handed him a ten-second penalty for his shenanigans.
With 15 laps to go, Verstappen was on a masterful tyre-saving exercise stretching the life of the Mediums with an 11 seconds lap lead over Hamilton who was lamenting the choice of tyres, with Medium shod Perez closing in.
On lap 50, Verstappen was even further ahead despite the aging mediums on his Red Bull, the lead over an exasperated Hamilton now 13 seconds with Perez hunting the DRS range behind the #44 Silver Arrow. Russell powerless to close the five seconds gap to the two ahead.
Hamilton: That medium looks quick mate, they're going to go to the end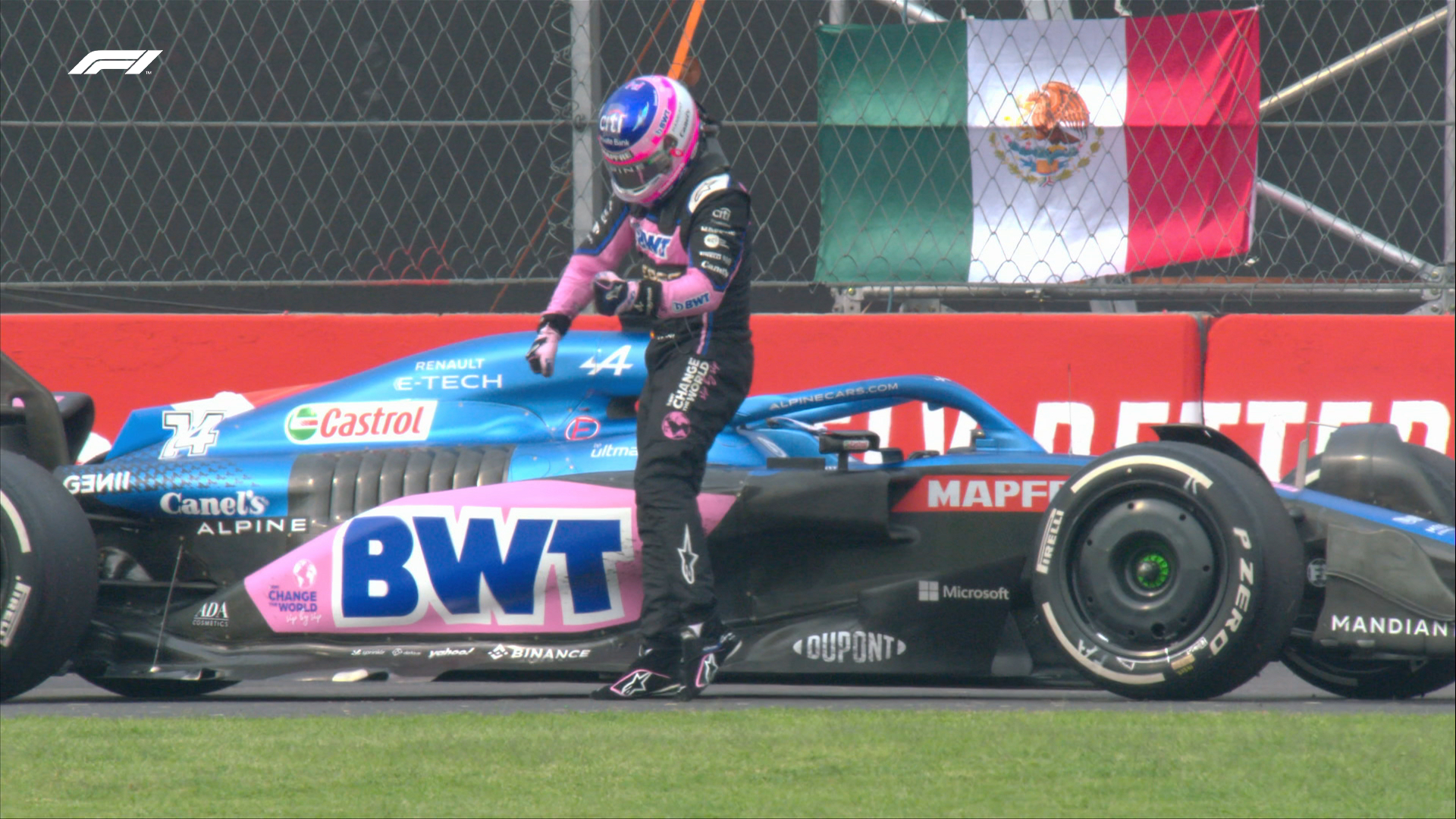 Meanwhile, way behind Sainz and Leclerc were a lonely fifth and sixth. Despite his penalty, Ricciardo was charging through the field on those sticky softs, up to seventh albeit 40 seconds behind sixth-placed Leclerc.
The Alpines were eighth and ninth, chased by Bottas in the tenth and under attack from Norris who got by the Alfa Romeo just as Alonso's car expired, for another frustrating DNF for the double F1 World Champion.
That triggered a brief VSC but no one opted to pit, with Verstappen 14 seconds up ahead it was over as a contest with five to go.
Mercedes messed up the strategy, and when Russell called for a change to softs to attack as he reported his Hards were wasted, they denied the request when there was nothing to lose but a great deal to gain.
Then they did it, and brought Russell in when the VSC was over!
Despite the Merc pitwall defending their strategy to their drivers, it was clear they dropped the ball, while they might not have beaten Verstappen they may have given a harder time.
Behind the first four, Sainz crossed the line 58.123s behind Verstappen and Leclerc a ten points further behind in a day of anonymity for the Reds and serious head-scratching to discover where the power went that dropped them to third in the pecking order, behind red Bull and Mercedes this weekend.
2020 Mexico City Grand Prix Result