Formula 2 has gone through numerous iterations in its illustrious history, and its importance and relevance has ebbed and flowed over time.
There have been times where its even replaced Formula 1 as the highest echelon of open-wheel motorsport, and other times where it has not existed at all.
Let's go back in time and showcase the history of Formula 2.
The Beginnings
Formula 2 was born from a financial standpoint. In 1947, the official rules for Grand Prix racing had the top tier utilising 4.5-litre naturally aspirated or 1.5-litre supercharged engines in all cars. This proved to be a little too expensive for many fledgling outfits, and so Formula B (as it was originally known) was introduced.
The first F2 race, the 1948 Stockholm Grand Prix, fielded a selection of vehicles from Ferraris to Simcas using either 2-liter naturally aspirated or 0.5-litre supercharged motors. The event was won by none other than Prince Birabongse Bhanudej, the only member of a royal family to race in F1.
In fact, in the first few years of F1 (1950-1953), so few entrants could afford to run the larger engines used in F1 races with F2 specifications and regulations. It was only after the introduction of the 2.5-litre engine class in F1 that the likes of Ferrari, Maserati and Mercedes jumped ship to the more powerful racing series.
Changing Engine Sizes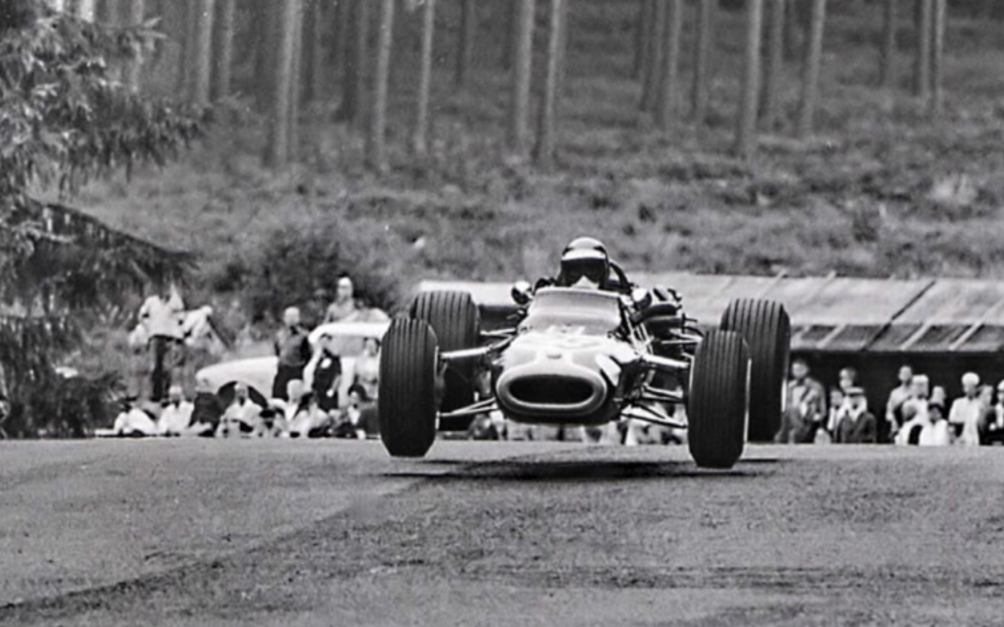 The regulations were changed yet again in 1957; engine sizes were decreased to 1500cc to increase the gap to the premier class. However, a lot of the technological innovations that graced F1 later down the line were actually pioneered in the feeder series.
For example, the first rear-engine cars were made by Cooper to compete in F2, before they realised how successful of a design it was (Jack Brabham won the 1959 Drivers' Championship with a rear-engine Cooper).
After yet another downgrade in engine capacity from 1964 to 1966 (to 1-litre), F2 cars became increasingly more powerful, to keep up with the unprecedented advancement in aerodynamics and potency of F1. The size went up to 1600cc in '67, and then up to 2 liters in 1972.
All of the innovations seen in F1, from front-and-rear wings to carbon fibre monocoques, eventually filtered into Formula 2. The series provided a significant stepping stone and was won by eventual F1 veterans such as Jacky Ickx, Rene Arnoux and Ronnie Peterson.
Nevertheless, by 1984 a lot of engine and chassis suppliers had lost interest in the feeder series and F2 was superseded by Formula 3000 from 1985 to 2004, using 3-litre blocks, and then by the GP2 Series from 2005 to 2016.
The Formula 2 moniker was briefly brought back in 2009. The chassis was provided by Williams and the engines by Audi in what was a specification series where everyone had identical cars.
Despite the resurrection of a well-known name which had been effectively dead for 25 years, the series proved to be unpopular and was shut down after 4 seasons.
The FIA Formula 2 Championship
Formula 2 as we now know it has only been around for 5 years. It replaced the outgoing GP2 Series (Lewis Hamilton above) in 2017, and for the first season opted to continue operating the Dallara GP2/11 chassis (used in GP2 from 2011) with a Mecachrome 4-litre V8 engine.
Since 2018, the FIA Formula 2 Championship has been using the Dallara F2 2018 chassis in combination with a more fuel-efficient 3.4-litre V6. There are plenty of reasons why you should be watching the current season, as mentioned in a previous article. The final race of the campaign will take place on the 19th-20th of November, don't miss it!
More and more people are tuning in to watch up-and-coming stars battle it out in Formula 2, so the current iteration of the feeder series is unlikely to be going anywhere anytime soon.
It's also exciting to see how the F2 car will develop in the coming years. Unlike F1, the cars are not changed year on year but on a periodical basis every several years. But who knows what they will come up with for the next version? Ground effect? Hybrid engines perhaps? The future looks bright for F2…