"Unhappy ending" would aptly describe the 2022 Italian Grand Prix on Sunday, as the race at Monza was finished behind the Safety Car for a myriad of reasons.
The prime factors that conspired were; the late safety car when Daniel Ricciardo's McLaren ground to a halt on lap 47 of the 53-lap race, the car stuck in gear proving a handful for marshals to remove, while a forklift was also on track at the point, as time and laps ticked over on Sunday.
Should the race have been read-flagged? Should a forklift ever be on the track when cars are circulating no matter what speed? Why did the safety car get the order wrong and emerge in front of George Russell in third rather than leader Max Verstappen? Many whys…
One thing that is clear; this is not in any way meant to detract from Verstappen's triumph, Red Bull's World Champion was untouchable at Monza and highly unlikely he would have been beaten no matter what rules are in place.
In fact the Dutchman's performance is at such a level, he could well win the remaining half-dozen races with the current form he is in. He has five wins in a row after Italy, and 11 this season.
Either way, he would have won on Sunday. And that needed to be prefaced.
And ultimately, the race ended as it should as per the current Formula 1 rules, in the name of safety and the correct order of the field, it takes as long as it takes to get it right. In this instance, on Sunday afternoon at Monza, it took inordinately longer than normal to achieve the required criteria to go racing, thus the race ended as it did.
Thus the question we posed to our team, as the title says: How to avoid unhappy endings in F1?
Kevin Melro: Let's not fix things just for the sake of fixing
I'm a pre-boom 90's NASCAR fan. I rode the rollercoaster up when its popularity exploded in the early 2000's and have subsequently watched it fall from grace. In any case, I struggle with the concept of an influx of fans that tried to be harnessed while the series completely lost sight of its own identity and why people showed up in the first place. They showed up because the racing was good.
Unfortunately racing doesn't always go to plan as was the case in the closing stages and eventual ending of the Italian Grand Prix which took place behind the Safety Car.
A lesson F1 can benefit from in learning primarily from NASCAR is that the result of fixing every perceived issue ends with a series that has fixed itself into oblivion. When the masses lose interest and move on, what's left is a series that's "fubar" with core fans clinging onto whatever nostalgia has survived. It is the ultimate sadness as a racing enthusiast.
F1 is on that rollercoaster climb, and the only way for the climb to continue is to feed the monster that it's becoming.
My recommendation goes against that climb; do nothing. Do nothing to fix the possibility of a Safety Car ending the race, just let it be; especially if doing something is rooted purely in entertainment value.
The 2022 Nascar Xfinity Daytona Wawa 250 required over 42 impossible minutes to complete the final three laps and still ended under a full course caution. IndyCar too had a blunder this year during qualifying at the Toronto Indy when a late Red Flag persuaded IndyCar officials to extend qualifying by one lap only for that one extra lap to be interrupted by another Red Flag. These are the types of disasters series sign themselves up for when they try to fix things that don't need fixing.
To be clear, there are other matters that need attention. One of which is what appears to be a normalizing of cars being left on the circuit, this needs a look. No conspiracy theory here, it is simply becoming more common.
When was the last time a car was parked in a location where a track side crane was able to lift it off the circuit in short order? Perhaps stopping zones can be better identified giving a driver a reasonable location target in which to leave a car.
The other is one all F1 fans already complain about, volunteer corner workers. 12 minutes and 12 seconds was the duration between the initial safety car deployment and Max crossing the finish line to end the race, unacceptable.
Even worse, the restart procedure wasn't complete. Race control was one lap, perhaps even two from being ready to restart.
Slow down, address what can be addressed first before we start fixing things for the sake of fixing.
David Terrien: Avoiding unhappy endings in F1 seriously is impossible
Depending on which driver and which team you are supporting, you will always see any result from a biased point of view and if the result is not leaning your way, then you will struggle to have a fair and realistic point of view and for sure you won't be happy.
But F1 became popular, popular in its original meaning of addressing a wider crowd, and F1 did well on this aspect by creating more attractive races together with a great Netflix Series.
This means F1 has turned into a modern communication area where it is facing a crowd expecting a real show and, on this aspect, the sporting side has not followed the trend and is operating on outdated standards.
We are in an era where safety is a priority but where we don't accept seeing the race show completely spoiled, having a race to the chequered flag behind a safety car. This means rules must change, this means officials have to operate differently.
This requires assembling a proper team looking into the real issues faced by the officials to run safe races, keep them entertaining and make their job doable when it comes to taking fast decisions during races.
The job has to include a search for a fair and straightforward solution to deal with the track limits infringements, it also has to come with a modern way to deal with Safety Car (SC), Virtual Safety Car (VSC) and Red Flag procedures. Easy to say, not easy to come up with the proper recipe to make it work.
Non-American motorsport is historically not used to races being "disturbed" with multiple safety cars. In its DNA, F1 has issued rules to try protecting advantages built by a team or a driver before a Safety Car procedure, when the American way has been driven by the show aspect of a race and rules are actually done to reset any advantage every time a Safety Car is deployed.
I also like protecting at least some of the advantages gained during a Pre SC, VSC or Red Flag procedure but I don't want to see races finishing under SC procedure.
Sean Stevens: Personally, I feel there is NO need for Safety Cars
Shakespeare wrote, "There is no good or bad, only that what we think of." What I believe he meant was; whether a Formula 1 race ending under a Safety Car (SC) is an unhappy or happy outcome depends on how it impacted on your favourite team.
But it not just about finishing a race under a Safety Car (SC) – an anti-climax for the un-biased. It's also about the Safety Car protocol too. A Safety Car intervention resets a race by closing up the pack. It trashes all previous strategy plans, often punishing those who have successfully built a lead and rewarding those who cocked it up.
The timing of its implementation and subsequent withdrawal can multiply its impact. Consequently, the current protocol is open to what's become known as a "Briatore".
For those of you not familiar with this expression I'll explain: in a nutshell, the then Renault boss (Flavio Briatore) was found guilty of ordering his No.2 driver (Piquet Jr.), to "stick it in the wall" in order to precipitate a SC, thereby allowing his No.1 driver – Fernando Alonso to win the race.
Both pilots obliged, with Piquet Jr. doing a "proper" job, terminally ending his chassis life and sending debris all over the place. Subsequently, Biratore received a lifetime ban from participating in all and any F1 activities.
The SC protocol also provides space for those who want to accuse officials of heavily influencing, if not determining the outcome of a race under the guise of safety. I'm not suggesting this does or has happened, but others have and will continue to do so long as the drivers/teams can be dramatically advantaged/disadvantaged in such a fashion.
Personally, I feel there is NO need for Safety Cars. The drivers are big boys and need to take responsibility by slowing down enough where there are heavy vehicles on track and/or Marshals on track – 60kmh should be the maximum speed for the errant section and then 120kmh for the rest of the circuit controlled as per VSC method.
Alternatively, when there are only 5 laps left till the end, stall the race as suggested above. When the problem is resolved, go Green Flag and extend by the laps lost.
Is it perfect? No, but it does make the accusation of deliberate tampering difficult to hold water. Meanwhile I will say the same thing that I used to tell drivers as a Clerk: "If you want to take part in a competition that's completely fair, try darts!"
Jad Mallak: I'm not sure that fixing this problem is straightforward
The way the 2022 Italian Grand ended was a bummer, especially since we had our hopes up that the Safety Car would close the gap between Max Verstappen and Charles Leclerc so the latter may have a chance to go on the offensive despite how low the percentage of success was.
But the race director's decision to finish the race under the Safety Car deprived us of a show worthy of Monza on its 100th anniversary.
Much has been said since the race that something needs to be done to prevent such anti-climatic endings in the future which I believe is required.
Now I'm not sure that fixing this problem is straightforward, and for this reason, we are fortunate that these events don't happen on a regular basis, or else we would be pretty disappointed with F1 races more often than not.
There is an agreement that races should not end under a Safety Car, and as a start, this should become a regulation. After that there should be a way to stop the race if a Safety Car is deployed towards the end of the race, five laps or less let's say.
So here's a thought, if a Safety Car comes out in the final five laps of the race, there should be a regulation that stipulates that the race should not end unless two racing laps are completed. This way, if the Safety Car consumes all the remaining laps, two more laps will be added.
If the track hazard requires more than the remaining five laps to be cleared then the race would be normally Red flagged. Two extra laps can be done on the same tyres and do not require too much extra fuel.
I am not claiming I am the expert on this but it's just a thought I had.
Paul Velasco: In all sports, the ending will suit some and that same time not others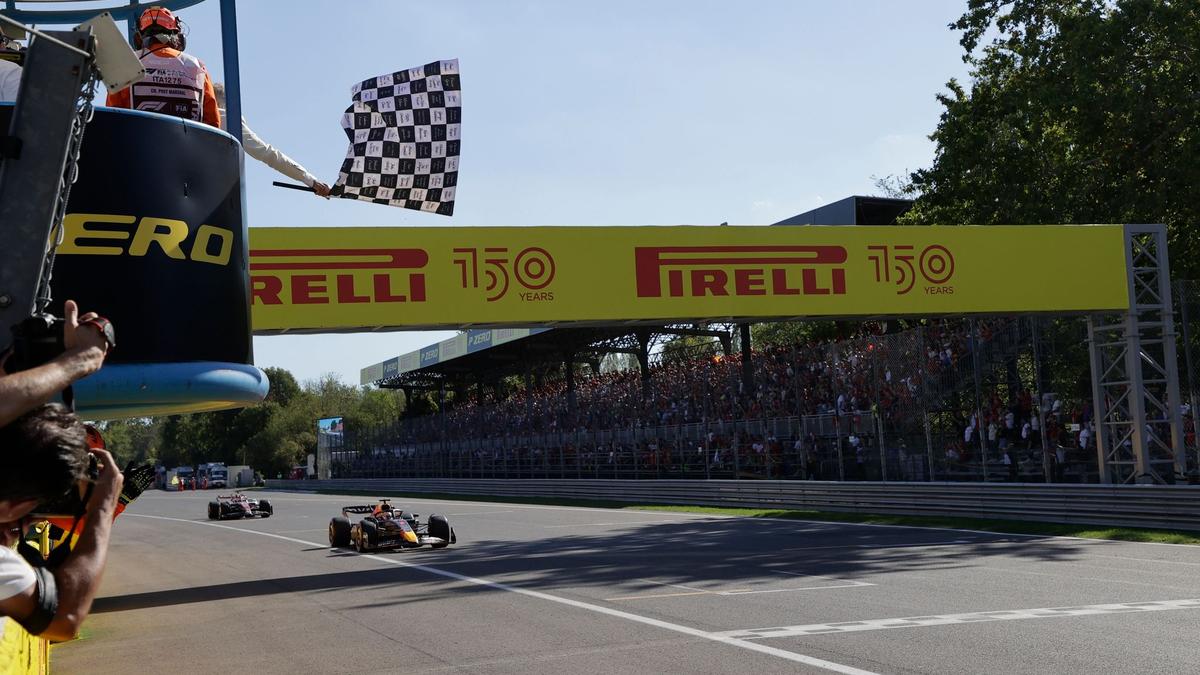 Monza ended the way it did because of the way the rules are written, the timing of the Ricciardo's breakdown, the car stuck in gear, a forklift on track and the safety car picking up the wrong leader. This created the perfect storm that put an end to the race on lap 47.
What else could they have done differently? Getting the Safety Car (SC) in front of the leader might have helped but with retrieval work ongoing into the final laps on Sunday, and any other GP Sunday, cutting it fine makes it impossible to go racing safely.
But F1 drivers are the best in the world, with modern technology the requirement of a Safety Car seems in itself a vestige from the past with its current use. In the wet, sure it is good to have.
But the Virtual Safety Car (VSC) system is far more effective in dry conditions and, to eliminate the 'to send out the Safety Car or not?' question, if in the future, one is required rather red flag the race.
Especially when the incident happens after the halfway mark in a Grand Prix. The VSC system works in all forms of racing, allows marshals to clear cars and sweep debris and eliminates the 'fake' element that throwing out a safety car can have on a race.
Going forward, anything more dramatic, requiring what normally would be a Safety Car, simply red-flag it and tweak the rules accordingly about what can be done to the car in between race starts.
F1 moves on – amid the constant focus of media and fans where every incident is analyzed as if by a microscope – then so should the rules move on.
However, in this Monza instance, one could argue that fundamentally the regulations are solid and were implemented correctly, albeit inefficiently by FIA officials, which led to what we got on Sunday, the unhappy ending.
But it is worth remembering that sometimes in all sports, and in life generally, the ending will suit some and that same time not others. C'est la vie, as they say.