Charles Leclerc did the proverbial thing and 'painted' Monza the Red of Ferrari (and splashes of yellow!) today by claiming pole position for the 2022 Italian Grand Prix in front of the adoring Tifosi, if he wins for them on Sunday they will blow a hole in the ozone, over the beautiful park in which the Temple of Speed resides.
It was a magnificent effort, a special lap that gives him hope he can emulate the victory he scored for the Italian team, on home soil, back in 2019 locking himself into the hearts and minds of all Tifosi forever. A repeat win will just strengthen that legacy.
Although the form man Max Verstappen ran him close, but Leclerc's scintillating 1:20.161s  was too good by a tenth and half for over the Red Bull and a quarter second up on Carlos Sainz who has been speedy all weekend.
Thus Leclerc, from the top spot start, has set himself for a repeat win at the Scuderia's home Grand Prix as most of his rivals around him will suffer grid penalties.
This afternoon, Monza lit up as it became clear that Leclerc was the fastest, a one-two even beckoned until Red Bull's Max Verstappen split the Ferrari duo with their striking Monza 100th anniversary livery denying them a truly perfect day.
Nevertheless the roar for their drivers, both wearing special tribute bright yellow race suits for the occasion; the stuff that dreams are made of for Leclerc, who acknowledged in parc ferme: "It is amazing!"
Yellow was the other colour of the day, celebrating 100 years of Monza at this 72nd Italian Grand Prix at the historic venue near Milan.
Indeed it was an amazing lap too, 1:20.161s took the honours on the day, Leclerc digging deep with his last effort to deny Sainz whose last effort was not enough, the Spaniard 0.268s shy of his teammate.
Leclerc, winner here in 2019, added: "It wasn't an easy qualifying session. I knew there was quite a bit of potential in the car.
"I knew in this last lap in Q3 I had to put everything together and I managed to do it, very happy with the lap, very happy with the performance, the feeling with the car is amazing and I really hope we can do just like 2019 tomorrow.
"We worked hard to make improvements and it looks like we have become more competitive again and I felt confident in the car from the first practice session on and our race pace was strong, so hopefully we can convert this pole into a victory tomorrow. I will give it everything.
"I just took much more risks, it was the last lap, I knew I had to find a lot of performance there and it worked out," added Leclerc on the occasion of his 17th pole position in F1, the eighth of his season so far.
In the sister car, Sainz was on it but fell a tad short, perhaps missing that extra inspiration knowing he would be dropping down the grid due to engine-related grid penalties.
In the Tv pen. Sainz said afterwards: "Honestly it was a very good qualifying session, I was feeling very well and I was pushing flat out through Q1, Q2 and Q3 the only issue is that I didn't have a tow and it probably cost me those two, three tenths in the fight for pole position. But I'm starting last anyway tomorrow.
Sainz: A very good lap I had to take a lot of risks to compensate for the lack of tow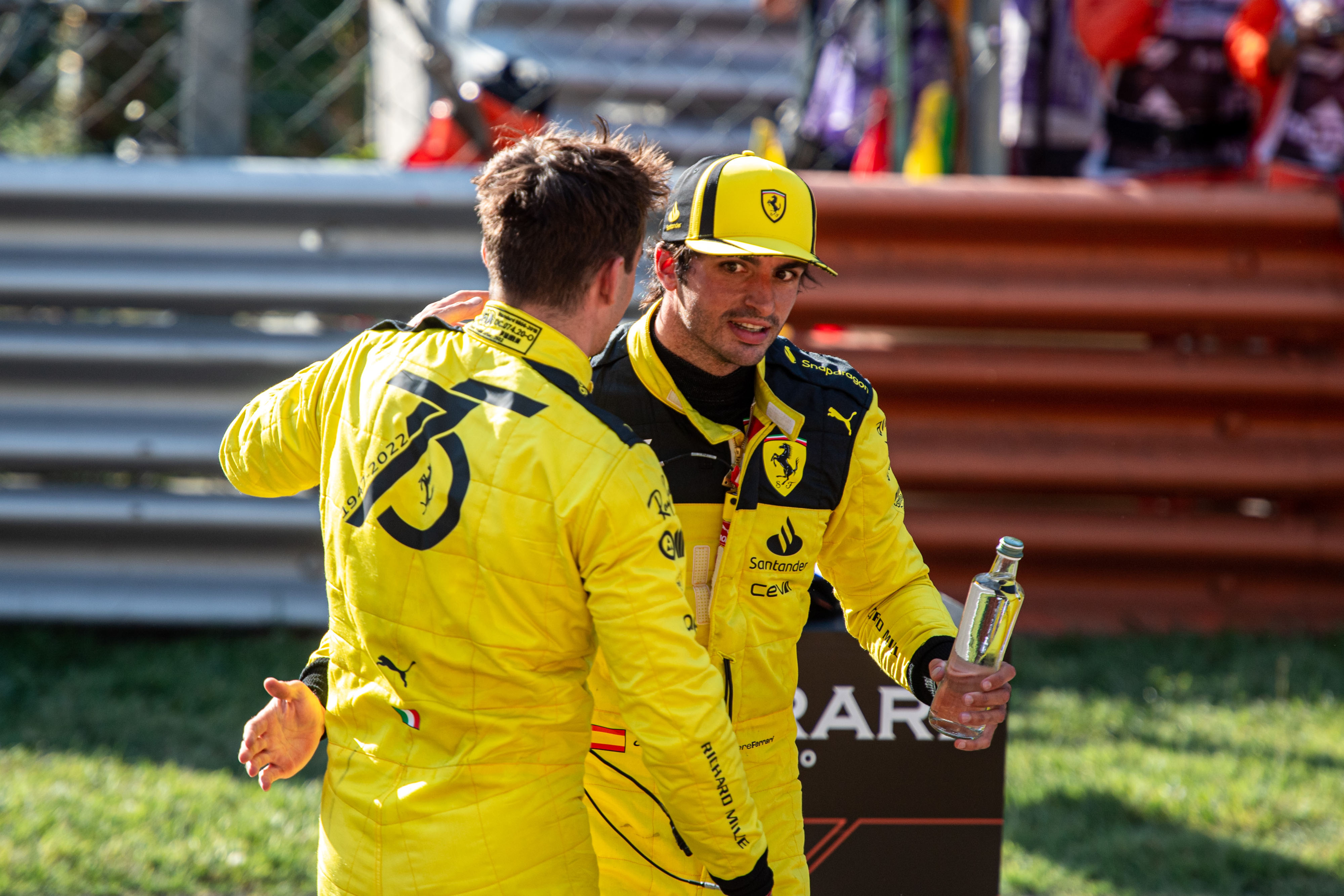 The Spaniard continued: "I was quicker in every corner but slower in every straight so in the end, I couldn't improve much but I'm going to push flat out to make up as many positions as possible.
"The support from the Tifosi in the grandstands has been absolutely incredible all weekend and we'll do our best to gift them with an exciting race.
"It hurts starting from the back considering how competitive the car is this weekend and how good I'm feeling on the car, especially after this qualifying. And to know I will be starting from the back I will do my best and try to put on a good show," added Sainz.
Ferrari were pumped and rightfully so, reporting from Monza: "There was no better gift that Charles Leclerc could have presented to the Tifosi packing out the Monza grandstands.
"A deafening cry of delight went up as he secured the Scuderia's tenth pole position of the season and his eighth, to lay claim to starting at the front of the field for the Italian Grand Prix which gets underway tomorrow at 15 local."
It was Ferrari's 240th F1 pole and Charles' 17th. (Additional reporting Agnes Carlier)