A clear indication that the Mercedes W13 continues to baffle the team, is that today Lewis Hamilton made changes to his car in FP1 only to go slower in FP2 for the Italian Grand Prix.
Ahead of Monza, Mercedes were careful not to be as confident as they were heading to Spa-Franochamps when they expected a big step forward towards the front, and in fact they went backwards or at least did not progress relative to pace-setting Red Bull with Max Verstappen in it.
But shorter, slower Zandvoort was better they were much closer but after the first day of free practice, Russell was fifth fastest, seven-tenths of a second down on the top time set by Carlos Sainz in the Ferrari and Hamilton a further tenth down, seventh on the timesheets at the end of the day.
Notably, Mercedes-powered McLaren driver Lando Norris was quicker than both the works cars, albeit only fractionally but enough to suggest the W13 is just an average race car, nothing like its' illustrious predecessors that romped to 15 F1 world titles in eight years.
Hamilton revealed in the team report: "We made some setup changes in between FP1 and FP2 and went a lot slower, or the other guys went a lot quicker – we just didn't feel as fast in the later session."
Suggesting that whatever they bolted on to the cars has yet to work this race weekend, or they have little clue where to head next with setup, thus work to do overnight to find the elusive time.
"I know George had some deployment issues here but my car didn't seem to be affected. It's George's turn to choose who goes first or second tomorrow so I assume I'll go first and naturally I'll provide him with a bit of a tow," promised the seven-time F1 World Champion.
Russell: We're similar to Red Bull but Ferrari seem to have the upper hand
In the other Mercedes, Russell summed up his Friday at the Temple of Speed: "Bit of a strange day, FP1 was looking pretty strong but then Ferrari and Red Bull seemed to take a step forward in FP2 and we went a little backwards so we have work to do tonight to understand that.
Confirming Hamilton's information, Russell added: "Generally speaking, we're lacking a little electrical deployment here, we're similar to Red Bull but Ferrari seem to have the upper hand on deployment which might be tricky in a race scenario.
"If you nail the tow around here in qualifying, it will definitely make a difference but it's high-risk-high-reward so not something we're putting a lot of emphasis on.
"Qualifying sessions are where you learn the most about the car and the tyres, and they've been the sessions we've struggled most with this year, so I think we'll both be going out like any other quali day and trying to nail the basics," concluded Russell.
Shovlin: We'd expected this weekend to be tough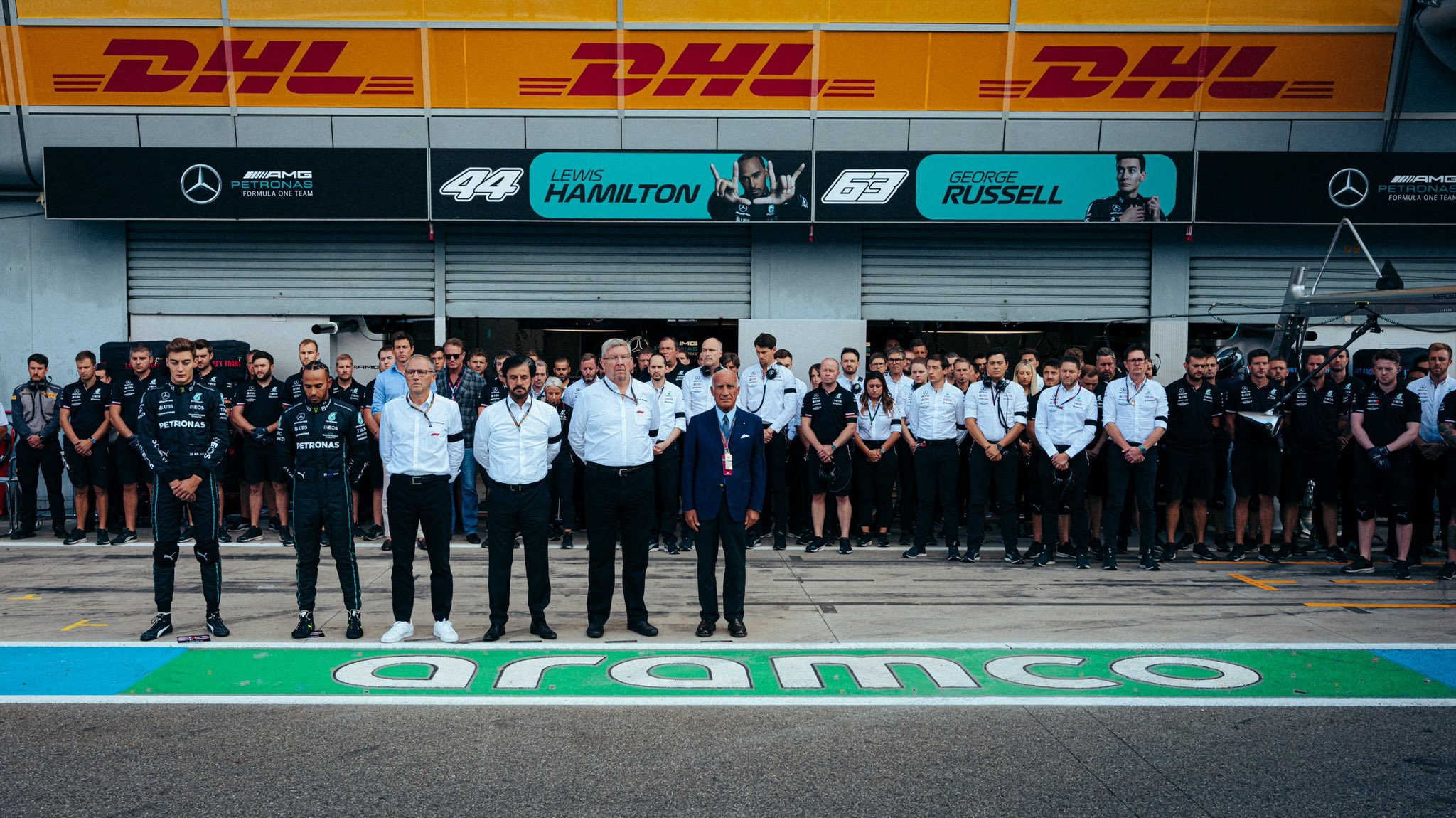 Mercedes trackside boss Andrew Shovlin shed more light on how their day went: "The first session went well and we seemed to have the car in a good place for both single lap and long run balance.
"The second session was more difficult with both drivers suffering from a lack of rear grip. In terms of pace, it looks like our competitors found more between the sessions than we did so we need to look through that in detail to understand where we have lost out.
"We'd expected this weekend to be tough as the car is very similar to the one that we had in Spa and with Lewis's power unit penalty, we've got a lot of ground to make up in the race before we can get him into the points.
"However, the goal remains to score well with both drivers and the fact that we had the car in a good place in the first session gives us some encouragement that we can get it back in that window," said Shovlin.
Mercedes have yet to win a Grand Prix this season, if the trend continues Hamilton's incredible run of winning a race every season he has been in F1 will come to an end.
On the bright side, if he wins on Sunday, it will be his 105th in the top flight, his sixth victory at Monza which is more than any other driver in the history of the sport at the hallowed venue; currently, he is tired with F1 and Ferrari legend Michael Schumacher on that record.
Lewis and George prepare to leave the garage for FP2 in Monza. pic.twitter.com/XBilJRXZR3

— Mercedes-AMG PETRONAS F1 Team (@MercedesAMGF1) September 9, 2022