Max Verstappen dominated the 2022 Azerbaijan Grand Prix to score his 25th Formula 1 win, on an afternoon that both Ferrari's retired with engine problems, with near mortal damage done to their title ambitions on both fronts after gifting an easy 1-2 to Red Bull.
As is becoming the norm this season, Leclerc was Mr Qualifying on Saturday, but by the end of the day, it was bitter disappointment again for the Reds. With Carlos Sainz, running comfortably, fourth, also suffered what appeared to be an engine failure.
The first ten laps of the fifth Azerbaijan Grand Prix were pretty mundane, the top positions had hardly changed, while Sergio Perez led from second on the grid after a mighty start that saw the Red Bull pull away from Leclerc's Ferrari starting from the top spot.
Reigning F1 World Champion Verstappen, from third on the grid, thought it wiser to attack the Ferrari, and slotted in in third. It was enthralling stuff, as Perez ahead reported lack of traction with the lead pegged at two seconds while Leclerc had mirrors full of the #1 Red Bull.
Behind them, it was pretty much the same, apart from Sebastian Vettel getting ahead of Yuki Tsunoda.
Then on lap ten, Carlos Sainz, running a lonely fourth at the time, reported a brake issue as he went straight to end his race in the escape road, the Spaniard's run of bad luck continues but it sounded like a PU issue. That triggered a virtual safety car.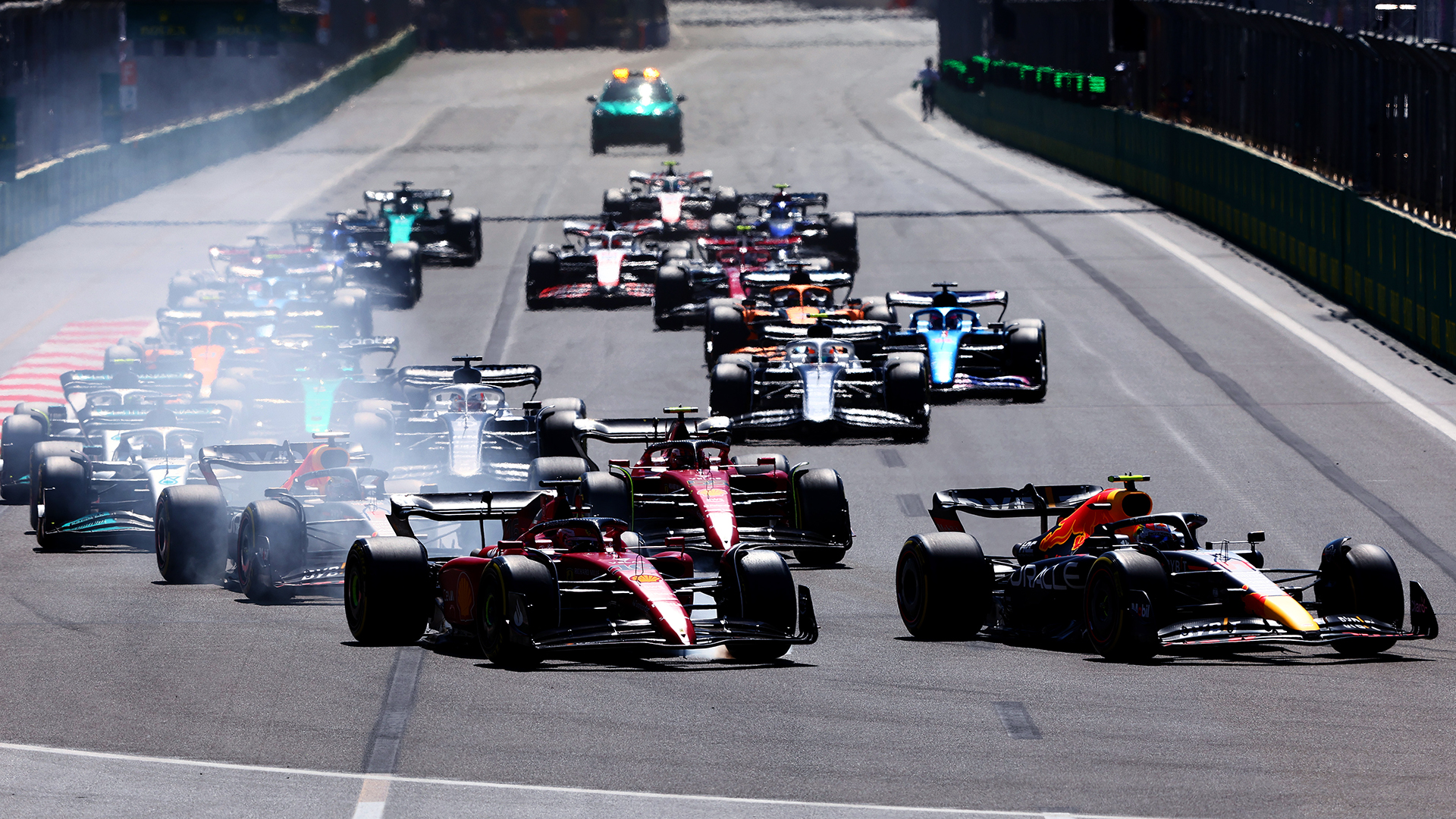 At which point Red Bull mechanics ambled into the pitlane – was that a dummy by the blues because neither of their cars poitted, while Ferrari decided to pit Leclerc from second place. The Red car emerging on hards. The Red Bulls stayed out.
On the restart, it was a Red Bull one-two nose-to-tail, Perez from Verstappen with Leclerc ten seconds behind. On lap 15, at the end of the main straight Max neatly moving ahead of Checo into T1, no point defending. Teamwork of the highest order.
Verstappen said afterwards in parc ferme: "Today we had an incredible pace in the car. We could really look after the tyres and we could chip away at it and pass for the lead. Maybe a tiny bit lucky with the retirement but nevertheless our car was really quick today to close that gap then you have a race on your hands. Overall, really happy with the balance of the car today."
Perez added: "It was the right call made by the team because at the time Max was a bit further ahead, it was just a good team result. In this place, anything can happen so to get a team one-two, it's a good team result."
Before that, after his stop, Leclerc was chasing and gaining rapidly with the fresher tyres.
Behind the top four, George Russell was 16 seconds behind in fifth, with Fernando Alonso again formidable in fifth for Alpine as the McLaren duo did well to emerge from outside the points into the meat of them at this point, with Lando Norris in sixth and Daniel Ricciardo seventh; Pierre Gasly eighth, Esteban Ocon ninth and Lewis Hamilton tenth.
Lap 17 Perez pitted and came out in third, ten seconds behind Leclerc. Verstappen leading at that point by eight seconds. With Sainz out, Russell climbed to fourth with Alonso fifth.
Verstappen pitted just before lap 20, and emerged second, 13 seconds behind Leclerc on 11 laps older tyres. But the finale we craved did not happen, as on lap 21 the leading Ferrari went up in smoke, burning a big hole in Charles and his team's title ambitions. This might well be the mortal blow for those ambitions.
Adding insult to injury for Ferrari, four of their PUs broke this afternoon, victims of the Haas of Kevin Magnussen and the Alfa Romeo of an exasperated Guanyu Zhou.
Leclerc: I don't have the full picture about what happened but it hurts
A tough break for Leclerc as his Baku hopes go up in smoke 😖#AzerbaijanGP #F1 pic.twitter.com/LEYq3hVA8f

— Formula 1 (@F1) June 12, 2022
"We really need to look into that for it not to happen again," Leclerc said in the TV-pen. "I can't really find the right words to describe this. It's very, very disappointing. I don't know, we really need to look into it.
"We have been fast at the start of the season without big problems, and we have made changes for the better. I don't have the full picture about what happened today, but it hurts," added the Ferrari driver
Thereafter the race for the top spots on the podium was effectively over Verstappen from Perez by half a dozen seconds halfway through the race.
And 'THAT GUY' Russell! Again faultless making it eight top-five finishes so far this year powering to a lonely but important third-place.
The Mercedes Young Gun said afterwards: "You have to be there at the end to pick up the pieces. Thank you to all the team back at Brackley and Brixworth for getting the car to the end. It is not easy this year with everything going on, the cars are going through a torrid time with the bouncing and pleased to bring home P3."
Earlier in the race, on lap 34, Magnussen's Haas with a broken Ferrari engine parked on the side of the track, prompting pitstops by several.
With 15 to go, the top three remained the same VER-PER-RUS, with Gasly in fourth and Tsunoda fifth fending off Hamilton on the fresh tyres. The Mercedes #44 got by on lap 44 to finish fourth.
Gasly was a solid fifth but it was heartbreak for AlphaTauri teammate Tsunoda, a rear wing DRS flap failure forced the team to retire the car.
This promoted Vettel to sixth, ahead of Alonso and Ricciardo battling intensely for seventh place with Norris chasing and itching at a crack at the Alpine. But they held station to finish that way.
Esteban Ocon claimed the final point for tenth, a double points score for Alpine with a car that was probably the quickest in Baku all weekend.
Another new winner in Baku!

👏 @Max33Verstappen #AzerbaijanGP #F1 pic.twitter.com/JlXodweS2M

— Formula 1 (@F1) June 12, 2022
2022 Azerbaijan Grand Prix Result