Charles Leclerc will start the first Miami Grand Prix from pole position after doing the business when it mattered in qualifying, while Max Verstappen looking the man to beat all afternoon but fumbled when it mattered.
It would have been a brave man to bet against Verstappen taking pole, he seemed to have a little edge over his rivals, but a rare error handed the momentum to Ferrari who were chasing until they took control by simply delivering solid laps.
By his own admission, Leclerc delivered a strong lap if not a stunner, to claim the top spot start with Sainz shading him by a tenth and a bit, then Verstappen in third thanks to his first Q3 effort; this means an all Red front row for the race tomorrow, and an all Blue second row, Verstappen behind Leclerc for the drag race into Turn 1 on race day.
On a constantly evolving Formula 1 track unlike anything expected and lined with walls eager to punish mistakes ensured that drivers were on their best behaviour, the expected red flags did not play a role in the session.
In Q3, Ferrari were out first with Leclerc and Sainz were first out to put in a banker lap each, but Verstappen was a tad better to go top of the timing screens by 0,064s but he made an error during his final effort; Leclerc did not, hence the difference between the pair.
Leclerc: Red Bull are extremely quick in the straight lines. We are quick in the corners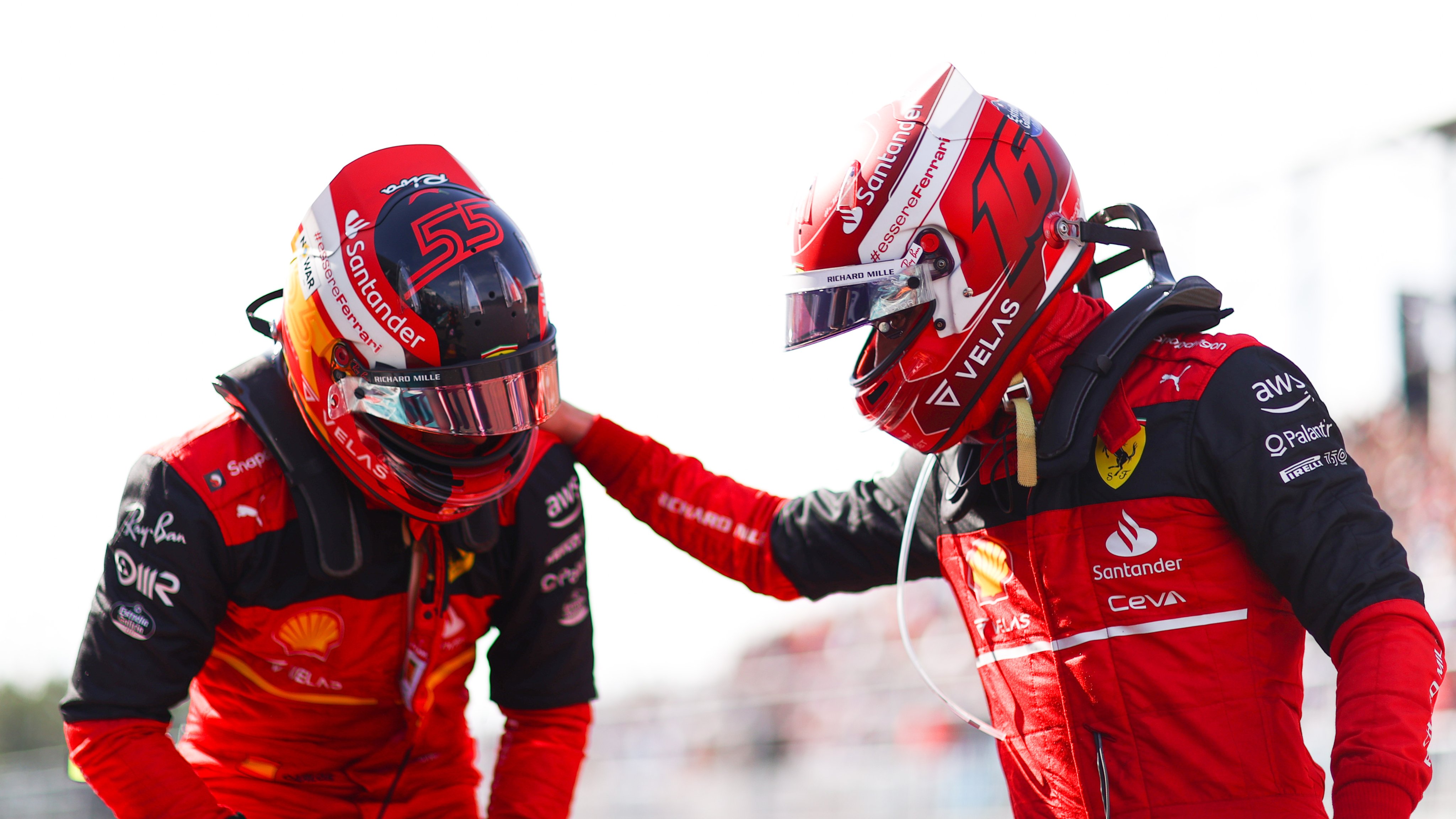 The Monegasque said of his afternoon: "Last weekend [Imola] wasn't great for me. I made a mistake in the race, but today went well. We are starting on pole and we need to finish the job. Red Bull are extremely quick in the straight lines. We are quick in the corners. It will be a tight challenge" predicted Leclerc.
His teammate Sainz, in what was a day of redemption for the Spaniard in the wake of his forgettable Imola weekend, recapped: "I recovered a bit from a pretty heavy crash [on Friday]. It wasn't easy at all to get the confidence back at a difficult circuit like this at Miami but I kept it cool until Q3.
"I managed to pull out a couple of good laps, not quite enough for pole position, but given from where I was coming from I will take it. It's going to be an interesting day with everything that is going on this weekend.
"I haven't done any long runs yet with fuel on the car and tried it so tomorrow will be the first time to have a feel. So it will be quite challenging but at the same time I am feeling confident with the car, the car is really good to drive around here so I think we can do a good job," added the Ferrari driver.
Verstappen: We have a good chance. We have a bit of speed
Of this third place, Verstappen said: "Overall I am pretty pleased with qualifying. Literally I did four or five laps yesterday so today I was still trying to learn the track and trying to find a decent balance in the car. To be that competitive in qualifying, I was a bit surprised.
"This is not an easy track to learn. Of course, you want to be on pole, but where we came from I think we did a really good job. We have to start making the weekends a little less difficult.
"We have a good chance. We have a bit of speed. The car is handling quite well. I'm looking forward to that," added Verstappen.
Fourth went to Sergio Perez who was lacking about a quarter of a second, but at the same time setting the stage for a big battle between the sport's best teams of this season for victory at the first Miami Grand Prix.
A winner is likely to come from one of the top two teams but, like in qualifying, the one who makes the least mistakes will win as a race of high attrition is on the cards.
Big smiles for Bottas who out-qualified both Mercedes drivers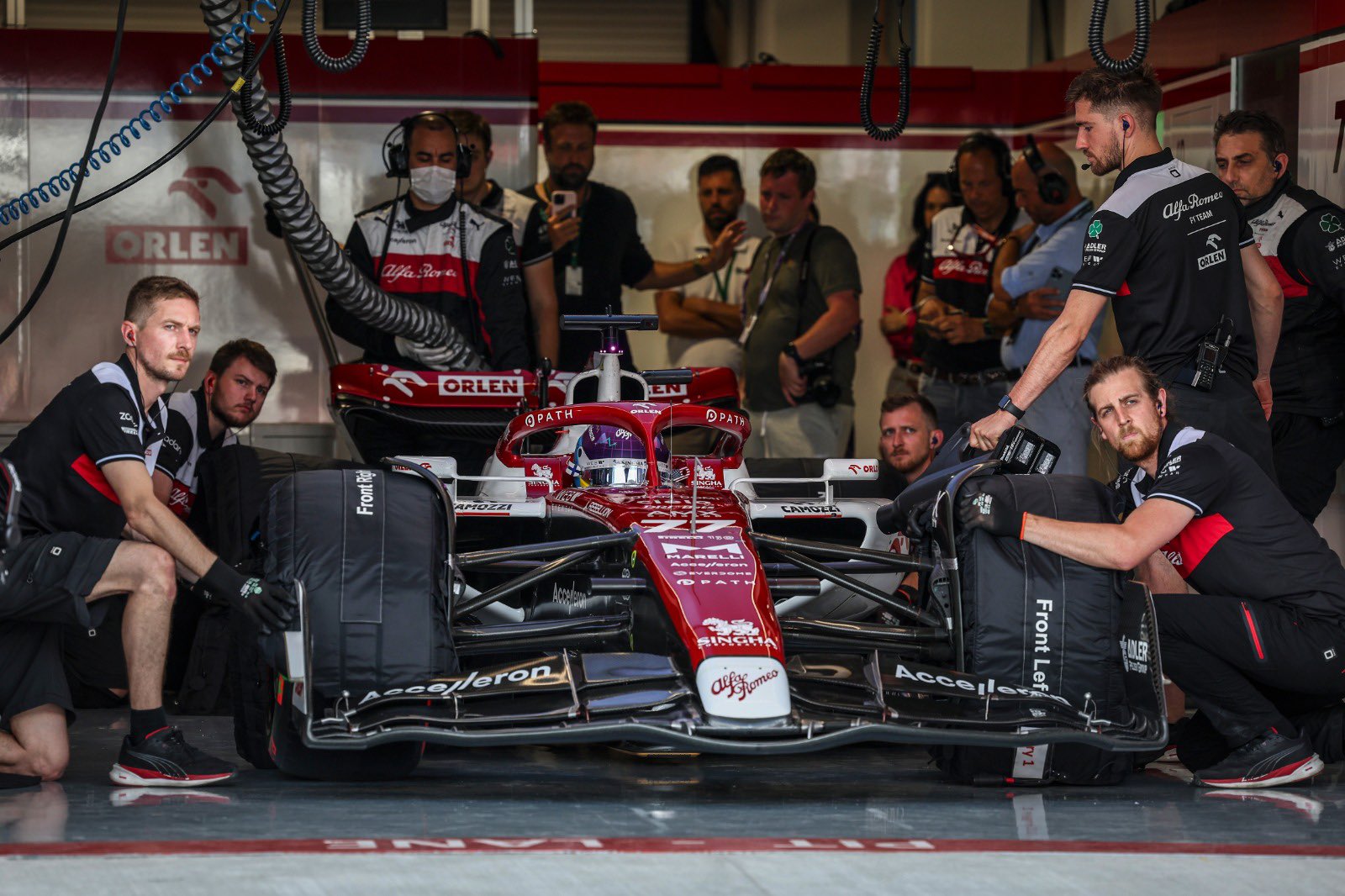 Fifth fastest, and how ironic it is, was Valtteri Bottas enjoying a superb session (despite problems in practice that curtailed his track time, popping up in fifth and ahead of his long-time former teammate Lewis Hamilton in sixth.
Bottas will be forgiven a proud smile with that result, considering the circumstances, while Hamilton will be smiling broader than before as he out-qualified teammate George Russell in the sister car (down in 12th) at a time when the younger driver was getting the upper hand. It was an important result for Lewis today.
With Pierre Gasly and Yuki Tsunoda seventh and ninth on the day for AlphaTauri, it means that all four Honda-powered cars will start the race from within the top ten.
Lando Norris again humbled (humiliated?) his McLaren teammate Daniel Ricciardo, the young Englishman delivered a stunner of a lap in Q2, third fastest in that stanza and half a second down on the top time at that point, but in the final charge he was a second shy and ended the day eighth quickest.
Top ten start for Lance Stroll will be a boost for Aston Martin at this stage of the game when good news is rare, Sebastian Vettel, in the other Green car, was only good 13th thanks to an error on his final run in Q2.
Charles Leclerc takes pole position no. 3️⃣ for the 2022 season! 💪#MiamiGP #F1 @Charles_Leclerc pic.twitter.com/j3E2TilsbF

— Formula 1 (@F1) May 7, 2022
Miami Qualifying Result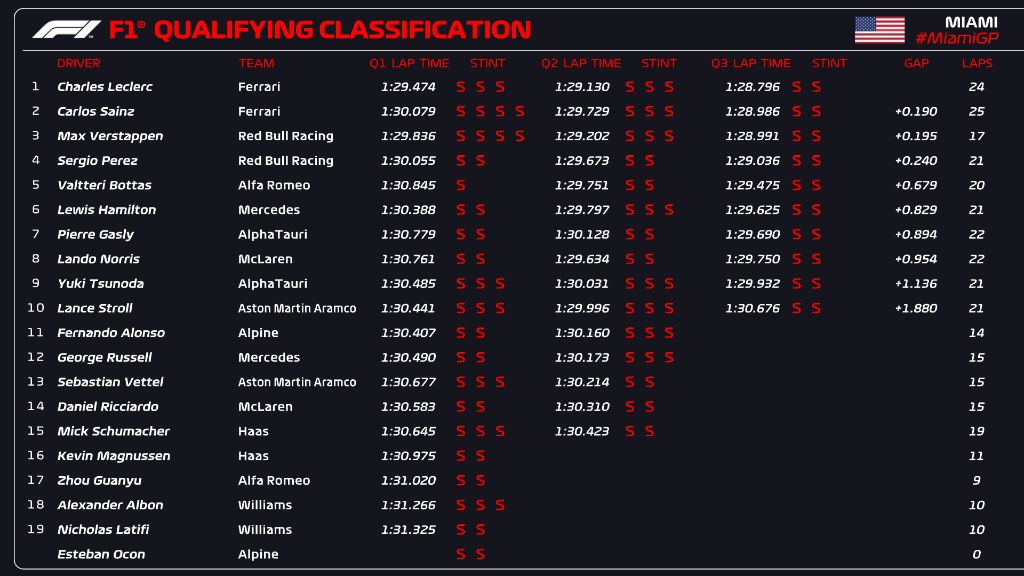 Miami Q2: Ricciardo humbled by Norris; Russell drops out
It was a dreadful session for Ricciardo who was only good for 14th, after being good enough for 10th in q1 earlier but when it mattered the McLaren driver fumbled while teammate Lando Norris dug deep to put it third… six tenths the difference between the pair.
Also outshone by a teammate was Vettel who was only good for 13th while Stroll in the other Aston Martin made it through with the eighth-best time.
Fernando Alonso was expected to make it into Q3 but simply did not have enough on his last run.
At the top Leclerc and Verstappen were separated by less than a tenth, and had the precocious Norris pop up underneath them on that timing screens, ahead of Perez and Sainz.
Notably, Russell failed to make it into Q1, Hamilton made it through.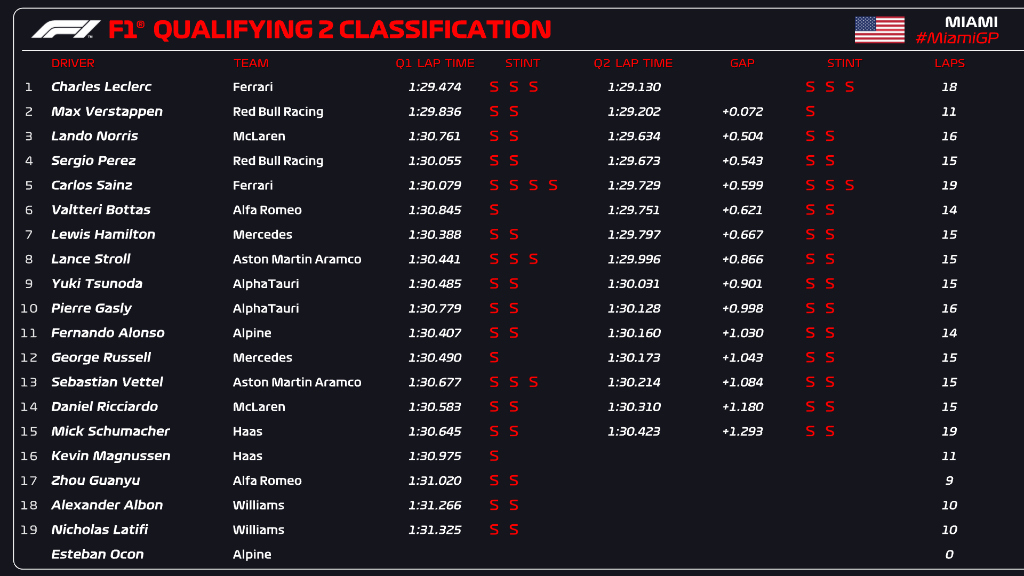 Miami Q1: Magnussen disappointing; Zhou unlucky
The comeback honeymoon ended for Magnussen as the Haas driver was cut early out of qualifying while teammate Schumacher made it through to Q2 relatively easily, but a lock-up on the Dane's flyer did not help his cause.
Albon had been quick in the Williams most of the weekend, but could not find the pace and like teammate was asked in the first stanza.
In the Alfa, Zhou was unfortunate to be baulked by traffic late on his last flying lap; while Ocon, who crashed his Alpine heavily earlier in FP3, did not take part.
At the top Leclerc was three tenths faster than Verstappen, with Perez third and Sainz fourth; Ferrari versus Red Bull. Hamilton was best of the rest.