Ferrari seem to have a strong package for the start of the 2022 Formula 1 World Championship, with Charles Leclerc giving Tifosi a reason to smile as he aims to fight to claim pole position for Sunday's season-opening Bahrain Grand Prix.
The sport's most famous and popular team has this year produced a car that appears to be far more Prancing Horse than the Limping Donkeys of recent years; perhaps it is the Retro Red paintjob or whatever but the F1-75 looks ready to pick a fight.
As expected Max Verstappen set the pace all day in the Red Bull RB18, way quicker than his teammate Sergio Perez as well as both troubled Mercedes drivers; only Leclerc had a sniff and boy it was close: less than six-hundredths of a second at the end of FP2.
And the first fight to pick could well be in Qualifying for which Leclerc has clear ambitions: "Nobody is on the absolute limit of the car but there haven't been any bad surprises today, which is good.
"It seems like we're in the mix, more or less, which is good. It gives us a bit of a smile, but there's still a lot of work to do for tomorrow and hopefully, we'll be able to fight for pole," added Leclerc.
Charles: I'm quite confident with the car
That would be just fine for the Italian team who have not had the luxury of a top spot start since Leclerc's pole in Baku last year.
Leclerc continued: "I'm quite confident with the car. It's all about trying to test the limits today; to not do the same mistakes on Saturday. I went for it and at the end, we did the fast lap on the second lap.
"I think there's a bit of margin still, so it's not looking too bad. But today went well, we tested a lot of things… and all the changes that we've done made us progress. So we need to do the same step for tomorrow, and then hopefully we'll have the car to fight."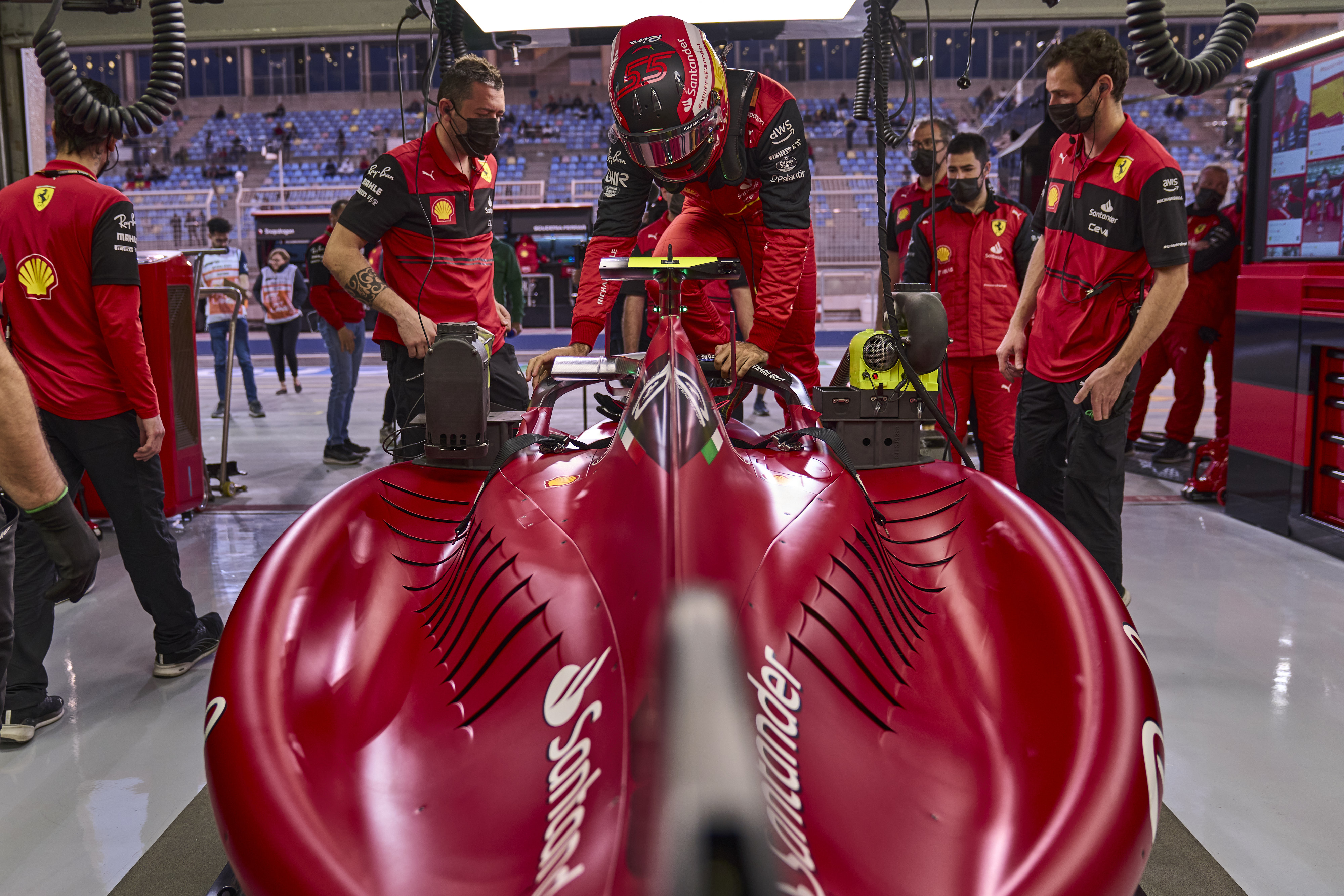 Carlos: I still don't fully understand the car in the short runs
In the sister Ferrari, Sainz could not extract the same blistering pace out of his car on the day: "As a team, with two cars in the top three, in every session, I think it's been a positive start for the team. We are confirming the good feeling we had in the car since testing.
But it was not a case of plain sailing for the Spaniard: "From my side, honestly FP2 was quite tough. I still don't fully understand the car in the short runs, I am struggling with the front tyre with the warm-up, with a lot of mid-corner understeer.
"And still not driving it probably the way I should in an ideal manner. So, quite a bit of homework to do on that side. I need to work through the night and make sure I find some lap time for quali.
"But shows we are in a good position – that even without a great day, we are still right up there," concluded Sainz who begins his second season as a Ferrari driver when he lines up on the Bahrain grid on Sunday evening local time.
A slow-moving Tsunoda frustrates Leclerc during FP2 😕#BahrainGP #F1 pic.twitter.com/vdN7oP8O5l

— Formula 1 (@F1) March 18, 2022