The 2021 FIA Formula 1 Dutch Grand Prix might not have been the exciting race full of overtaking and drama that many might have been craving for, but the weekend's performance trends reiterated that both Max Verstappen and the Red Bull RB16B are on top of their games.
In the aftermath of the race at history-steeped Zandvoort, Mercedes team principal, Toto Wolff indicated his team felt Verstappen's final stint on the Pirelli hard compound was some sort of shock masterstroke.
However, based on the reality of FP1 and RBR's focus of both Verstappen and Perez doing as longer runs as they could manage on heavier fuel loads and the white tyres in the shortened session, it should not have been any surprise at all.
In fact, at the end of the FP1 session, Verstappen was only 0.097 seconds off Hamilton's session topping time which was set on the softest red compound.
Lessons about fire extinguishers
Whilst FP1 was indeed reduced to 35 minutes of running due to Sebastian Vettel's AMR21 falling foul to some sort of electrical-related fire, it was concerning that the well-meaning driver took it upon himself to remain on the circuit, and attempt to tackle the fire himself.
Eventually he was joined by a marshal, leaving two people and two fire extinguishers on a live circuit only under local yellows, the Race Director taking over three minutes to red flag the session. It was a comedic episode with huge safety risks in which fortunately nobody was hurt.
F1 should have learnt the hard lessons about fire extinguishers on live circuits through terrible incidents decades ago.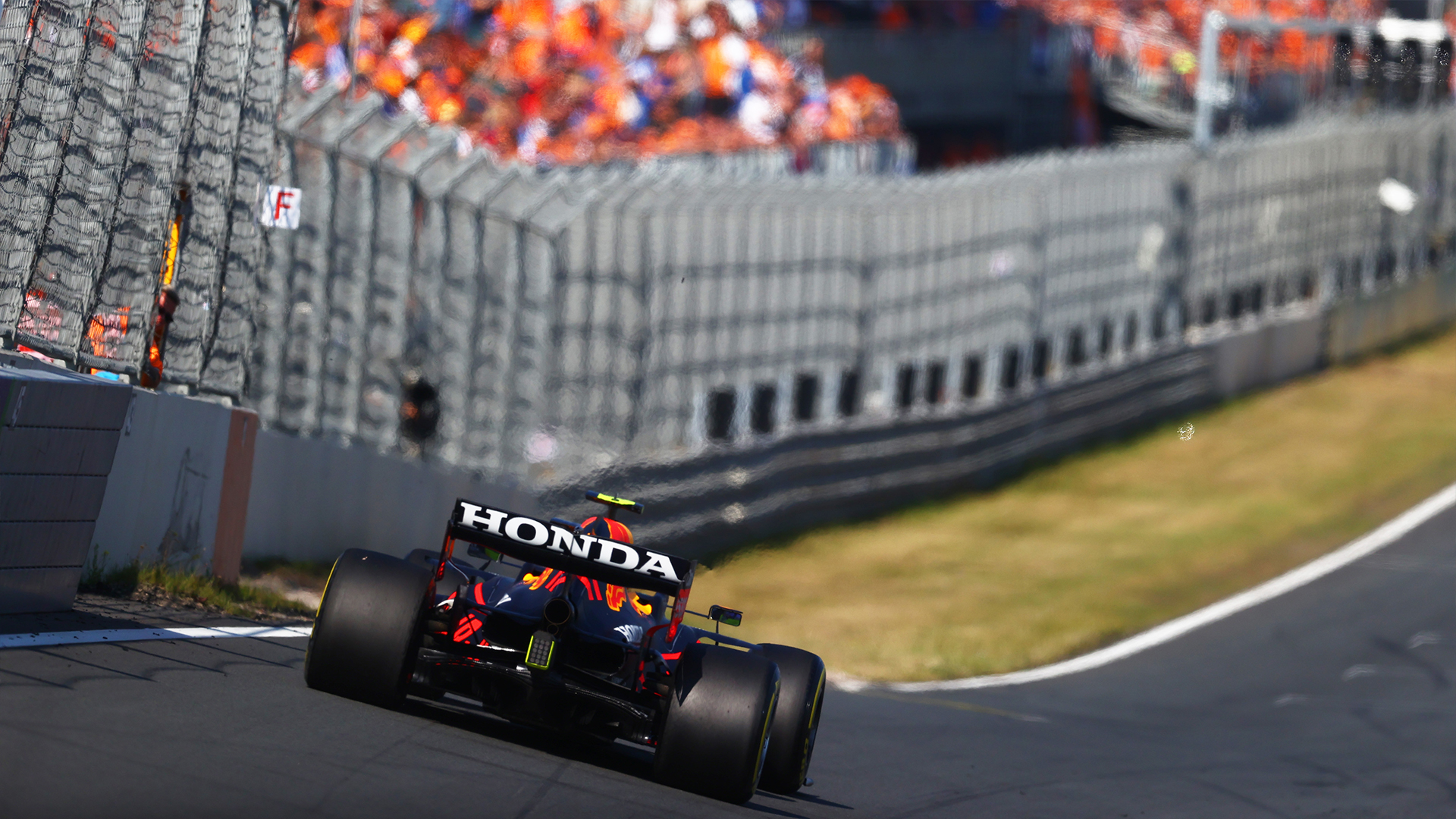 Red Bull advantage more than Turn 3
At Zandvoort, Red Bulls pace was no anomaly, it was just a follow on from the raw pace improvement they brought to Spa the previous weekend, with a significant performance update consisting of revised brake ducts, front wing pylon, front cape, and pre-rear tyre floor treatments not fully realised due to the wet weather.
Much of the buzz throughout the weekend at Zandvoort was the RB16B's advantage at Turn 3, but that was not the only place where it had an advantage.
In qualifying, Verstappen was the only driver capable of navigating Scheivlak (T7) near flat, whilst both Verstappen and Perez were exiting T9 and the T11/12 complex consistently faster than the competition.
Other points of interest coming out of the 2021 Dutch Grand Prix include:
Red Bull complaining to the Race Director about Mercedes tyre blanket use – Given Mercedes complained about the same thing with RBR in Spain and France, how is it anything but fair?
Red Bull querying the FIA about the Mercedes PU plenum cooling – the longer it takes the FIA to publish a finding or TD, the more likely there's a legitimate complaint.
Carlos Sainz's apparent lack of pace – Ferrari's brilliant effort to get Sainz's SF21 into qualy left no time to flat patch the chassis and it would have certainly compromised the geometry.
Daniel Ricciardo – another fortunate qualy due to the disjointed nature of Q2, but still as lost as ever in 2021. Will McLaren persevere with him?
Antonio Giovanazzi – making Q3 and showing the C41 isn't necessarily a dog.
Whilst the upcoming weekend at Monza will obviously be reliant on low drag settings and PU performance, the RB16B's superior mechanical grip in low-speed corner entry and power down exit may very well be telling.
Charging back to the 🔝 of the standings! 🏆🇳🇱pic.twitter.com/QblNbUIzel

— Red Bull Racing Honda (@redbullracing) September 5, 2021