Red Bull driver Max Verstappen won the rain-struck 2021 Belgian Grand Prix on Sunday without racing even a single lap as half-points were awarded for only the sixth time in Formula 1 history.
After some three hours of waiting for the rain to subside, the race started from the pitlane and behind the safety car and was then stopped after completing the two laps required to award half points.
George Russell finished second for Williams, his first Formula 1 podium, with seven times world champion Lewis Hamilton third for Mercedes.
Hamilton's overall lead over Verstappen was cut from eight points to three.
The Red Bull driver summed up afterwards: "Of course now in hindsight it was very important to get that pole position. It's a big shame to not do proper laps, but the conditions were very tricky out there. I said at 3.30pm 'let's go',
"I think the conditions were decent but the visibility was very low. I think if we would have started at 3pm we would have had a better chance but, nevertheless, after that it just stayed really wet and it kept raining.
"It's a win but not how you want to win. Today a big credit goes to all the fans around the track for staying here the whole day in the rain, the cold, windy conditions. They are actually the bigger winners today," added Verstappen.
Russell spoke of his unusual first podium in F1: "We don't often get rewarded for a great qualifying but we absolutely did today. But, firstly, I just want to say so sorry to all the fans. Amazing their support to stay out here throughout.
It's a shame we couldn't get this race underway but just from our side and the team's side it was just an amazing result. A little celebration tonight I'm sure. The whole team deserve it," beamed the Williams driver.
Hamilton was more concerned about the spectators who endured an arduous day: "I feel really sorry for the fans today. Obviously it's no one's fault with this weather but the fans have been incredible today. To sit with us this whole time and hold out for a potential race.
"They knew when they sent us out at the end there the track wasn't any better, and they did it just so we could start two laps behind the Safety Car which is the minimum requirement for a race.  I really hope the fans get their money back today," added the World Champion.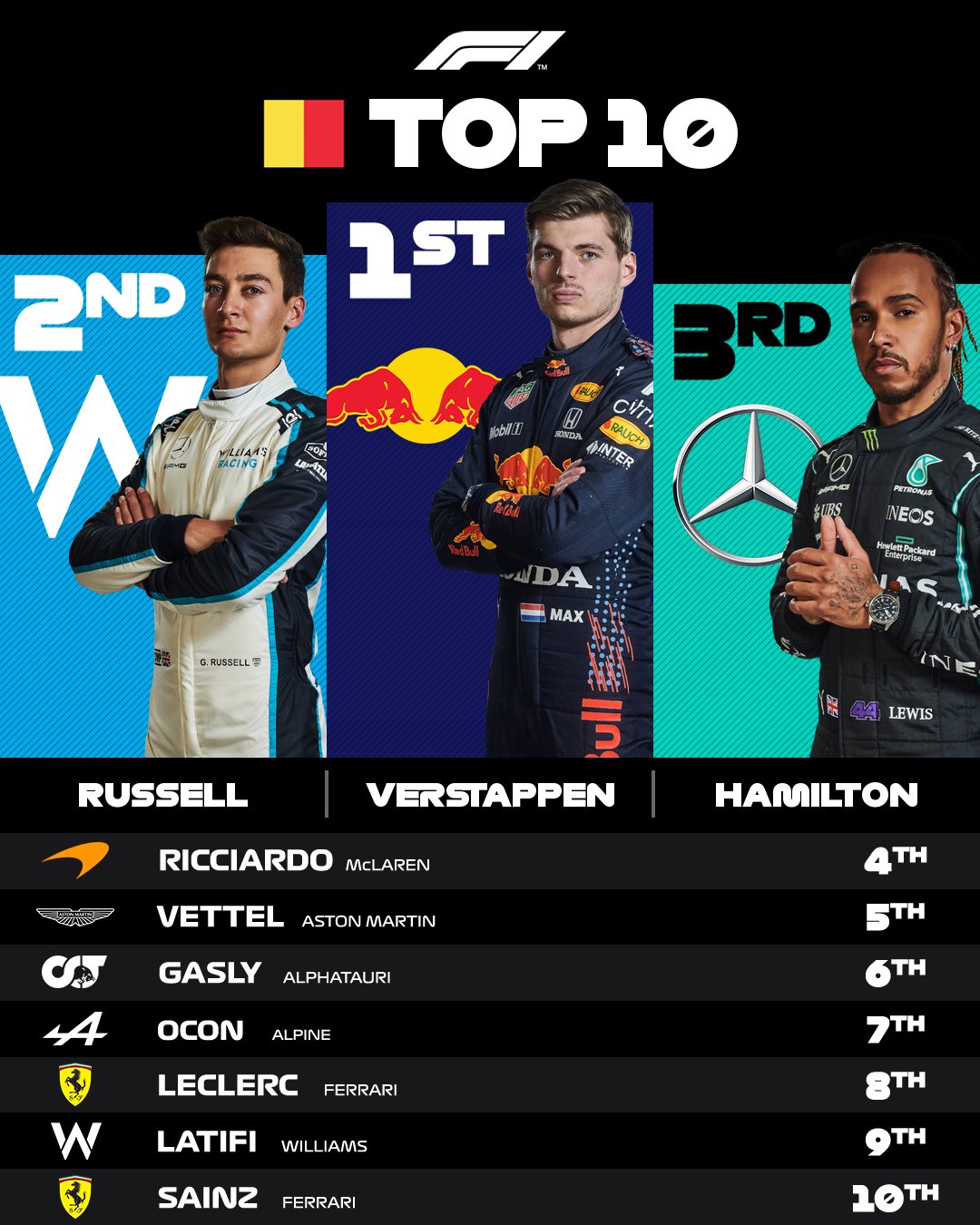 Earlier the start of the 2021 Belgian Grand Prix was suspended after torrential rain drenched the Spa-Francorchamps circuit on Sunday.
The formation lap, which kicks off proceedings, was initially delayed by 25 minutes but after two laps behind the safety car in poor visibility, with the field kicking up plumes of spray even at that relatively slow speed, Formula 1's race director Michael Masi decided to suspend the start procedure.
The statement: "In accordance with the powers vested in them under the FIA International Sporting Code, the Stewards have decided, in accordance with their authority under Article 11.9.3.o, to stop temporarily the 2021 Belgium Grand Prix at 17:00 hours. This decision is taken on the grounds of Force Majeure."
"It's pretty awful," McLaren's Lando Norris, who crashed heavily in a wet qualifying session on Saturday, said on team radio. "I can barely see the car in front.
"Quite a bit of aquaplaning as well," added the Briton, who had 13 cars kicking up spray in front of him.
"I really can't see anything," reported championship leader Lewis Hamilton, who had water leaking into his helmet and was starting third, on the formation lap.
"Can't even see (Max) Verstappen's red light," added second-placed George Russell, the star of qualifying after putting his Williams on the front row.
Verstappen, who was starting on pole with the best visibility of anyone, wanted to go racing, saying: "I mean it's wet but for me it's fine to race."
Daniel Ricciardo said of the stoppage: "This is the right call."
Conditions had deteriorated well before the start. So much so, Sergio Perez crashed out on a sighting lap before even lining up on the grid.
The Mexican, who has been given a contract extension for next year, appeared to be out on the spot, in a blow to Red Bull's hopes in their constructors' title battle with Mercedes.
However, the stewards decided he would be allowed back into the race, with the former champions, who are 12 points behind Mercedes in the standings, taking advantage of the rain delay to begin repairs.
"Mechanics are working flat out trying to work a miracle," Red Bull team principal Christian Horner told Sky Sports F1. "At the moment we're throwing everything at it.
"If this race does restart — who knows it could be another hour or so's delay — we could have him back in the race."
Formula 1has a three-hour window for a race to take place written into the rules.
In a radio conversation with Mercedes sporting director Ron Meadows, Masi confirmed the clock had begun to count down: "We are deep into it."
It's wet out there 😮#BelgianGP 🇧🇪 #F1 pic.twitter.com/emRZGWK5kT

— Formula 1 (@F1) August 29, 2021
A day earlier, Saturday qualifying was also drama-packed as wet weather camped over the Ardennes, much of the same was expected today which means the victory permutations are vast and chances of a big surprise are as good as it gets.
The smart money is on Red Bull ace Max Verstappen powering into the distance with Mercedes world champion Lewis Hamilton chasing, between them anything could happen. Throw in a sensational George Russell, starting in the Williams (!) beside the Red Bull on the front row of the grid, and the stage is set for one hell of a drag race to La Source.
While Max is hunting his first victory at Spa, Lewis is targeting his fifth at the fabled venue as well as an incredible 100th win in the top flight. We might as well add, George, dreams of a first F1 win and, many times in this sport, dreams do come true.
Should they survive that notorious Turn 1 hairpin, it will be foot-flat through Eau Rouge to see who emerges first, ahead of the spray as they brake hard for Les Coombes.
What a first lap we are in for should there be no bent metal to deny us the spectacle around one of the most daunting venues in motorsport, in the wet among the most challenging and treacherous too.
Behind the top three, Daniel Ricciardo is overdue a big result for McLaren, and today could well be the day, while sensational Lando Norris, looking a good bet for pole on Saturday until he pranged at Eau Rouge, will be looking to avenge the disappointment.
His recovery from such a 'big one' will be monitored.
Sebastian Vettel (Aston Martin) and Pierre Gasly (AlphaTauri) are very good in conditions that are expected this afternoon over Spa. Either of the pair, if not both, could surprise, especially if there are more incidents between Hamilton and Verstappen.
Valtteri Bottas (Mercedes) dropped down the grid for his shenanigans in Hungary last time out as did Aston Martin's Lance Stroll who starts the race from the back row. Both will be looking to salvage something for their respective teams.
Other notable sideshows to expect at Spa today:
Ferrari where art thou?
Who will bin it first?
Which rookie will survive?
Keep an eye on Fernando…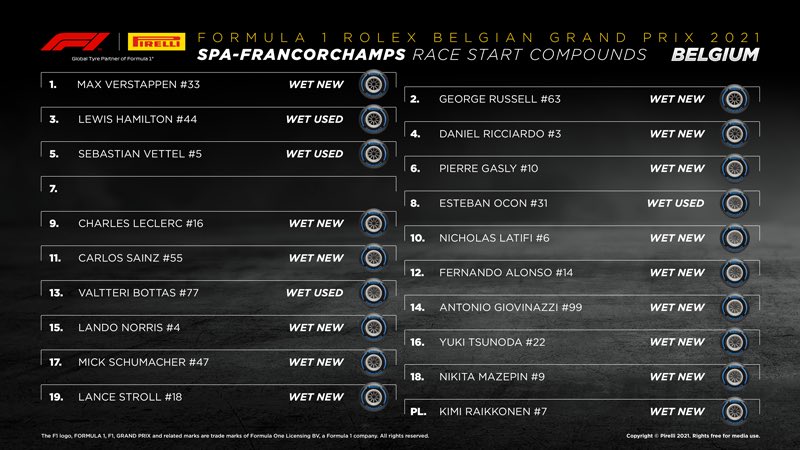 Race and incident reports from the 2021 Belgian Grand Prix will appear here.
F1 is back! 🙌

After a stunning qualifying, join us LIVE as we check in with the drivers ahead of the 2021 #BelgianGP

Will the rain spring yet more surprises? 🌧
Lights out at 1500 UTC 🚦 https://t.co/eOVUa2AwKL

— Formula 1 (@F1) August 29, 2021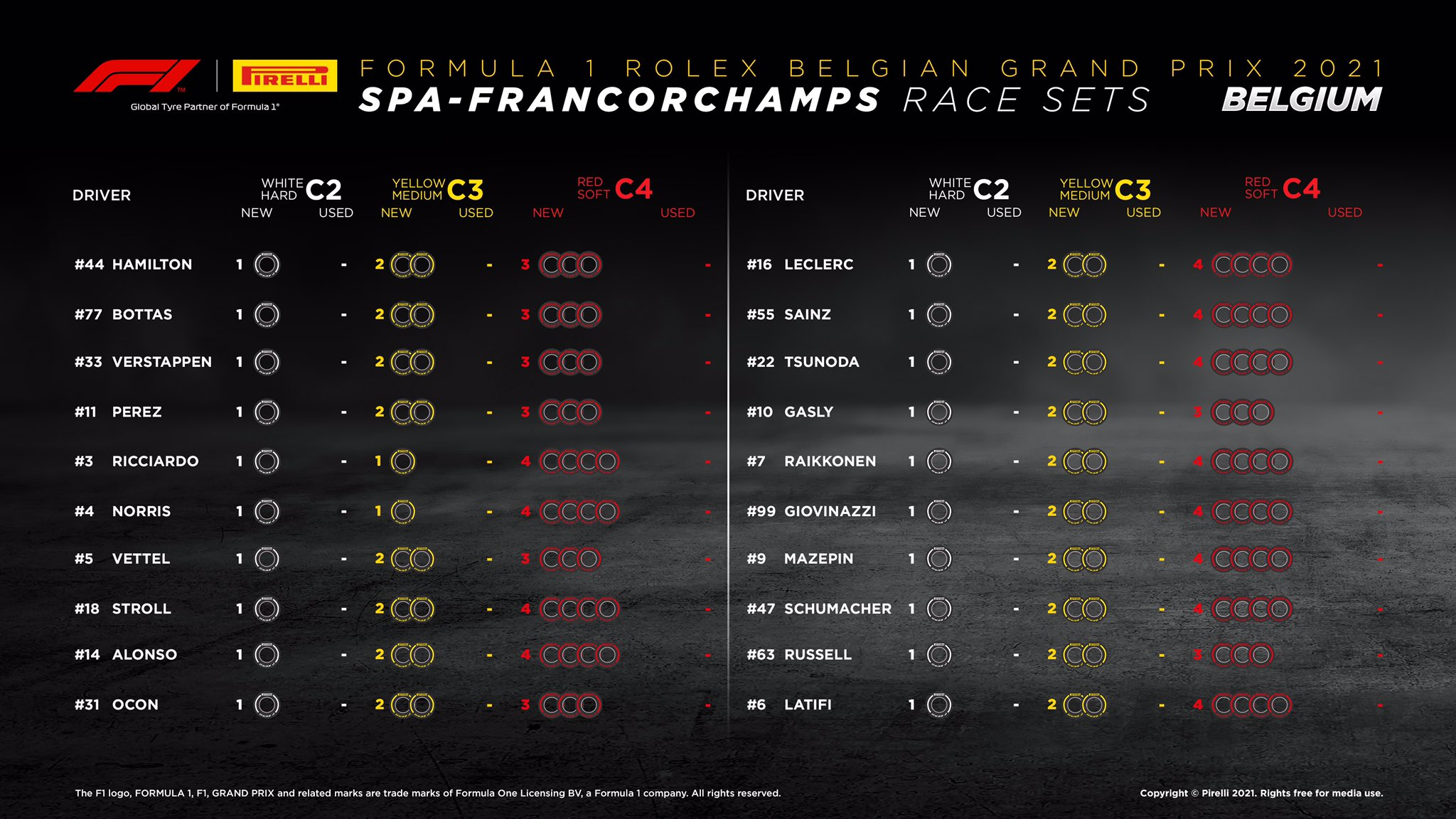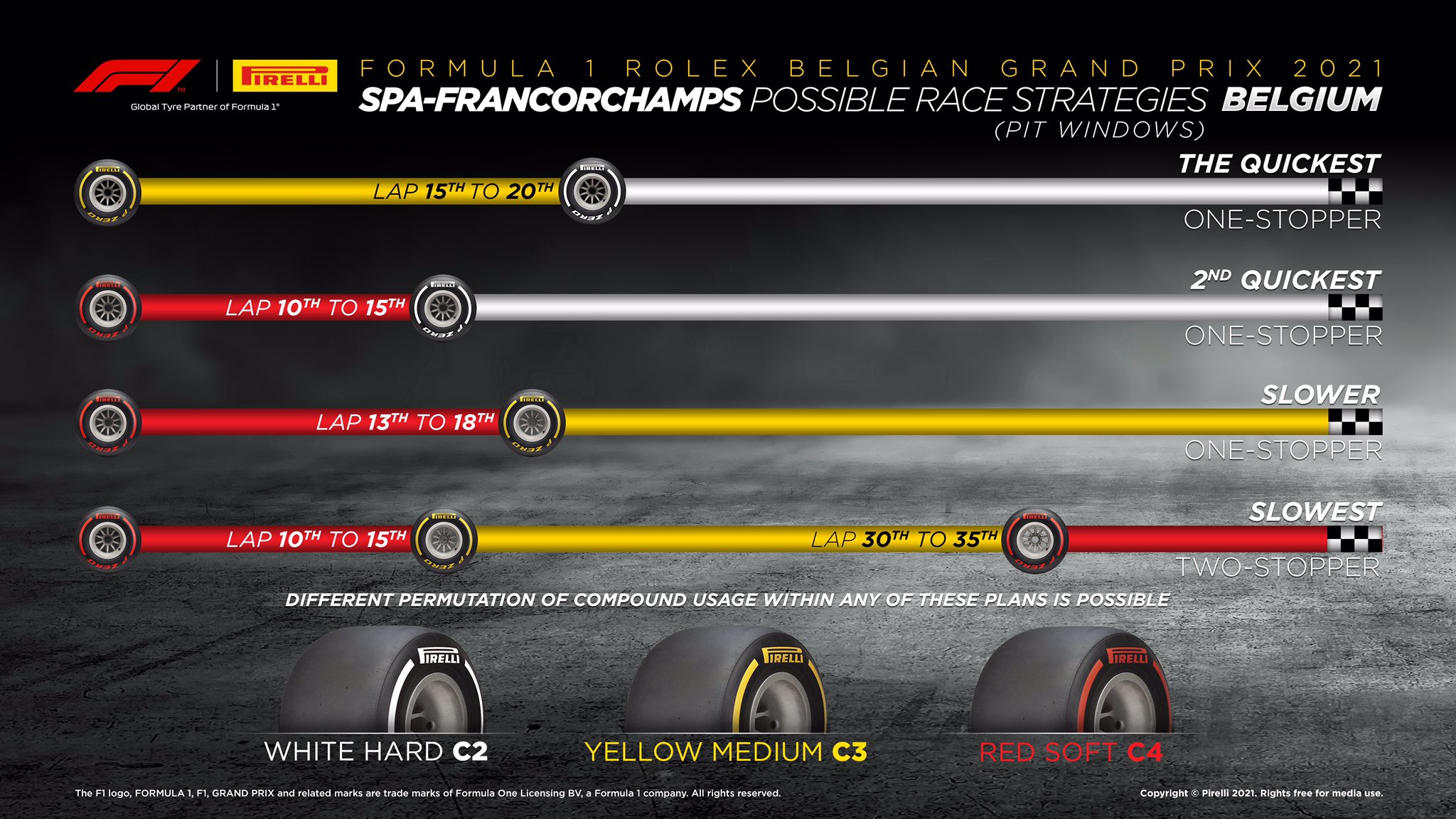 Belgian Grand Prix Stats & Facts:
Reuters supplied Formula 1 statistics for the Belgian Grand Prix at Spa-Francorchamps, round 12 of the world championship, on Sunday. The race marks the start of the second half of the season:
Lap distance: 7.004 km. Total distance: 308.052 km (44 laps)
2020 pole position: Lewis Hamilton (Britain) Mercedes. One minute 41.252.
2020 winner: Hamilton
Race lap record: One minute 46.286 seconds. Valtteri Bottas (Finland), Mercedes 2018.
Start time: 1300 GMT
BELGIUM
The race will be the 54th Belgian Grand Prix at Spa. 10 of the last 19 have been won from pole position.
Spa is the longest lap of the season and one of the fastest, with an average speed of around 230kph. Cars are flat out for about 70% of the time and will crest Eau Rouge at 300kph. They can reach 315kph at Blanchimont.
Five current drivers have won at Spa: Kimi Raikkonen (2004, 2005, 2007 and 2009), Hamilton (2010, 2015, 2017, 2020), Sebastian Vettel (2011, 2013, 2018), Daniel Ricciardo (2014) and Charles Leclerc (2019).
Michael Schumacher won a record six times at Spa, including from 16th on the grid in a wet 1995 race.
Safety cars have featured in the last five Belgian grands prix.
RACE WINS
Hamilton has a record 99 career victories, of which 78 have been with Mercedes, from 277 starts. He has been on the podium 173 times.
Verstappen has won five races so far in 2021, to Hamilton's four and one each for Red Bull's Mexican Sergio Perez and Alpine's Esteban Ocon.
Ferrari have won 238 races since 1950, McLaren 182, Mercedes 119, Williams 114 and Red Bull 70. Former champions McLaren and Williams have not won since 2012.
POLE POSITION
Hamilton has a record 101 career poles and has won 59 times from pole. He has had three poles so far in 2021.
Verstappen has been on pole five times this year, while Ferrari's Charles Leclerc was fastest in Azerbaijan and Monaco qualifying. Bottas was on pole in Portugal.
CHAMPIONSHIP
Hamilton is eight points ahead of Verstappen. Mercedes lead Red Bull by 12 points.
MILESTONE
Hamilton can become the first F1 driver to win 100 grands prix.
McLaren's Ricciardo will be starting his 200th grand prix. The Australian made his F1 debut at the British Grand Prix in 2011.
Red Bull are celebrating their 50th race with Honda.
Ferrari great Michael Schumacher made his Formula One debut at Spa 30 years ago, with Jordan. His son Mick will be racing for Ferrari-powered Haas on Sunday. (Reporting by Alan Baldwin)