After a delayed start and a long stoppage pole position for the 2021 Belgian Grand Prix was decided in a final nine minutes Q3 spell, with Max Verstappen claiming the top spot start for the race at Spa-Francorchamps.
Incredibly until that point Williams driver George Russell delivered the laps of his life to go top of the timing screens, ahead of Hamilton and the rest. Until Max stole it with his final flyer.
An incredible performance by the Williams driver who can no longer be ignored, as beating both Mercedes drivers on a day like this is the biggest statement to any team let alone his bosses.
After 22 minutes of stoppage to remove Lando Norris' wrecked McLaren – the Englishman had been the star of the show until he speared into the wall (more below) – the session resumed.
At 16h45 local time, the remaining nine cars peeled out onto a very wet track, some on Intermediates and others on Wets.
It was a thrilling finale, with Hamilton going top first before Russell knocked him down a slot to top the timing screens to everyone's delight, before Max went a little better to deny him.
Verstappen needs to win tomorrow to get his campaign back on track after two luckless races, pole at Spa is important but not essential. Nevertheless, the Red Bull in his hands looks potent and victory is his to lose.
Pole Position at your favourite track ⏱ @Max33Verstappen 👏 #BelgianGP 🇧🇪pic.twitter.com/Ktsi3fvW2A

— Red Bull Racing Honda (@redbullracing) August 28, 2021
The Dutch ace said afterwards: "It's been a really tricky qualifying, it was hard to keep the car on track. At the end we were first, and that's the most important. It's an amazing track to drive, and very challenging in the wet. Super happy to have a qualifying like this after the break and to have a pole position again."
Russell could be the joker in the pack and will be interesting to see how he plays his cards in the light of a possible Mercedes drive next year. Whatever the case, this performance has to be a wake-up call for the World Champions. The kid is more than ready.
The Williams driver reported: "I thought we would have been doing a good job to get out of Q1 after yesterday, now we're standing on the front row The car was feeling great and I was confident. I was in a fortunate position where I had nothing to lose in Q3. Absolutely buzzing. But tomorrow's the important one. If the lead is there for the taking we'll go for it!"
Hamilton was third but is unlikely to count on his teammate Valtteri Bottas for support as the Finn was only good for eighth, 2,4 seconds slower than Russell on a level playing field.
The World Champion, hunting his 100th Grand Prix victory tomorrow, said in parc ferme: "It's been a very difficult day, I think for everyone. I just try to stay positive, focused and calm. Well done to Max in the end. And also a great run from George, that's fantastic. If it's like this tomorrow, it's going to be tricky."
After being clobbered by Norris in Q1 and Q2, Daniel Ricciardo found inspiration to claim the fourth-fastest time, albeit a second shy of the top time. Nevertheless a welcome turnaround by the Aussie.
Sebastian Vettel, traditionally superb in these conditions, was fifth fastest for Aston Martin on a day he made his teammate Lance Stroll look below par.
If Verstappen needs help from within the Red Bull camp he may take AlphaTauri's Pierre Gasly out for a meal tonight as the on-form Frenchman was the next best Honda-powered driver in sixth.
Like Hamilton's helper, Max's wingman, Sergio Perez was down 2.4 seconds on his teammate, ending the day in seventh and will be hard-pressed to be any help tomorrow.
Hungarian Grand Prix winner Esteban Ocon was ninth with Norris, who did not do a lap due to the crash he suffered early in the session at Eau Rouge, tenth.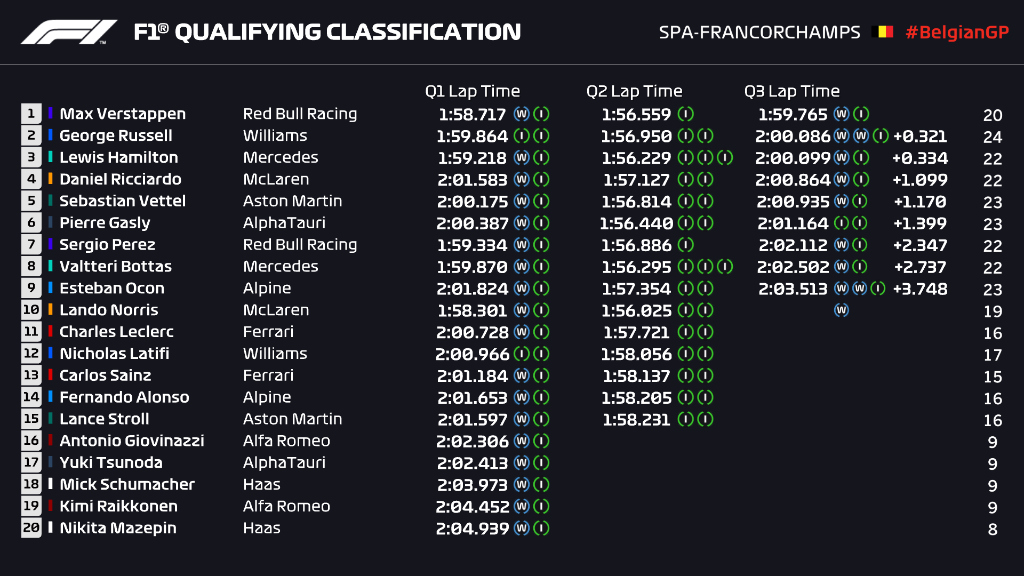 Pacesetter Norris crashes heavily early in Q3
Earlier, Lando Norris spent the afternoon setting the pace with a stellar display during qualifying for the Belgian Grand Prix, but with rain pelting down in Q3 he lost control of his McLaren crashing heavily at Eau Rouge.
Prior to that, he had topped both Q1 and Q2, looking set for pole position until fate changed the script for the impressive youngster. He and Sebastian Vettel had called or a red flag shortly before the incident occurred.
With skies dark, Norris got a slapper through a wetter than normal Eau Rouge, the car spun, slid and crashed heavily into the barriers.
Weather update?

Well, it's like this at the moment 👀🌧️

Still under a red flag at Spa with Q3 halted 🚩#BelgianGP 🇧🇪 #F1 pic.twitter.com/eOkYnkhR9Y

— Formula 1 (@F1) August 28, 2021
Vettel approached and stopped near the wrecked McLaren on track, the Aston Martin reporting that Norris was fine before declaring angrily: "What the fuck did I say? What did I say? Red Flag. Unnecessary."
Before alighting the stricken car unaided and being taken to the medical centre for a check-up, Norris reported from the cockpit: "Sorry boys, we should have had a good one there. I let you down. My bad."
The session was stopped.
Seb: You, ok buddy? 👊👍#BelgianGP 🇧🇪 #F1 @LandoNorris pic.twitter.com/9yOp0cx3aD

— Formula 1 (@F1) August 28, 2021
Weather is always a challenge for teams and drivers, at Spa, a track friendly to low downforce setups, today they needed a Monaco style set up as the rain turned the legendary track as tricky as it gets.
And when it rains there is nowhere to hide, mistakes and eagerness are severely punished, Norris sadly a victim of an all too familiar Eau Rouge off in trying conditions.
Nevertheless, he was the star of the session despite the prang, pole seemed to be his until it wasn't.
Report in progress…
Weather update?

Well, it's like this at the moment 👀🌧️

Still under a red flag at Spa with Q3 halted 🚩#BelgianGP 🇧🇪 #F1 pic.twitter.com/eOkYnkhR9Y

— Formula 1 (@F1) August 28, 2021
---
Q2 – Norris looking good for pole
P8 in Q2

Another impressive Saturday for @GeorgeRussell63 – and it's not finished yet 👏

Q3 still to come at Spa…#BelgianGP 🇧🇪 #F1 pic.twitter.com/H2rINh5Lni

— Formula 1 (@F1) August 28, 2021
NOR continued to set the pace and although VER went tops during a spell, late in the session with the track getting faster the McLaren again popped to the top, followed by HAM with a last gasp effort. BOT was third in the other Merc.
GAS was the fastest of the Honda-powered trio in fourth. VER was fifth, ahead of VET  and PER.
RUS was through in ninth, as was RIC, but the Aussie 1.1s down on his pace setting McLaren teammate.
Early showers for an aggrieved LEC, LAT, SAI, ALO and STR. Ferrari not good at all in the conditions.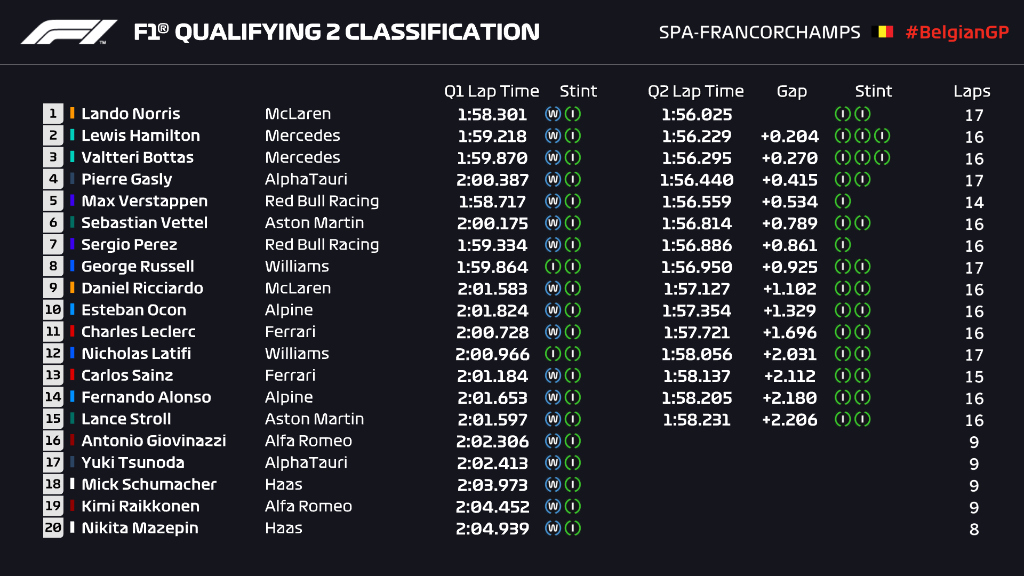 ---
Q1 – Norris tops by half a second
TOP SIX: Q1 ⏱️

1 NOR 📸
2 VER
3 HAM
4 PER
5 RUS
6 BOT #BelgianGP 🇧🇪 #F1 pic.twitter.com/mCRmzb68vs

— Formula 1 (@F1) August 28, 2021
After the ten minute delay in starting qualifying, the field streamed out on full wet Pirelli tyre with the exception with the two Williams drivers who had inters bolted on. They gambled well and won as they topped the timing screens when more rain loomed.
Inters were the rubber to be on despite the conditions and soon the entire field were on them and sanity prevailed as the usual suspects popped to the top of the timing screens.
Unusually though, and impressively it was NOR fastest of all by nearly half a second! with title contenders VER second and HAM third.
Out in Q1 were all four Ferrari customer powered drivers: RAI, GIO, MSC and MAZ as well as AlphaTauri's TSU. Spa-Francorchamps and its notorious weather clearly daunting for this year's rookies.
Notably both Williams were in Q2!