Charles Leclerc will start the 2021 Azerbaijan Grand Prix from pole position, the Ferrari driver emerging the fastest from a chaotic session that ended in mayhem.
It was a massive lap from Leclerc at the right time, with a good tow he popped to the top of the time screens with a 1:41.218s which remained unbeaten as most his rivals were denied a final run when Yuki Tsunoda crashed his AlphaTauri, with Carlos Sainz also bending metal in those final frantic minutes. The Spaniard ended fifth.
Leclerc summed up his ninth F1 pole: "It was quite a shit lap I thought! There were like two or three corners where I did mistakes but, of course, I had the big tow from Lewis in the last sector which helped me a little bit.
"But overall I think we would have been there or thereabouts for pole without the slipstream, so it's a good day. I did not expect to be as competitive as we were today. I was improving again [before] the red flag but it's like this, another pole, and I'm happy anyway."
Pole position number NINE 🙌

And @Charles_Leclerc's second of 2021 👏#AzerbaijanGP 🇦🇿 #F1 pic.twitter.com/O3Hk784FCT

— Formula 1 (@F1) June 5, 2021
It was Leclerc's second pole in two races, but highly unexpected as Red Bull appeared to have the edge and will be aggrieved that their final efforts were scuppered.
Adding insult to injury for the blues was Lewis Hamilton second fastest, as Mercedes found a magic switch overnight in the W12 or hauled out the sandbags. In contrast, Valtteri Bottas was luckless with his final run, his first effort only good for tenth.
Nevertheless, it was a massive overnight improvement for them, having found almost two seconds in the W12 overnight.
Hamilton was relieved: "We definitely weren't expecting that and this is such a monumental result for us because we've been struggling like you couldn't believe all weekend. You can see it.
"We kept our composure. We've continued to have difficult discussions in the background and challenging one another, and just never taking no for an answer. We've moved around, made so many changes, over these two days. Just chasing our tail and it's been so difficult.
"But the work overnight and particularly between the sessions was amazing from the team and really proud of everyone for keeping positive. To be up there and so close to these guys is a great start. It has been the biggest challenge in a long time. It has been a bit of a disaster," added Hamilton.
Championship leader Max Verstappen, who crashed in FP3 was still favourite for qualifying but he never got a chance to do a clear lap when it mattered.
He will start from second and fancy his chances as the Red Bull RB16B which is a handy piece of kit on the city streets; anything less will be a fail for the Dutchman and his team.
Needless to say, Verstappen was not happy with the result; "It was just a stupid qualifying to be honest. It is what it is though, we're still P3. Our car is still strong so let's see what we can do for the race. Let's hope for a clean start, three different cars at the front which is always good to have."
Notably, Sergio Perez in the other Red Bull who also had a very good chance at pole position was only good for seventh with his first run before he was denied a second crack when the track went red. Tsunoda in spite of his shenanigans was eighth indicating that Honda power does have wings around Baku.
The incidents which brought qualifying to an end ❌

Both Tsunoda and Sainz were okay following Turn 3 troubles 💥#AzerbaijanGP 🇦🇿 #F1 pic.twitter.com/0Hnm1PbSQR

— Formula 1 (@F1) June 5, 2021
Beside Verstappen on the grid tomorrow will be Pierre Gasly in the AlphaTauri, the Frenchman working well with teammate Tsunoda (before the rookie binned it) for a great tow.
With four cars in the top eight and despite a chance at pole gone begging, it was still a big day for Honda on the power-hungry circuit.
The 'old' Fernando Alonso is starting to emerge after a slowish start to his comeback, the double F1 World Champion is finding his mojo. Ninth was his reward with teammate Esteban Ocon stumbling out in Q2, he will start 12th.
Two red flag stoppages in Q1 set the tone for the session, with Lance Stroll (Aston Martin) and shortly after Antonio Giovinazzi (Alfa Romeo) slamming the wall before they had lap times on the board.
Stroll's collision brought out the first of four red flags 😱🚩

Catch up on all of qualifying's action with our highlights ⬇️#AzerbaijanGP 🇦🇿 #F1

— Formula 1 (@F1) June 5, 2021
Later, Daniel Ricciardo crashed his McLaren during Q2 before the mayhem in Q1, in one of the most incident-packed quali sessions in a long while.
Four different cars on the first two rows for tomorrow's race the stage is set for a humdinger of a race, where staying out of the walls and trouble, in general, will be rewarded.
Qualifying Times
Q2
Turn 3 claimed Daniel Ricciardo late on in the second stanza of qualifying which brought out the third red flag; the McLaren driver's season going from bad to worse just when he appeared to see light at the end of the tunnel.
Sky F1 pundit Anthony Davidson made an apt prediction: "We are going to see such a chaotic Grand Prix here again in Azerbaijan." Watch this space!
🚩 RED FLAG 🚩

📻 "Yep, yeah I'm okay"

Ricciardo is the latest driver into the barriers – this time at Turn 3 ❌#AzerbaijanGP 🇦🇿 #F1 pic.twitter.com/4jnDwlo3hi

— Formula 1 (@F1) June 5, 2021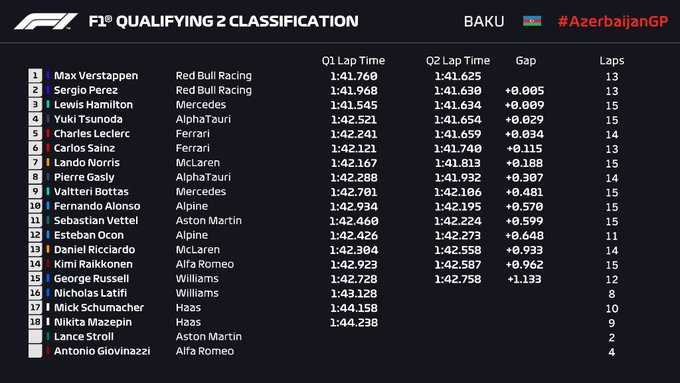 Q1
Turn 15 – the Wall of Wannabe Champions – claimed Stroll and Giovinazzi in separate before things got serious and causing delays as the wrecked cars were removed and the track cleared.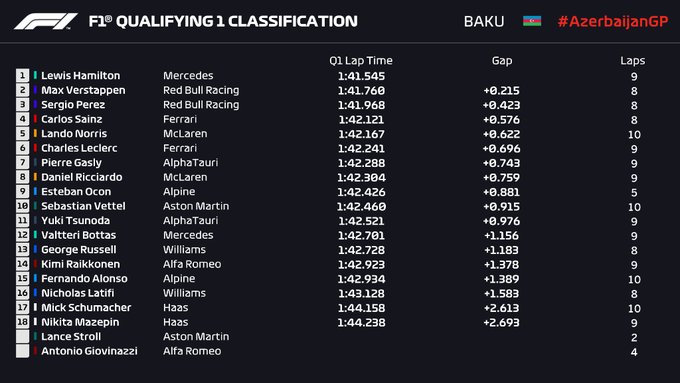 Report in progress…