It was business as usual for Lewis Hamilton as he powered to 97th Formula 1 victory, this time with a convincing triumph at the 2021 Portuguese Grand Prix by nearly half a minute.
Much like last year, Hamilton was untouchable, starting second on the grid behind teammate Valtteri Bottas who claimed pole by a mere 0.007s a day earlier, but the Finn had no answer for his teammate on the day in Portimao.
Hamilton fell behind Max Verstappen after the early safety car restart but did not take long to get back past the Dutchman, before taking the lead from Bottas.
Thereafter the seven-time F1 World Champion was in control and never seriously threatened. Behind him, Verstappen was good for a solid second place and Bottas third.
As mentioned, it was business as usual.
Hamilton said afterwards: "That was such a tough race! Physically and mentally just keeping everything together. It was very windy out there so it was very easy to put a foot wrong.
"I just didn't quite get as good a start as Valtteri and then lost out on the restart [to Verstappen] which was not good. I was not happy about that, naturally.
"I really had to position myself the best I could and, I can't remember, but I think Max made a mistake at some point through the lap which was like perfect and I knew that was going to be the lap that Id be the close that I could to him in the last sector.
"Then with Valtteri, I had to make the move early on before the tyres were destroyed and managed to just get him in Turn One. Right on the limit, but great race," added Hamilton.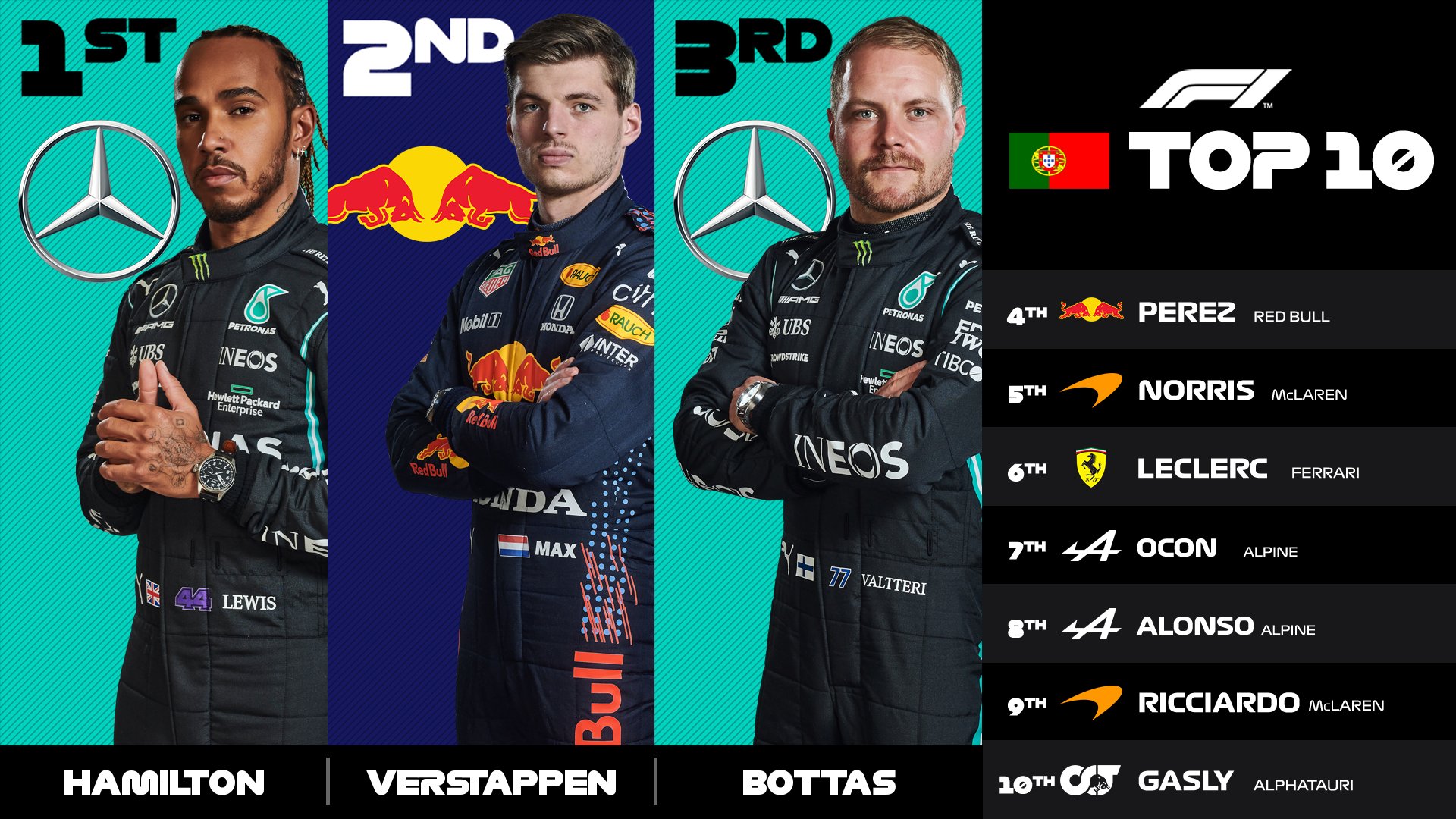 Red Bull gave it a good go, when Sergio Perez dropped down at the second start, thanks to a Kimi Raikkonen brain-fade moment when he collided into his Alfa Romeo teammate Antonio Giovinazzi; the resultant debris forced a safety car after the first lap.
Perez recovered and delivered an astonishing 52 laps on the Pirelli mediums, perhaps a few laps too many before they bolted on the soft red stripe tyres which might have lit up earlier and even given him a chance at the podium.
But they persisted with him out there, perhaps to hold up Hamilton with Verstappen chasing. Whatever they tried did not work as fourth seemed predestined for their new driver,
After the safety car, when they were set free, Bottas led from Verstappen, who passed Hamilton, with the reigning champion getting back ahead of the Red Bull man a few laps later. On lap 20 of the 66 the #44 car swooped by to take the lead and thereafter was untouchable, as he controlled the race.
Verstappen was in the familiar position of insufficient firepower to take on the leading Mercedes. Splitting them was the best he could do with the pace on hand.
The Dutchman said of his afternoon: "It was pretty decent, I had a good restart then of course I tried to put the pressure on Valtteri. But in the end, I think we just lacked a little pace overall so Lewis got by again and once after the pit stops, the warm-up is super hard on these tyres.
"Around here we were lacking a bit of pace compared to them."
Bottas finished third but missed an opportunity to reaffirm himself in a team in which he may be losing a footing, as again he simply could not match his teammate and capitulated timidly (or was that a team order?) to allow Hamilton pass with ease; the Finn today further entrenching his reputation as F1's best wingman ever.
Speaking afterwards, Bottas said: "I don't really know what happened in the first stint. I didn't have the pace for unknown reasons. After that the second stint was pretty good but there was some issue with a sensor or something.
"We've had a strong package overall today so I don't really know why in the first stint it didn't work."
During a mundane and, at times, processional race Perez provided a glimmer of hope with his outlandish strategy which might have worked had Red Bull pitted him while he led. Keeping the Mexican out too long backfired in the end, but the veteran enhanced his rep as F1's 'tyre whisperer' and was voted Driver of the Day by fans for his efforts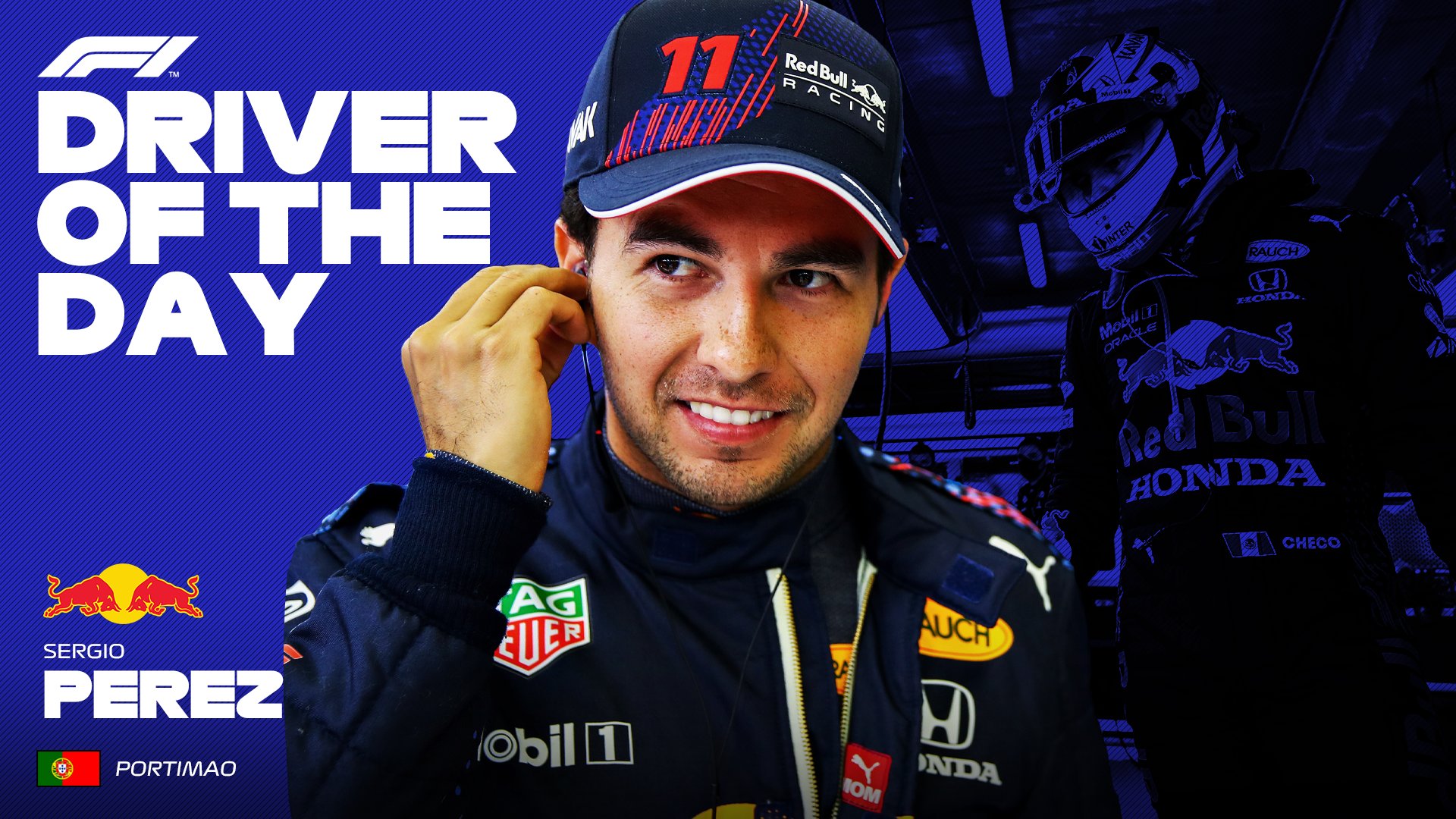 Best of the rest was the amazing Lando Norris, one of the youngest drivers on the grid showed a big heart and some vert big balls as he fought his way to fifth place. Another enormous performance by the McLaren driver.
Charles Leclerc was the best of the Ferrari duo despite starting behind Carlos Sainz he wrestled the SF21 to sixth place while the Spaniard fell down the order to finish 11th.
Next up is seventh and eighth, were the Alpine duo of Esteban Ocon and Fernando Alonso. The Frenchman having one of his strongest weekends of his carer, while his veteran teammate turned 13th on the grid to a points haul with a gutsy drive one expects of him.
Daniel Ricciardo was overtaken in the final stages by Alonso, the McLaren driver well outshone by his younger teammate, nevertheless did well to turn 16th on the grid to ninth but it is a weekend he will want to forget.
The final point for tenth went to Pierre Gasly in the AlphaTauri.
Woefully out of the picture, were Aston Martin who will be doing some serious soul searching as their cars laboured to 13th and 14th for Sebastian Vettel and Lance Stroll respectively.
Finally, a serious question: What is Nikita Mazepin doing in Formula 1?
The Haas driver was again awful, out of his depth, way off the pace, well overshadowed by his teammate and all fronts, and nearly took out race leader (at the time) Sergio Perez.
Mazepin was given a penalty for his shenanigans and further tarnished his reputation that takes a pounding every race weekend.