Left to fend for himself with his teammate struggling, Charles Leclerc held off a pair of hard-charging Mercedes to win the 2019 Italian Grand Prix.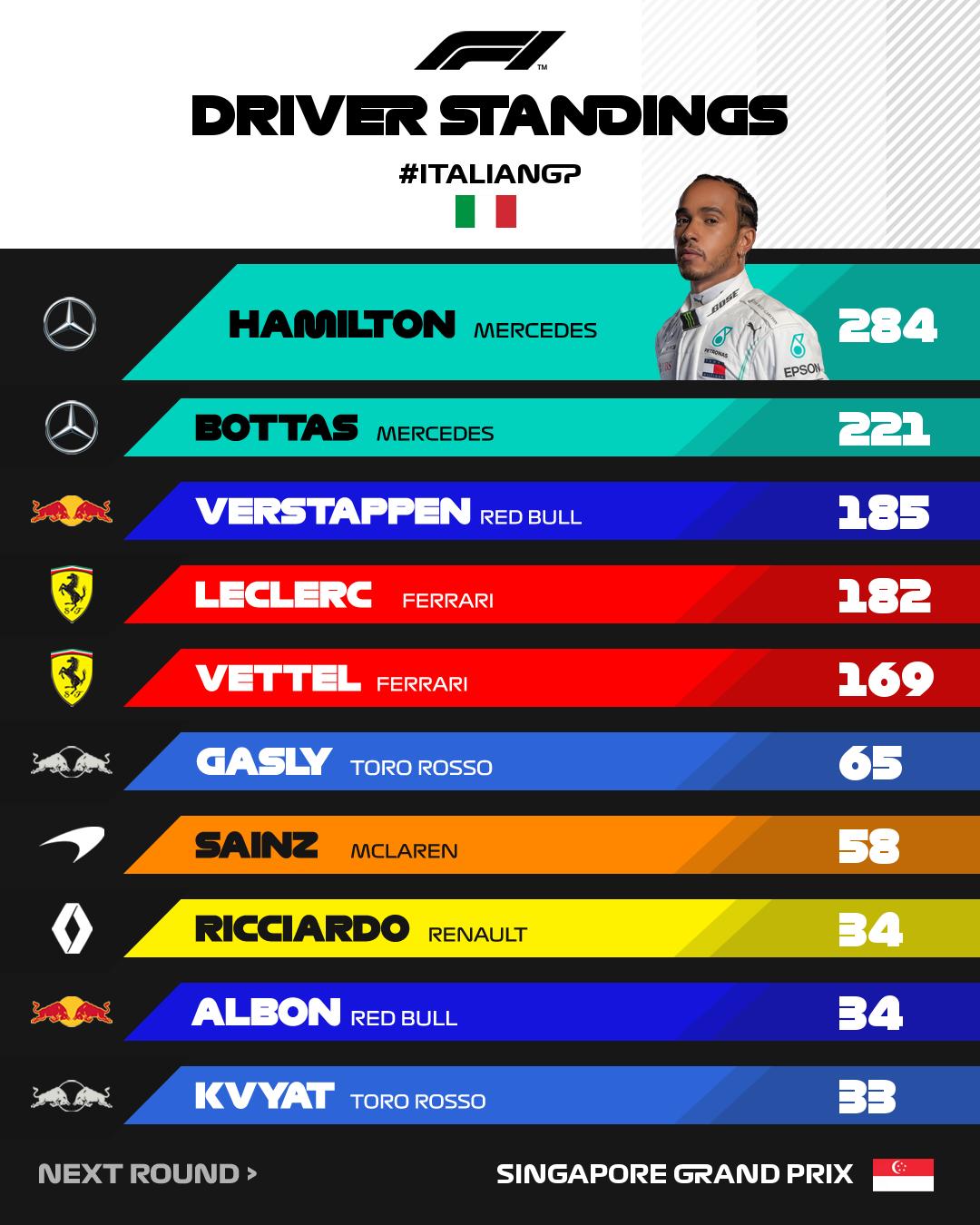 Withstanding the efforts of both Lewis Hamilton and Valtteri Bottas, Leclerc managed to record the first win for Ferrari at Monza since Fernando Alonso did so in 2010.
His second win in as many races, Leclerc triumphed in a nail-biting battle with the Silver Arrows that will go down as one of the Scuderia's all-time great home victories.
He said of his historic triumph: "I did a few mistakes. But in the end, I finished first. I need to be careful with the mistakes but none of them made me lose position."
Coming out of his only pit stop with hard tyres while Hamilton and Bottas opted for mediums, the Monegasque had to withstand 32 laps of his pursuers hovering around DRS range, with the final margin of victory a narrow 0.835 seconds.
First Hamilton, and then Bottas had their chances to pass, but both times Leclerc held firm, albeit not without controversy in his duel with the former.
Drawing alongside the Ferrari as they approached the Della Roggia chicane on lap 23, Hamilton found himself forced to leave the track as Leclerc failed to leave sufficient space for both cars in the corner, earning him a warning from the stewards.
Hamilton managed to close up again when Leclerc locked up at the first chicane on lap 36, but found he didn't have the straight-line speed nor the life left in his tyres for a sustained assault.
The championship leader did not rise to the bait when interviewed afterwards on with regards to the battle with Leclerc, "He did a great job. Congratulations to Ferrari and Charles. A lot of pressure from Valtteri and I. I did the best I could but following so closely for that amount of time, the tyres eventually just fell off a cliff."
"Nevertheless they were just quicker today. Much quicker in the straight line so even if we did get closer we couldn't pass. Not our day," added
On lap 42, Hamilton locked up into the same chicane, and teammate Bottas — on seven-lap younger tyres — was given his chance.
Unfortunately for the Finn, his efforts went similarly unrewarded, a final charge on lap 51 scuppered as he too locked up into the first chicane.
"I'm gutted. I was trying everything to get him. I think it's the best we could do today. We were trying everything we could," said Bottas afterwards.
Continuing his perfect record after the summer break, Leclerc's performance is sure to further stoke the fires of speculation surrounding his standing within the Scuderia, particularly with Sebastian Vettel enduring a wretched afternoon.
Fourth on the grid, the German was passed on the first lap by the Renault of Nico Hulkenberg, and while he quickly managed to regain his place, his problems were only just beginning.
On lap 6, he spun going into the Ascari chicane, an error he compounded by clipping the Racing Point of Lance Stroll as he rejoined the track.
As a result, he was given a 10-second stop-and-go penalty and needed a new front wing, from which he could only recover to 13th at the flag.
Capitalising on Vettel's dismal showing, Daniel Ricciardo was able to secure P4 in his Renault, after fending-off an early challenge from teammate Nico Hulkenberg, who came home fifth,
Red Bull's Alexander Albon was sixth, only able to improve two places from his spot on the starting grid.
Sergio Perez was an impressive seventh, using the virtual safety car period after Danill Kvyat's retirement on lap 30 to gain a cheap pit stop.
Max Verstappen was eighth, despite having to pit early after the first-lap contact with Perez required a new front wing.
Alfa Romeo's Antonio Giovinazzi finished ninth, scoring valuable points while teammate Kimi Raikkonen's day was hindered by a 10-second stop-and-go penalty for starting the race on incorrect tyres.
Similarly, Lando Norris was left to carry the flag for McLaren by his lonesome, taking tenth while Carlos Sainz was forced to stop after an improperly-fitted tyre came off as he exited the pit lane.
Just outside the points were Pierre Gasly and Lance Stroll, P11 and P12 respectively.
After Vettel in P13, the Williams of George Russell was a solid 14th, ahead of the aforementioned Raikkonen.
Romain Grosjean was 16th for Haas, while Kevin Magnussen was forced to retire on lap 45 with a hydraulic issue.
Robert Kubica came home last of the finishers, the only driver to be lapped twice.
Il Canto degli Italiani captures the emotions of a brilliant day's racing at Monza 🎶 #F1 #ItalianGP 🇮🇹 pic.twitter.com/whHJcy5jNr

— Formula 1 (@F1) September 8, 2019
FIA Blow-By-Blow Report
At the start pole sitter Leclerc held his advantage and took the lead ahead of Hamilton and Bottas. Behind them Vettel in the second Ferrari lost out to Hulkenberg early in the lap and dropped from his starting position of fourth to fifth place.
Vettel fought back, however, and at the start of the next lap he retook fourth with a move past Hulkenberg into Turn 1. His hold on the position didn't last long, however. On lap five the German carried too much speed into Ascari and lost control. The Ferrari driver spun in mid-corner and slid off track.
He quickly rejoined but in doing so he forced the onrushing Stroll to also spin. The Racing Point driver then mirrored Vettel's unsafe return to the track and the Canadian's actions forced Gasly wide into the gravel.
The incidents resulted in Vettel behind handed a 10-second stop/go penalty, while Stroll received a drive through penalty. Both drivers made their way to pit lane to serve the sanctions and dropped to the rear of the field.
Hamilton was the first of the leading pack to pit, on lap 19. The Mercedes man opted for medium tyres and rejoined in fifth place. Ferrari covered, with Leclerc pitting on the next lap for hard tyres, a choice that would prove crucial later in the race.
Leclerc emerged ahead of Hamilton but the Mercedes driver quickly began to close the gap. Leclerc passed the slower Hulkenberg around the outside of Parabolica to regain third place and that allowed Hamilton attack into Turn 1 and into the second chicane. Leclerc defended hard, however, and Hamilton was forced to cut the chicane. The Ferrari driver's defence earned him a black and white flag for unsportsmanlike conduct.
Hamilton once again began to put Leclerc under heavy pressure and on lap 36 the Monegasque driver made a mistake. He outbraked himself on the approach to Turn 1 and was forced to cut the first chicane. Hamilton tried to pounce into the second chicane and Leclerc again defended robustly to hold off the challenge.
With 15 laps remaining, Hamilton's medium tyres began to go off and a mistake into Turn 1 allowed Bottas to sweep past into second place.
With his challenge over and a huge gap back to fourth-placed Daniel Ricciardo the championship leader opted to pit for new soft tyres and on lap 51 he posted the race fastest lap of 1:21.779 to grab a bonus point to add to his 15 for third place.
Ahead, Leclerc comfortably held off Bottas to take his second career win and a first victory for Ferrari on home soil since 2010.
Behind Hamilton, Ricciardo and Hulkenberg were fourth and fifth respectively. Hulkenberg was closed down by Albon in the closing stages with the Thai driver closing a 12-second gap on lap 36 to just 1.1s by the flag.
Pérez, with the Mexican resisting enormous pressure from Max Verstappen in the final laps as the Dutchman, finished in a strong P8 after starting from 19thon the grid. Behind Verstappen, the final points positions were taken by Giovinazzi and Norris.