The $2.3 billion Sphere gets a lot of attention in Las Vegas but Formula 1 drivers say they will ignore the giant glowing globe during Saturday night's Grand Prix while F1 merchandise flies out of stores.
Much of the hype for the race under the lights has been focused on what is certain to be a dazzling dash down the famous Strip but it is Las Vegas's newest landmark that had the drivers' interest on Wednesday.
"It is either going to be really cool or really annoying," summed up Williams American driver Logan Sargeant. "I hope it's not obnoxiously overly bright."
Built as a music and entertainment arena the Sphere is 366-feet tall and 516-feet wide and is billed as the world´s largest spherical structure with an exterior covered in high-definition LED screens.
The Sphere will be used for driver introductions and will show some live action but three colours, red, yellow and blue, cannot be displayed to avoid distracting drivers. Those are the same colours of flags used by marshals to alert drivers to crashes and other on-track issues.
Alpha Tauri's Daniel Ricciardo said: "It's very obvious, it's huge and we're not going to miss it, but truthfully when you get in that kind of rhythm and that zone you're aware of everything but you don't really notice it.
"I got to my hotel yesterday and it was only this morning that I noticed these massive pieces of art on the wall. I didn't even see them because yesterday I went straight to the room, straight to the bed. My attention and my focus was there so I wasn't even aware of the other things in the room. So it's a little bit like that," explained Ricciardo.
Driver faces on the globe may frighten some!
Red Bull's three-time F1 world champion Max Verstappen was unconcerned about losing focus as cars twist around the Sphere but there was one thing he did not want to see on it – his face
"I hope they put something nice on it. That definitely would be a distraction for me, I might shunt into the wall so let's not do that," joked Verstappen, who is not buying into the Las Vegas hype.
Meanwhile, in terms of sponsorship and business, F1 has traditionally attracted top-tier luxury sponsors such as Rolex et al, is expanding its roster of partners to retailers whose core business is selling clothing at American shopping malls.
Teen clothing chains Abercrombie & Fitch and PacSun are among the U.S. retail chains seeking to turn Americans' budding love affair with the Euro-centric sport into sales of F1-inspired clothing lines, building partly on excitement for this weekend's inaugural Las Vegas Grand Prix, the retailers said.
At the start of the year, the average ticket price for the three-day race weekend was $1,667 — more than triple that for some European races, such as the Belgian Grand Prix. Rolex paid $35 million in 2023 for a deal that includes title naming rights at two Grand Prix, according to research firm GlobalData.
Sponsors cashing in on the F1 boom in the USA
The retail newcomers are targeting a broader base of young Americans — those tracking the sport and its drivers on social media, said Jay Prasad, CEO of sponsorship analytics platform Relo Metrics.
Ahead of the Vegas race, PacSun is selling a collection that includes a pair of $69 women's cargo jeans and a $600 men's leather jacket.
"We recognized that this is a global sport with a huge following that's starting to creep into the U.S. in a big way," said Richard Cox, PacSun's vice president of men's and global partnerships.
Other major U.S. players have already staked out a position in F1, including PVH Corp's (PVH.N) Tommy Hilfiger, a sponsor of Mercedes-AMG Petronas that began designing motor sports team kits in the 1990s. This year, the retailer released a clothing collection ahead of the Miami Grand Prix in collaboration with Mercedes (MBGn.DE) and streetwear brand Awake NY, which included a $275 baseball jersey and a $130 long-sleeved logo T-shirt.
Sponsor Puma, which has made F1-inspired clothing since the 1980s, will sell a shredded ski mask and graphic T-shirts designed by rapper A$AP Rocky starting Friday, ahead of Saturday's race in Vegas.
The new circuit is the second U.S. racetrack to open in two years since Miami was added to the F1 calendar in 2022. The race on Vegas's famed Strip is being framed by some as the United States' answer to F1's iconic Monaco Grand Prix, another street circuit known for its star-studded attendance, said Conrad Wiacek, GlobalData's head of sports analysis.
The Netflix Drive to Survive effect has boosted F1 popularity tenfold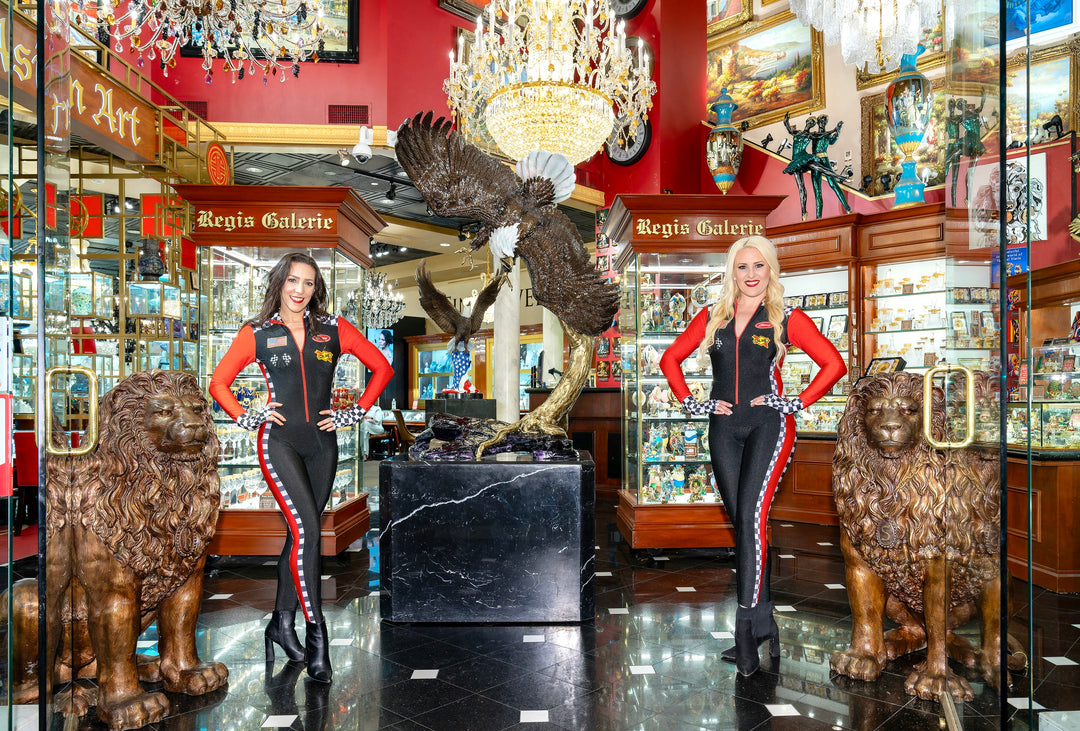 Fueled by the hit Netflix docuseries "Drive to Survive," American viewership of the 2022 season on ESPN grew 28% compared with 2021, according to the sports network. However, the average number of viewers per race has fallen by 7% this season, which saw Verstappen easily defend the world championship.
Other retailers and teams are seeking to capitalize on the Vegas pageantry by debuting special collections that can be shopped by high-rolling race attendees before they're released more broadly. That includes the Alpine F1 team, which will sell pieces made by Italian sportswear retailer Kappa and London skate brand Palace at The Venetian resort in Las Vegas.
At Abercrombie, a spokesperson said the company launched McLaren-licensed T-shirts and sweatshirts earlier this year and that its success led the retailer "to explore licensing opportunities with additional F1 entities."
The company now also carries graphic T-shirts and sweatshirts for the Williams and Alfa Romeo teams, which are priced between $40 and $90 and available in men's and women's sizes. (Reporting by Steve Keating & Katherine Masters)