Charles Leclerc took his 21st career pole position for the 2023 United States Grand Prix, on a day when Max Verstappen fell prey to track limits.
Verstappen did indeed set the fastest time, a 1:34.718, but it was irrelevant as he was deemed to have exceeded the track limits at Turn 19, handing pole over to Leclerc.
The reigning Formula 1 Champion will have to start the race on Sunday from sixth on the grid.
Behind Leclerc, Lando Norris was second fastest, the McLaren driver doing a great job to bounce back after a tough qualifying, while Lewis Hamilton did not manage more than third, on a day when he was definitely looking good for pole with his W14 having a new floor.
From what we saw in the first practice and throughout qualifying, pole was going to be a fight between Verstappen, Leclerc, and Hamilton, but in the end the Dutchman fell short.
"I knew in Turn 19 that it was going to be a close call. I had a little mistake in Turn 1, so had to really push for it in the rest of the lap," Verstappen said.
"I didn't even understeer, I just tried to maximise the corner and I misjudged it by a little bit. It's very fine margins when you are pushing to the limit. It's unfortunate but it makes Sunday more fun," he added.
Touchdown at Austin for @Charles_Leclerc! 🤩

He will start on pole for Sunday's race 👊#USGP #F1 @ScuderiaFerrari pic.twitter.com/A5xhcqbwME

— Formula 1 (@F1) October 20, 2023
What the top three said
Leclerc said after qualifying: "I think we did a great job as a team. We know in the Sprint weekends it's more important than ever to have a good FP1 and we did.
"We started with a strong base thanks to the work the guys had done to prepare for this weekend with the car feeling good straight away.
"The lap, I was happy throughout qualifying, the last lap in Q3 there were some mistakes here and there but I think it wasn't easy for everyone. Really happy we are on pole," the Monegasque concluded.
On a day were McLaren struggled to match Red Bull, Ferrari, and Mercedes, Norris was naturally content with second.
"I'm happy. It's been a good day," he said in parc ferme. "Probably not expected, so a good bonus for the whole team. Didn't make as many mistakes as last week, which is a good thing.
"I think we had it today. There was enough in it to get pole. I know Charles said he made a few mistakes, but so did I. A bit of a shame. We had one opportunity and maybe missed it again but I'm happy nevertheless," the McLaren driver concluded.
Third-placed Hamilton added: "I love being in the States. This circuit is just incredible. It's one of my favourites – right up there with Silverstone. It's a legendary layout that every driver finds tricky. It's bumpy, incredibly challenging each section.
"A big thank you to everyone at the factory. They have been pushing so hard to improve our car and we have taken a bit of a step closer to these guys this weekend, which I know everyone is working so hard for.
"I really do appreciate their efforts. Unfortunately, they are still a little bit ahead but we will give it another shot tomorrow," the seven-time F1 Champion concluded.
Q3: Track limits deny Verstappen pole
The fight was resumed between Verstappen, Hamilton, and Leclerc, the latter becoming the first driver to dip into the 1:34s after his first run in Q3, doing the business in the final sector.
Hamilton soon followed suit in the Mercedes, setting a purple second sector but losing two tenths in the third to Leclerc. Verstappen was fastest in the first sector.
Verstappen seemed to have lost time behind his teammate in the final corner and was not happy about that.
After the first round it was: Leclerc – Hamilton – Verstappen.
George Russell's first lap in Q3 was deleted for exceeding the track limits at Turn 9, mounting the pressure on the Briton to deliver one lap.
In the end, and after the dust settled, Leclerc's time of 1:34.723 stood firm for pole after Verstappen lost his, which means the #16 Ferrari will line up first on the grid on Sunday.
Norris was 0.130s behind Leclerc in second and 0.009s only ahead of Hamilton who was third fastest.
Carlos Sainz was fourth fastest in the #55 Ferrari, 0.222s off the pace of his teammate, and 0.134s ahead of Russell who could only manage fifth after losing his banker lap for track limits violation.
Verstappen will line up sixth on the grid and will have to fight his way up the order on Sunday if he wants to win his 50th F1 race. The reigning Champion was under pressure throughout qualifying from Leclerc and Hamilton.
Alpine can be satisfied by having both cars in Q3, Pierre Gasly and Esteban Ocon seventh and eighth respectively, the pair separated by 0.065s.
Sergio Perez was ninth fastest, 0.450s off the pace, while Oscar Piastri was tenth, 0.294s behind the Mexican.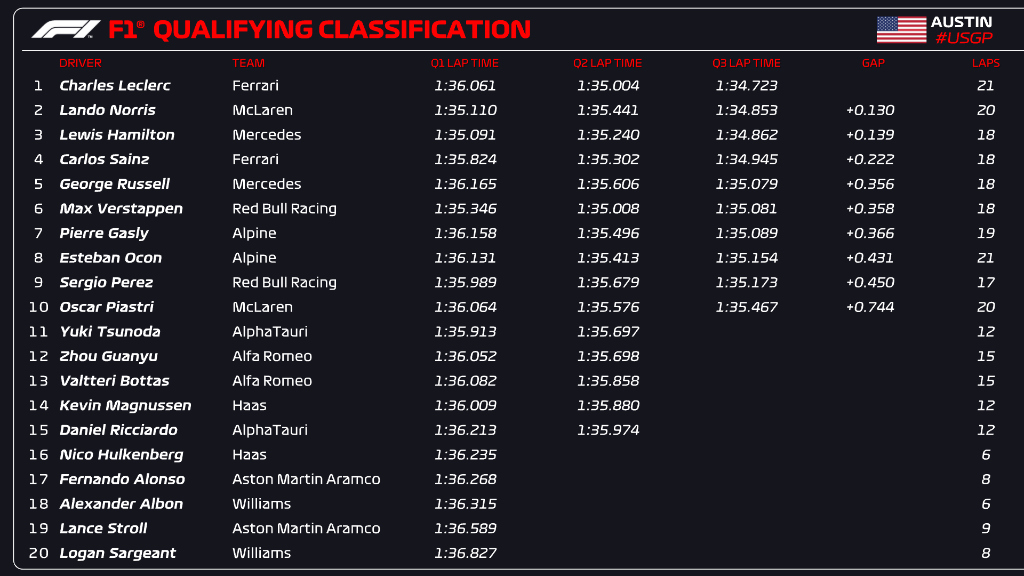 Q2: It's Leclerc vs Verstappen vs Hamilton
Q2 started with runs on used Soft tyres, and Norris had his first lap deleted for exceeding track limits, meaning he had no banker with six minutes remaining.
Replay showed Norris getting out of shape at Turn 19, and was complaining about traffic over the team radio.
The first runs saw Verstappen top the charts, with Piastri second, Ocon third, Gasly fourth and Perez fifth. Russell and Hamilton were sixth and seventh.
With four minutes remaining on the clock, new Softs were bolted on the 15 cars and it was time for the final effort to try and make it into the top ten.
Leclerc set the fastest time in Q2, a 1:35.004, 0.004s faster than Verstappen in second, while Hamilton was third fastest, 0.236s off the #16 Ferrari's time.
Yuki Tsunoda's qualifying came to an end, and he missed out on Q3 by 0.018s to Perez who barely made it through. Tsunoda will start the race from 11th.
Zhou Guanyu was 12th fastest, 0.001s behind the Japanese driver, and was 0.160s faster than teammate Valtteri Bottas who was 13th fastest.
Kevin Magnussen was 14th fastest in the Haas, and was 0.094s ahead of Daniel Ricciardo in 15th. The Australian also had a lap time deleted.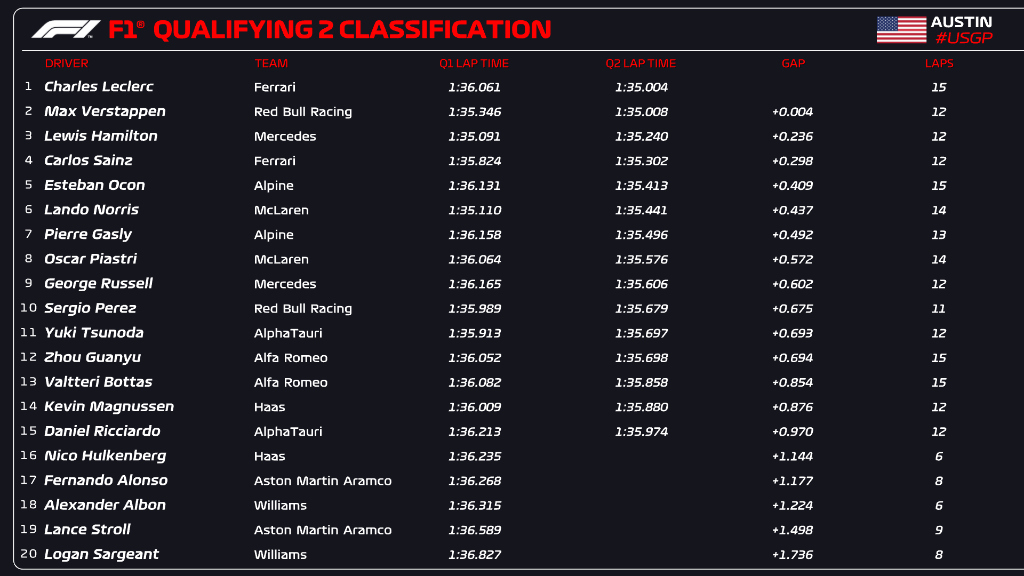 Q1: Both Aston Martins out
The start of qualifying saw the track temperatures rise to 42 degrees Celsius, while the ambient temperatures were also up to 35 degrees Celsius.
Several drivers did their first runs in Q1 on used Soft tyres, Verstappen, Perez, Leclerc, Hamilton to name some, and the lap times started to fall as the grip increased and the track evolved.
With seven minutes remaining, Sargeant became the first driver to fall prey to track limits and had his first timed lap deleted for exceeding them.
Soon all drivers were out for their second runs, and this time, new Soft tyres for everyone, as the bid for a place in Q2 was on.
In the end of Q1, Hamilton lead the way into Q2 with a 1:35.091, 0.019s faster than Norris in second, while Verstappen was third fastest, 0.255s off the pace.
The first driver to drop out of qualifying was Nico Hulkenberg who missed out to Ricciardo by 0.022s and will start Sunday's grand prix from 16th on the grid.
Fernando Alonso was shocking 17th in the upgraded Aston Martin who suffered from brake issues in FP1, and was 0.047s faster than Alex Albon in 18th.
Lance Stroll was 19th fastest in the other Aston Martin, on a disappointing afternoon for the Greens, and was over three tenths slower than his teammate.
Logan Sargeant was dead last in the Williams, 1.736s slower than Hamilton's time.