Max Verstappen dominated Sunday's Qatar Grand Prix, at Lusail Circuit, in familiar fashion, hammering his advantage home in style, the day after being crowned 2023 Formula 1 World Champion.
It was always going to be a tough and hot evening in Qatar with three pitstops mandated to ensure the safety of the Pirelli tyres. For many of the drivers, it was one of the toughest races of their careers, from track conditions to the physical demands of racing in the humidity and heat of the desert venue.
But nothing could stop Verstappen from getting down to business as usual, taking control from pole into Turn 1 as behind him, Lewis Hamilton and George Russell crashed out in Turn 1. A safety car ensued as the #44 car Mercedes was unbeached and the seven-time F1 world champ trudged back to the pits. His teammate returned to the pits for repairs, before rejoining.
But the night at Lusail International Circuit belonde to Verstappen again. A mere 24-hours after celebrating his triple F1 title win, the Dutch phenomenon claimed his 49th GP victory with another calm, collected masterclass in dominance.
Verstappen summed up his 14th victory of the season: "I think what made the race was my first stint. After that, I could just manage my pace and make sure the tyres were always in a good window.
"The McLarens were quick again today. It was definitely a tough race out there. It was one of the toughest races I've done. Top five probably," added the Red Bull driver.
Behind Verstappen, it was another great day for McLaren
On Sunday, Piastri added second place to his Saturday night Sprint Race victory while McLaren teammate Lando Norris followed him home for another double podium for the team.
It got tetchy at one point, with Norris flying and closing in on Piastri he was told to hold station with half a dozen laps to go. It was the sensible thing to do for the team intent on fourth in the 2023 F1 Constructors standings. With this kind of form, they could even end up better.
After his best finish in F1, rookie Piastri said of his P2: "Very very happy obviously. Turn One was nice, that was definitely the game plan before the race but yeah really impressive pace, definitely the hardest race I've had in my life. Lando's still standing, he's still going."
"It was hard, also with the three stops it was flat out. It was 57 qualifying laps, which I feel like I've done. It was a really good race, I'm happy all the tyres stayed all together. It was good. I'm happy with another trophy too," beamed the Australian 21-year-old.
Third-placed, Norris added: "Just a mega race from start to finish. A good opening lap. I learned from my mistake yesterday of going wide. A good start, a good pace throughout the whole thing. Probably the best pace out there today. I'm happy. Stressful, hot, sweaty, a little bit tired.
"Great job from the team. Three in a row now. 1.8-second pit stop as well by the boys! The three-stop made it a lot harder physically. You could push a lot more. The last stint was pretty much flat out. Probably one of the hardest races I've done in a way. It's a nice challenge. Congrats to Oscar, no mistakes, and of course Max again," concluded Norris.
A bittersweet day for Ferrari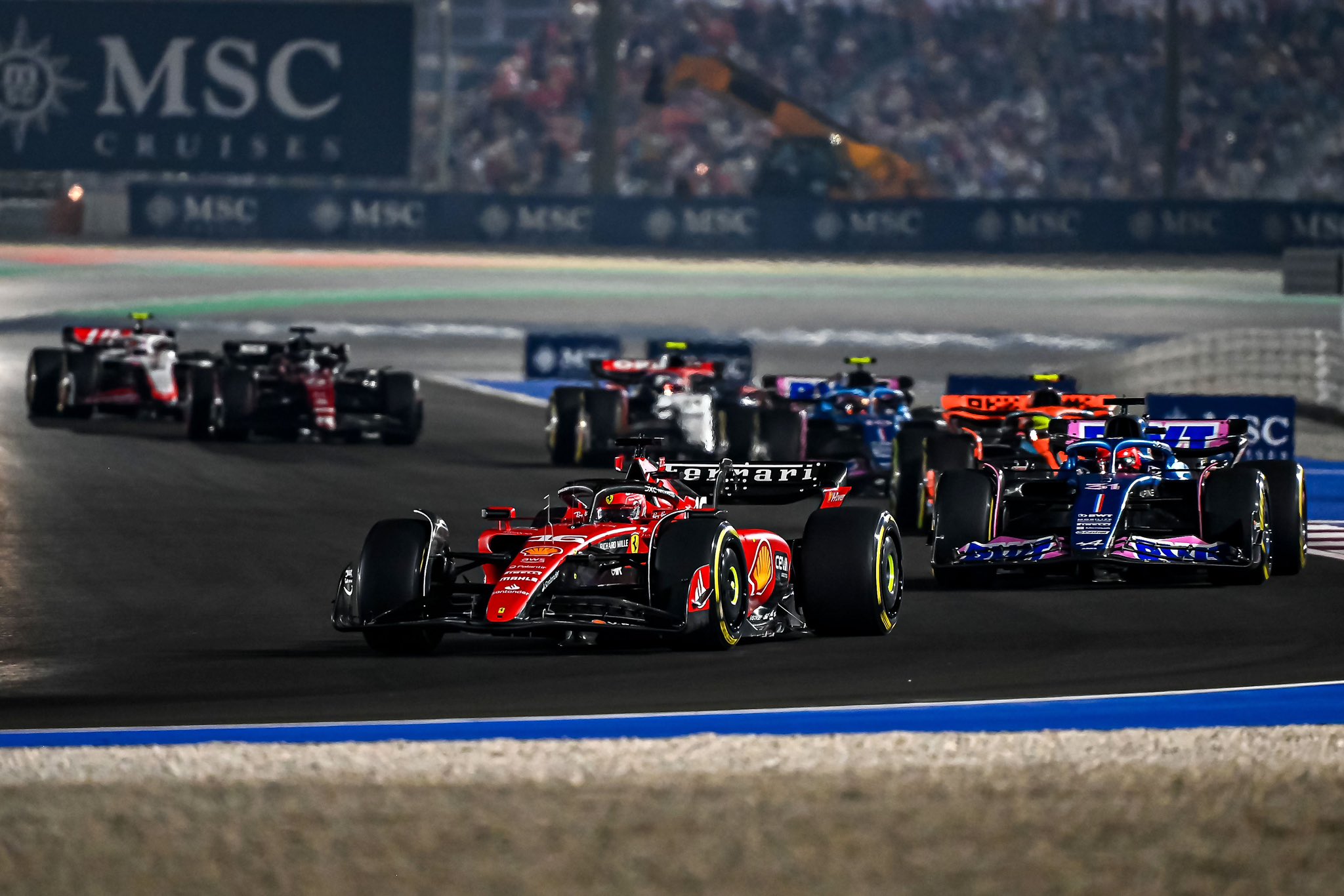 Russell survived the first lap melee with teammate Hamilton, an incident that is sure to fuel a brewing feud between, F1's Battle of Britons. Whatever the aftermath, Russell was stellar on the night, recovering from the disappointing early contact to take P4, albeit more than half a minute behind the winner.
It was a bittersweet day for Ferrari. Carlos Sainz withdrew from the race as a fuel issue grounded his car. That left Charles Leclerc to do the business solo, and did a solid job to take P5, battling off the as-always lively Fernando Alonso in the Aston Martin.
Esteban Ocon claimed P7 for Alpine while his teammate Pierre Gasly, was looking to be there or thereabouts but track limit penalties cost him and he dropped down to 12th.
Alfa Romeo had both cars in the top ten with Valtteri Bottas P8 and Zhou Guanyu P9, the Chinese driver making up ten positions on his way to a good evening for the Swiss outfit.
Final word and a big positive from Qatar: The McLaren Boys were only half a dozen seconds shy of Verstappen as he crossed the finish line tonight, that's about as close as anyone has got to the World Champ this season.
2023 Qatar Grand Prix Result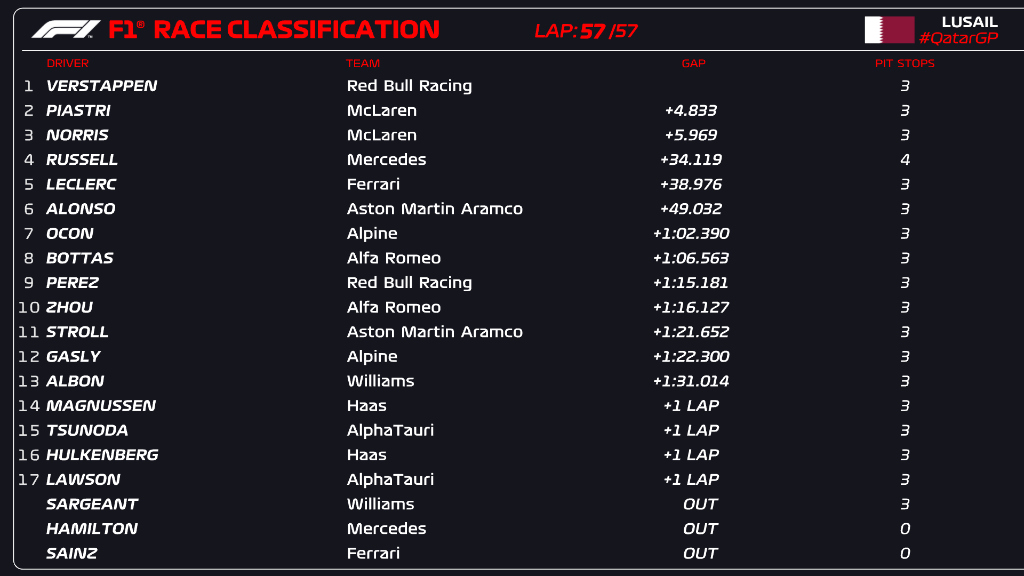 This is how the 2023 Qatar Grand Prix unfolded
Drama before the start of the Qatar Grand Prix as news filtered in that Sainz would not be on the grid, a fuel issue sidelining his Ferrari. Team boss Vasseur said on the grid: "We had an issue when we fuelled the car one hour before, an issue with the fuel system and it was too late to change something."
A power unit change to Sergio Perez's Red Bull meant a slide from 13th on the grid to a pit lane start for the Mexican. Perez with white band Pirelli hards bolted to his car. The only car with them on for the start..
Top ten all line up on Soft yellow bands Pirelli tyres, except Hamilton and Bottas on the softer Red bands.
But to no avail, by Turn 1 both Mercedes collided. Hamilton cut into Russell as they chased Verstappen. HAM ended in the sand, while RUS pitted for repairs. Safety car deployed prompting a flurry of stops
Restart order top ten: VER-PIA-ALO-LEC-OCO-NOR-GAS-TSU-HUL-ALB
Safety Car in on lap 5. Russell was on the move, albeit down in 13th thanks to the prang. At the front VER started pinging fastest laps, with a gap of 1.5 seconds on lap 8.
Lap 10 top ten: VER-PIA-ALO-LEC-OCO-NOR-GAS-TSU-HUL-ALB with Russell hovering just out of the top ten, storming through the field after his incident.
At the front, VER was opening the gap, with PIA a couple of seconds behind the RBR, and the same gap to ALO in P3, pitting early on lap 12, with GAS following the Aston. PER popped into tenth as the pitstops began. With PIA and LEC also stopping. VER again popped a purple lap.
Russell pitted from second on lap 16 for his second stop. VER continued to reel out fatsest laps until he was ordered to pit on lap 17. PER followed his teammate, which meant ALB Led in the Williams! It only lasted a lap. NOR was on the move, overtaking LEC a lap later
Lap 20 top ten all having pitted: VER-PIA-ALO-BOT-STR-NOR-LEC-OCO-GAS-RUS. Top ten all on Mediums. From 12th down, all on Hards.
BOT an STR benefiting from stops under the safety car for tyres. RUS was looking feisty, splitting the Alpines in the process on lap 23.
Around lap 25 it was pretty much a stalemate under the floodlights. NOR took the fastest lap at that point. At the front on lap 26 PIA dives into the pits, from P2, eight seconds behind VER before he did. ALO was up to second, 15s adrift of P1.
PER up to fourth from his pitlane start, got the first track limits 5-second penalty of the race. RUS in second was the fastest man at the time. ALB and PIA going wheel-to-wheel.
Lap 30 order: VER-RUS-PER-PIA-ALB-ZHO-NOR-ALO-BOT-STR with RUS and PER out of synch with their pitstops.
At the front, VER was 22.5s up the road with a stop in hand.
On lap 33 ALO went off the road, losing a position to LEC. VER eventually pitted, emerging on Hards six seconds ahead of the medium-shod McLarens of PIA and NOR (who started 10th!) on another strong race weekend for McLaren. RUS was 11s adrift in fourth, still popping fastest laps.
Lap 40 order was: VER-PIA-NOR-RUS-LEC-ALO-OCO-BOT-GAS-STR. The evening was getting worse for PER, another track limits five five-second penalties making it ten. At the front VER was again purple with the fastest lap, his lead extended to 10s.
At the same time, SAR radioed his Williams team, he was unable to carry on and told to park the car. The top ten was pretty much a high-speed stalemate again. Taking the fastest lap at that point, NOR was edging closer to PIA for P2. On lap 44 PIA dived in for his final stop. A brilliant one by the McLaren crew it needs be said.
NOR was next. Same sparkling service, but he had to tuck in behind PIA. Top-notch teamwork from McLaren.
VER took the fastest lap back, with a 22 seconds lead over RUS in second at this stage. On fresh Hards, PIA Started to fly with NOR in tow.
Lap 46 GAS joined the double track limits penalty club. ALB was also indicted for a similar offence.
NOR got the order to hold formation despite going faster and catching PIA, the Englishman negotiating to get by with his team who were keeping an eye on RUS in second, still to stop.
Lap 50 order was: VER-RUS-PIA-NOR-LEC-ZHO-ALO-OCO-BOT-STR.
ZHO was the only one in the top ten with a stop to make. On lap 51 RUS pits for Softs. VER got the call as the Mercedes fed into the track.
Big battle for P9 had ensued, STR battling off PER and GAS. The trio circulated nose to tail in the final stages. The Softs on RUS's car were a disaster, he had to nurse them home and did well to keep LEC behind.
At the front Verstappen did the business, Piastri second and Norris under his rear-wing in third. The trio were the class of the weekend in Qatar.
---
Qatar Grand Prix Preview
Red Bull and Max Verstappen have sealed the 2023 Formula 1 World Championships, with six Grand Prix Sundays remaining and two Sprint Saturdays still to go. So what now?
The harsh reality check for F1 is that until the end of the season, the most important elements of the contest – FIA F1 World Champion Constructors' title and Drivers' title – are over, with six big weekends still to run including the second edition of the Qatar Grand Prix.
On Saturday, F1 was treated to a tense and entertaining Sprint Race in which that gem of a driver Oscar Piastri nailed his arrival on the big stage with a mature, merit-packed victory over newly crowned triple F1 World Champ – Verstappen.
It was a riveting race in which the cream rose to the top. That cream was inevitably Verstappen and McLaren boys Lando Norris and Oscar Piastri. The 21-year-old Australian's victory on the night 26-year-old Dutchman claimed the 2023 title, is a sure sign that our sport is blessed with talent for generations to come.
But that was yesterday, the MacMeal amid the gourmet banquet that is a GP Sprint Race weekend, as the grid for today's race was decided on Friday. Verstappen taking P1 as expected, with George Russell P2 and Lewis Hamilton P3, unexpectedly for the Mercedes duo.
And Fernando Alonso inevitably putting his Aston Martin in contention with P4. The trio behind Verstappen, and even the Champ himself, were very lucky McLaren fluffed their lines on Friday when it mattered.
McLaren have the best car at Lusail but messed up qualifying on Friday
Lando Norris and Oscar Piastri have had the second-quickest car around Lusail this weekend, only the RB19 in Verstappen's hands has been quicker. But the #1 car had to play second fiddle in both the Sprint Shootout and the Sprint Race. Piastri was the Saturday star, happy to slug out the fastest laps with Verstappen chasing until the end of the race.
The MCL60 won once, so why not twice? If anything, because with that car Piastri will line up P6 and Norris further down in P10 it will be a mission of note. In a car that topped the front row of the Sprint Race grid 24 hours later, when McLaren did get their act together. They should've done better on Friday.
But if there is a race they are going to win, the Qatar Grand Prix today could be it. There are going to be incidents aplenty, track limits will see to that; there will be excursions onto the beach; there will probably be safety cars, yes plural. All factors provide those chasing Max a sliver of hope that tonight can be their night and not the Dutchman's yet again.
A Norris victory would be a fair bet, but he has to beat Piastri first and that will be an intriguing contest as the young Aussie encroaches on the Englishman's turf. And then there's their nemesis – Max – to contend with! And the Mercs and Fernando.
It's going to be fun!
Other #QatarGP sideshows that are worth a watch include:
Among the drivers' the battle for the runner-up (or first of the losers) is between veterans Perez in P2 and Hamilton P3, the RBR driver leads by 29 points but the Mexican needs to up his ante today and not put RBR through another Suzuka-style ordeal. Alonso is a 20 points adrift of Lewis.
P2 in the Constructors' standings is Mercedes with a 24-point gap to Ferrari, with Aston Martin and McLaren perhaps a tad too far back to threaten for second place. But there are plenty points on the table for a surprise or two before the season ends.
The alarming and now disgraceful decline of Lance Stroll. How long can Aston Martin countenance such an inferior performing driver ball-and-chain their fabulous F1 project? Fernando on Row 2, and Lance on Row 9 in the same car!
Also in the glaring spotlight is, Logan Sargeant chasing Alex Albon [humbled by Max not long ago] the American hope is turning into a no-hope. Simply put: the harder he tries the more he crashes. It's hard to watch.
Hamilton versus Russell is getting increasingly salty. Maybe nothing to read into there, maybe just a mirage of frustration around young George as he treads carefully around the throne of old Lewis.
French Revolution aptly describes Alpine over the last year. From the revolt of losing their drivers Fernando and Oscar… How that must hurt now! Thus left with signing Pierre Gasly to partner with his youth-time bitter foe Esteban Ocon in the all-French team. Unless we are misinterpreting the signs, this one is set for a big fall-out, explosion even. Soon. They share row four this evening.
Just as Carlos Sainz was being hailed as the Ferrari team leader, especially in the wake of his Singapore GP victory and a general improvement in his Qualy performances, Charles Leclerc pummeled him. The Spaniard failed to make it into Q3 and will line up in P12. Leclerc in P5. Could be an afternoon of slog with little reward for the Reds, unless they can find the magic they showed at Marina Bay Circuit, also a night race…
Reuters Stats & Facts for the Qatar Grand Prix
Round 17 of the 22-race 2023 FIA Formula 1 World Championship
Lap distance: 5.419km. Total distance: 308.611km (57 laps)
No race was held in 2022
2021 pole position: Lewis Hamilton (Britain) Mercedes One minute 20.827 seconds
2021 winner: Hamilton
Race fastest lap: Max Verstappen (Netherlands) Red Bull 1:23.196
Start time: 1700GMT/2000 local
The circuit has hosted MotoGP since 2004, becoming a night race in 2008.
Advertisement · Scroll to continue
The Qatar Grand Prix has a 10-year deal to host Formula One from this year after making a debut in 2021. There was no race in 2022 because of the country hosting the soccer World Cup.
The Lusail layout has been completely resurfaced since 2021, with a new pit and paddock complex, and is fast and flowing with 16 medium and high-speed corners and no heavy braking. The main straight is more than one km long.
Daytime temperatures are expected to be around 40 degrees Celsius but dropping to 27 at night. First practice and the Sprint shootout will be run in daytime.
2023 F1 World Championship after Round 16
Verstappen leads teammate Sergio Perez by 177 points.
Max Verstappen is set to take his third world championship this weekend, probably in the Saturday sprint. The Dutch driver, who turned 26 last weekend, needs only three points.
Mexican teammate Sergio Perez needs to score six points more than Verstappen in the sprint to keep things open until Sunday.
Verstappen would be the first driver to win a title in a Saturday race since Brazilian Nelson Piquet at the 1983 South African Grand Prix.
Red Bull retained the constructors' championship at the previous race in Japan.
Wins, Pole Position, Fastest Laps & Podiums
Red Bull have won all three sprint races so far this season — Perez in Azerbaijan and Verstappen in Austria and Belgium.
Verstappen has won 13 of 16 races, his record run of 10 wins in a row ending in Singapore last month.
The Dutch driver has 48 wins from 179 starts and is fifth on the all-time list. Alain Prost, with 51, is fourth.
Red Bull have won 15 of 16 races, with Ferrari's Carlos Sainz winning in Singapore. Red Bull have also had a team record six one-two finishes in 2023.
Hamilton has a record 103 victories from 326 starts but has not won since Saudi Arabia in December 2021. Aston Martin's Alonso has 32 wins, most recently in Spain in 2013 with Ferrari, from a record 371 starts.
Hamilton has a record 104 poles.
Red Bull have been on pole 11 times this season. Ferrari's Charles Leclerc took the top slot in Azerbaijan and Belgium, Hamilton in Hungary and Sainz in Italy and Singapore. Verstappen has nine poles for 2023.
Six teams and 11 drivers have made a podium appearance this season: Red Bull, Alpine, Aston Martin, McLaren, Mercedes and Ferrari.
Verstappen has been off the podium only once since Brazil last November.
Verstappen holds the record for most podiums in a season — 18 in 2021 — and has had 15 so far in 2023. Michael Schumacher is the only driver to have finished on the podium in every race of a season, in 2002.
Seven different drivers have taken fastest laps this season – Alonso, Alfa Romeo's Guanyu Zhou, Verstappen (7), Perez (2), Hamilton (3), Mercedes's George Russell and McLaren's Oscar Piastri.