Oscar Piastri put in a masterful performance to take pole for the Qatar Sprint Race, the rookie beating both his teammate Lando Norris and Formula 1 Champion Max Verstappen in Saturday's Shootout.
In a session that was delayed for 20 minute after the FIA revised the track layout at Turns 12 and 13, tightening the corner to prevent drivers from hitting the kerbs, after Pirelli discovered issues with their tyres following Friday's running.
Verstappen had his first lap in SQ3 deleted for track limits transgression, and out in a messy second lap which meant he was only third fastest, and while Norris was on his way to beat his teammate, the Briton ran wide on the final corner and had to settle for second.
Verstappen needs to score three or more points to secure his third F1 Title in the Sprint Race later on Saturday in Qatar, which means starting from third is not a disaster after all.
Piastri who had his third place in qualifying on Friday taken away due to track limits, had to know after he already finished his parc ferme interview.
But when interviewed after the shootout, he joked that he will give the FIA five minutes to make up their mind if he keeps pole for the Sprint Race.
He then added: "Very very happy. It was a pretty good lap. I saw Lando on the big screen made a mistake at the last corner.
"I struggled quite a bit in the first two parts of that qualifying then got my act together for the last one. Very happy, great work from the team," he added.
"Max is only starting third, so he's not a million miles away. We will try our best. A question mark on tyres, so we will do our best and see what we can pull off," the Australian concluded.
SQ3: Piastri shines as the sun sets on Lusail
The eight-minute session, and the final one in the shootout started with the Soft tyres finally making an appearance a the remaining drivers drove out on track to set the top ten starting positions of the Sprint Race.
Verstappen's first lap was deleted as the Dutchman exceeded the track limits at Turn 5, the same happening with Charles Leclerc but for a transgression at Turn 13.
With the second round of laps, Verstappen failed to go better than third, and with Norris also messing up his final lap, Piastri was unchallenged for pole for the Sprint Race.
Piastri clocked a 1:24.454 to go fastest, 0.082s faster than teammate Norris in second and 0.192s faster than Verstappen in third.
George Russell, the only Mercedes driver to make it into SQ3 was fourth fastest, 0.378s off the pace and 0.314s ahead of Ferrari's Carlos Sainz who was fifth fastest and benefitting from Fernando Alonso losing his best lap due to track limits.
Charles Leclerc, who also struggled with track limits all session long, was sixth fastest in the sister Ferrari, 0.092s slower than his teammate.
Nico Hulkenberg drove a superb session for Haas and was seventh fastest for the American outfit, 0.866s off pole, and was 0.062s faster than Sergio Perez in the Red Bull.
Alonso whose deleted lap time was initially good for fifth was ninth fastest with no lap time posted, and was followed by Esteban Ocon in tenth, the Frenchman also failing to set a lap time.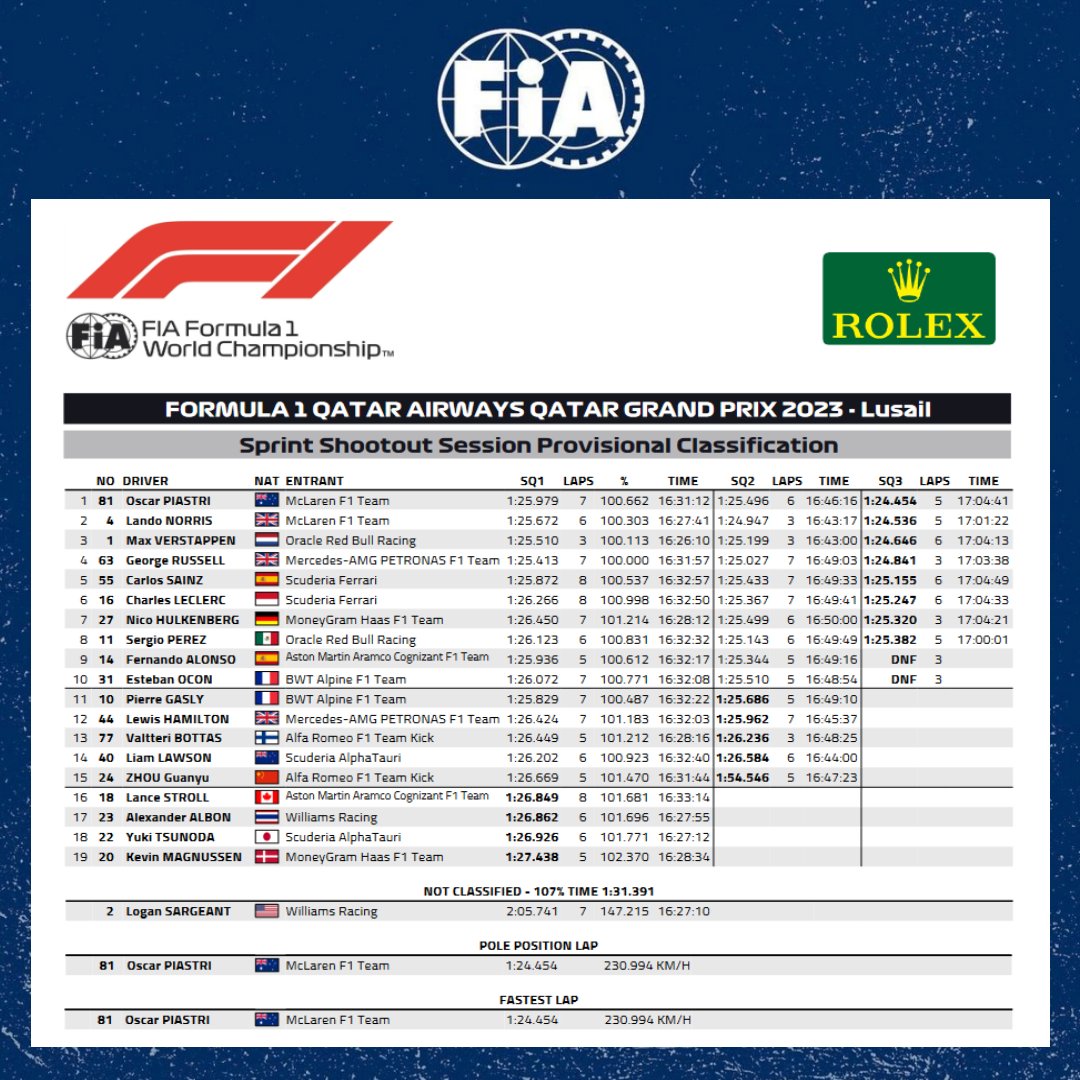 SQ2: Hamilton out due to track limits violation
SQ2, a ten-minute session started with the Medium tyre still the mandatory compound to be used, as the remaining 15 drivers set out to ensure an SQ3 promotion.
Lewis Hamilton continued to have an issue with the limits at Turn 13, as his first lap was deleted for violating them, something he suffered from in SQ1 as well.
Leclerc, on the other hand, continued to struggle with Turn 5 and lost his first lap time for exceeding the track limits there.
Zhou Guanyu also lost his lap after exceeding the track limits at Turn 5, while Sainz also lost his lap after exceeding the limits at Turn 13. Deja vu for the Spaniard, but he eventually made it to SQ3.
Hamilton had another lap time deleted which meant the seven time F1 Champion was out of the shootout in SQ2. while Norris lead the pack into SQ3, 0.080s faster then Russell in second, and 0.196s faster than Perez in third.
Pierre Gasly was the first to miss out on SQ3, and was 11th fastest, missing out by 0.176. He was 0.276s ahead of Hamilton who was dropped to 12th after losing his lap time.
Valtteri Bottas was 13th fastest in the Alfa Romeo, 1.289s off the pace, while Liam Lawson, who also had a lap time deleted was 14th fastest, 0.348s behind the Finn.
Zhou was 15th fastest in the other Alfa Romeo.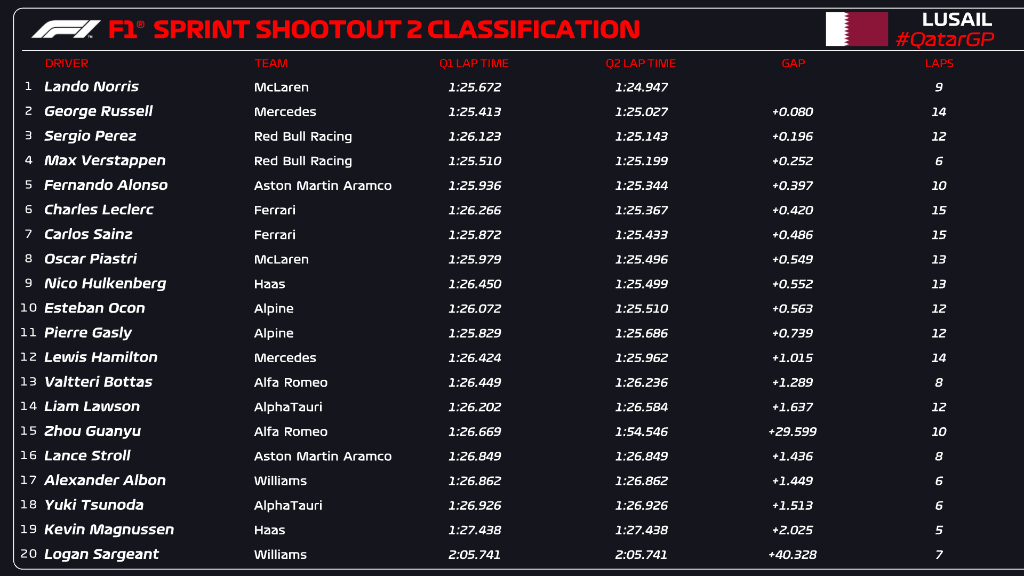 SQ1: No surprises after a delayed start
The start of SQ1 was delayed by 20 minutes after Pirelli raised safety concerns regarding its tyres that were apparently getting a beating by the Lusail International Circuit kerbs.
The Italian F1 tyre supplier revealed that the tyres were showing "separation in the sidewall between the topping compound and the carcass cords" with tyres used for more than 20 laps.
The FIA introduced changes at Turns 12 and 13, tightening up the corner radius, the line marking the edge of the track brought in by 80cm.
As such the drivers were given an extra familiarization session of ten minutes to get used to the new track boundaries at Turns 12 and 13, finding a new racing line and braking points.
The drivers set out on the mandatory new Medium Pirellis for SQ1 as the rules state, and had 12 minutes to try and make it into SQ2.
Conditions were quite hot at the start of SQ1, 36 degrees ambient temperature, while track temperature was 43 degrees.
With five minutes remaining, Logan Sargeant had his best lap deleted for exceeding the track limits at Turn 13, while Leclerc soon after had his lap deleted as well for limits violation at Turn 5, as he was caught out by the wind.
Gasly as well lost his lap time after going wide at Turn 13, and Hamilton and Zhou suffered the same consequence at the same corner.
At the end of SQ1, Russell lead the way, 0.097s faster than Verstappen in second, while Norris was third fastest, 0.259s slower than his compatriot.
The first driver to drop out was Lance Stroll who was 16th fastest 0.180s slower than Zhou who made it into SQ2 by the skin of his teeth after Yuki Tsunoda lost his best lap.
Alex Albon was 17th fastest for Williams, 0.013s behind Stroll and 0.064s ahead of Tsunoda who dropped to 18th after losing his best lap. The Japanese was 15th before that.
Kevin Magnussen was 19th fastest, while Sargeant – who had all his laps deleted – was dead last.