After qualifying for the 2023 Japanese Grand Prix, Lewis Hamilton admits he is stunned by how far Mercedes lag behind the Red Bull team after Max Verstappen took pole position in style.
Amid a blip in his dominant campaign last weekend in Singapore – seeing his record 10-race winning run and Red Bull's unbeaten season ended at Marina Bay Circuit last Sunday – today at Suzuka, Verstappen hit back in style after by finishing a massive 0.581 seconds clear of McLaren's Oscar Piastri.
Lando Norris was third in the second McLaren ahead of Ferrari's Charles Leclerc and Verstappen's team-mate Sergio Perez.
Verstappen and Red Bull have dominated the sport over the last two seasons. Record 103-time pole position winner, Hamilton warned his team that the gap that still exists between the two teams is a major concern: "We as a team really need to when we go back and do the debrief – I hope the team already realise – but a second gap is huge. And it is real.
"To be two years in and still be a second down to the Red Bulls is not a good showing and we need to make sure we work hard over the winter to get back at least half that gap before next year. We have a very peaky car. It is like trying to balance a knife on its tip," lamented Hamilton, referring to the two years since the current F1 rules kicked in at the start of last season.
"It is never perfectly balanced, it is one way or the other. You try and get it as close as you can to the middle but it is very hard to do each weekend," explained Hamilton, who wore a striking all-chrome helmet for the occasion of the 37th GP in Japan, his 13th F1 race at Suzuka.
On Saturday in front of a heaving and appreciative crowd, Verstappen topped every practice session but Norris and Piastri had closed the gap in FP3 to hint at a fight for pole at Suzuka. But it never materialised thanks to Verstappen's incredible pace on new tyres in the final session.
Russell: A fair representation of how we are on circuits like Suzuka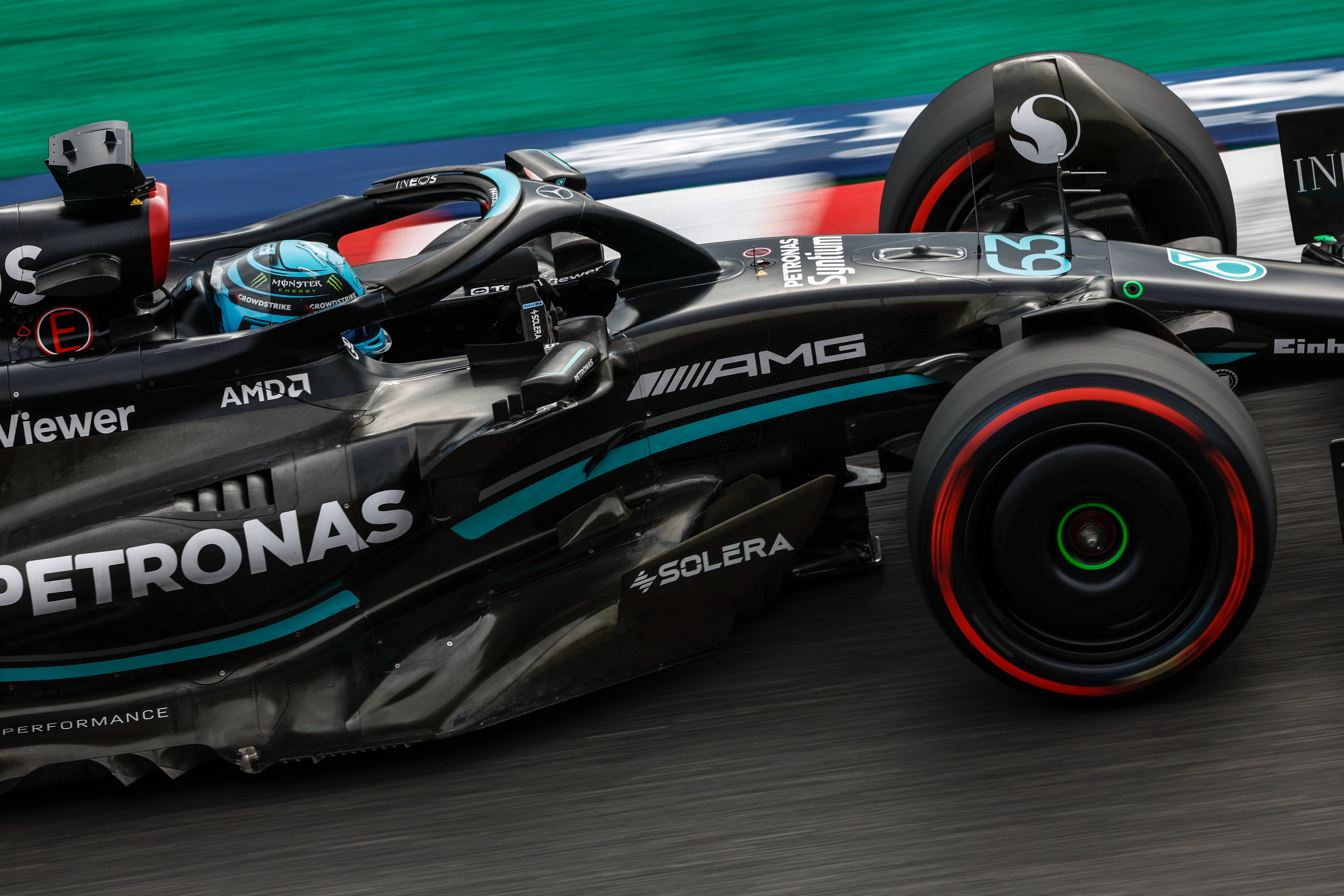 Mercedes are unlikely to be in the fight with Red Bull or McLaren but are set for a battle with Ferrari as they tussle over second position in the Constructors' Championship – which Red Bull are almost certain to clinch on Sunday.
Charles Leclerc delivered a strong lap for Ferrari to line up on the second row – although he does face an investigation for exceeding the maximum lap time, while Singapore-winner Carlos Sainz starts sixth in the other Red car.
Hamilton continued: "I hope we can have a good battle with Ferrari tomorrow. They had an upgrade this weekend so they are a little bit ahead of us and it is not an easy track to overtake. But I am still going to give it everything and hope I can give them a run for their money."
The Briton ended qualy in P7, three-tenths of a second faster than teammate George Russell in P8. The younger Merc driver reported: "It's a fair representation of how we are on circuits like this. When there's a big contrast of corners – high-speed and low-speed corners, we struggle to cover all aspects.
"Whereas on circuits where it's one type of corner like we saw last week in Singapore, we can nail the sweet spot of the car and maximise the downforce. No big surprise but obviously a bit of a shock to the system. But when you think about it rationally, it's about where you would expect."
As for the race, Russell ventured: "I expect it to be challenging. Our race pace will likely be similar to our single-lap pace. The gaps may close up a little but not substantially.
"We do have the option to try some different strategy options, having two hard tyres in our allocation. McLaren and Ferrari may not have the same freedom. However, I only expect it to be a small advantage," added Russell who will be seeking to make amends for crashing out of P2 during last Sunday's race in Singapore. (Quotes by PA Media)