Lando Norris is not yet comfortable in the cockpit of his McLaren MCL60 at Suzuka but was encouraged by the pace of the recently update package making the most of it to be the proverbial 'cat among the pigeons' on day one of practice for Sunday's Japanese Grand Prix.
McLaren's recent upgrades have worked wonders as Norris illustrated by the fine second place he scored in Singapore last Sunday. That momentum appears to have shifted on to Japan, where at the end of Friday's Free Practice he was third on the timesheets and very much looking like a podium contender again.
P3 for Norris meant he was fastest of the Mercedes-powered posse, although four tenths off pace-setting Max Verstappen in the Red Bull, he was a tenth and bit down on Ferrari driver, Charles Leclerc in P2.
Asked in the TV pen if he felt good in the car, Norris replied: "No, not really. The pace was there. The pace has been pretty good today. Probably one of the closest times we've been to Red Bull and the front lot on a Friday.
"So, I think encouraging from a pace point of view, but the car feels pretty all over the place. I kind of think it does for the majority. It's just very low grip, I don't think it's just us in particular, it's just a handful.
"For us, if we can just calm it down a little bit, and bring the balance together, I think we can have a good day tomorrow. But the pace is good, just difficult to drive," explained the Briton.
While Red Bull were AWOL in Singapore, they were back with a bang in Japan. At least Verstappen was, topping both sessions on the day. Thus no surprise Norris does not think pole position is possible for him on Saturday.
Norris: I doubt it's going to be pole
"The Red Bull is just doing normal Red Bull at the minute. But I think we are not far away," ventured Norris. "I would say we normally get a bit closer come lower fuel, turn the engines up, things like that. I think challenging for pole is probably quite a big task, and probably quite too far.
"But to try and challenge Mercedes, who maybe didn't look quite so good today, challenge the Ferraris, and Astons, who looked pretty good. I think it's going to be our battle for Saturday," added the Englishman.
In the sister car, Oscar Piastri had the new go-faster goodies on his MCL60 for the first time this weekend. Perhaps lack of time with the new upgrades compromised his day as the half-a-second deficit to Norris suggests, while the fact he has never raced at the legendary venue is sure to have added to that gap.
Reflecting on his first taste of driving Suzuka in anger, Piastri said in the McLaren report:  "Good fun. What a circuit. It's pretty mega. [I] enjoyed it, [but] I think still a bit of room to improve for myself. I feel like it's been a pretty positive day for the team, we've been pretty quick I would say, so not a bad first day in Suzuka."
Asked if he felt improvements with the new upgrade package, Piastri replied: "Very difficult to compare," said Piastri. "Obviously here is such a different circuit to Singapore, difficult to make a direct comparison, and also just the tarmac.
"The grip level here seems to be quite difficult here for everybody. So, it doesn't feel massively different but as long as it's quicker that's all I care," declared the Australian rookie.
Stella: Tyre degradation is high, but the grip level is low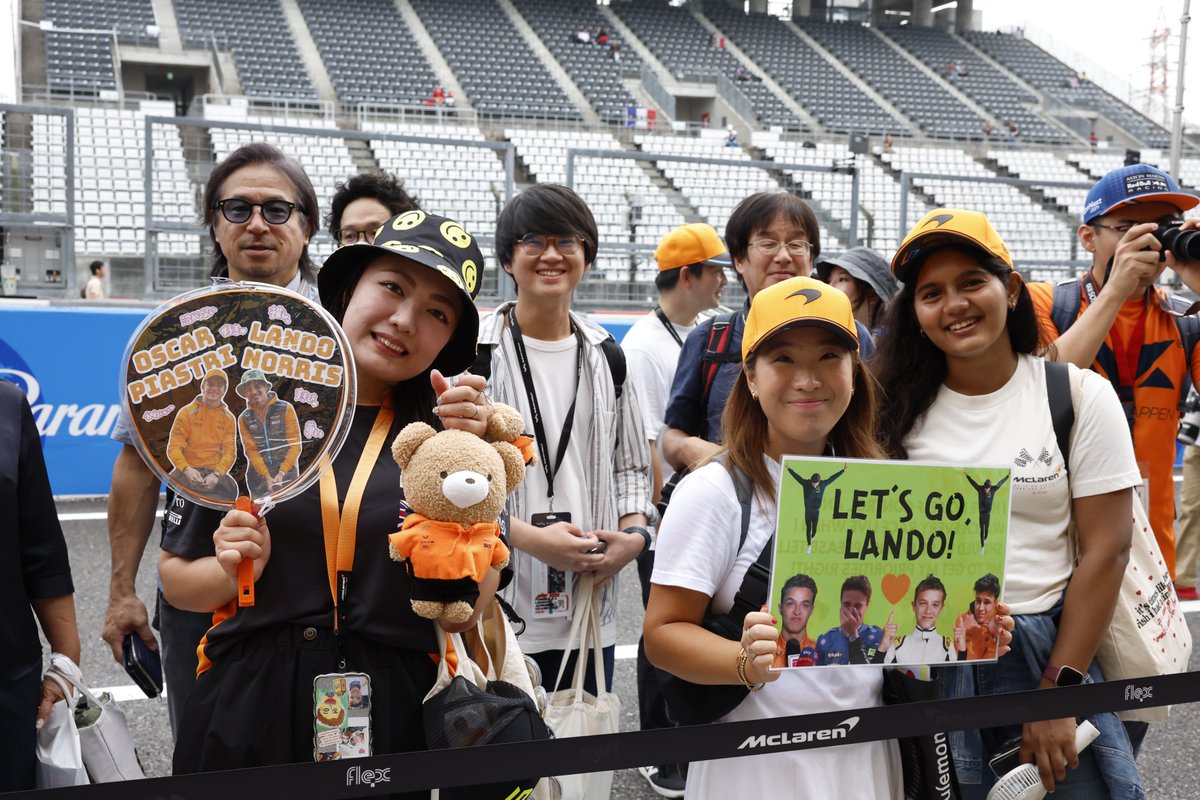 McLaren team boss Andrea Stella summed up Friday from the team's perspective; "We've had a clean, productive first day at Suzuka. The team was able to complete our programme with no major issues for either car. The track presents some interesting challenges for set-up.
"Tyre degradation is high, but the grip level is low, so, there's a few things we need to look into tonight, but overall the MCL60 seems to be behaving well. We'll take a good look tonight at the information we acquired today, with a view to being as well-prepared as we can be for the rest of the weekend," concluded Stella.
While both 2023 F1 titles are all but done and dusted, interest slides over to the Constructors' Championship, where McLaren lie a distant fifth, behind Aston Martin but have outscored the Greens in five times in the last six races. Should they continue the trend, P4 in the final F1 Team standings would not be unthinkable for the Woking outfit.
On the driver's side, Norris (97 points) is eighth in the standings with fifth place in sight, and possible if he sustains the form and results. Piastri (42 points)  is 11th.