Since the summer break, Carlos Sainz found something extra in his one-lap pace that has enabled him to beat acknowledged qualifying maestro and hot lap specialist, Ferrari teammate Charles Leclerc, in the past three Saturday sessions.
Including this evening's qualy for the 2023 Singapore Grand Prix. The usual Ferrari script has changed from the one in which Sainz and Leclerc are even up until Q3 when Charles tended to find another gear and leave Carlos wanting.
Today, after the Spaniard set the pace in practice and early Qualifying, he did not falter in Q3 and added pole position number five to his CV, just as he did to the delight of Tifosi at Monza two weekends ago.
Reflecting on his session at Marina Bay Circuit, Sainz said: "A bit like Monza really, we hit the ground running in FP1. I felt very confident all through the sessions and put it together in Q3. I just focused on not making any mistakes on that lap. Keeping it clean in Singapore normally pays off.
"We had a very good car on certain tracks and conditions. With these short apexes and quick changes of direction, our car seems to be very good this weekend. We know our weakness is always the race pace and where we pay the price," Sainz pointed out, perhaps referencing his team's oft-dubious strategy and pit-stop blunders.
The on-form Spaniard continued: "I think our team has been doing a great job over the last couple of weekends to understand the package and car. We have definitely made a bit of progress, keeping in mind this circuit always suits Ferrari well.
Carlos: Mercedes is normally a bit quicker than us come race day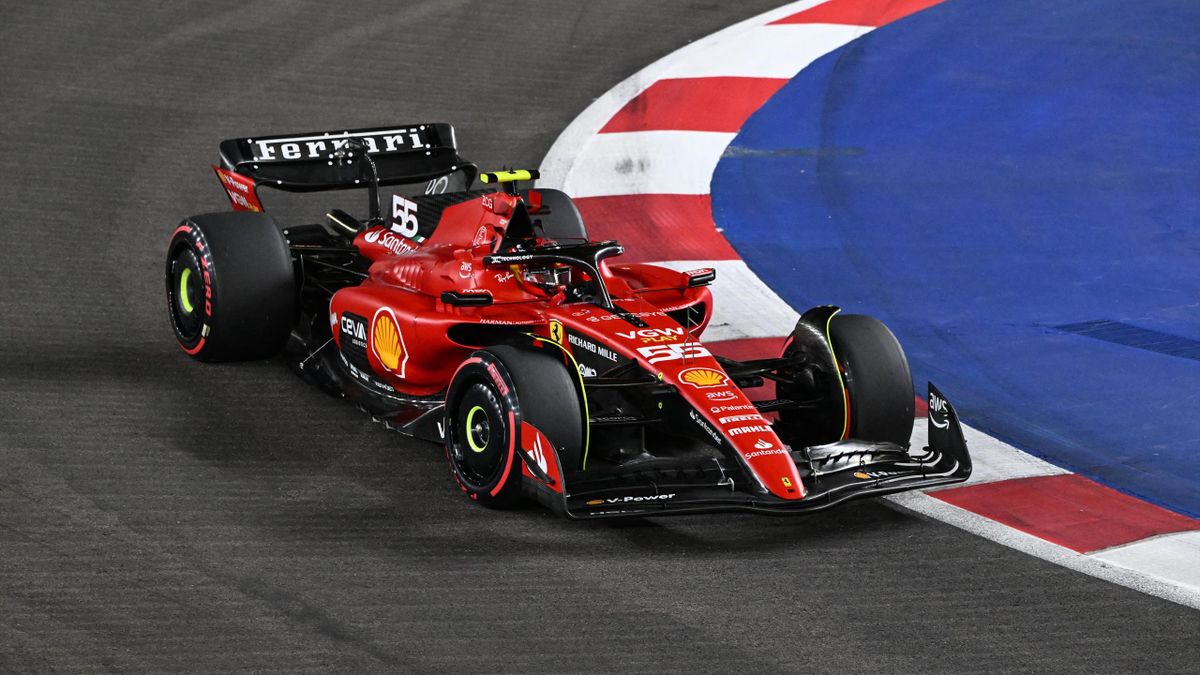 "Mercedes have a different tyre strategy, which we will have to keep an eye on," acknowledged Sainz knowing P2 man George Russell in the Mercedes has handy pace and is packed with intent. "But if I focus on my own race and put together a good first stint and stint on hards, we can target the win."
It's clear that since Monza, Ferrari found a "magic button" of sorts for Qualifying, but their race pace remains suspect which Leclerc acknowledged: "Race pace? A bit of a question mark."
But added that pole was not expected at Marina Bay on Saturday and left him pleasantly surprised, "At our last high downforce tracks, we really struggled. We haven't been on the pace. We've been third, fourth, fifth-fastest car and certainly since we arrived in Singapore, a high-downforce track we were clearly one of the fastest, if not the fastest.
"So it has been a very good progress. I think we've done a lot of work to try and understand our high-downforce package and the team has done a very good job to put it together for Singapore. But it's true also that this always, historically, has been a very good track for Ferrari.
"It's also been a strong track for me, I like driving around here and yeah, I think it's a good job well done. But it's also I think the track is suiting our car a bit more than Zandvoort, for example," ventured Sainz, who finished third here last season.
Pole position is always special, but on a trying and challenging evening, like it was at Marina Bay, it was no doubt even sweeter as it proves that hard graft can reap rewards. Sainz has clarely raised his game a notch or two, Singapore GP victory on Sunday would be a justified reward for that effort.