Carlos Sainz is the darling of Monza! After claiming pole position for the 2023 Italian Grand Prix, the Ferrari driver sent all the faithful at the Temple of Speed into party mode, a fitting end to a thrilling session on Saturday. Now he wants more of it on Sunday!
The Spaniard has been on it all weekend, finding a little extra in practice while delivering a brilliant final lap in Q3 to take the top spot on the timing screens, displacing Red Bull's Max Verstappen from P1, while Sainz's teammate Charles Leclerc opped it into third. A mere 0.067s separated the trio!
Immediately after an enthralling Qualifying at Monza, Sainz knew he dug deep when he roared into the radio: "Tell me we have! Tell me we have it!" Yes was the reply! Indeed he did by a tenth and enough to send Tifosi into raptures, chanting his name during the interviews. One of those priceless moments in sport.
And Sainz knew it as he savoured his fourth pole position in F1, denying Max a 47th P1 start. The Ferrari driver said in parc ferme: "Wow! Honestly. It was such an intense Qualifying.
"We were very on the limit and on that last lap I knew I had some lap time to come and I went for it. Goosebumps since I crossed the finish line and watched the crowd.
"Everywhere we go it is just noise, encouragement, support- the best feeling you can have as an athlete. I will give it everything to get that P1. Let's see if we can battle Max. Normally in the long run he is quicker but I am going to give it my all," declared the Spaniard who turned 29 yesterday..
Sainz: The weekend is not over yet, we want more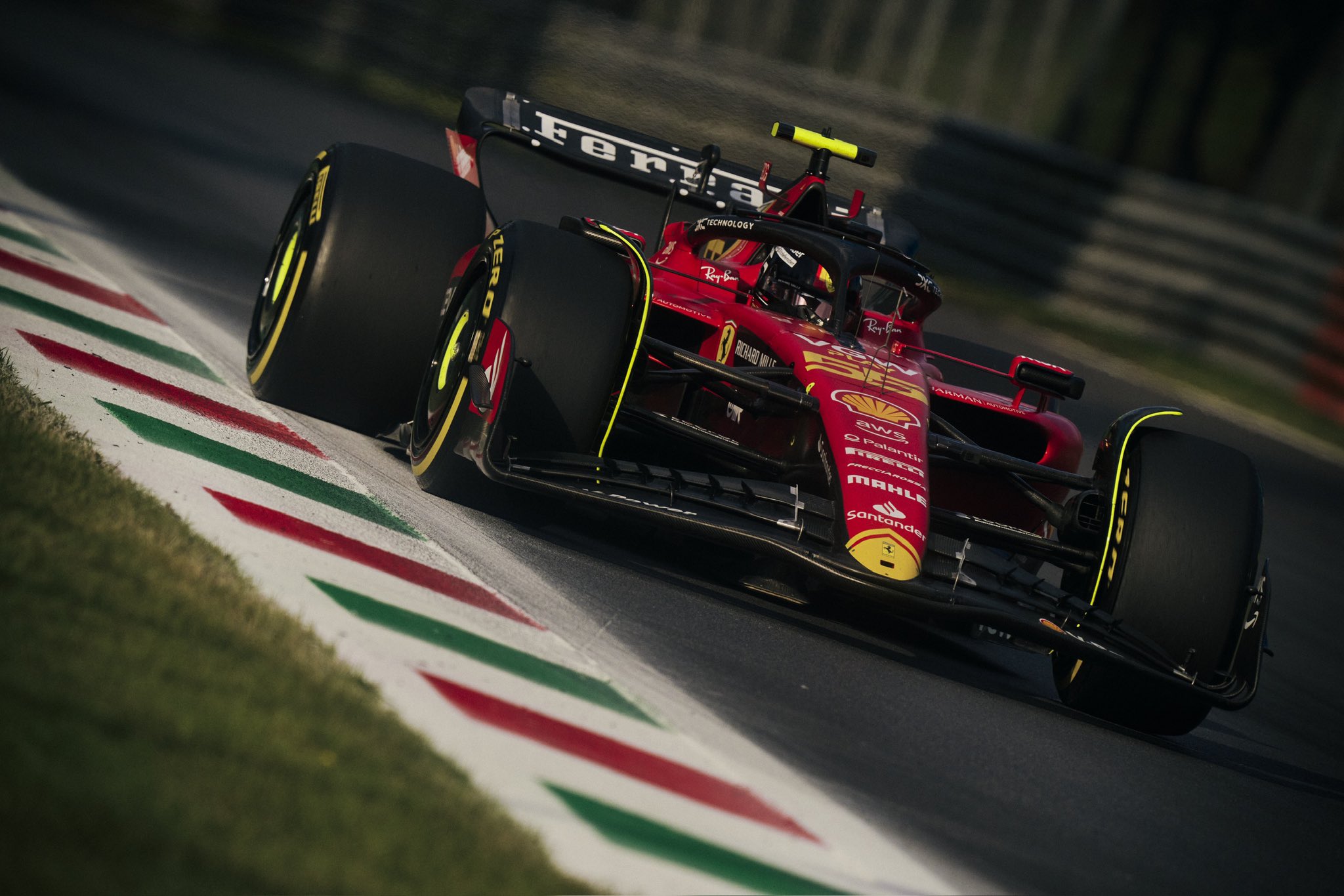 Later in the team report, after third qualifying as a Scuderia driver at Monza, Sainz added: "What a Saturday! It's so special to get pole position here, in front of all the Tifosi. I had a very good feeling from the car already on Friday and today we confirmed our pace.
"Q3 was always on the limit and we all took big risks in the fight for this pole. When I finally crossed the line and I heard the Tifosi screaming like crazy and jumping on the grandstands I knew we had it!
"The weekend is not over yet, we want more, and for that we need to stay focused and prepare well for tomorrow. It's going to be a challenging race but we'll give it everything to fight for the win and give the tifosi around the world something to keep cheering us on!"
The team were chuffed too, reporting: "A majestic Carlos Sainz sent the tifosi into raptures at the Monza circuit, presenting Scuderia Ferrari with its 245th pole position, its 23rd at this track. Charles Leclerc will start right behind his team-mate tomorrow, in third place on the grid, when the race gets underway at 15 local time."
Leclerc: When I have this support it is an amazing feeling
In the other Ferrari, Leclerc, who enjoyed a good comeback of sorts, as he has struggled to find the sweetspot of late, summed up his Qualifying session: "My feeling can only be amazing with the tifosi. On my side, I am a bit disappointed, I obviously wanted to be first. But seeing that Carlos is P1 is great for Ferrari, he has done an incredible job all weekend.
"Qualifying I managed to put everything together so I am really happy. We should be happy, especially on my side I have been struggling a lot. The (fans) are just incredible. I don't smile often when I am P3 but when I have this support it is an amazing feeling," beamed Leclerc.
He added to his Say=turday story in the Ferrari team report: "Q3 was really on the limit and I'm happy with my two laps, considering where we started from this weekend. he direction we went in with the set-up of my car yesterday wasn't the right one, although at first I thought it was.
"So we had to adapt and make some changes for FP3, a session that still felt a bit inconsistent. But overall, our performance was good today and the gaps are really small between all of us. Let's see what we can do," concluded Leclerc.
Ferrari always tend to save something special for Monza, where winning is akin to winning the F1 title. If Sainz (or Leclerc for that matter) can translate the Saturday performance into race-winning pace and win it, as Leclerc did in 2019, he will etch his name in Tifosi folklore forever.
It would also be Ferrari's 20th victory at the Italian Grand Prix, while denying Verstappen a record tenth victory and a row, finally denying unbeaten Red Bull a victory this season. Pole is 'feel good' for Saturday night, Sunday will be another ball game altogether, and where the points are dished out.
What have Fate and Ferrari themselves in store for their drivers on Sunday on home soil? Stay tuned!