Max Verstappen cruised to an historic victory at the 2023 Hungarian Grand Prix, Round 11 of the 2023 Formula 1 World Championship, the 38th edition of the race at Hungaroring, in Budapest.
The win is Verstappen's 44th in Formula 1. His is seventh in a row, his ninth in the first 11 rounds of this title fight. And by a whopping half minute ahead of his pursuers.
At the halfway mark of this season, it is sure that the Red Bull world champion's third F1 title is in the bag,
History was made on the day by Red Bull, won their 12th race in a row. Ending the Senna-Prost-McLaren record of 1988. Of course, Verstappen did it in style too, claiming the fastest lap with 16 laps to go. A hotlap a second faster than anyone had been capable of until that point. Total dominance.
After the race, Verstappen summed up in parc ferme: "Finally we had a really good start, so very happy with that. We've been working on that quite a bit to really try to get the good bite. Then I knew when I had the inside that that corner was mine."
Verstappen: A day like today is just perfect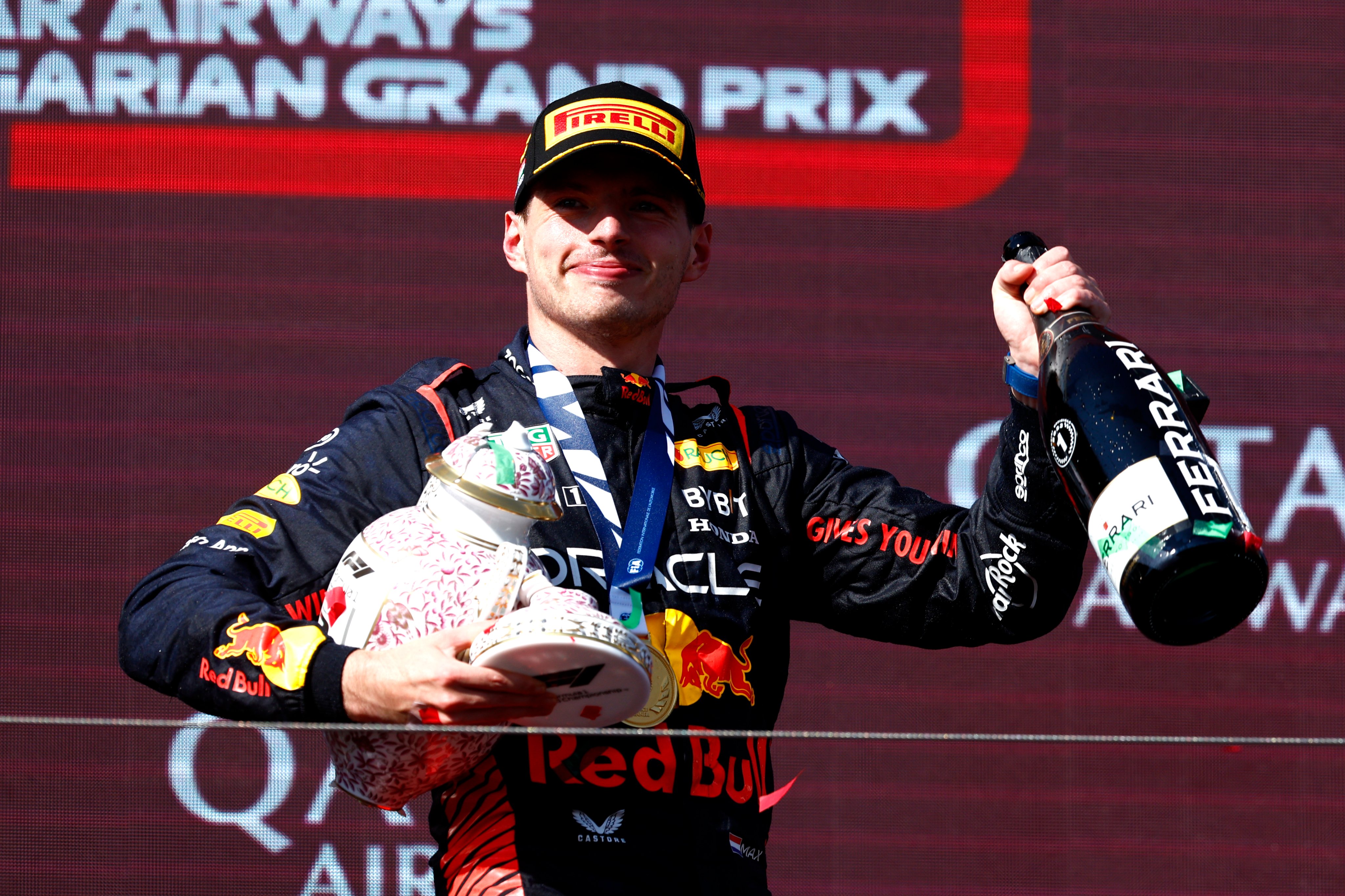 "It was just late on the brakes, heavy car, so luckily it all worked out well," Verstappen said of his start, and added, "Fom there onwards I could do my race, and today the car was really, really quick. I think over one-lap this weekend was a bit of a struggle, but maybe it was a good thing for today. The car was good on any tyre, we could look after the tyre wear, and basically that's why we could create such a big gap.
"For the team, 12 wins in a row is just incredible. What we've been going through the last two years is unbelievable and hopefully, we can keep this momentum going for a long time. And also just working with the whole team is always very enjoyable. It's always good to look into, like yesterday for example, to keep pushing, always wanting to do better, but then a day like today is just perfect," beamed Verstappen.
Behind Verstappen, McLaren's form again delighted, as Lando Norris and Oscar Piastri starred for the team.
Norris was again special, in how he kept Perez at bay. The RBR driver, the winning car, gave it all in those final laps. But Lando responded when needed to dent the Mexican's ambitions.
Norris said ahead of his eighth F1 podium celebration: "Tough race. Not an easy one, especially with Checo catching at the end but he didn't have enough  pace to catch up. I'm happy. I had to fight for it at the beginning. I got a bit screwed over at Turn 1. Another podium for us and McLaren which is amazing."
Norris: Our time will come later in the year
The Englishman added," "The guys [Red Bull] are too quick. Unless they make mistakes or something happens. I think at the minute we are very happy with the progress we have made.  To go from where we were five races ago, struggling to get out of Q1 sometimes to fighting for poles and podiums. We will take it for now and our time will come later in the year."
Rookie Piastri was incredibly impressive showing his class with a spectacular Turn 1 move, which saw him pop up to second, from fourth on the grid; getting by his teammate Norris and Lewis Hamilton.
But it was a long race, the rookie learnt a lot and impressed even more on his way to fifth place. Plus much needed and well-deserved big points haul from McLaren as others around them faltered.
Sergio Perez needed a good weekend to reduce the heat on his seat with Red Bull. He delivered a strong drive from ninth on the grid to third. He went with a different strategy to start with, grafted hard to make the right moves at the right time.
The Checo of old emerged this afternoon as he picked off rivals and chased Norris until the very end. He said this at the end: "We got close to P2. Unfortunately, we got through a lot of backmarkers. The track was unbelievably dirty offline, so in the last laps I had some pick-up going through the backmarkers, and that meant that I lost a few seconds. I recovered towards the end but it was just too late."
Perez: I look forward to being on the podium every single weekend
"I think overall it was a great strategy by the team and we managed to have an excellent result. I think this sort of performance, these sort of days do help, and from now on I just look forward to basically being on the podium every single weekend, so let's keep it up," said Perez.
The seven-time F1 World Champion Hamilton had a good launch from pole position but into Turn 1 he was ambushed. Verstappen got by as did both McLarens. Thereafter Hamilton had to work hard as the race went through phases, the Merc performance fluctuating, until W14 gave its best at the very end.
Towards the end, he found the sweet spot, to finish fourth. However, the reality is, what was a sensational pole a couple of hours earlier was a distant (from Max) fourth place at the end of the day.
On a positive note for Mercedes, George Russell turned 18th on the grid to sixth at the end of the race. The Englishman delivered a polished performance after his team let him down during qualy, on Saturday. His dispatching of the Ferraris late in the end was top-notch stuff.
Ferrari and Aston Martin were pretty much anonymous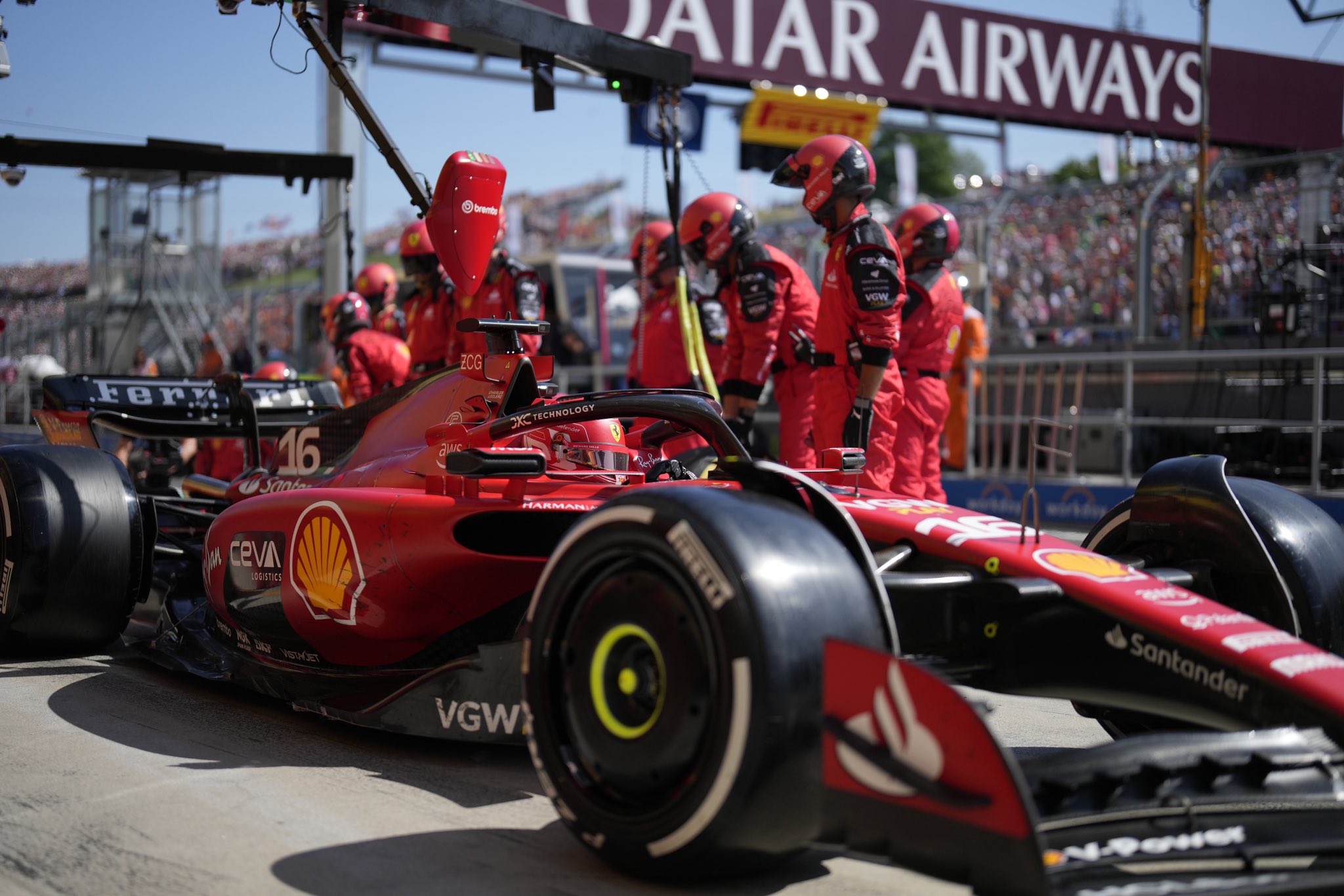 An internal battle was the highlight of a mediocre performance by Ferrari on the day. Charles Leclerc P7 and Carlos Sainz P8 is not why Tifosi follow this great team, but at least it's a bit better than P9 and P10 at Silverstone last time out.
Equally anonymous were the Aston Martin duo with Fernando Alonso finishing P9 and Lance Stroll in P10, which is a far cry from the team that had the great Spaniard celebrating on the podium (six times) just about every weekend. That magic was not evident today.
Comeback kid Daniel Ricciardo had a lacklustre return to the F1 grid, compromised by an errant Zhou Guanyu. From a superb fifth on the grid, the Alfa Romeo driver messed up his start. Was gobbled up by those behind. By the time he recovered, he hit the brakes far too late and smacked into the AlphaTauri.
That in turn skittled Esteban Ocon who crunched into teammate Pierre Gasly. It was DNF for both Alpines. Ricciardo recovered to finish 13th, with Yuki Tsunoda 15th. RIC-2, TSU-0.
2023 Hungarian Grand Prix Result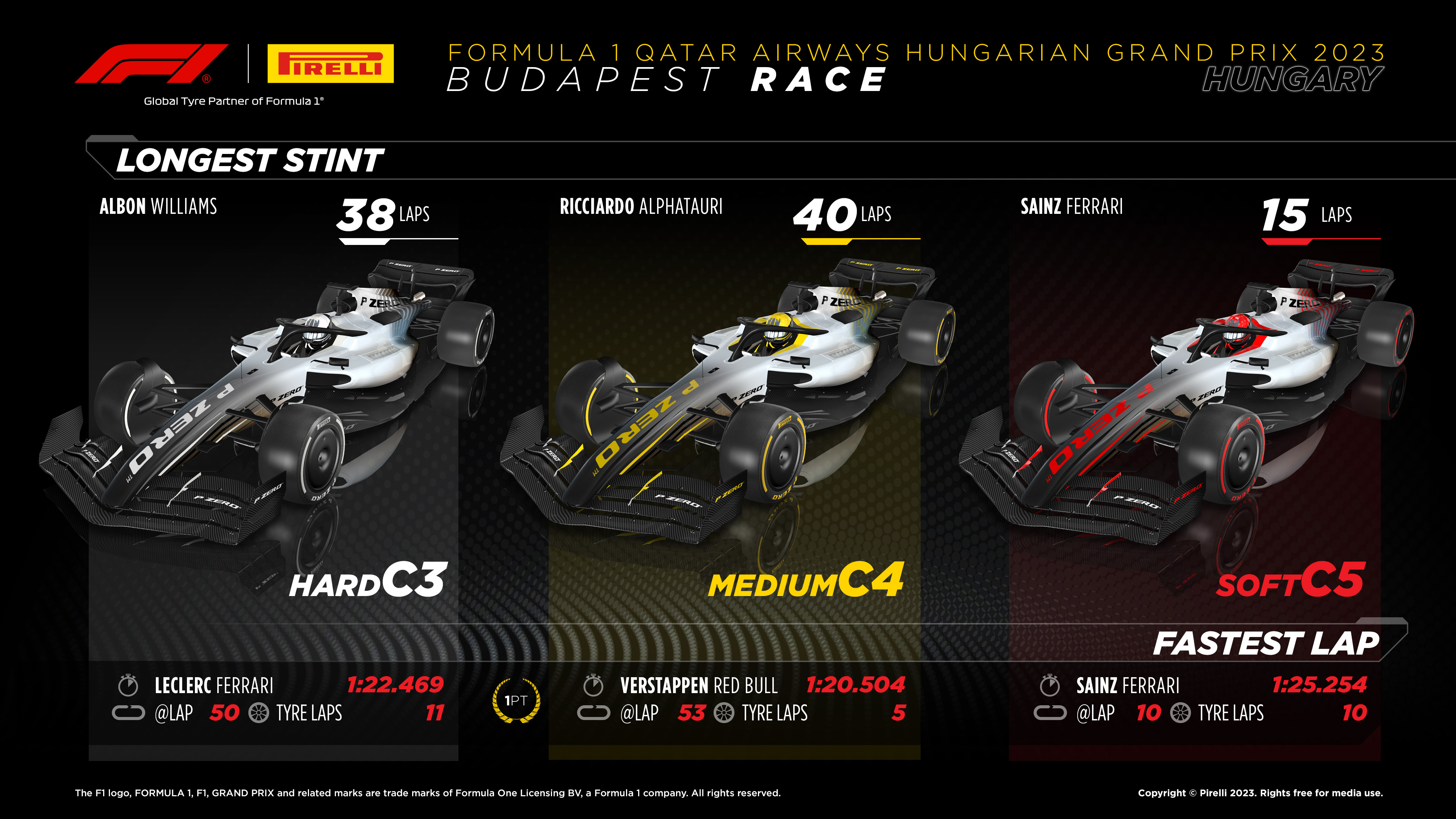 Hungarian Grand Prix as it happened
Track temperatures scorching close to 50C (122F) meant the race on Sunday was going to be all about tyres. Keeping the Pirellis alive, making them last in the heat, and what drivers shone with the early joker thrown into the fray even before the race began.
Covers off, revealed the top ten tyre choices. All are on yellow band Mediums, except for Perez in ninth on Hards with Sainz starting on Softs from P11
In front of a sellout of 300,000 F1q fans under bright hot sunshine, the top ten lined up on the grid like this: HAM-VER-NOR-PIA-ZHO-LEC-BOT-ALO-PER-HUL.
Max Verstappen got the best drive into Turn 1, getting by Hamilton, while Piastri cut inside to pop into second, as both McLarens nipped by with Norris slotting into third. The pole-man was down in the fourth.
Behind them, Sainz was up to sixth thanks to a stellar opening lap on Softs.
The biggest victims of a first lap incident were the Alpine of Gasly and Ocon. Zhou made a dreadful start from fifth, hit the brakes into T1 too late, punted the AlphaTauri of Ricciardo, sho shunted into Ocon who tagged Gasly. Proper ten-pin bowling skittle move by the Alfa Romeo driver who was penalised for his shenanigans. DNF for both Alpines.
Order after the first three laps: VER-PIA-NOR-HAM-LEC-SAI-ALO-PER-HUL-STR
The biggest battle was Perez vs Alonso, with a queue forming behind the Aston Martin and Red Bull battling for seventh.
At the front, Verstappen set a flurry of fastest laps, two seconds ahead of Piastri chasing with half a dozen laps on the board. Russell was up to 13th from 18th. On Lap 8 Perez got by Alonso, into seventh.
Lap 10 order top ten: VER-PIA-NOR-HAM-LEC-SAI-PER-ALO-HUL-RUS.
Russell was the man on the move at this point into the top ten, as the first stops began among the midpack. Including Bottas and Stroll, the latter is the first of the top ten to pit. A stalemate ensued half a dozen laps into the race. No drivers in points-scoring positions within DRS of one another.
Verstappen was galloping to win 44 at this point with a 4.5 seconds lead. About half a second a lap quicker than everyone, without being pushed. Piastri kept the gap to his teammate around two seconds.
On lap 15, Perez was onto Sainz's tail. The Ferrari driver making the Sots work. A lap later he was boxed for Hards ahead of Stroll. The order now out of kilter as the next batch of pitstops began. Hamilton boxed on lap 17.
Ferrari messed up Leclerc's stop around the same time. It would be costly for the Monegasque.
The pitstop battle between the McLaren boys was thrilling stuff, Norris got ahead with an undercut, swapping the order between the impressive youngsters.
20 laps top ten: VER-PER-ALO-NOR-PIA-RUS-HAM-SAI-LEC-STR
The Bulls were one-two, but of the top ten Verstappen, Perez had not pitted yet. Ditto Russell and Alonso. The Aston boxing on Lap 22.
Norris started popping fastest laps. The gap to unstopped Max was 27 seconds when the #1 car pitted on Lap 24 emerging five three seconds ahead of Perez who had yet to stop, and five seconds ahead of Norris in second. Piastri was third in tyre-save mode. Perez pitted a lap later, emerging seventh and splitting the Ferri pair. Russell had yet to pit, the only one not to do so. On Lap 28, Perez pounced to take fifth. It was super close, but no contact. The Mercedes finally pitted a lap later.
After 30 laps, the first pitstops were done and the order was: VER-NOR-PIA-HAM-PER-SAI-LEC-ALO-STR-BOT.
Verstappen was seven seconds ahead of Norris, who had a four-second gap to teammate Piastri. Perez on Mediums was fastest of the top ten during this phase of the race catching Hamilton doing the same to Piastri who was losing pace. Russell on fresh mediums was overall fastest down in 11th and hunting the one point in Bottas' hands then.
40 laps top ten: VER-NOR-PIA-HAM-PER-SAI-LEC-ALO-STR-BOT.
On lap 43, Perez and Hamilton began their feud, for fourth place. But RBR decided to box Perez for fresh Mediums, and Piastri did the same as Hamilton stayed out.
Verstappen was ten seconds ahead of Norris with Hamilton third, 11 seconds a drift followed by the Ferrari duo of Sainz and Leclerc. The Monegasque is increasingly irate with his team over the radio before they pitted him. He undercut his teammate, emerging ahead of him in seventh, but speeding in the pitlane cost him a five-second penalty.
Norris was next of the ten to box on Lap 45. Notably, the McLaren crew serviced their lads impeccably all afternoon. But Perez was flying, and on Lap 48 he went wheel to wheel with Piastri to take fourth, eight seconds adrift of Norris in third.
50 laps top ten: VER-NOR-PER-PIA-HAM-LEC-SAI-RUS-ALO-STR
Hamilton boxed on Lap 50. Verstappen led Norris by 34 seconds. RBR Boxed him on Lap 51, peeling out of the pits with a healthy 12 seconds lead with 20 laps to go. At this pont Hamilton was reeling in Paistri fast, while Norris was driving his socks off to keep the #11 Red Bull small in his mirrors.
Hamilton found strong pace late in the race. On lap 57 the Mercedes man got by Piastri to take fourth from the rookie.
60 laps top ten: VER-NOR-PER-HAM-PIA-LEC-SAI-RUS-ALO-STR
Verstappen was now 16 seconds ahead of Norris who was three seconds up on Perez closing in on the McLaren, in a game of cat and mouse for second place.
Hamilton was anchored into fourth, ten seconds adrift of the final podium spot and seven seconds ahead of Piastri in fifth. The rest were pretty in a state of stalemate.
On lap 66, Russell got by Sainz to claim P7 and chase (five seconds) penalised Leclerc who he closed in on the take P6. Hamilton also chased hard for that final podium spot when his car came alive, but could not reel in Perez to steal it.
At the front Verstappen wiped the floor clean with a 30-second victory, over a hard-fighting Norris and Perez, with a great recovery drive, made up the podium.