What masochist is writing this year's Formula 1 script? He does not fancy Sergio Perez as the underfire Red Bull driver, shot himself in the foot with a rookie mistake on his first lap in FP1 for the Hungarian Grand Prix when he least needs it.
This was the absolute worst start for a weekend that Perez could have endured. Plain cruel this fate thing! He needed a clean weekend, he knew it was a big one at Hungaroring. And before he even started hot laps he was in the wall.
It was a rookie error, he clipped the grass lost the car and speared into the tyre barriers in Turn 5. The left front was trashed, and the floor was sure to be substantially damaged. Perez blurted over the radio: "No! I cannot believe this."
Hard to believe indeed. Considering the warning signs flashing in his face for the past month, this had to be a Jeddah or Baku-style show from the Mexican. With Daniel Ricciardo called up for an F1 return after the organisation mercilessly ditched ten-race rookie Nyck de Vries from his AlphaTauri seat, Perez is under even more pressure should the Australian dazzle in his return to the grid.
Ricciardo made it clear that being Max Verstappen's teammate is his goal. This the first race on that journey which could come to fruit as Perez is simply digging a bigger hole for himself, and risks being swallowed up by it if today is anything to go by.
A broken #11 Red Bull is becoming a familiar sight these days in F1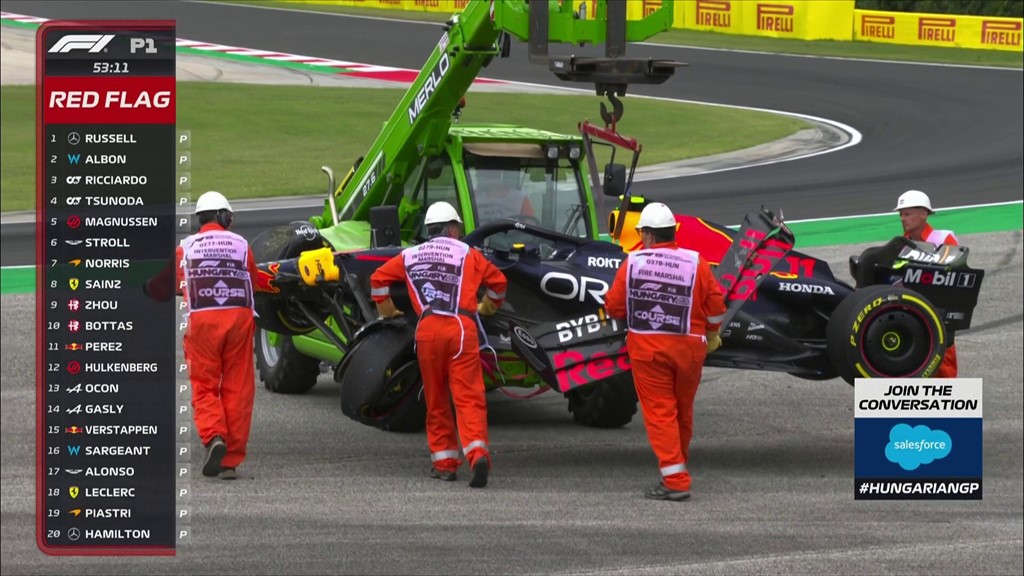 "The dream is a Red Bull seat, but there is no: this is what you need to do to achieve that. Given what has happened over the past few years and taking time off, I knew it would be hard to get back in at the top," said Ricciardo ahead of his 233rd Grand Prix start this Sunday.
Despite the looming threat of Dan, Checo appeared unperturbed on Thursday when he told the media at Hungaroring: "I'm happy for Daniel, he's very motivated to be back, so well done to him. It's a great opportunity for him. From my side, it doesn't change anything because I drive for Red Bull."
Indeed he does, a Red Bull whose bosses Helmut Marko and Christian Horner are not famed for their Patience. The more he makes mistakes like he did today, the better the chance he won't be driving for RBR in future.
The incident brought out the Red flag, at which point the skies opened up over Hungaroring. Perez was seen in a conversation with Marko, in the RBR pit garage, after the incident.
Watching on the monitor, Horner played down the veteran's error: "He just misjudged it. It was just a mistake. You could hear the frustration in his voice."
Horner: he just put a wheel on the grass and made a mistake into Turn
Later, after the damage to the RB19 was assessed, the RBR boss told Sky F1: "It's obviously frustrating to have had that off. The damage, we haven't got the car back, but hopefully it's contained mainly to the front right corner, which hopefully will be repairable in time for the next session.
"It was unfortunate, he just put a wheel on the grass and made a mistake into Turn 5. I haven't had a chance to speak to him yet but I will do after the session, but hopefully he won't have lost too much through this session because in these conditions people aren't getting many laps in. But obviously not an ideal way to start the weekend.
"It was obviously the start of his first lap, so he came through Turn 4 ok, he just misjudged it and it just swapped ends on him. You could obviously hear the frustration in his voice and he stuck his hands up. It is what it is," added Horner.
At 15:30 pm RBR reported the car was repaired and ready for FP2, which is likely to be another wet session and render the day pretty useless not only to Perez but his rivals too. The weather gifted him a joker he badly needed.
Not the start we wanted to FP1…but Checo is okay and out of the car

— Oracle Red Bull Racing (@redbullracing) July 21, 2023