Formula 1 at times delivers strange days, today was one of those. Day one of practice for the Hungarian Grand Prix on Friday, turned out to be pretty meaningless.
The biggest news before FP1 at Hungaroring was the return of Daniel Ricciardo to the F1 grid with AlphaTauri. But that became secondary within a few laps of the track going green to start FP1, when Sergio Perez pranged his fabulous Red Bull RB18 into the wall. The incident we covered here>>>
Editor Jad Mallak noted in his FP2 report that: "While Verstappen's fastest lap was only good for 11th, the times he was setting on the long runs on ageing Softs were intimidating, as he was over six-tenths of second faster than second Leclerc." An ominous sign for the Dutch maestro's rivals.
Beyond that, there were a few other minor incidents and not many storylines, as the big guns all kept their powder dry most of the time. Below is a summary of what drivers and teams had to say, after the two FP  sessions at Hungaroring. Published in the order they arrived in our email boxes
Aston Martin: We maximised FP2 with a decent programme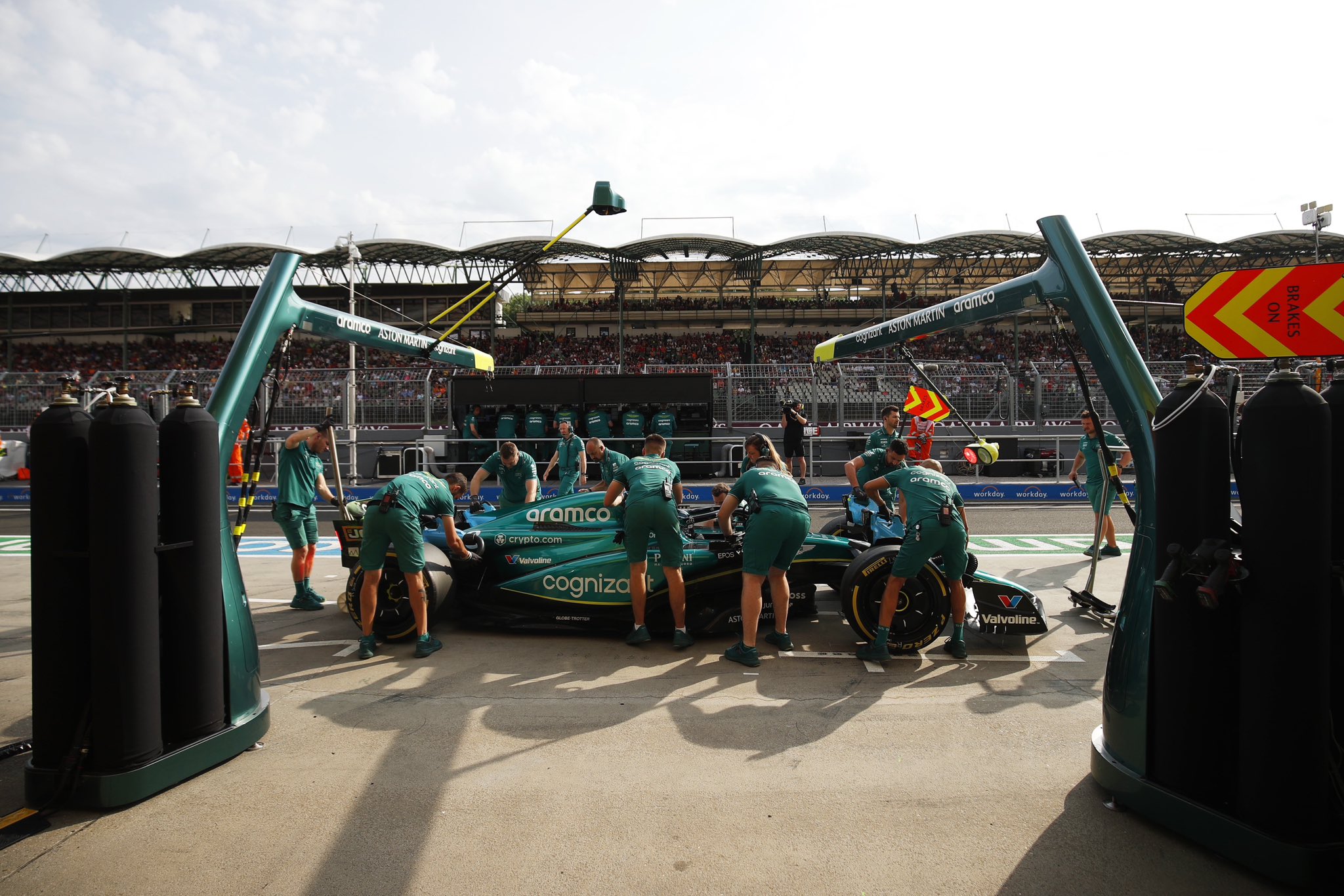 Fernando Alonso: "It was a mixed day with some rain and windy conditions at the Hungaroring. We lost time in FP1 and didn't get much track time in, but it was the same for everyone. I think we maximised FP2 and collected a lot of useful data, particularly in preparation for race conditions.
"Generally, I am quite happy with today and we'll see what we can do tomorrow in qualifying with hopefully dry conditions."
Lance Stroll: "It was good to be back on track at the Hungaroring today; it's a circuit I really enjoy driving. We had limited running in FP1, only recording about 10 laps due to the heavy rainfall. FP2 became busier with a few different test items to run on the AMR23.
"Thankfully, the rain held off and we got a good number of laps in and worked through a decent amount of the programme. I think there are still a few changes we can make ahead of Qualifying, so we'll work through our learnings tonight and look forward to tomorrow."
Alpine: Both drivers are pleased with today's work
Esteban Ocon: "It's always emotional to drive around this circuit with all the great memories we've had here. It's been a decent day for us, which started with a rain interrupted first session. In the afternoon, we had some good running in Free Practice 2 with the car feeling good overall, and we managed to stick to our programme without any issues.
"There are some things for us to work on but, overall, we have potential and I hope we will be in good shape for tomorrow. Qualifying will be interesting with the new mandatory tyre choice for each segment so we'll prepare the best we can for that. We're looking forward to seeing what we can do on this track and we're fully focused on delivering a good result for the team."
Pierre Gasly: "It's been a solid Friday in Budapest with the one meaningful session in Free Practice 2. I'm happy with today's work and it's always nice to be inside the top three on the leaderboard. Free Practice 1 was not representative in the wet conditions where we ran a couple of install laps.
"The car felt good and consistent and we have a couple of things to work on to find more lap time ahead of tomorrow's important Qualifying session. We will keep our heads down, keep working hard as a team as there is a long way to go this weekend where our end objective is to come away with as many points as possible."
Otmar Szafnauer, Team Principal: "We can be satisfied with our start to the Hungarian Grand Prix weekend where both cars have run consistently and competitively during Practice today. We have a new circuit-specific front wing here, which has worked to expectations and, overall, our package seems well suited to the demands of the Hungaroring.
"We will keep working hard as a team to put ourselves in a strong position for Qualifying on Saturday afternoon; an all-important session given the nature of the track. Both drivers are pleased with today's work and look forward to extracting more performance from the car when it counts."
Red Bull: Very hard to comment on the new upgrades
Max Verstappen: "It is very hard to comment on the new upgrades after a limited amount of running, we will look through the data to see if everything is correlating well because we haven't actually used a lot of tyre sets today. With this new format you are super limited with the tyres you can use and I didn't want to use them today, so we could have a better preparation tomorrow.
"We want to be the quickest in qualifying but first we need to do a bit more running with different tyre sets to get a better understanding. The car felt not too bad, there was a bit of understeer but when I went out on the long run we looked competitive, it's difficult to say over one lap pace but overall the car is still strong."
Sergio Perez: "Today, the incident in FP1 was a mistake from my side. However, the Team have done a tremendous job to get the car together so we could get some laps in for FP2 and, with the new tyre format this weekend, it was great to get some good information and data to look through.
"Regarding our new upgrades, it is quite early to comment and understand how they will come into play, but we will have a better idea of this tomorrow. Finally, I am positive about qualifying and we have everything in place to go out and have a solid weekend."
Haas: All-in-all not unhappy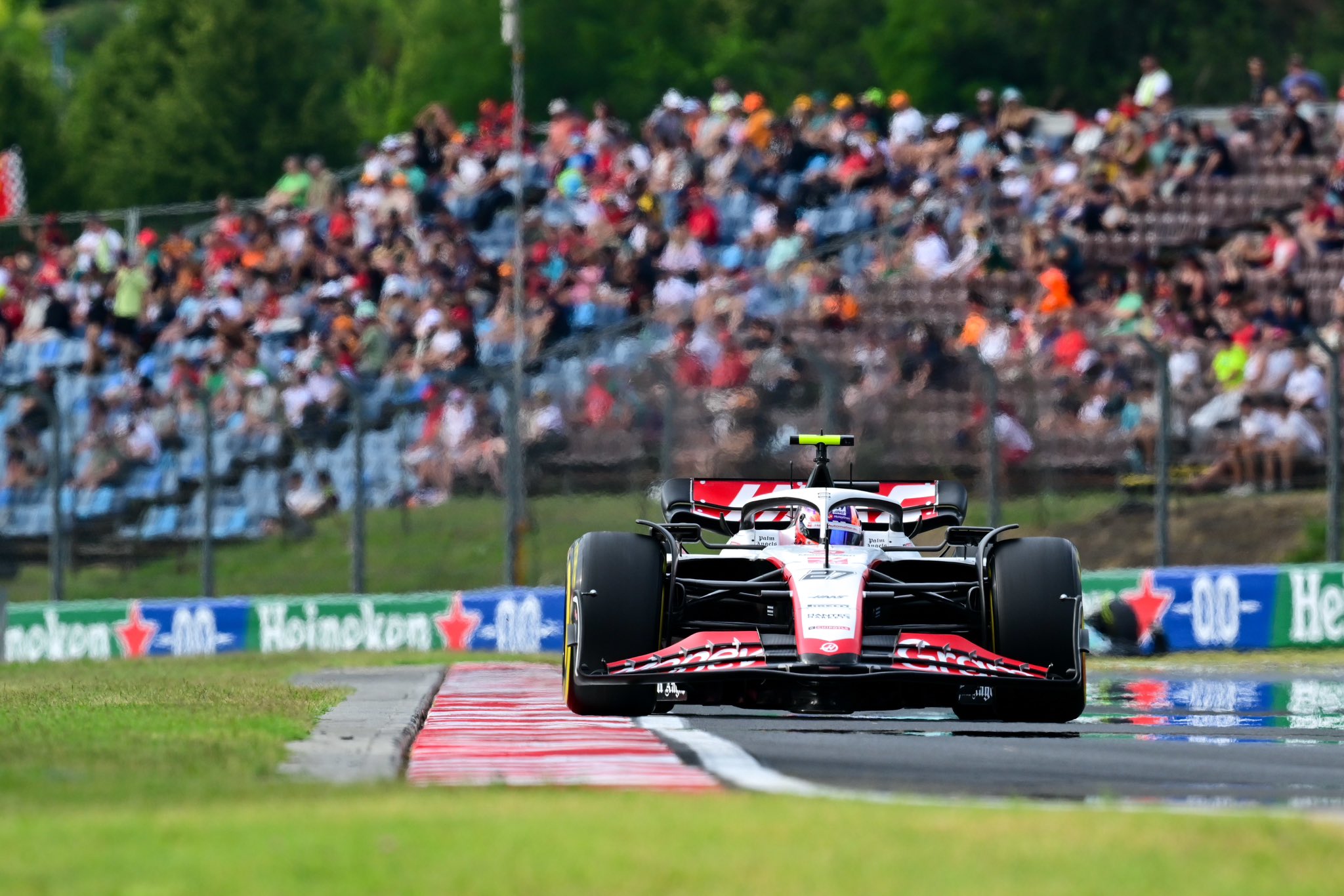 Kevin Magnussen: "Today was still useful, we got some dry running there in FP2, FP1 of course was not of much use. It's interesting none the less. It just feels like a bit of a compromised Friday with this tire situation, a little bit less interesting in a way. It is what it is though and it's the same for everyone, so we'll see how it goes tomorrow. I don't think it'll change a lot, but we'll know tomorrow."
Nico Hulkenberg: "It was a Friday! We know one-lap pace is our strength and the long run looked a bit more difficult again, it didn't feel too great from inside the car, so we're looking into it to see what we can do. Going forward weather-wise, between tomorrow and Sunday it looks very hot, and tomorrow we have the new quali sequence of which tires we can run. Using the hard tire in Q1, I think that will be quite difficult for us, but we'll see what we can do. We'll push hard and see if we can progress."
Guenther Steiner, Team Principal: "FP1 was very disrupted because of the rain – there was no clear picture to be taken. In FP2, we did our test program without having any issues which was obviously positive. We need to go through the data of what we've seen because we had the cars on different specifications, but all-in-all not unhappy, we'd just like to see what we can take for tomorrow."
Alfa Romeo: Q3 will be our main target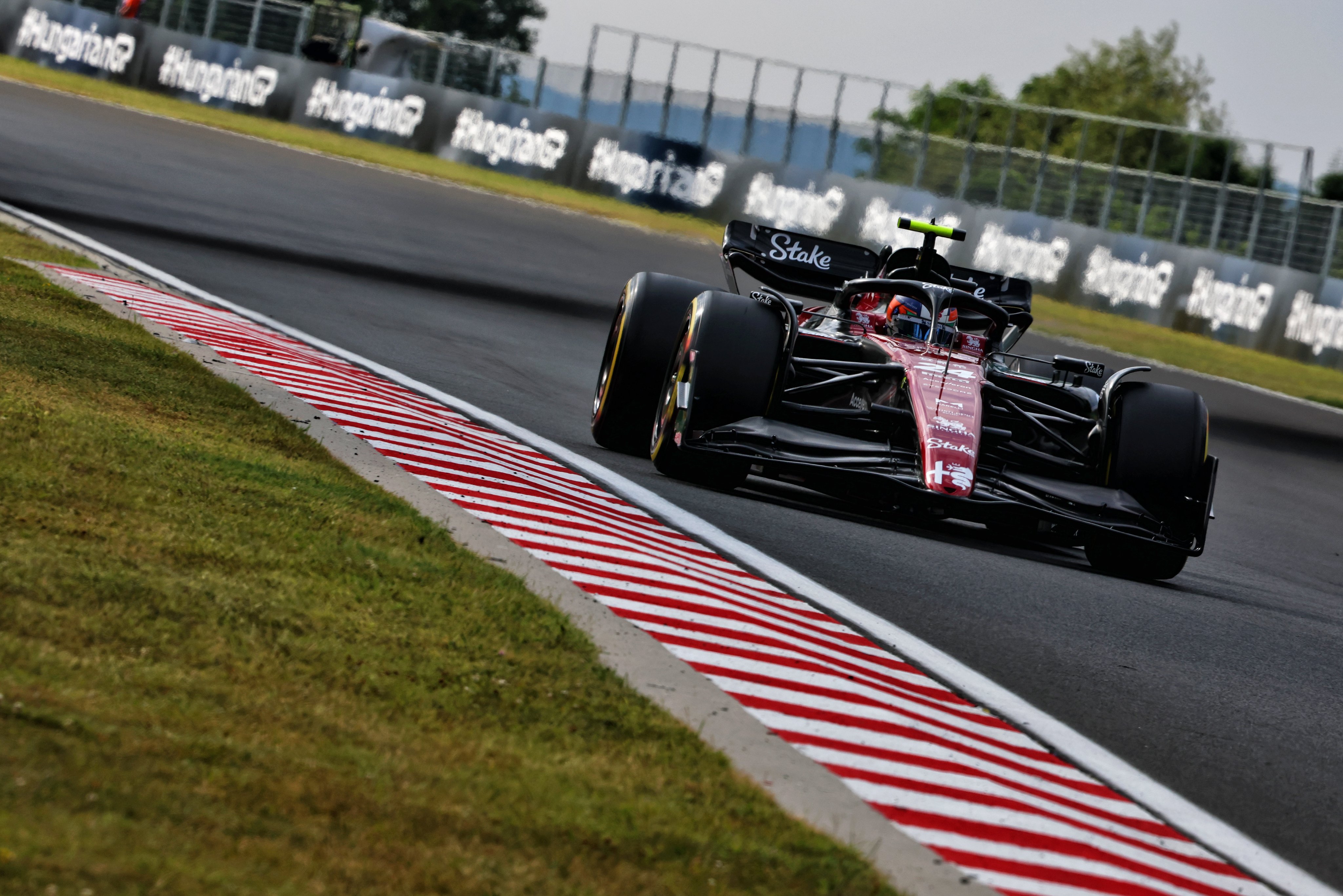 Valtteri Bottas: "We got decent running during the second practice session, contrary to the first one, when we could only do a handful of laps because of two red flags. The medium tyres seem to work well on our car, and stability seemed good, which is especially needed on this track. Overall, it's safe to say it has been a positive day of learning.
"Of course, like always, Q3 will be our main target tomorrow, as it seems this track layout is suiting our car better; there is still work to do, and an important session ahead of us tomorrow. Qualifying will be very interesting, with the new compound rules, and I am looking forward to that. Our effort tonight will go into fine-tuning our package even more, in order to come fully prepared ahead of Saturday."
Zhou Guanyu: "I have been quite happy with the car today, despite the circumstances meaning we only had the second practice session to get the most out of the car. So far, everything seems to be heading in the right direction, but it is obviously difficult to predict what will happen in qualifying now. Looking at today's results, we appear to be in a stronger position than we were in Silverstone.
"It will be of course interesting to see how our car will perform on the hard tyres in Q1 tomorrow: no one has that answer yet. Being all on the same compound tomorrow will be challenging, and we will make sure to further optimise our performance during the third and final practice session in the morning to fully extract our potential in Qualifying."
AlphaTauri: The updates we've brought are working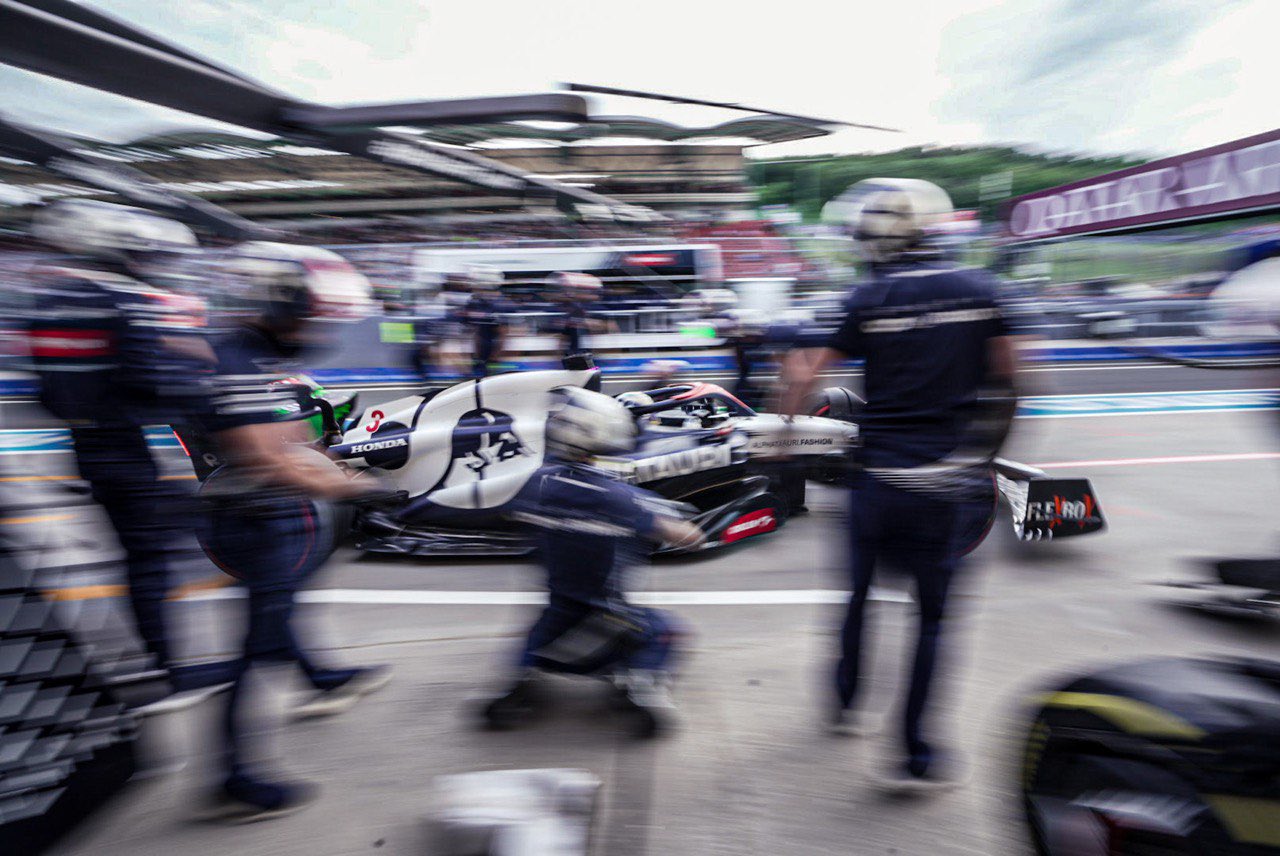 Yuki Tsunoda: "I'm sure other teams didn't show their full potential so it's hard to know our position compared to the rest of the field, but so far, I'm happy how the sessions went today. Hungary is hard on tyres, especially on the C5 soft tyre compound we're using this weekend, but it allowed us to gather more data about the car, where I felt confident with the consistent balance throughout the long runs.
"We tried the medium compound, but because the track was cooler than what we're expecting on Sunday, we feel it isn't representative. Overall, the step I felt going from the medium to the soft compound was a big, positive one compared to the season so far."
Daniel Ricciardo: "I think the position isn't too relevant at the moment. Today was more about feeling where I'm at with the car. Obviously, there's a lot of outside attention, but as soon as I put the helmet on and got in the car, it felt familiar, like I had never left. Obviously, this morning we didn't get anything except one lap in the dry, but this afternoon, the car felt ok and not too bad. I felt comfortable quite quickly and started to feel the limit of the car in FP2.
"Tomorrow I'll get a bit more out of me, and there's for sure some things about the car that we can improve on. We'll do a bit of work tonight, but nothing crazy. Right now, I'm optimistic. Yuki had a good day, so if we put it all together tomorrow, we can do ok."
Jonathan Eddolls, Chief Race Engineer: "It's been great to welcome Daniel back to the team, and we've all been excited to get to work with him trackside. We had a good plan to maximise the running with him today, get him comfortable with the car and get his feedback on the handling characteristics, but the conditions in FP1 hampered that. We managed to get a few sectors together before the rain came, but we couldn't complete a timed lap.
"The rain intensity increased, and eventually, the conditions were wet enough for the intermediate compound, where we struggled with overall grip and warming up the tyres. FP2 was fully dry, so we were able to recover the plans, with both drivers completing short runs on the medium and soft tyre, before the usual long runs for race preparation.
"Yuki's lap on the soft compound was clean and looked very competitive, but with the ATA weekend, the focus will be on optimising the hard and then medium short-run performance in preparation for Q1 and Q2 respectively.
"Daniel was quickly up to speed on the medium tyre and slightly under-utilised the grip on the soft compound, so there's definitely more to come. We've been impressed by his performance and feedback so far, and he's fitted straight into the team like he never left. The updates we've brought are working, and we look forward to seeing what we can achieve in quali tomorrow."
McLaren: We didn't get quite as many laps as we would have liked in FP1 and FP2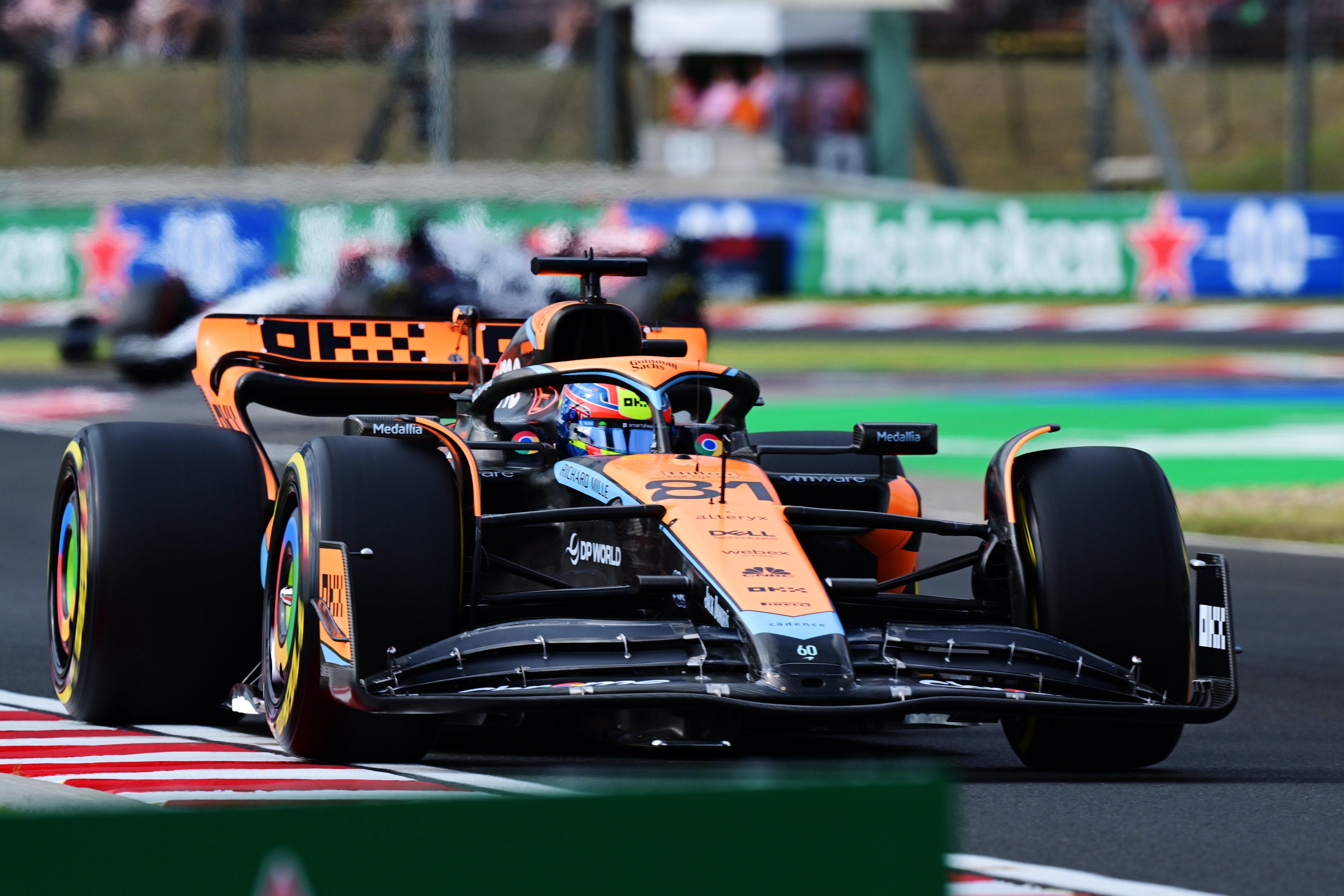 Lando Norris: "It's been a good Friday. I'm relatively happy with the overall pace of the car but there are some things to work on ahead of quali. I feel like I'm not able to push quite as much as I would like in a few places on the track, so I think we've got a little bit more to unlock – but we've started off with a decent balance. I would say our improved pace since the upgrade has continued to help us and give the team confidence in some of the high-speed corners – but the slow-speed corners are still the ones we're trying to focus on and improve."
Oscar Piastri: "Friday done, FP1 looked very encouraging in the wet and despite a little bit of floor damage for myself in FP2, we looked pretty solid overall. I missed a bit of running in the middle of the second session due to the damage, but the team did a great job to get the car back on track for valuable laps. I feel like I was in a reasonable place in both sessions, so I'm pretty happy with that. We look to have decent pace, so we'll look into the data overnight and prepare for what tomorrow brings."
Andrea Stella, Team Principal: "The variable weather in FP1, and then some floor damage to Oscar's car in FP2, meant we didn't get quite as many laps as we would have liked today – but despite the limitations, we gathered some useful data, about the car and tyres, in preparation for qualifying and the race. We'll work as usual overnight to analyse what we have learned and prepare as well as we can for what will be an interesting debut of the Alternative Tyre Allocation format."
Mercedes: After FP2 there's plenty of work to do with the car balance
Lewis Hamilton: "We only used one set of dry compound tyres today. With the 'Alternative Tyre Allocation' format we get less running, which is not ideal from a driver's perspective. We will have more flexibility in terms of what tyres we run in FP3 tomorrow though.
"The car wasn't feeling great today, but we will be working on the set-up overnight and hopefully make some improvements for tomorrow. We typically start off lacking a little pace. Through the work we do and changes we make, we typically tend to find some more speed as we progress into the weekend. I'm hopeful that tomorrow the car will feel better."
George Russell: "We were on a very different programme to everyone else today, only using one set of the Medium compound tyre throughout. For FP2, that meant we were running a used Medium tyre, so the lap times don't give a true representation of our pace. I'm sure tomorrow we will be better. We're just focused on trying to improve.
"We know we tend to improve as the weekend progress, which is the right way around. We learned a few interesting things even in that one dry session. We're struggling with a bit of overall grip and the tyres didn't feel like they were in the right window on both low fuel and high fuel.
"We need to understand why that was, but these are difficult things to assess during a session. We will work on that overnight; it wasn't our best day for sure but that's not the first time we've said that this year. Saturday and Sunday tend to be better so I'm looking forward to the weekend."
Andrew Shovlin, Trackside Engineering Director: "FP1 was not a great deal of use due to the timing of the red flag and then the arrival of the rain. We carried a lightly used set of Medium tyres into the second session; we did some work on lower fuel levels but focused more on the long run. Most teams took a second set of tyres today, something we chose not to do. That's the main reason we don't feature higher up on the time sheets. The benefit will come in the learning for qualifying, where we have two new sets in FP3.
"There's plenty of work to do with the car balance on both the single lap and long run, which is useful as the field is looking very tight. We also have the challenge of different compounds in each segment of qualifying, meaning the out laps need to be adjusted continuously. We will review all the data tonight and see what we can do tomorrow."
Ferrari: It was a strange Friday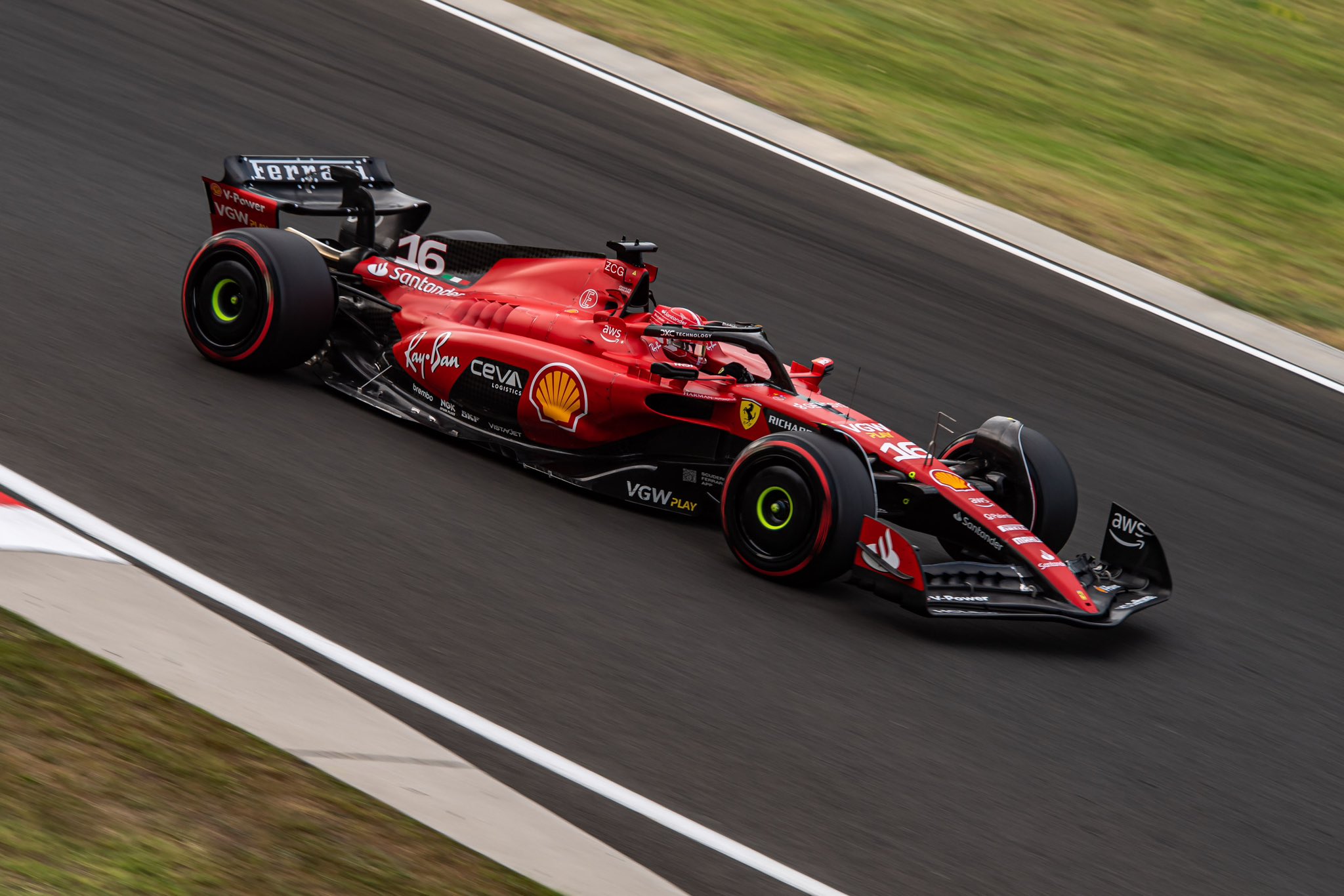 Charles Leclerc: "It was a good day overall, although it is still difficult to read into the other teams' performance as everyone is running different programmes in light of the new format. We did everything we planned to do and the feeling in the car was pretty good so let's see what we can do tomorrow."
Carlos Sainz: "It was a strange Friday. FP1 was affected by the rain and in FP2 we had to work taking into account the new format we will run this weekend. In the short run I had quite a bit of traffic with the high fuel runners while in the long run I felt a bit better even if we didn't do too many laps. Overall there is margin to improve ahead of tomorrow so we'll get on with it straight away."
Team Report: Scuderia Ferrari had a reasonably productive day at the Hungaroring, considering that the first free practice session was not very useful, because of two red flag periods and the fact that rain hit the track after the first 20 minutes. In the second hour, Charles was quickest overall, with Carlos tenth, the latter partly down to traffic costing him some time.
Williams: The car is a lot better here than it was last year
Alex Albon: "It was a good day for us with the car feeling okay out there, and it being possible to get it into a pretty decent window. It does highlight that it's not a track that really suits us so even though the car felt good, relative to our rivals, we're still lacking a bit of pace which is to be expected. However, thinking about it from last year, the car is a good improvement, but we still need to do a bit more for tomorrow if we want to get into Q2."
Logan Sargeant: "It's been a disjointed first day here in Budapest with mixed conditions between FP1 and FP2. The car is in a decent window but there's plenty to find ahead of tomorrow and plenty of work to do overnight."
Dave Robson, Head of Vehicle Performance: "Although FP1 was disrupted by some rain and red flags, we had a decent day. This is the first of the ATA events, which has led to some alternative run plans amongst the teams, but we are happy with what we chose to do, and we will see tomorrow how this plays out. Both drivers were mostly happy with their cars. However, we will make some changes overnight as we look to stay ahead of the changing track conditions.
"The car is a lot better here than it was last year, but the Hungaroring still doesn't suit the natural strengths of the FW45. We will push as hard as possible tomorrow and aim to use the new qualifying format to help us achieve a good result. The race will be challenging, but with overtaking usually difficult here, any places that we can make tomorrow will help us achieve a strong result on Sunday."