A resurgent Williams team was the talking point of the Formula 1 paddock on Friday evening at Silverstone, after Alex Albon and Logan Sargeant finished FP2 third and fifth fastest respectively.
It was a jolt-inducing performance by the 'ultra-quick-but-not-much-grip' Williams on the day, which even had rival Red Bull boss Christian Horner commenting about them in his team report: "Super impressive Williams, not just Alex but both the guys. They're proper laps and not just one lap, their long runs look pretty sensible as well. Based on that pace they would be a factor in the group behind."
Although no doubt buoyed by the showing, Albon played down the performance in the Williams team's Friday report from Silverstone: "Obviously a very good day. I think we need to stay true to ourselves as we don't know what everyone else is doing. Looking at the timesheets you can't not be happy, but I think it's better to just focus on how we can continue to improve, as there's still more to look at. Let's also hope tomorrow stays dry."
The time sheets show that the latest updates have worked a treat, plus the car feels at home at a venue where Williams won the Grand Prix ten times under Sir Frank and the winning machine his team was for decades.
The once-great team last won in F1 when Pastor Maldonado triumphed for them at the 2012 Spanish Grand Prix. Their last F1 driver's title belongs to Jacques Villeneuve, World Champion in 1997. The year of their last F1 constructor's world championship wins too.
Sargeant finally had a decent session worth noting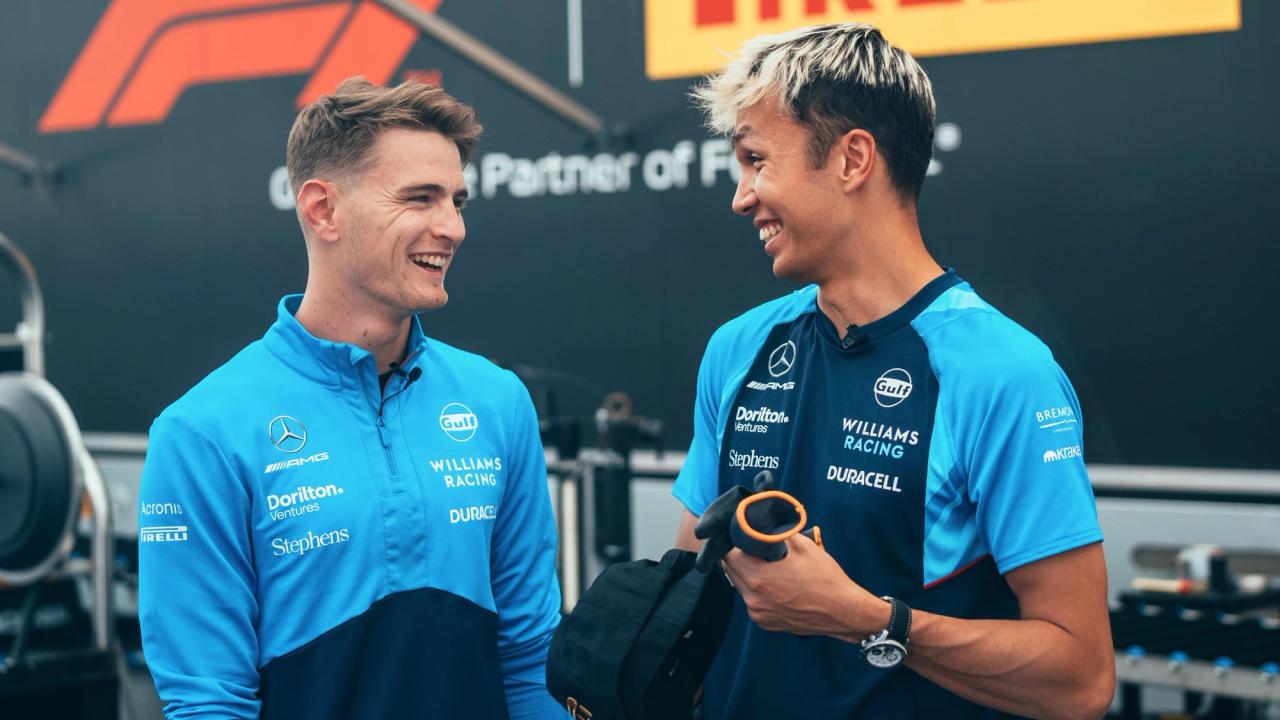 American rookie Sargeant looked decent for a change relative to the on-form Albon, although he was lacking almost half a second to his teammate it was a good day for him and a much-needed morale booster for a driver that has yet to convince he belongs in F1. Today served him well.
Sargeant reflected on his day: It was a decent Friday, despite being quite tricky with high temperatures and high winds, making it very unpredictable throughout the lap. We've done a good job to get on top of it.
"However there are still some improvements to make ahead of tomorrow. Either way, it was a great day driving this amazing track and I'm looking forward to Saturday," added Sargeant who has yet to make it into Q3 so far in his short F1 career.
Dave Robson, Head of Vehicle Performance gave the team's perspective: Alex and Logan were very strong today and set fast laps in tricky conditions, however, the conditions are likely to vary over the next couple of days and we still have a lot of work to do to secure a good result. We'll focus on the things we can influence and try to maintain the good momentum into Qualifying."
As for the newfound pace in the Williams, Ribson ventured: "This is the first time that we have seen the upgrade package, which we introduced in Canada, run on a circuit as demanding and varied as Silverstone. This has enabled us to collect a lot more data than was possible in Canada and Austria and will help us understand if the development direction was correct."
The next two days at Silverstone will reveal if indeed Wiliams have made a jump in the pecking order with their new upgrades. For now, having the best Mercedes-powered car on the day will be a good feeling for the team down on good results.