Max Verstappen powered to victory at the 2023 Austrian Grand Prix, a race he dominated at Red Bull Ring. the Dutch ace was on his own planet and no one was close.
It must be said, that this edition of the race in Austria will be remembered as the 'Track Limits Grand Prix' as a slew of deleted laps and subsequent penalties, marred the race for many drivers and is clearly an area the FIA and Formula 1 have to tackle with urgency.
#F1 The #AustrianGP ………….. something with tracklimits. 😛 #MsportXtra pic.twitter.com/Lff7gFZKAo

— #MsportXtra © (@MsportXtra) July 2, 2023
As expected Max Verstappen won the Austrian Grand Prix, at Red Bull Ring, Round 9 of the 2023 Formula 1 World Championship, with it extending his lead in this year's Title race.
Red Bull Ring swathed in the Orange of Verstappen's army of supporters celebrated another commanding victory, on a weekend the Dutch ace was about a second a lap quicker than everyone on race pace, to add to his win on Saturday on a weekend of big points bagged.
It was another faultless race by the soon-to-be three-time F1 World Champion, the stats do the talking on a day he did Dietrich Mateschitz proud, Verstappen also became the most successful driver at Red Bull Ring, his seventh win of the year, Grand Prix victory number 42 for the 25-year-old. So confident was the World Champ, he convinced his team to stop for a fresh batch of tyres to ping the fastest lap for that extra point.
Audacious. Ballsy. Just Maximum Max!
Verstappen summed up his 172nd Grand Prix race in parc ferme: "Most important for me was lap one to stay in front. After that we could do our own race. We opted not to box under the VSC and do our normal strategy and that worked out well. Our stints were perfect and I enjoyed it a lot.
"I could see the few laps before the VSC we were pulling out quite a gap so I knew we would get them back eventually. Following our own plan was the best way forward."
The result means that Verstappen is now on 229 points in the lead of the 2023 F1 Title race; 81 points ahead of Red Bull teammate Perez in second place. This site has already anointed him 2023 World Champ after his Canada win. This one further dries the cement on WDC three for Max.
But he is not counting his chickens just yet: "I don't like to think about (the title) yet. I'm just enjoying the moment driving this car and working with this team. The Sprint weekend is always hectic and a lot of things can go wrong but luckily a lot of things went right – I'm just very happy with this weekend and we'll focus again on Silverstone."
Simply put no one came close to Verstappen on Sunday, make that also on Saturday as well as Friday. And as written in our preview, this Grand Prix was going to be about who would finish second behind Max. And indeed that saga did deliver entertainment.
Leclerc: It's good to be back on the podium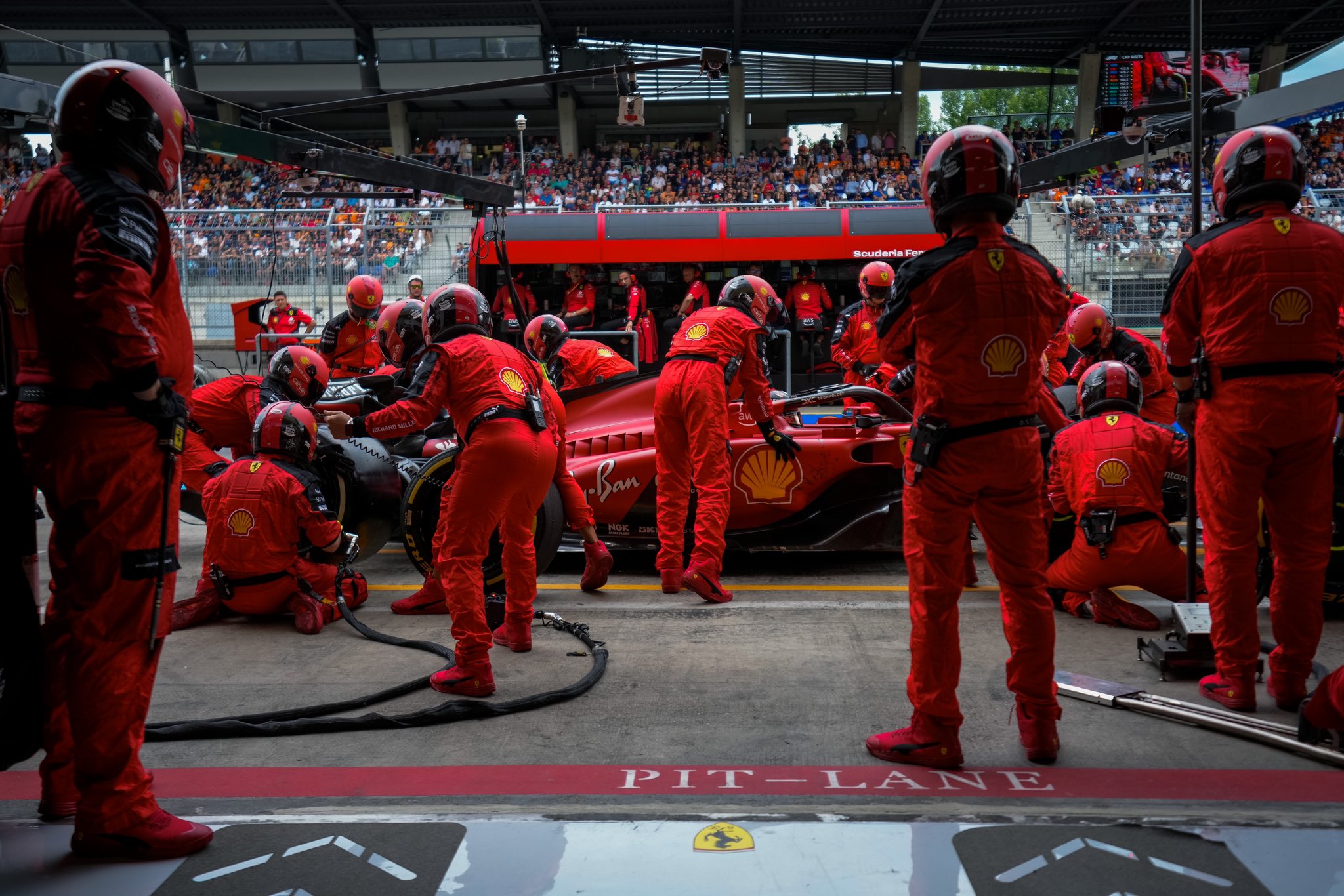 Last year's winner Leclerc finished second. From P2 on the grid, early on the Ferrari driver tried his best to get by the Dutchman, but to no avail. Thereafter he kept his head down, perhaps sacrificing pace to conserve tyres on a track where degradation proved to be higher than expected.
Apart from Verstappen, his teammate Perez might've got Driver of the Day in any book, as he turned P15 on the grid to the final step of the podium. His battle with Sainz for third place was a highlight of the race, as they slugged it out hard but fair until the Ferrari's lesser firepower forced the Spaniard to capitulate to the Mexican's potent Red Bull.
Nevertheless, a good day for the Reds, clearly number two in the pecking order as the halfway mark of this season fast approaches.
Leclerc was chuffed to be on the podium for the first time since Baku, only his second top-three finish this season so far: "I think Friday and today we maximised what we had. It was more yesterday that I was off the pace.
"It's good to be back on the podium. The upgrades we brought on the car made me feel better in those conditions which is good for the future. The team has done an excellent job to bring these upgrades earlier. But obviously, there's a lot of work to do because Max and Checo had a lot of pace," insisted the Ferrari driver.
As for leading the race at one point, when Verstappen pitted for fresh rubber, Leclerc said: "We are struggling a lot in dirty air so I was just trying to get track position even though we knew in the long-term for the whole race it would have been difficult to keep Max behind with the race pace he had.
"But I tried and it wasn't enough but it's good to be back on the podium, especially after the last few races which have been a bit more difficult," explained Leclerc.
Perez: Hopefully now we are back and can keep that consistency
Third-placed Perez said in parc ferme: "I'm, really happy. It's been a very difficult weekend for me, personally physically I've been really weak. I was sick on Thursday and it hasn't been an easy weekend with high fever and little sleep.
"Great recovery from the team, fantastic strategy and we had great pace. It was very hard but fair (with Carlos). Always a pleasure to race them. It's been a bit of a rough patch for me but hopefully now we are back and can keep that consistency," added Perez.
Carlos Sainz appeared to have more pace than his Ferrari teammate and asked to be let through. But Ferrari did not oblige the Spaniard, instead, they double-stacked their pitstop when a VSC gave them the chance to nip into the pits. And of course, the Reds fumbled Leclerc's stop, while Sainz waited in the pit lane, as a podium finish went begging. Fourth his reward.
Best of the Rest and Driver of the Day was Lando Norris, fifth place was his reward for a tough day in the trenches, battling Lewis Hamilton a key point in his race. McLaren certainly found something with their latest updates, and with this their driver delivered.
The only top ten driver to start the race on Hards was Fernando Alonso, the Aston Martin driver coming home in sixth place after a gritty race at a track he has seldom done well at. He fended off Hamilton, who dropped down the order from fifth on the grid to seventh, on an afternoon Sir Lewis did a lot of complaining.
In the other Merc, Russell on the other hand was pretty much anonymous on his way to eighth, on a day of harsh realities for the once serial F1 world champs aptly summed up by their boss Toto Wolff when he needed to fire up a disconsolate Hamilton over the radio: "Lewis the car is bad we know, please drive it."
Also pretty much off the radar all afternoon was Pierre Gasly, but he stayed out of trouble to finish ninth, ahead of Lance Stroll in the other Aston Martin. The Canadian dropped from a handy P6 on the grid, to P10 in a car good for sixth place at the end of the day.
2023 Austrian Grand Prix Result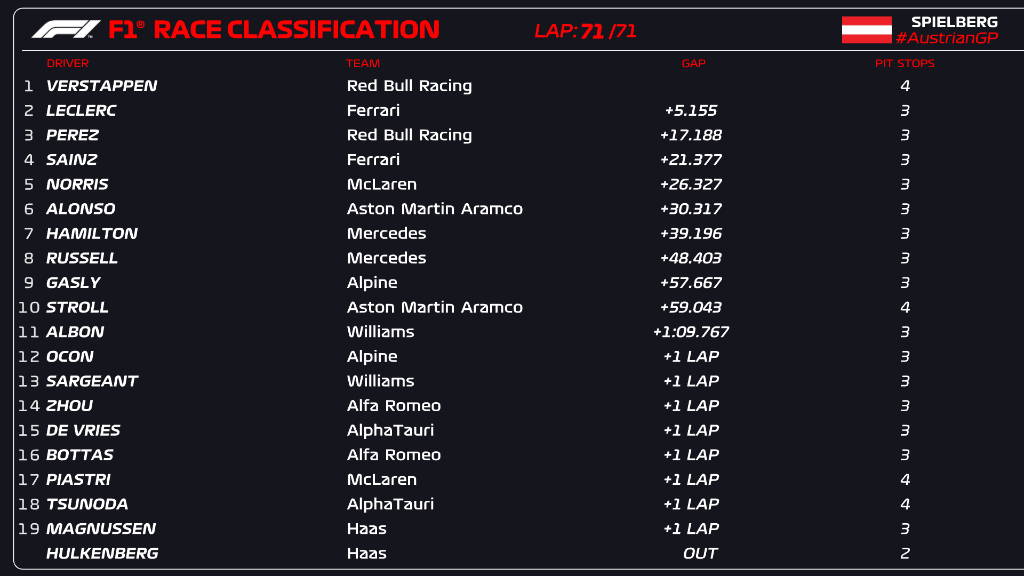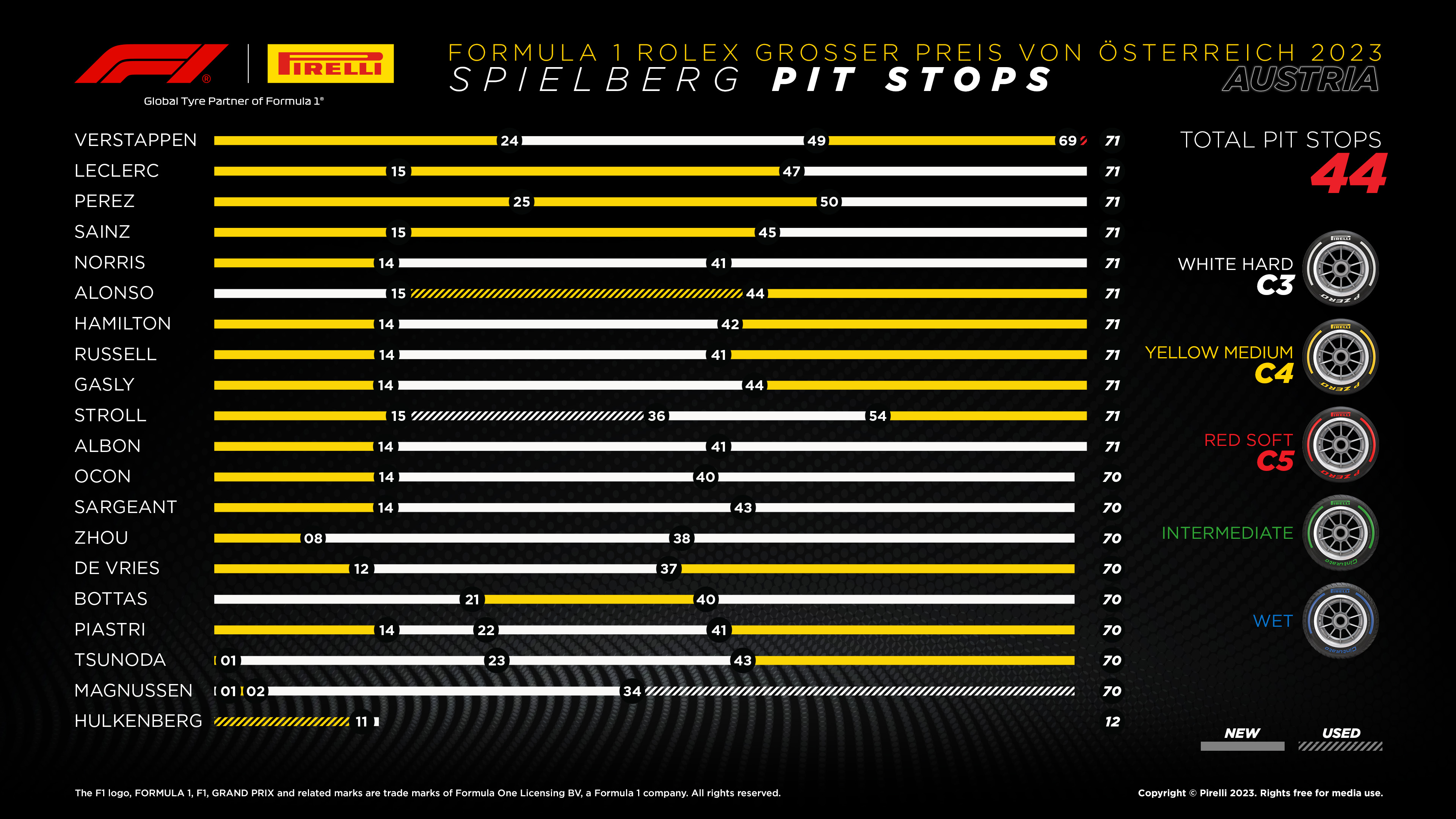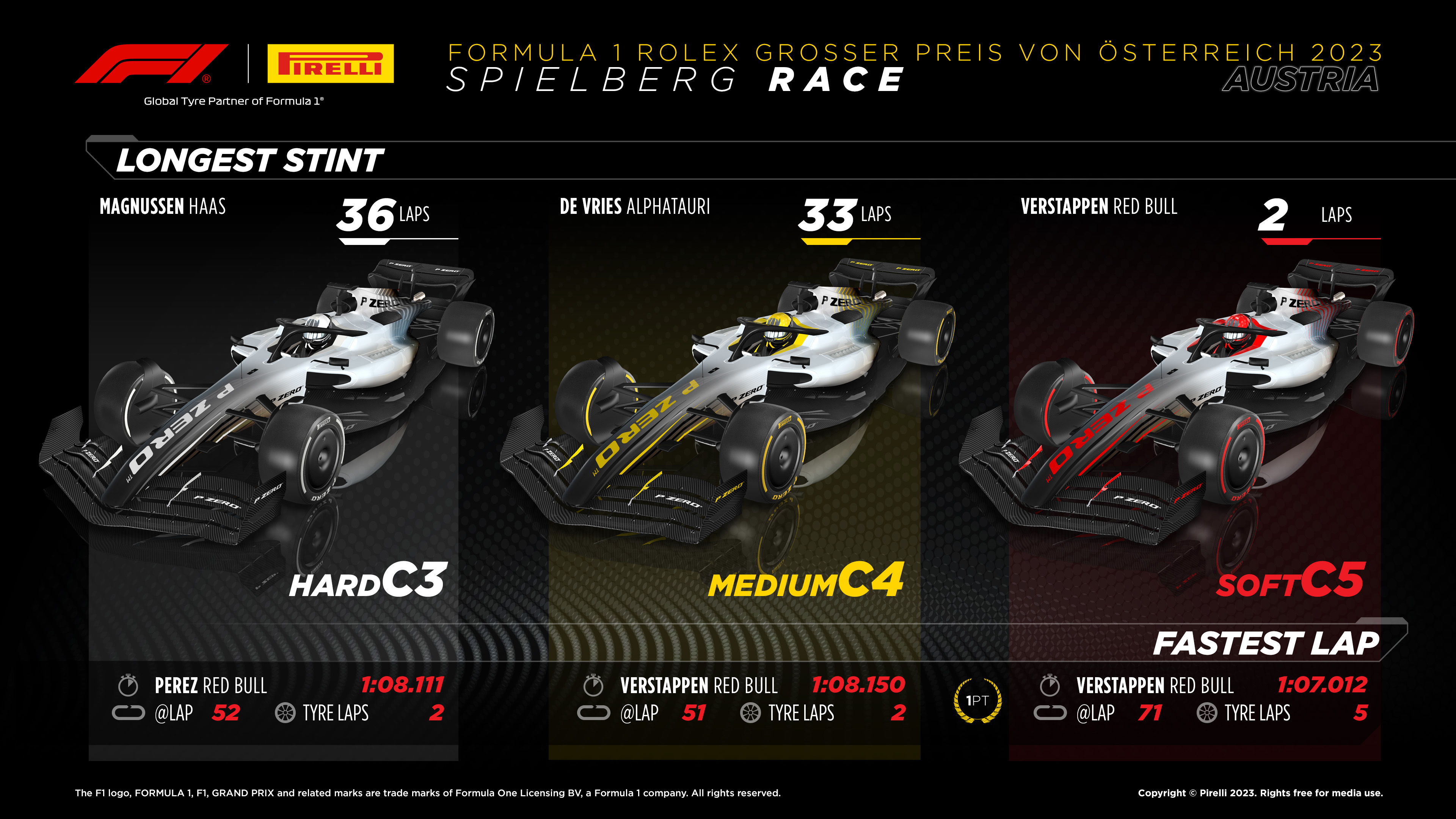 How 2023 Austrian Grand Prix unfolded:
Fittingly the minute of silence for Dilano van 't Hoff was respected, the Dutch racing driver tragically lost his life at Spa-Francorchamps on Saturday. F1 mourns with motorsport and the teenager's family.
Fernando Alonso became the cat among the pigeons, the only driver on Hards, Valtteri Bottas in P14 and Kevin Magnussen, who starts from the pit lane, also start on the Pirelli hards.
Clean start by the top three, Verstappen chased by a Feisty Leclerc bobbing and weaving with Sainz stalking. Norris went backwards, as did a couple of others in the top ten. But all neutralised when a Safety Car was sent out to remove debris in Turn 1.
The order for the restart was: VER-LEC-SAI-HAM-NOR-ALO-HUL-STR-GAS-ALB. Stroll dropped two, Norris one and Alonso the big winner up to sixth, behind Hamilton. Tsunoda went through the kitty litter in the process.
Restart at the end of Lap 3. Verstappen gapped it nicely, as did Leclerc not so much Sainz. Whatever the case, top three were unchanged. Alonso on Hards was looking sweet in sixth.
Soon the #1 RB19 was out of DRS range, 1.7s the gap he made in a lap and a bit with the fastest lap at that point. The Ferrari duo dropped back as they all but dueled among themselves. Norris and Hamilton were also in a battle, the McLaren driver moaning about track limits incurred by the Merc driver.
On lap nine, Ferrari had a discussion with Sainz about pace, as it seemed that the Spaniard had better pace than Leclerc ahead.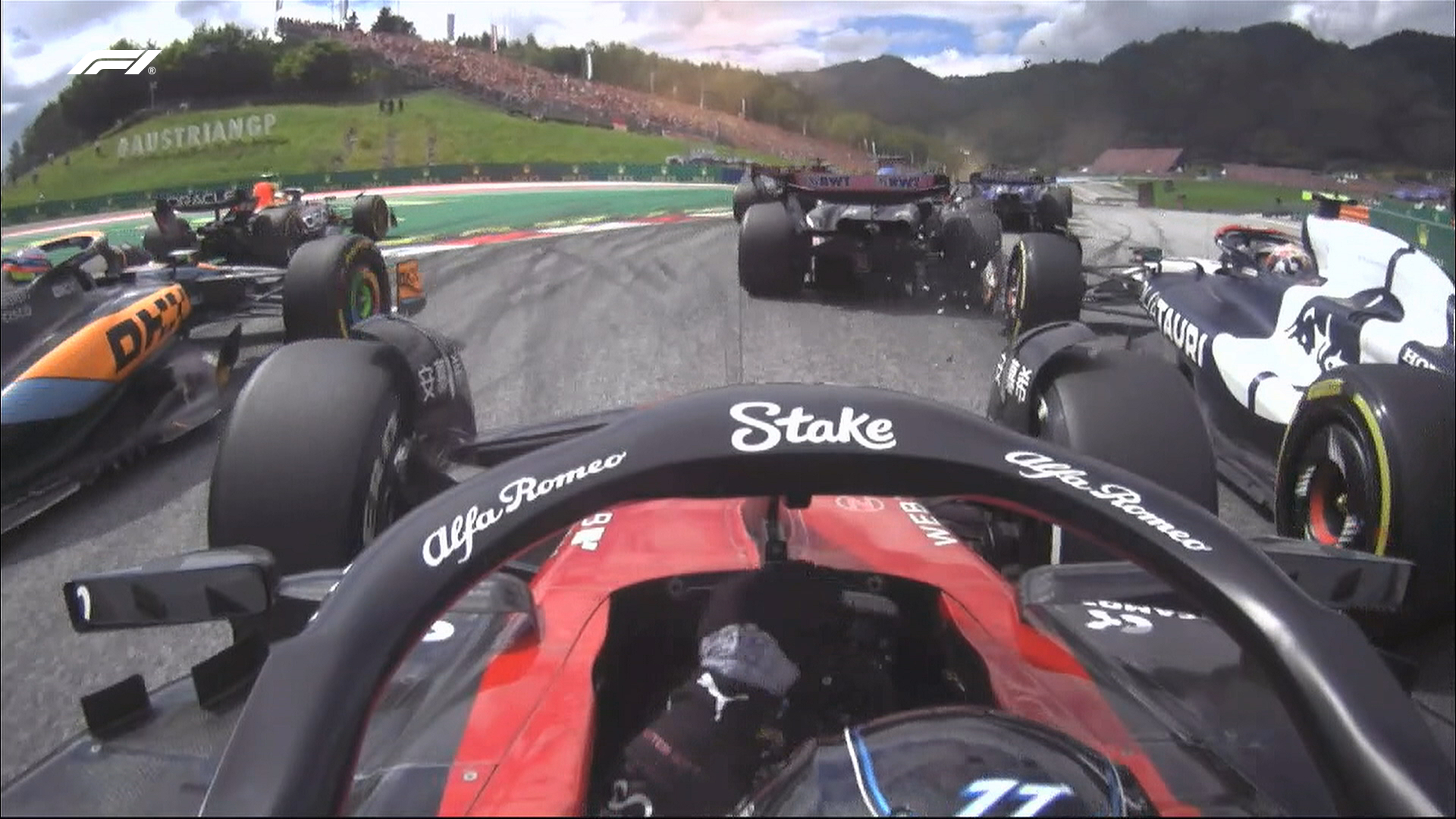 Lap 10 order VER-LEC-SAI-HAM-NOR-ALO-STR-HUL-GAS-ALB. From P15, Perez was rising through the field in 11th and reeling in rivals ahead with the race-winning car in his hands.
A lap later McLaren asked Norris to report over the radio Hamilton's track limits violations. the Briton cheekily said he would not stop talking as the Mercedes was exceding limits regularly. Hamilton got a white and black flag when told of it he said he was helpless as the car was understeering.
Perez made easy work of the slower drivers ahead, by lap 13 he was ninth, while Russell was also edging into the top ten.
Radios got busy, with Sainz again asking to be released from Leclerc's wake, the Monegasque a second slower than Verstappen.
Lap 15, Hulkenberg parks his smoking Haas for a DNF, prompting a VSC and a flurry of pitstops, including a double-stack which was appeared slow for both Red cars. The big loser was Sainz thanks to the flunked Leclerc pitstop.
It was all change when the pits quietened down. Verstappen led from Leclerc and Perez! But neither Red Bulls had stopped, the Ferrari had. Fourth-placed Hamilton got the track limits penalty he flirted with once too often.
Lap 20 the order was: VER-LEC-SAI-PER-HAM-NOR-ALO-GAS-TSU-RUS. Verstappen was in another race altogether 15 seconds ahead, like yesterday eking out a lead at an ominous one second per lap.
Sainz was on the move too, fully committed to hunting back the time his team lost him. By lap 22 he was back in third and popped the fastest lap to boot but on a final track limits warning.
Hamilton on fresh rubber reeled in Perez on the rubber he started with, the RBR got really wide as the #44 Merc bobbed and weaved in the mirrors of the #11.
On lap 25, Verstappen dipped into the pits and emerged on fresh Hards, Leclerc and Sainz were one-two for Ferrari. Game on as Charles led by 6.5 seconds, Sainz less than a second ahead was soon gobbled up by Max who was now second and six seconds adrift of leader Leclerc.
The #1 car just got faster and faster, as his teammate Perez also pitted, emerging ninth.
At which point, Norris got by Hamilton and got lucky at that point as Sainz got a five-second track limits penalty to put the third place in jeopardy after the race.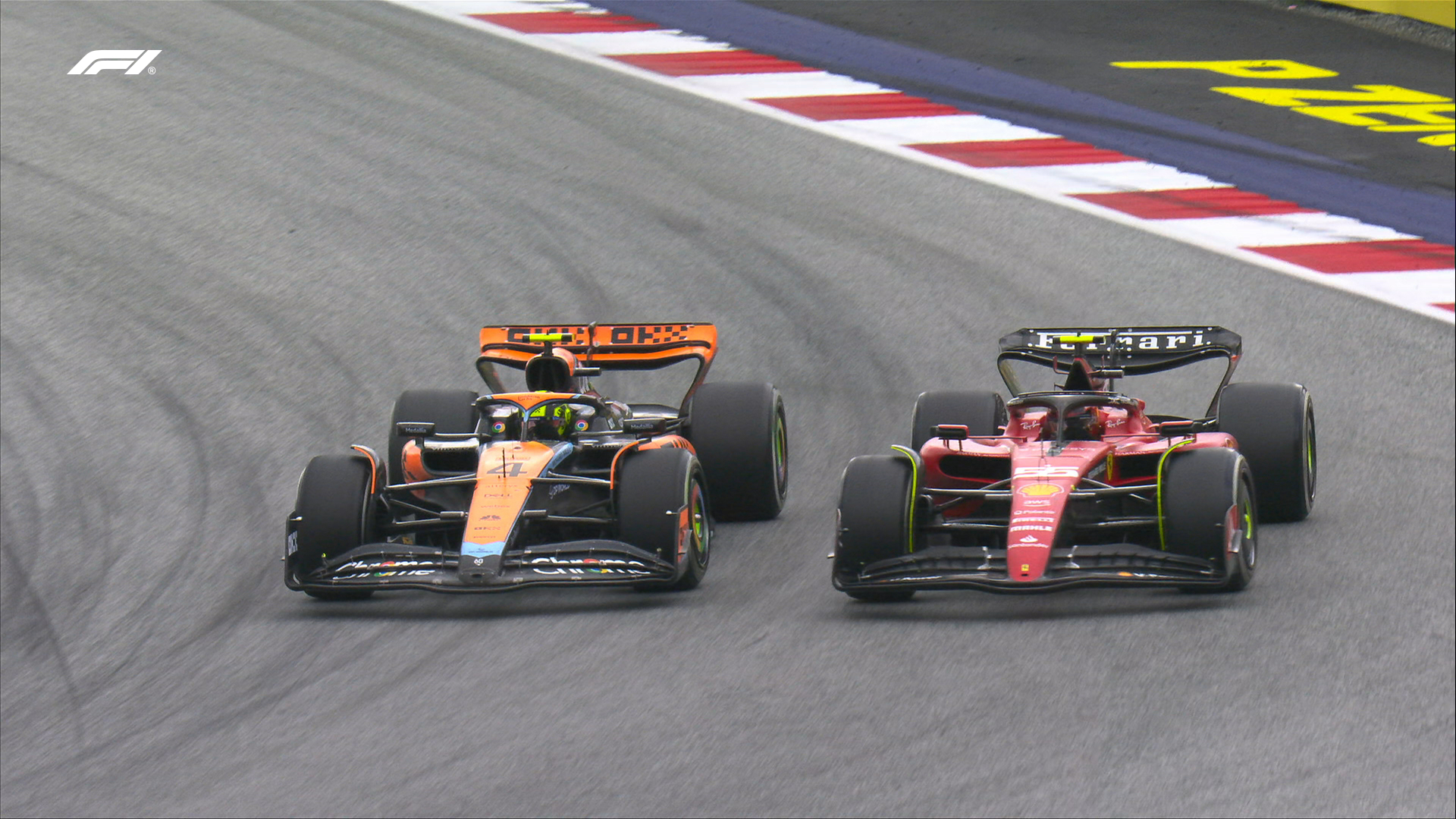 Lap 30 the order was LEC-VER-SAI-NOR-HAM-ALO-GAS-PER-RUS-ALB. Leclerc's lead was down to 3.3 seconds and closing rapidly with Perez also faster than those around him. Track limits were being broken constantly, with penalties looming for rule-breakers. Albon pinged.
By lap 34, Verstappen was on the bumper of Leclerc's Ferrari 'bumper' before he patiently, with seven-tenths in hand, no rush required and the #16 car obliged. He was P1 again. It was lap 35 and then he simply disappeared into the distance at around a second per lap.
Down the order, De Vries and Magnussen were at one another, the AlphaTauri driver sending the Haas out to dry and onto the sand exiting Turn 7. A penalty went the way of the under-fire Dutch rookie.
Lap 40 the order was: VER-LEC-SAI-NOR-HAM-ALO-PER-GAS-RUS-ALB. Verstappen leading by seven seconds, still increasing at a second per lap, with Perez also flying up the order.
The second pitstops began with Norris pulling the trigger first on lap 42 for his second stop. Notably, both Red Bull stayed out while their rivals sought fresh rubber.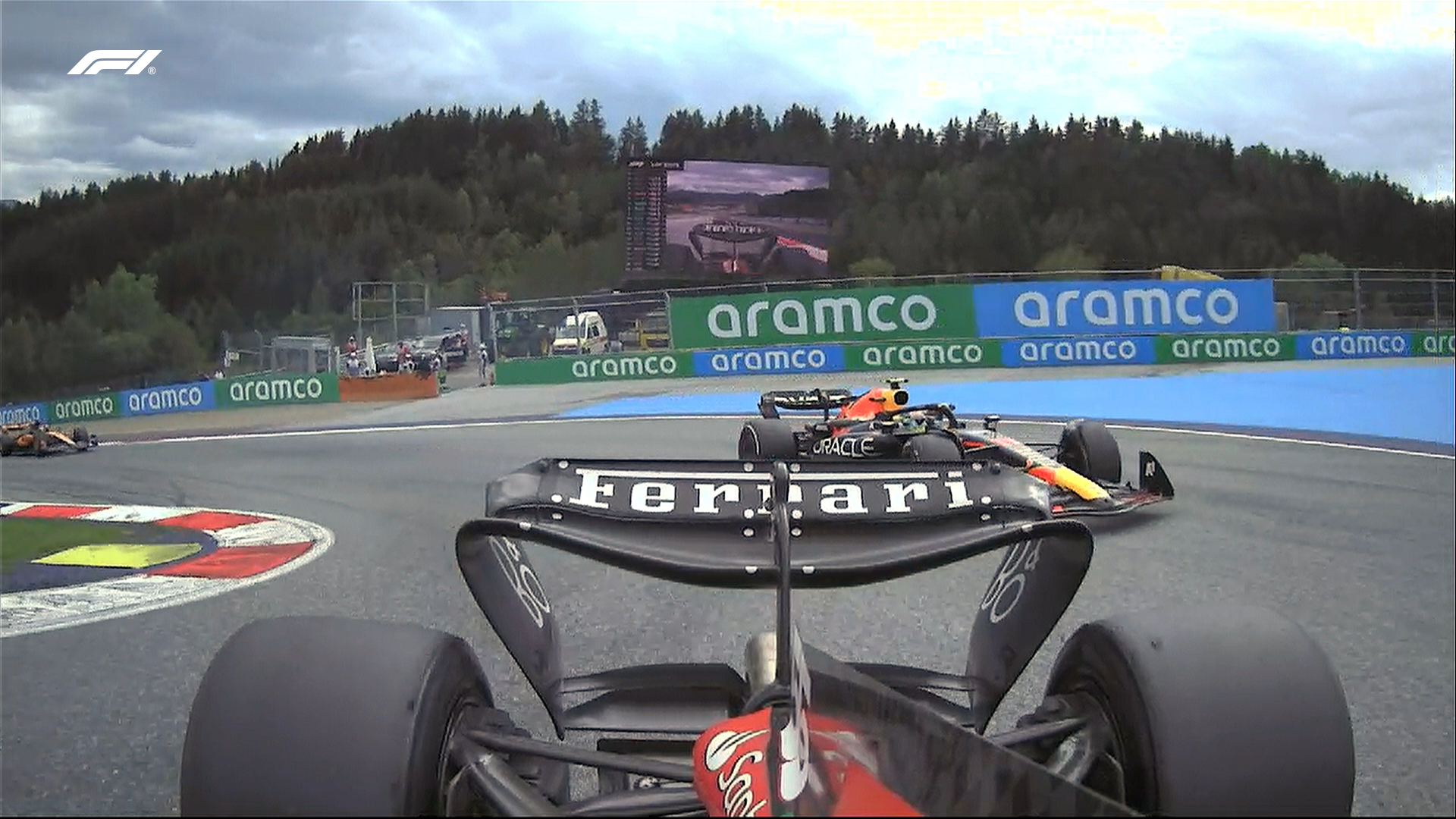 The order was VER-PER-LEC-SAI-NOR-ALO-HAM-RUS-GAS-ALB on Lap 50, at which point Verstappen pitted and emerged five seconds ahead of Perez, who had yet to stop. Leclerc was 12 seconds down on the lead, in third.
Perez pitted a lap later, on fresh Hards he tucked back into fifth place with Norris four seconds ahead in fourth, the McLaren within DRS range of Sainz. The RBR driver popping the fastest lap at that point. A podium beckoning. The battle for the podium was on.
With Hamilton complaining over the radio, Mercedes boss Toto Wolff popped him a brutal reality check: "Lewis the car is bad we know, please drive it." Phew! It's gonna be an interesting debrief.
Soon Perez was past Norris and immediately started harassing Sainz for third place on Lap 58. It was an enthralling duel, tight and close. Superb and respectful racing, Sainz on older tyres holding up Perez's charge. Master blockers at work. Top-class racing.
Lap 60 the order was VER-LEC-SAI-PER-NOR-ALO-HAM-RUS-GAS-ALB. Verstappen was now 21 seconds in front. On Lap 65, Stroll got by Albon, to climb into the points.