Saturday's Sprint Race for the 2023 Austrian Grand Prix was an eventful one, particularly for Ferrari, with drivers Charles Leclerc and Carlos Sainz once again showing that they, like many others, are still a long away from Max Verstappen and Red Bull.
The Sprint Race kicked off with a somewhat heavy level of rainfall, with cars starting on the intermediate tyre compound, including both Ferrari drivers. The weather soon eased off around halfway into the 100KM race, with both drivers opting for the soft compound when the track conditions got a little better.
Leclerc was absolutely nowhere throughout all 24 laps, as he struggled with grip levels, and fought with the car quite a lot. In the end, the Monegasque took the checkered flag to finish P12, a position that neither he or the team will be very pleased with. Teammate Sainz fared much better on the day, as he earned himself his very first podium of the season, catching Hulkenberg to finish behind both Red Bulls in P3.
Podium finisher Sainz said immediately after the Sprint: "It looked like we had decent pace. I could stay close to Checo but the Red Bulls were just a bit too quick for us today. I think they were maybe a bit quicker but there was a point in the middle of the race when I felt a bit more confident. My tyres degraded a bit and I couldn't stay close to Checo in dirty air."
Later in the Scuderia's media report, Sainz added: "It wasn't an easy Saturday but I'm happy to be P3 today after how hectic the start of the day had been, with a brake issue in SQ1 and having only one lap to progress to SQ2! I would have loved to have that set of new Softs in SQ3 but, considering everything, qualifying P5 wasn't too bad.
"Then the wet Sprint race was also very challenging," the 28-year-old Spaniard continued, "the car was tricky in the high-speed sections, but we managed to bring home this third place, which I think was the maximum. Now all our focus is on tomorrow, where I hope we can confirm the good step forward we have made as a team and bring home a good result."
Leclerc: I really struggle to drive the car and don't feel confident with it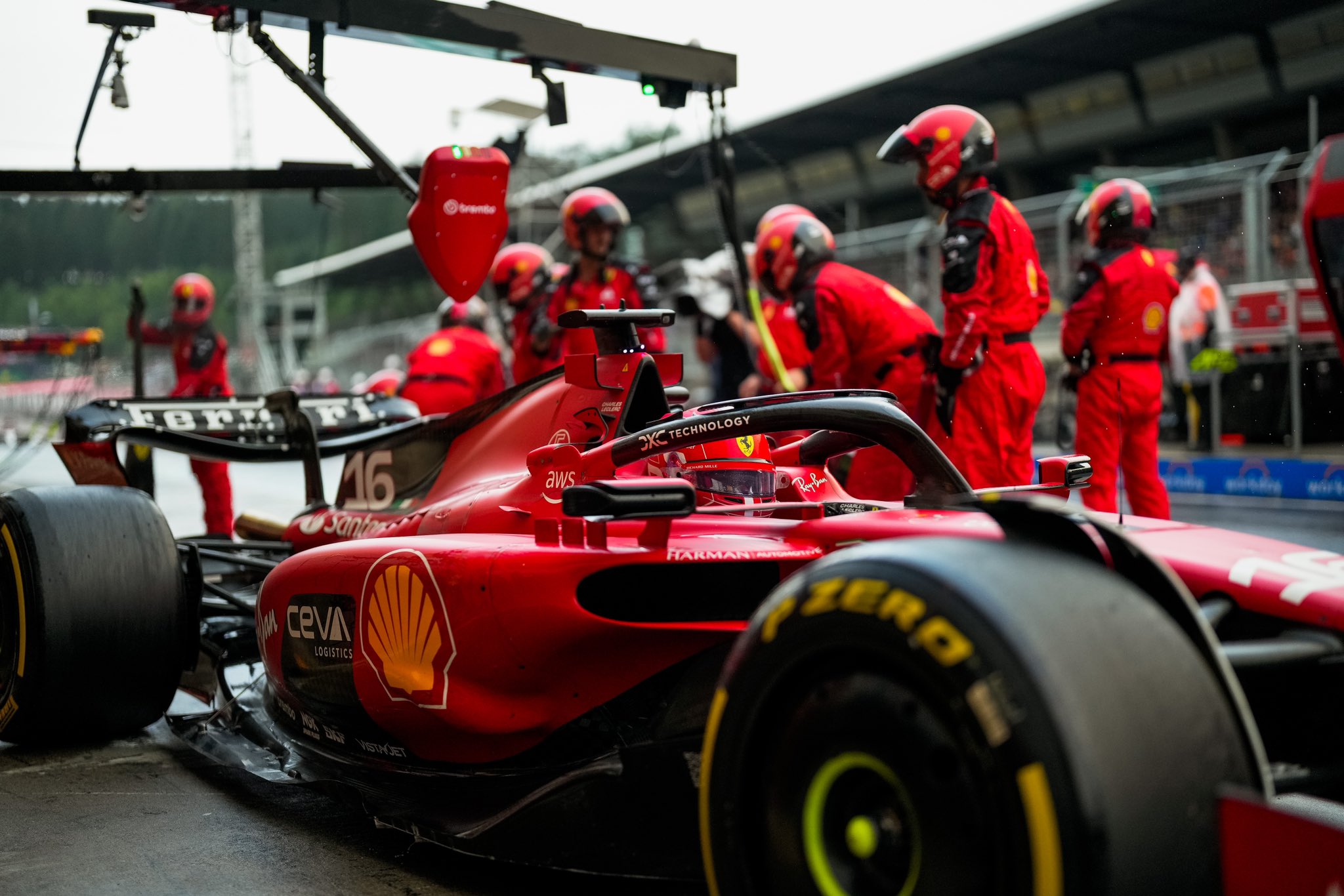 After suffering through a miserable race on the other hand, Leclerc said: "There is a lot of work I need to do to be better in these conditions. At least, that is the case on my side of the garage, as Carlos did well.
"We were on slicks but the track was only partly dry and I couldn't get a feel for it, I can't get the car in the right window and I am so far off the pace. I really struggle to drive the car and don't feel confident with it and that is reflected in my performance.
The 25-year-old continued: "We need to focus on this from my side, for me to understand why it's not working in these conditions. It's not a question of strategy, it's just down to my pace. It might have seemed like a good fight with Ocon, but honestly, fighting down there is not what interests me. I need to make a step forward in these conditions.
"For Sunday, I believe we can be strong if it's dry, maybe not as strong as Red Bull, but we can still do something good," concluded Leclerc, who won the race here last year, overtaking Verstappen on track three times on his way to victory.
In all, a decent result for one half of the Scuderia, and a massive sub par one for the other, although one thing is still clear, the Maranello team are still miles away from Red Bull yet again, and need to knuckle down and figure out the car from all angles, if they want any chance of a win this season.