After the gloomy weather of Saturday, a gloriously clear day greeted Formula 1 fans who streamed in to be part of the 42nd Canadian Grand Prix and witness Red Bull's reigning Formula 1 World Champion win the race in Montreal today in such an imperious manner, we are happy to be the first to award him this year's Title after a mere eight of the 22 rounds.
Red Bull's 100th victory in F1 could not be any sweeter, their eighth of the year, the sixth by Max and in enough to claim the 2023 F1 World Championship crown, as declared by this site. No one is going to beat the combo of the Red Bull RB19 and Verstappen this year to the Title on the strength of his current form.
Again he was simply on another planet throughout the afternoon at Circuit Gilles Villeneuve and 24-hours in qualifying too. Powering off the line to take the lead he never relinquished, despite a safety car period after which, it was pedal to the metal as the #1 Red Bull romped to another lights-to-flag victory.
The 41st win of his career means 25-year-old Verstappen equalled Ayrton Senna's tally of 41 F1 victories and one that would make the great Brazilian proud. Dominant. Untouchable. Supreme. Masterful. Triple World Champion.
Verstappen said in the Circuit Gilles Villeneuve parc ferme after his win: "Very happy right now. It was not a very straightforward race as the tyres were not getting into their window. It was very cold compared to Friday, we were sliding But, we made it work and to win the 100th GP for the team is pretty incredible.
Max: We keep enjoying it and keep working hard
"It's amazing," added Verstappen. "I never expected to be on this kind of number myself as well. We keep enjoying it and keep working hard. Today has been a great day again. I expected more or less what we had today but it was really difficult to keep the temperature into the tyres, so there was not much grip. Maybe that was why the gap was not that big."
Fittingly for their 100th victory in the top flight, the team that Dietrich Mateschitz founded, sent design genius Adrian Newey to celebrate with Max on the podium. Another remarkable chapter in the Red Bull F1 legend was written today.
Ten seconds behind the Dutch ace, Alonso and his old foe Lewis Hamilton slugged it out all race – a true game of cat and mouse by two F1 greats – to cross the line in that order. Earlier, the Mercedes edged ahead of the Aston Martin off the start line, only to be caught after an intriguing battle between the pair.
Alonso got by with a slick move then set his sights on Verstappen, keeping the dominant Red Bull honest, mostly within half a dozen or so seconds behind the winner while fending off a charging Hamilton late in the race. It was an intriguing contest, but the shrewd Spaniard had enough to hang on to second place. The Briton was forced to settle for third.
Fernando: A very demanding race, all 70 laps of qualifying today
Duel of the GOATs 🐐⚔️🐐@alo_oficial makes his move on @LewisHamilton!#CanadianGP #F1 pic.twitter.com/J2EuGeU9lg

— Formula 1 (@F1) June 18, 2023
"We were hoping to challenge a little more the Red Bull," Alonso said afterwards. "But we lost a place at the start to Lewis. And then it was a battle with the Mercedes and Lewis was pushing all the race, so I didn't have one lap where I could relax a little bit, so it was an amazing battle.
"At the beginning, I had a little bit more pace, and at the end, Lewis had a little bit more pace – it was tough, a very demanding race, all 70 laps of qualifying today. I felt the car ok but I was just following instructions. Hopefully, that means we have a little bit more pace, so next one putting more pressure on Max," added Alonso.
Hamilton added: "It's been a great weekend for us. We are slowly chipping away. The Astons took a little bit of a step ahead this weekend when they added the upgrade. We are working on bringing some more moving forwards.
"But to have this consistency and be up on the podium in Montreal, which is such an incredible city and we get such a great crowd here every year without fail. It's quite an honour to be up there with two world champions.
"I was really excited to be third and be in that mix," added the seven-time F1 World Champion, before celebrating with Max and Fernando, a dozen titles among them including Verstappen's 2023 F1 Title, anointed by GRANDPRX247.
A good recovery race for Leclerc, Sainz and Perez after below-par Qualifying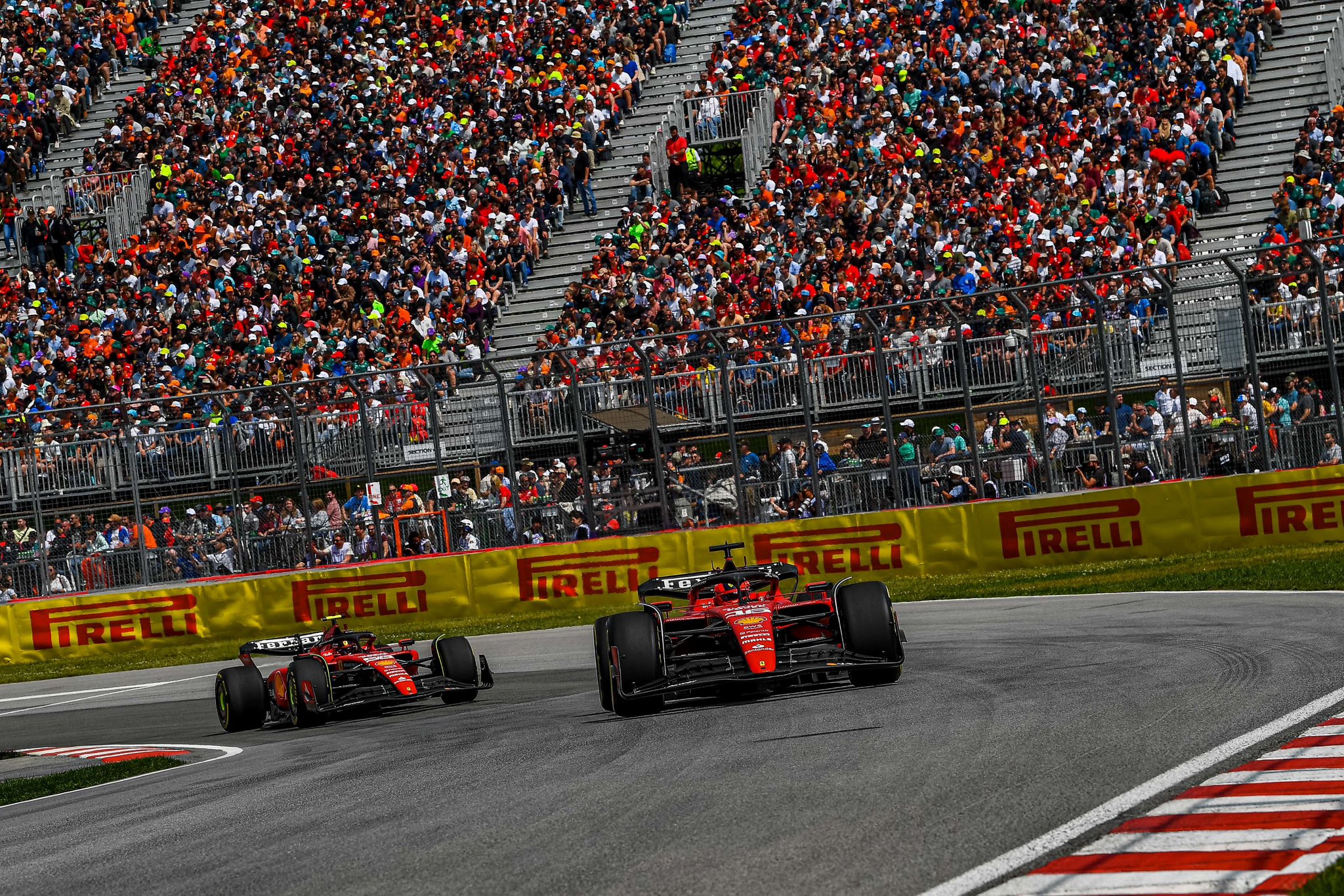 Charles Leclerc and Carlos Sainz finished fourth and fifth respectively for Ferrari, recovering from 10th and 11th after an afternoon they spent nose-to-tail, but they were never podium let alone victory contenders all weekend. They have a ton of work to do.
In the other Red Bull, Sergio Perez put behind him another disappointing Qualifying which saw him in damage limitation mode, working his way to sixth place from 12th on the grid. But another blow to the Mexican's Title hopes.
Driver of the Day must go to Alex Albon – It actually did – who defended for his life to finish seventh in the Williams. The Thai driver keeping his cool as a train of cars set on him for the final ten or so laps. But he was resolute and classy in his defence, to score his best points of the season.
Esteban Ocon gave it all in the Alpine but simply did not have the firepower for the duration of the race. Hence sixth on the grid was reduced to eighth in the race. Pierre Gasly in the sister car ended 12th, and never really featured as a top ten contender.
Lance Stroll was again no match to his veteran teammate on the podium, but he did well to score points with ninth place from 16th on the grid.
Alfa Romeo veteran Valtteri Bottas claimed the final point for tenth after his worst qualifying (14th) in Montreal. Benefitting from McLaren's Lando Norris receiving a penalty which dropped him out of the points.
Horner: 100 races is a lot, but 100 wins…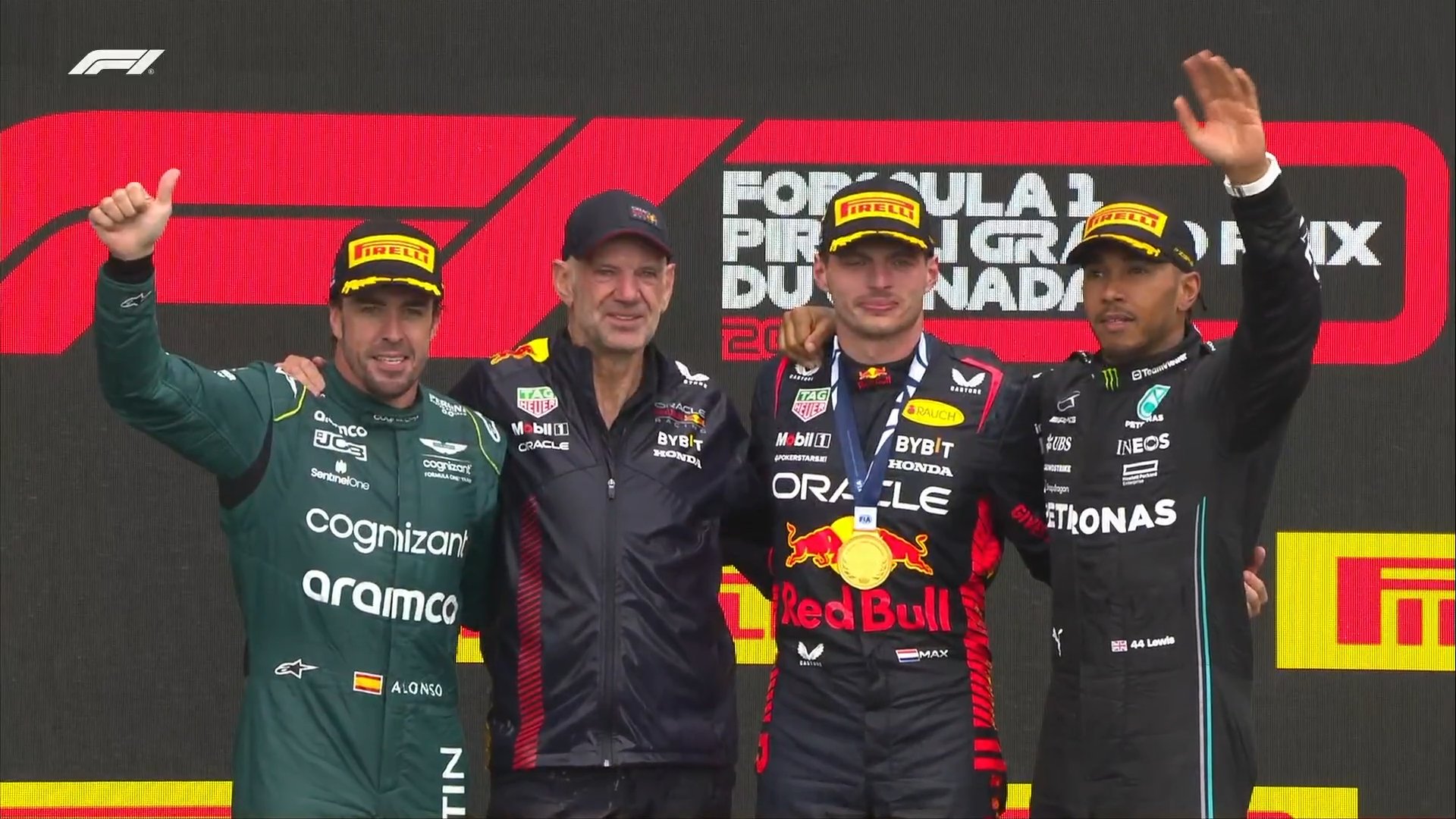 A final word to Red Bull team boss Christian Horner on a historic day for his team in Canada: "To get a century of victories, for the whole team, is an incredible, incredible achievement.
"Not just here but for all the people, the men and women back in the team that put in all the long hours. 100 races is a lot, but 100 wins… that's 27 per cent of all the races that we've won, is an incredible statistic," added the RBR team boss.
Victory today means Verstappen has 195 points to his name and now leads the 2023 F1 World Championship standings, after eight rounds, 69 points ahead of teammate Perez. Red Bull lead the F1 Constructors' title race with 321 points, 154 ahead of Mercedes in second.
2023 Canadian Grand Prix Result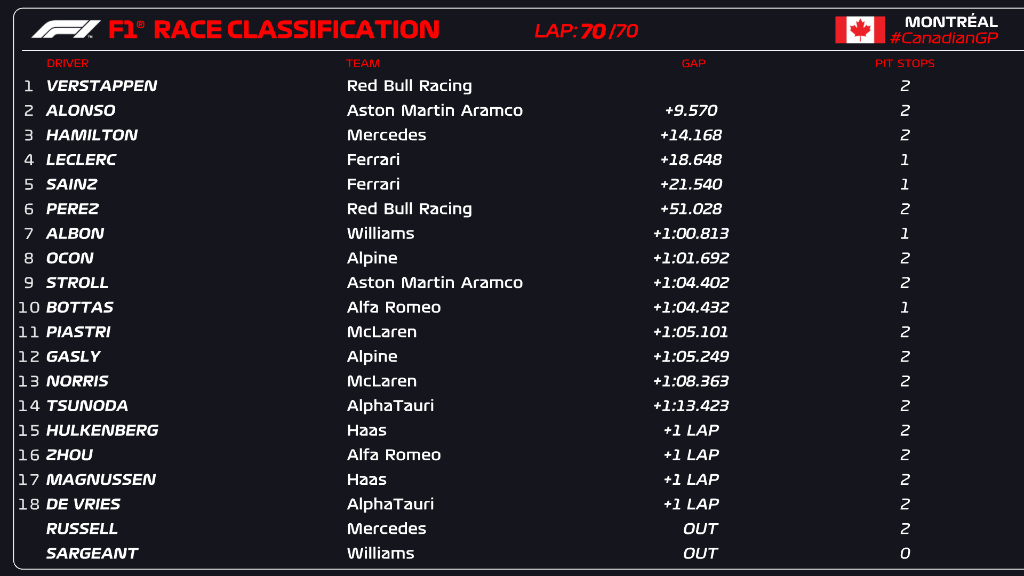 This is how the 2023 Canadian Grand Prix unfolded
Rain over the past two days meant a greener track than normal for the start. Verstappen and Hamilton got bullet starts, Alonso didn't in a hectic and relatively orderly first lap at the front. Behind the Magnussen nearly came a cropper.
Verstappen had a second lead within a lap, with Hamilton chasing, the order when things settled was behind them was ALO-RUS-OCO-HUL-PIA-NOR-LEC-ALB. The top ten within a second. Sainz and Perez were just out of the top ten, the Ferrari driver muscling his way past the Red Bull man on the opening lap.
By Lap 5 Verstappen setting fastest laps, was 1.8 seconds ahead of Hamilton who was being stalked by Alonso, the Aston Martin veteran looking to make amends for his sluggish start. George Russell was four seconds adrift of that battle. On Lap 8 Logan Sargeant's Williams came to a halt without power, the first DNF of the day.
On lap 10, the order VER-HAM-ALO-RUS-OCO-PIA-HUL-NOR-LEC-ALB, Verstappen led by 3.3 seconds, Hamilton still with his mirrors full of the Aston Martin. Nico Hulkenberg's Haas became a mobile chicane, a queue from 7 to 17th (!) behind him to get by, the German pitted to release those behind.
On Lap 12, Russell made a mistake and smacked the wall exiting Turn 9 which triggered a safety car and a slew of pitstops, led by race leader Verstappen, which resulted in several minutes of pitlane mayhem, Hamilton and Alonso emerging nose-to-tail, as they exited. It was close. Ditto Lando Norris cutting off Albon. Incredibly, Russell continued, albeit down the order – a testament to the strength of this generation of F1 cars.
The top ten order behind the safety car, before it peeled in on lap 17, was: VER-HAM-ALO-LEC-SAI-PER-MAG-BOT-OCO-PIA. The Red Bull immediately darting into the lead, Hamilton chasing with Alonso and two Ferraris in tow. The top three stopped for Hards, fourth to eighth remained out, and the rest also stopped.
At the front Verstappen was scorching around popping fastest laps until Alonso also found firepower to go faster.
Lap 20 the top ten were VER-HAM-ALO-LEC-SAI-PER-OCO-BOT-NOR-MAG, with Verstappen 2.1 seconds ahead, with Alonso and Hamilton slugging it out in his wake with Leclerc watching with Sainz close in pursuit, but without a stop they were out of position.
At the end of Lap 22, Alonso pounced as they headed to the Wall of Champions complex, snatching second from Hamilton. The Aston Martin customer car powering past the Mercedes works team. The Green car edged ahead to begin his chase of Verstappen, 3.1 seconds up ahead at that point.
Lap 30 top ten it was VER-ALO-HAM-LEC-SAI-PER-OCO-BOT-NOR-PIA. Verstappen was complaining about lack of grip, only to be told to get on with it from the Red Bull pitwall, his lead over Alonso four seconds and growing by a tenth or so per lap. Notably, LEC-SAI-PER-BOT had yet to make a pitstop.
On Lap 35, the halfway mark, well out of the points Nyck De Vries and Kevin Magnussen had a circus moment in their frantic battle which went up an escape road, where they outbraked themselves with nowhere to go. What were they thinking?
On Lap 37 Norris dipped in for his second stop, prompting a flurry of stops including Perez for his first stop to jumble up the order. Only the two Ferraris were still on the tyres they started with until Sainz pitted on Lap 39 and Leclerc a lap later.
Lap 40 this is how the top ten looked: VER-ALO-HAM-LEC-SAI-PER-ALB-RUS-OCO-BOT. Verstappen led Alonso by five seconds, with Hamilton pitting for a second set of tyres and remained second, with Ferrari fourth and fifth after starting tenth and eleventh.
Alonso covered Hamilton's stop on Lap 43, leaving Verstappen way ahead. Perez in sixth, recovering well from 12th on the grid. The World Champ made his second stop on lap 43 emerging 4.5 seconds in the lead, who was 5.4 seconds up on Hamilton chased by the Ferrari duo. The #44 Mercedes on fresh Mediums set a set of fastest laps as he hunted down the Aston Martin ahead.
VER-ALO-HAM-LEC-SAI-PER-ALB-RUS-OCO-BOT was the top ten stalemate on Lap 50. Verstappen edged over five seconds ahead after Alonso made a mistake which allowed a flying Hamilton to cut the gap to about three seconds and closing.
Hamilton pumped a flurry of fastest laps as he threw caution to the on a set of Mediums reeling in the Spaniard, at around half a second per lap, with the best Ferrari four seconds adrift.
On Lap 55, Russell who remarkably survived a huge bang earlier in the race, recovered well and into the points after a pitstop to fix the car but the Mercedes cried enough. The Briton was told to park it. He apologised for his error.
Top ten on Lap 60 was VER-ALO-HAM-LEC-SAI-PER-ALB-OCO-BOT-NOR At the sharp end Hamilton in the other Mercedes, less than two seconds behind Alonso, while Verstappen increased his lead to seven seconds.
Albon was under massive pressure, leading a DRS train of several cars eager to get past led by Ocon, with Bottas, Norris and Stroll all in the queue.
With Verstappen 8.1 seconds ahead, all eyes were on the battle for second, Alonso after being told to lift and coast to nurse heating rear brakes stalked relentlessly by Hamilton until the Spaniard said: "Leave it to me", and began edging away from his pursuer.
The top ten stalemate was broken when Norris forced his McLaren past Bottas at the hairpin, a great move to snatch ninth from the Alfa Romeo veteran only to have lose it thanks to a penalty for "unsportsmanlike conduct" as declared by the FIA Race Stewards. Perez got the fastest lap with a late charge.
Verstappen crossed the line to finish 9.5 seconds ahead of second-placed Alonso, with third-placed Hamilton 14.1 seconds behind the winner.