As is becoming a habit theses days, Fernando Alonso – the Old Man with El Plan – shone during a wet and constantly overcast qualifying for the 2023 Canadian Grand Prix and as a result will make his 364th Formula 1 start from the front row of the grid in Montreal today.
It can be argued that the Aston Martin driver was gifted P2 on the Montreal grid, beside Red Bull's pole winner Max Verstappen, after Haas driver Nico Hulkenberg was penalised and dropped three paces to fifth for the start.
At the same time, Hulkenberg was lucky with his timing while Alonso did all he could with what he had in the constantly changing conditions, third fastest his reward which now turns into a front row start for a race he loves.
Speaking in parc ferme after qualiufying at Circuit Gilles Villeneuve on Saturday, a beaming Alonso said: "It was a very tricky Qualifying in terms of choosing the right tyre at the right time. P3, we will take it. I think it's a good starting position.
"The fans are amazing. It's not only the race track, but the city. I love Montreal how they embraced the Grand Prix. We have a chance to put pressure on Red Bull. They have had easy wins until now, hopefully they have to push a bit more."
Alonso: The new AMR23 upgrades seem to be working well
Later, in the Aston Martin qualifying report, Alonso added: "We were a little bit unlucky with the red flags during Q1 and Q3 just before we could complete a faster lap that  might have put us on the front row.
"There is an opportunity tomorrow and hopefully we can recover second place early in the race and put pressure on Max in front. It's always a challenging circuit with very low grip in the dry and wet conditions and the weather is always unpredictable.
"The new AMR23 upgrades seem to be working well and delivering what we were expecting, but we will keep evaluating them and try to optimise our setup around this new package," he added.
The gulf between Alonso and Lance Stroll in the other Green car has been vast all season, more so when the going got tough and the tough got going yesterdat in Qualy, aka Fernando and not the local hero toiling in his Dad's second car.
How bad was 24-year-old Lance in Qualy yesterday relative to his veteran teamamte? In Q1 he was down 1.2 seconds on Alonso; in Q2 the Canadian was found wanting 1.7 seconds and, of course, he did not progress to Q3.
Stroll: There should be some opportunities to progress in the race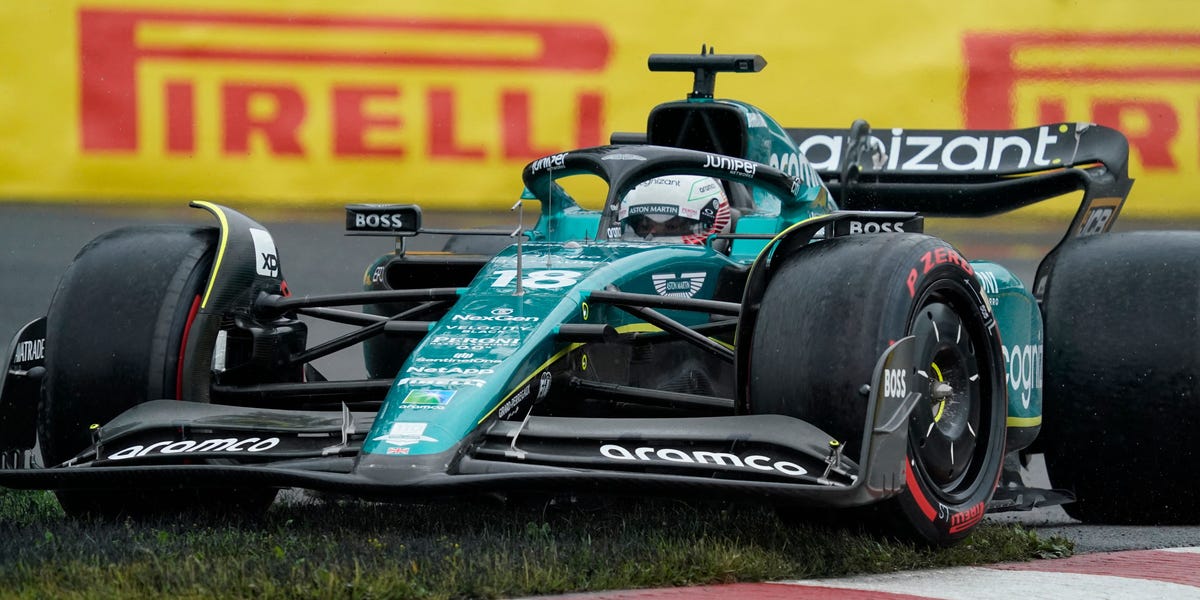 After his troubled day at the office, Stroll reported reported: "It was a tough Qualifying session for us today. The challenging weather conditions meant that being on the right tyre at the right time was really important, and we didn't quite get that right.
"The pace of the Aston Martin has looked good across the weekend though – I've been happy with how it's felt and how the upgrades are performing.
"There should be some opportunities to progress in the race with several cars starting out of position, so I'm looking forward to my home race and putting on a good show for the fans," added Stroll, who lies eigth in the 2023 F1 drivers' standings on 35 points, ahead of Round 8 today at Circuit Gilles Villeneuve.
Alonso is third, with 99 points and is aiming to end a decade long victory drought, and score his 33rd victory in F1. Today, in Montreal is as good a day as any to tick that box, provided Verstappen and/or fate oblige.
Aston Martin are third in the 2023 F1 constructors standings, enjoying there best season since the Lawrence Stroll's team morphed from Force India via Racing Point to the team they have today.