There are many very good reasons why this weekend's centennial running of the iconic Le Mans 24-Hour endurance race is fully sold out for the first time in history. 100 years on, the great race is on the threshold perhaps its greatest new era.
Highlighted by an incredible fight for a most important 100th-year trophy – hence billed as The Race of the Century – Toyota Gazoo Racing is out to win its fifth Le Mans on the trot. But both Ferrari and Porsche return, Peugeot wants to keep the trophy home, and Cadillac wants it in Detroit. Don't write off exotics Glickenhaus and Vanwall, a 24-car LMP2 wrought, or a Corvette-Ferrari-Porsche-Aston Martin GT battle. There's even a NASCAR Camaro thrown in for good measure!
Le Mans' resurgent success is in no small part thanks to it and the FIA's World Endurance Championship masterplan. Simply put, it's worked a treat. While the centennial race has attracted an incredible entry, that thrilling new machinery is set to keep that record sold out crowd, and a worldwide TV audience on its toes, right around the clock.
To start, the Le Mans Hypercars are divided into two new categories. Both compete for overall honours. The Toyota, Ferrari and Peugeot run to Le Mans Hypercar (LMH) specification with more freedom of design. The Porsche and Cadillac, as well as several future teams, race to the more rigorous Le Mans Daytona Hypercars (LMDh) rules set.
Ferrari, Peugeot must beat Toyota's LMH Hypercar
Toyota Gazoo Racing's pioneering GR010 Hybrid Le Mans Hypercar arrives at Le Mans as the favourite, with the sole intention of taking a sixth consecutive Le Mans 24 Hour victory. Toyota's crack Number 7 crew, three time winner Kamui Kobayashi, Mike Conway, and José María López, and four time winner Sébastien Buemi, another triple winner Brendon Hartley, and Ryo Hirakawa in the 8 car, are so charged.
The lead Ferrari is number 50. Because it's been fifty years since Maranello's last Le Mans entry. So the new 499P has big shoes to fill. Antonio Fuoco, Miguel Molina and Nicklas Nielsen will drive that car, with James Calado, Antonio Giovinazzi and Alessandro Pier Guidi entered in the 51 499P, in pursuit of Ferraris tenth Le Mans win.
Peugeot's wingless 9X8 Hybrid is out to defend French home glory as it chases the Lion of Paris' fourth Le Mans 24 Hour success. The two 9X8s will be driven by Paul di Resta, Mikkel Jensen and Jean-Éric Vergne in car 93. The 94 is piloted by Loïc Duval, Gustavo Menezes, and Nico Müller.
Porsche, Cadillac in Le Mans LMDh Kit Hypercar fight
Porsche and Cadillac's entries are both LMDh 'Kit Hypercars'. Short for Le Mans Daytona Hypercars, those teams had the choice four specific Dallara, Ligier, Multimatic or Oreca chassis with a standard LMDh hybrid system and transmission. Onto which the teams are free to mount their own engines and bodywork.
Porsche's Multimatic based 963 draws is chasing its 20th 24 Hour win. Penske has entered three cars for Dane Cameron, Michael Christensen, and Frédéric Makowiecki, Kévin Estre, triple winner André Lotterer and Laurens Vanthoor, and Mathieu Jaminet, Felipe Nasr, and Nick Tandy. António Félix da Costa, Will Stevens and Ye Yifei will share Hertz Team Jota's 963.
Cadillac has a long Le Mans history. Still, the American carmaker is after its first overall win with three thundering LMDh V-Series.Rs. Two factory entries will be driven by Earl Bamber, Alex Lynn and Richard Westbrook, and Sébastien Bourdais, and Renger van der Zande and Scott Dixon, plus an Action Express entry for Pipo Derani, Alexander Sims and Jack Aitken.
Combustion Hypercars, 24 LMP2s set for battle
Not all the Le Mans Hypercars are Hybrids. Glickenhaus is back with a couple of combustion SCG 007 LMHs. For Ryan Briscoe, Romain Dumas, and Olivier Pla, and Nathanaël Berthon, Esteban Gutiérrez and Franck Mailleux. Vanwall Vandervell brings an iconic name to Le Mans 65 years on, with Esteban Guerrieri, Tom Dillmann, and Tristan Vautier aboard its new 680.
A monster 24-car second division LMP2 grid comprising solely of Oreca 07-Gibson machines will add a huge midfield spat. That includes a number of familiar driver names competing among several top flight teams. Look out for former F1 stars Robert Kubica, Daniil Kvyat, Jan Magnussen, and Pietro Fittipaldi among them.
Other drivers worth watching in LMP2 include René Rast, Filipe Albuquerque, Ricky Taylor, and Oliver Jarvis, Robin Frijns and Nicolas Lapierre. As well as Louis Delétraz, Simon Pagenaud, Mirko Bortolotti and Dries Vanthoor. Driving for Alpine, Prema, Nielsen and Tower Racing, Vector Sport, Jota, WRT, and others.
Ferrari, Porsche, Aston Martin, Corvette in GT War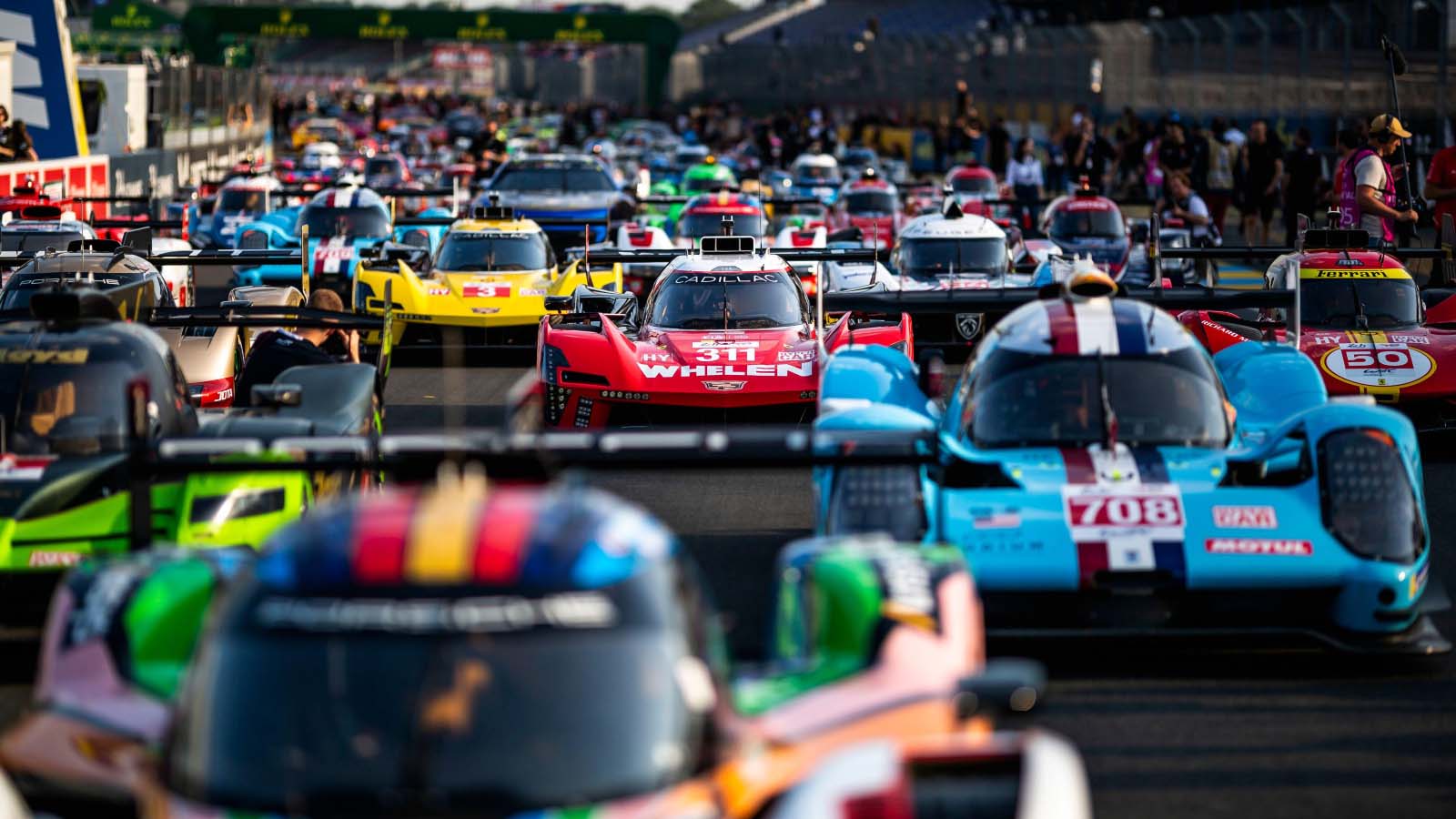 There's now only one Le Mans GT class. LMGTE Am will run for the next three years until replaced by GT3 for the future. This one should be as thrilling as ever considering how close Le Mans GT races have always been. And since seeing how big a thorn Ben Keating, Nicky Catsburg, and Nicolás Varrone's Corvette C8.R has been in its rivals' sides so far this season.
They will of course have their hands full with the regular gang of Porsche 911 RSRs driven by the likes of Michael Fassbender, Harry Tincknell, Richard Lietz and the formidable Iron Dames, Sarah Bovy, Rachel Frey, and Michelle Gatting.
An army of Ferrari 488 GTE Evos will be pedalled by the likes of Luis Pérez Companc andAlessio Rovera. And another lady star, Lilou Wadoux. The Aston Martin Vantage AMR contingent includes Maxime Robin, Robin Eastwood, and Tomonobu Fujii.
NASCAR comes to Le Mans!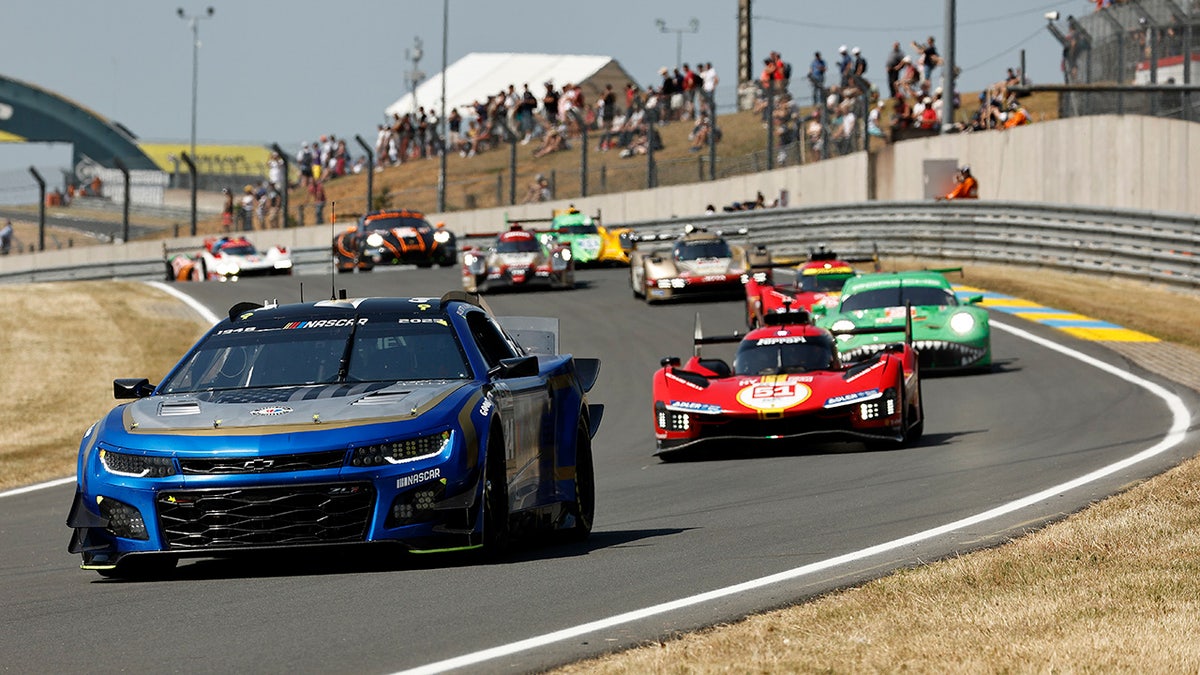 One other 2023 Le Mans 24 Hour entry will make for huge extra interest over the weekend. Hendrick Motorsports' unique NASCAR Chevrolet Camaro will be pedalled by multiple NASCAR champion Jimmie Johnson, former F1 World Champion Jenson Button and one time Le Mans winner Mike Rockenfeller. Now that should be a hoot!
Talking of former Le Mans 24 Hour winners, Tom Kristensen has won the most races with nine victories under his belt. Jacky Ickx has won six, Derek Bell, Frank Biela, and Emanuele Pirro five times each. And Olivier Gendebien, Henri Pescarolo, Yannick Dalmas and the most successful of the class of 2023, Sébastien Buemi four apiece. His Toyota Gazoo teammates, Brendon Hartley and Kazuki Nakajima are among the list of three-time winners.
Porsche has won Le Mans nineteen times. Audi has 13 wins, Ferrari nine, Jaguar seven, and Bentley has six 24 Hour wins to its name. Toyota has won Le Mans five times, Alfa Romeo and Ford four. The most wins by a French carmaker is shared, since Matra-Simca and Peugeot have each won it three times. Lorraine-Dietrich and Bugatti have won two apiece.
24 Hours to a centennial winner
BMW and Mercedes-Benz have technically won two Le Mans 24 Hours each. Once each in their own rights as manufacturers, and respectively again powering McLaren and Sauber. Other single victors include home wins for Renault-Alpine, Talbot-Lago Rondeau, Delahaye, and Chenard & Walcker. Aston Martin, Lagonda, Mirage and Mazda have all won once.
Now all that remains is 24 hours from 16h00 Saturday afternoon. To determine who and what will win the centennial running of the Great Race. It's such a big deal that every one of the over 300,000 entry tickets to the 2023 Le Mans 24 Hour has been sold out since January!
So, unless you already have a ticket, there's little option but to follow Le Mans on TV, or via live streaming or timing. Find a way to watch the 100th running of the iconic 24 Hours from 16h00 CET on Saturday 10 May. Le Mans this weekend is without doubt the start of the next great motor racing era.
24H LE MANS TV APP
The official 24 Hours of Le Mans App is a must-have for any true motosport fan, especially as this year is the centenary of the world-famous 24 Hours of Le Mans. Follow the action live, go back-stage, and stay connected with other fans from all over the world.
Keep track of the standings, pinpoint the whereabouts of your favourite cars and get nerdy with the stats. Or simply watch the race with the official commentary!
Live Timing lets you keep an eye on the team's times and rankings during the 2023 24 Hours of Le Mans.
Social Media
24 Hours of Le Mans Facebook
Instagram @24heuresdumans
Twitter @24hoursoflemans
24 Hours of Le Mans YouTube channel
Use these hashtags: #LEMANS24 and #LeMansCentenary
Spotter Guide
The Spotter Guide for the 2023 24 Hours of Le Mans has been issued in time for the first free practice and qualifying sessions scheduled tomorrow (Wednesday 7 June). Archimède is the agency behind the artwork that will help you identify the 62 cars on the grid over the coming days.
The field is split into four classes with 16 hypercars, 24 LMP2 prototypes, 21 LMGTE Am challengers and one Innovative Car.