Most of the hype ahead of the 2023 Spanish Grand Prix focussed on Fernando Alonso's return to form for his home race but, in Qualifying for Sunday's race, it was the other local hero Carlos Sainz who now carries the hopes of victory for home fans.
The Ferrari driver was at his best on Saturday, although four tenths shy of his former teammate Max Verstappen's pole-winning time he was best of the rest and if anyone can beat the dominant Red Bull driver it could be Sainz if the stars align for him, and Spain for that matter. They have not rejoiced a local winning their race since Alonso did back in 2013.
Clearly inspired by a baying home crowd, filling the stands in record numbers for Qualifying, Sainz gave it all he had and said as much in Parc Ferme after the session: Sainz: "It was super tight, very tricky conditions out there today and even getting through Q1, Q2 without any issues. Probably one of the most tricky qualifying I've had here in Barcelona in terms of conditions, but we did it.
"I think we're in the best possible position going into the race, and now we can focus on trying to get that pole tomorrow. I didn't leave anything on the table. I was pushing flat out. It was very tight even with the McLaren, with Alpine, the Mercedes, Aston, we were all in the same group basically this weekend."
Carlos: I want to thank all the amazing support from the grandstands!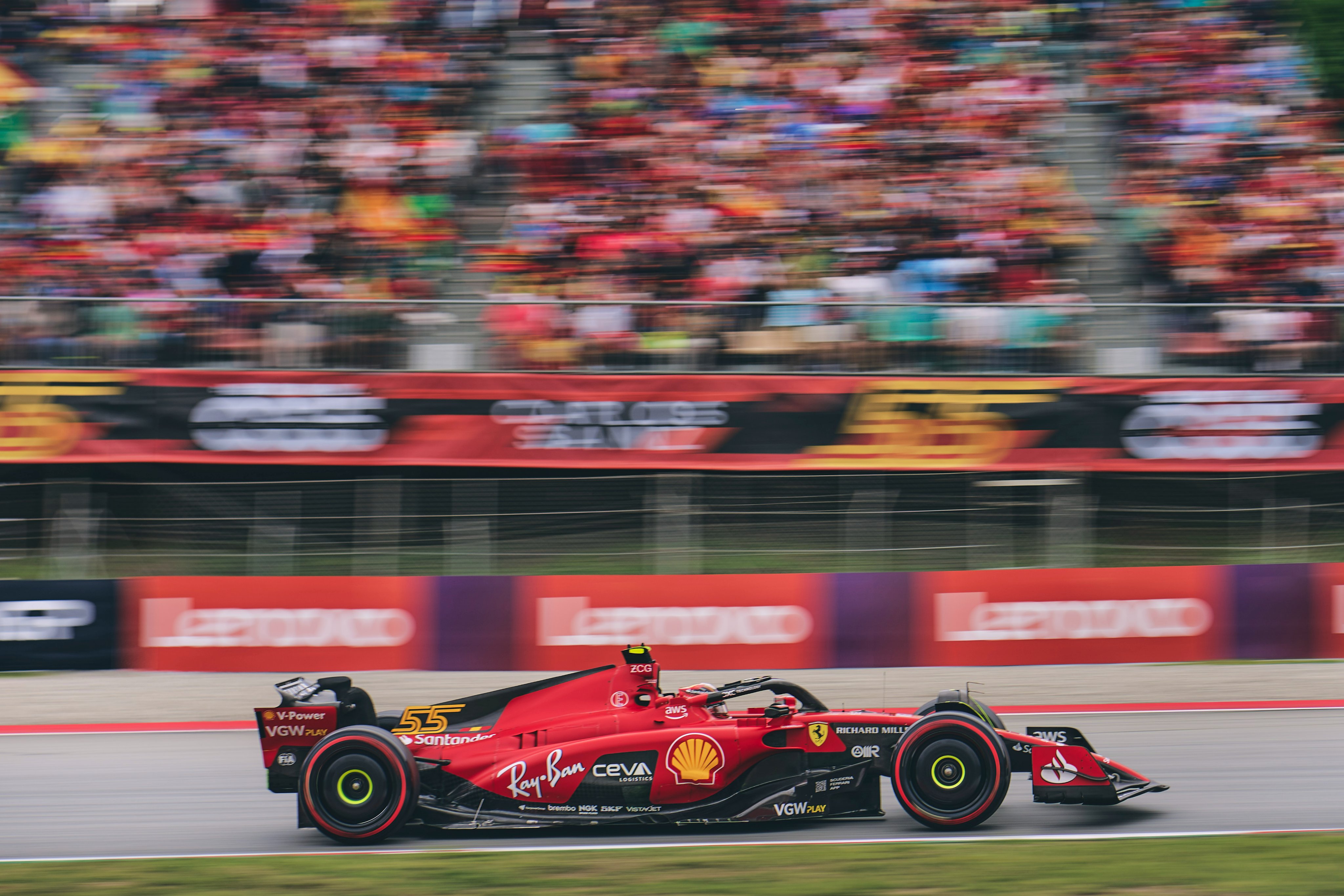 In the Ferrari team report from Barcelona Qualy, on reflection, Sainz added: I'm happy with my qualifying today. The conditions were not at all easy out there, but we managed to put together some good laps and I think we extracted everything from the car.
"However, the weekend is not done and now we need to execute the best race possible. The time gaps have all been very tight the entire weekend and it won't be an easy one but we will go for it.
As for the home fans who made the pilgrimage to Barcelona, Sainz said: "I want to thank all the amazing support from the grandstands! It really makes a difference and I hope we can put on a good show."
Ferrari boss Fred Vasseur was chuffed with his driver: "We had a very good result from Carlos and we are more than pleased for him. I think it is a good reward also for everyone working in Maranello as they pushed like hell to bring the all upgrades and the parts in time to Barcelona.
"It was quite challenging for them but I think it paid dividends today and, hopefully, also in the race. Overall, I think we have made a step forward, but it's tomorrow that counts and we have to target the podium with Carlos," concluded Vasseur.
Sainz lies sixth in the 2023 F1 Drivers' standings ahead of Round 7 on Sunday, with Ferrari fourth in the F1 Constructors' table. Last Sunday in Monaco, Sainz toiled to eighth place and has yet to celebrate on the podium this year.