Lewis Hamilton warned his team that with the Mercedes W14 (or 14B) he had on Friday, during the two practice sessions for the 2023 Spanish Grand Prix, he will struggle to make it into the top 10.
Mercedes' much-vaunted and anticipated change in direction regarding the philosophy of their car, appears to be s step backwards. The seven-time F1 World Champion – who ended FP2 11th on the timing screens, six-tenths down on the benchmark time set by Red Bull's rampant World Champ Max Verstappen – tipped a hat to progress made by rival teams.
Hamilton told reporters after practice at Circuit de Barcelona-Catalunya: "From the pace that I had today, it will be a struggle to get into the top 10. It is not going to be easy, that is for sure. We are fighting as hard as we can. It was a difficult day getting on top of the tyres. The car feels… like the car. Hopefully, we can make some changes overnight.
"It is impressive to see the improvements that everyone has made around us – if you look at the Alpines, and you can also see the Aston Martin is right behind the Red Bull which is impressive," said Hamilton.
Later in the team report, he added: "It was a difficult FP1 and FP2, trying to get on top of the tyres and the degradation. The car felt OK overall though, and we're fighting as hard as we can to learn as much as we can.
"Our long-run pace didn't look too bad in FP2, but we need to focus on trying to extract more pace from the single lap. It's very close between ourselves and the cars ahead. It's impressive to see the improvements those around of us have made, so it's not going to be easy. I'm focused on doing the best job we can tonight to make the right set-up changes. There are improvements I know we can make, so we will get on top of that.
"Finally, the final two corners are awesome! It's very fast and I definitely prefer it to the chicane we had in the past. I haven't followed anyone through there yet so I don't know how that will affect overtaking during the race, but it's going to make it tough on tyre degradation," reckoned Hamilton.
Russell: It's only Friday and we tend not to be Friday specialists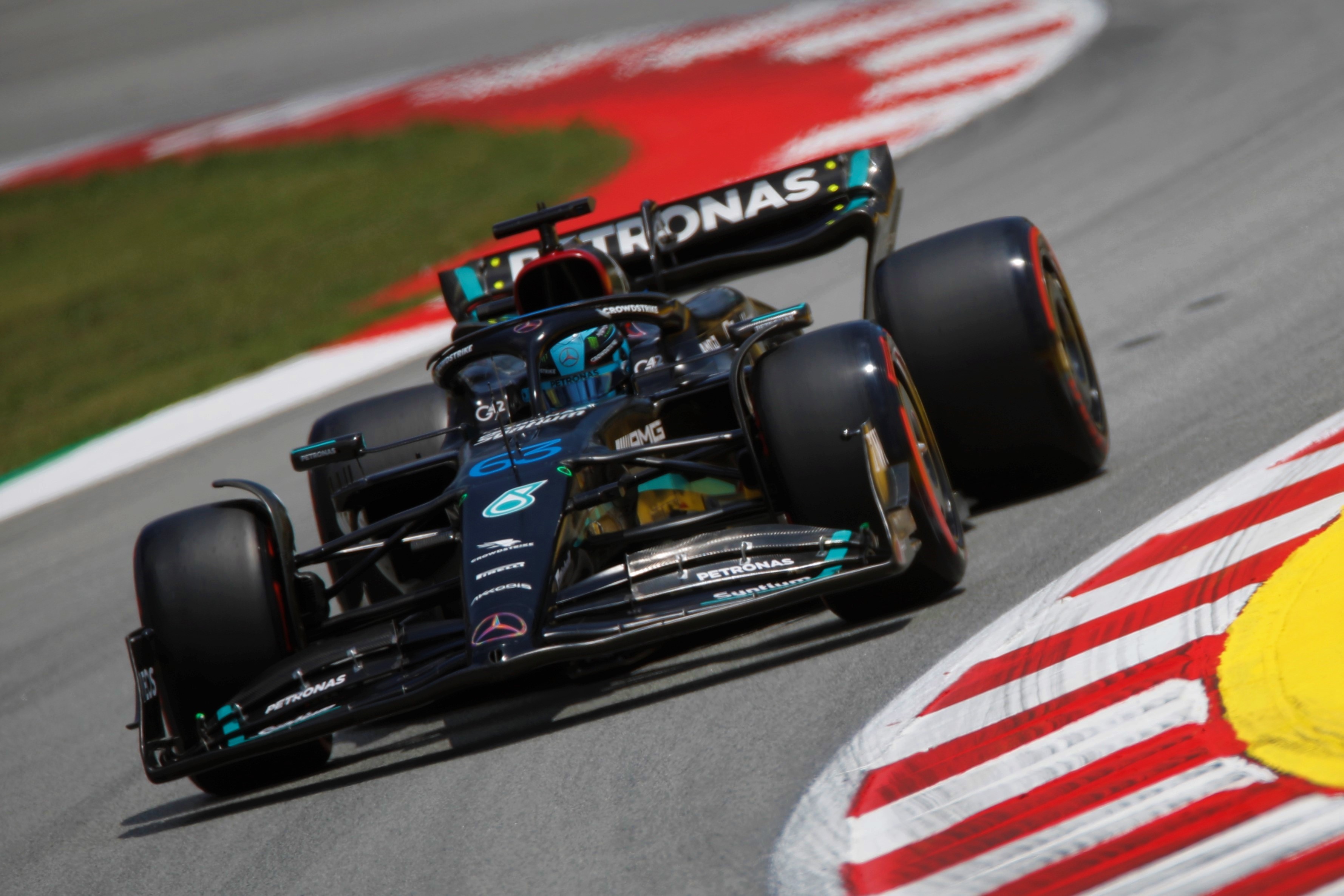 In the sister Mercedes, Russell was a couple of tenths faster than his older teammate, but only good for eighth at the end of the day, four-tenths shy of the benchmark time.
Russell summed up his Friday at the office: "We learned a huge amount today and have got a lot of data to go through tonight. We need to learn what we can from the information we've got and try to move forward; I think we can find some gains as there were a few surprises out there.
"It's only Friday and we tend not to be Friday specialists. We usually take a step forward on Saturday and Sunday, which is the right way to be. We expect the story to be slightly different tomorrow and then again on Sunday. After all, the points are scored on Sunday so that is what we are aiming for.
"It was also fun to drive around this version of the Barcelona circuit. It's gone from one of the worst corners in F1 to one of the best! It's now a really enjoyable sector and I think it will help with overtaking in the Grand Prix," predicted Russell.
The younger of the two Britons is the only one to have won a race (Sao Paulo Grand Prix) last year, since the advent of the new F1 rules last year, Mercedes failed with, first, the zero-sidepod concept which they ditched for what they have now which, sadly for the once serial winners, is simply not enough in a world of finest of margins, where half a second in F1 is the difference between top spot and tenth place.
Hamilton, meanwhile, is on the longest winless streak of his illustrious F1 career. Win 104 is proving to be the by far the most elusive for Sir Lewis; ditto adding to his remarkable 103 pole position starts.