As he wrestled the heavily revised Mercedes W14 through the tricky twist of Monaco, during qualifying for Sunday's Grand Prix, an exasperated Lewis Hamilton reported over the radio: "Man this car is hard to drive."
Nevertheless, the Mercedes Formula 1 driver proceeded to qualify sixth fastest, 0.360s down on the pole-winning lap by Red Bull's Max Verstappen, and a couple of tenths up on teammate George Russell, who was eighth on the timesheets.
Upon reflection it appears, despite the abovementioned 'complaint', Hamilton changed his tune when he spoke to reporters after a thrilling qualy session, under the glorious Cote D'Azur skies: "The last time I enjoyed the track this much was 2007, 2008 and my Formula 3 days here, I've generally really enjoyed it.
"FP1 to FP2 was good, FP2 to FP3 I think was good but then we made a change into FP3 which didn't feel as good, but it was faster in the middle sector, but slower in the first and last.
"Just the car felt like a real handful, to switch on the tyres I really struggled with, and that was the first time in this session. We know why and it was a decision I had taken against everyone's judgment, I fought for something and it made it even harder probably.
"But I got a really good lap at the end, and I think that was as fast as our car was going to go, in a perfect world maybe a tenth left in it. I'm grateful I kept it out the wall and got it round.
"It definitely feels like it's going in the right direction. I don't think we're going to get a full read of something like the new sidepods until we get to Barcelona, where we'll see the car come more alive," predicted Hamilton, winner of 1o3 Grand Prix races, looking to break the longest win-less streak of his illustrious career.
Russell: Overdriving and paying the price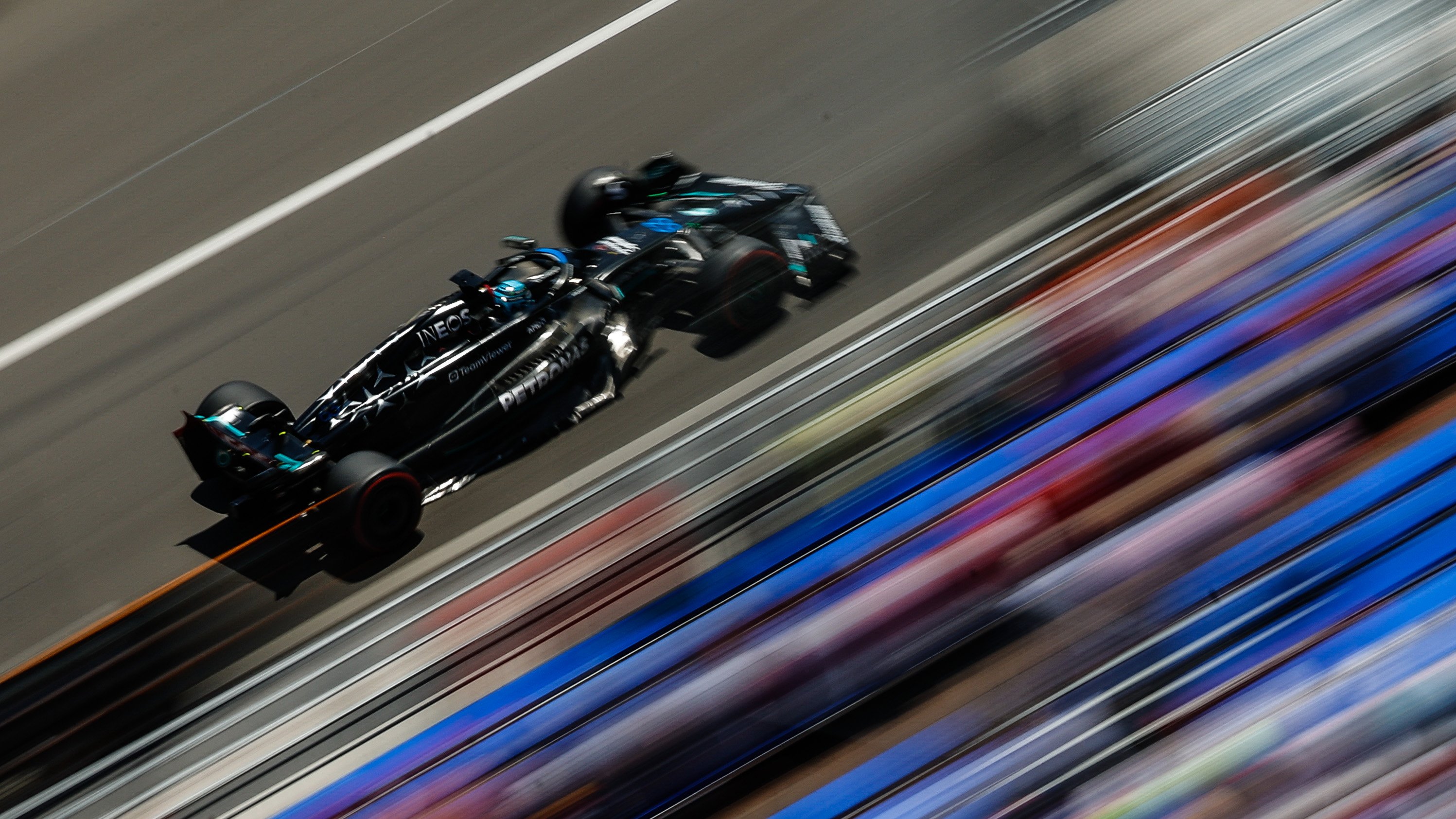 In the other Mercedes, George Russell found some pace in qualifying after a rather subdued couple of days, not quite as comfortable in the 'new' W14. But could not quite match Hamilton this weekend in Monte Carlo.
The younger driver reported in the TV pen: "Things were working really well in Q1 and Q2 – I felt like I was driving really well. I had a good feeling with the car. We were so close to Ferrari and Fernando and I tried for more, but went slower by trying too hard. Overdriving and paying the price.
"Naturally I'm disappointed, equally I probably would have been kicking myself had I been P4 or P5 on the grid and not tried that little bit extra. So it's always a bit disappointing when you know there's more potential there.
"The car didn't feel bad. It's always challenging around a circuit like this. The biggest thing for everybody is getting the tyres in that sweet spot. That can be three, four, or five-tenths of performance if you just nail it, especially on this C5 tyre. You saw Esteban came out of nowhere, did a great job and nailed everything – ultimately we didn't," lamented Russell.
Wolff: It's been a big team effort to get our update to track
Mercedes team boss Toto Wolff summed up his team's Saturday afternoon in Monaco: "We know starting sixth and eighth for tomorrow's race makes it a challenging Grand Prix for us. Overtaking is notoriously difficult here, but we will be doing everything we can to move forward.
"Despite our starting positions, we can be motivated by the size of the gap to the front. If you had told me ahead of the weekend that we would be three tenths off pole position, I would have taken it. We also didn't execute our final laps in Qualifying as well as we could have so there was possibly a little more lap time to be found.
"After FP3, we went slightly more aggressive on the set-up. If we had been more conservative, we may have found a better balance with the car. Nevertheless, we're hopeful those changes will stand us in good stead for tomorrow. It's been a big team effort to get our update to track.
"The hard work and dedication of everyone at Brackley and Brixworth is inspiring and we're looking forward to racing it," added Wolff.
Mercedes have yet to win a race this season and suffered the embarrassment of yet again being out-qualified by Aston Martin, a customer team whose resurgent veteran – Fernando Alonso – will start from second on the grid.