Some seem to suggest it is criminal that one car and its driver can be so utterly dominant in Formula 1, they're either a "Netflix Noob" or possess the memory of a goldfish as this phenomenon has been a regular feature of our sport since its inception.
The dominant display of Max Verstappen in the RB19, at the 2023 Miami Grand Prix, is just F1 history repeating itself all over again.
Mariachi band
If you think that Sergio Perez has a shot at dislodging Verstappen from his F1 Drivers' Title throne, then you would have been in good company at The Miami Dolphins Hard Rock Stadium last weekend. Packed with Checo fans, harbouring the level of naïve optimism you normally only find in someone entering a Natural History Museum with a defibrillator. You would have thought the Title was already in the bag.
You make your own luck
The omens were not good initially for Mexico. While both Red Bull drivers sandbagged their way through FP1 and FP2, it was Perez that appeared to be on catch-up. Q1 and Q2 only seemed to confirm this arrangement, but then the Dutch World Champion stuck it in the back of the net. His own that is. Presumably deciding he didn't need a banker lap because he was so far ahead of the opposition, he sat in the pits waiting.
Waiting for Charles Leclerc to stick it in the barriers and end the session permanently with a Red Flag. Using the "F" word in the "did that really just happen" sense, he suggested to the Team that he was a victim of outrageous fortune. However, in reality, it was he who had kicked himself in the plums through his complacency.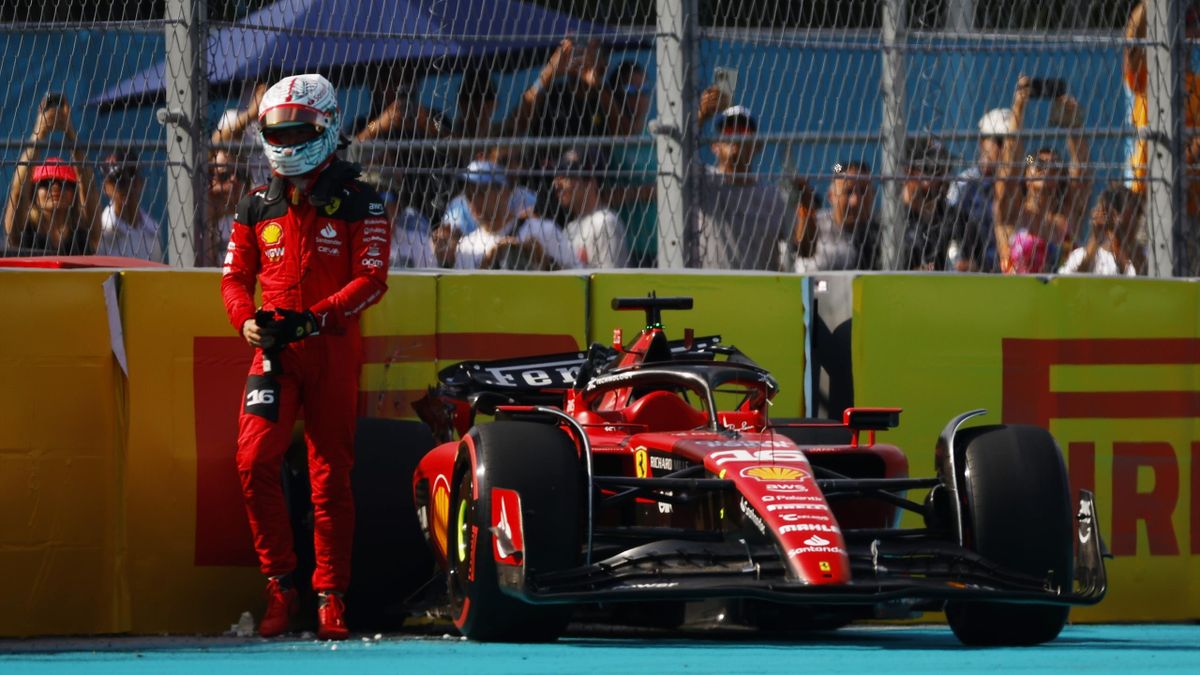 Practice makes perfect
Leclerc on the other hand took full responsibility for his "off" or should I say "Offs". It turned out that Friday's excursion to the scenery was just a dry run for Saturday's Q1 spectacular. In the words of Eminem; "same bat time, same bat place."
You may think of course that quoting a rapper in an article about F1 is a little leftfield. It turns out it's not. I know so because FOM got LL Cool J – the well-known F1 and motor racing aficionado, not, to introduce the drivers before the start of the Miami race. I'm confident I understand the direction F1 is heading in!
See you Jimmy
Meanwhile, Sir Jackie Stewart was being ruffed up by one of tennis legend Roger Federer's minders on the Miami grid. The diminutive 83-year-old was obviously a clear and present threat to the younger tennis star as he walked towards the athlete brandishing nothing more than a loud plaid cap and trousers. Sasanach! Fortunately, George Russell emerged from a close-by telephone booth, wearing his pants over his overalls and quietly sorted the matter out.
"You can't beat up Sir Jackie Stewart!" 😱

Gonna leave you with Sir Jackie Stewart being the legend that he is 👏 pic.twitter.com/CxVktDHDcZ

— Sky Sports F1 (@SkySportsF1) May 7, 2023
May the force be with you…
On a more serious note, as much as Charles took responsibility for his dramatic exit from qualifying, I have my suspicions that it is not entirely his fault. Sure, he took the motherload of the kerb going into Turn 7, but hey, it was relatively flat.  My concern is that even this was enough to raise the ride height and deplete the downforce generated by the floor of his car?
This was a major issue in the past, and it's difficult to rationalise the way the grip "leaves Dodge" so aggressively in a high-speed and theoretically, high downforce section. It's not the first time we've seen this type of effect; Alex Albon in Melbourne and Nico Hulkenberg also in Miami. I'll say no more.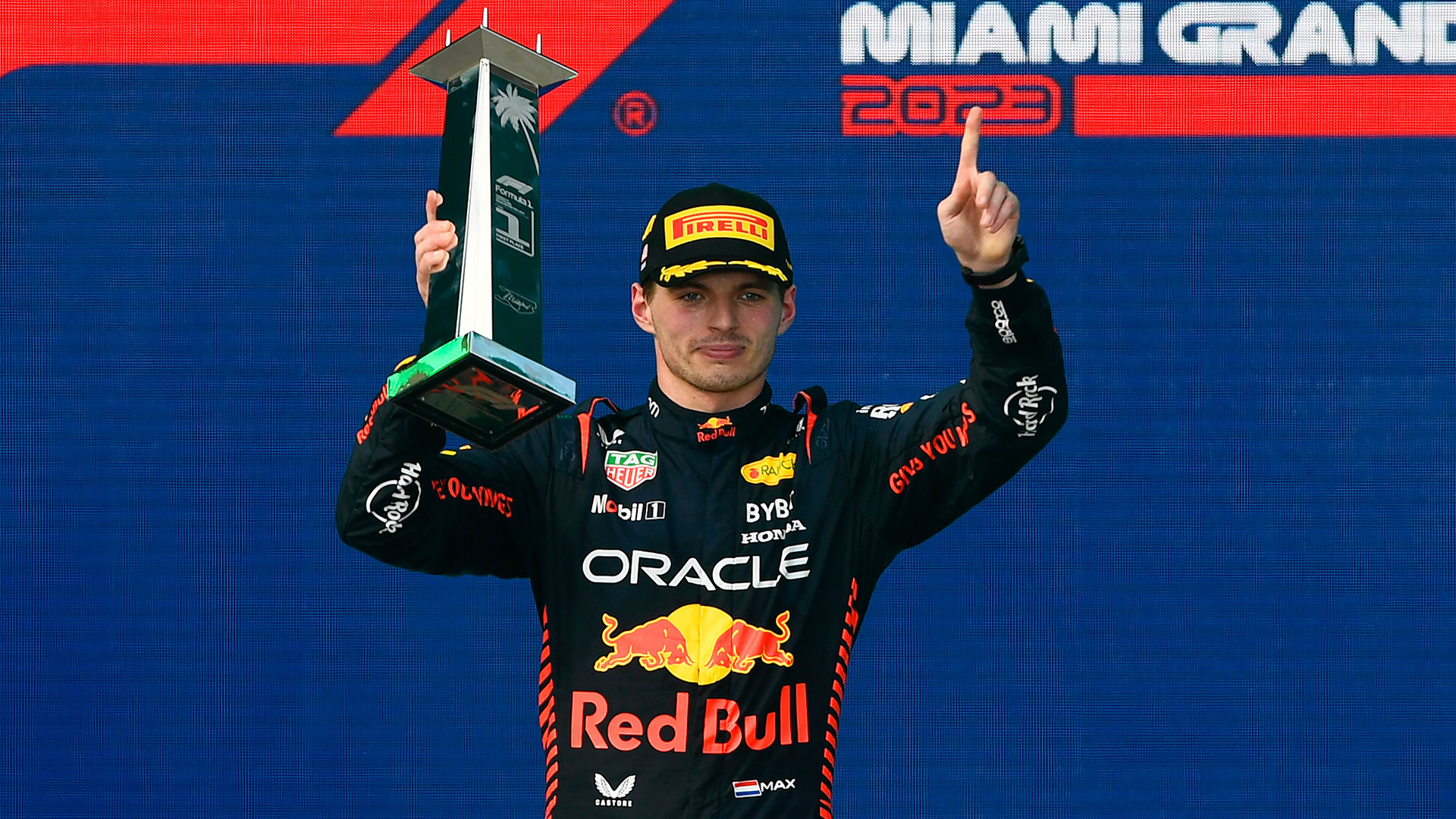 Dutch Master…
It would be remiss of me not to mention the superlative drive from ninth to first by Max Verstappen. Yes he had an RB19, but it was by no means cut and dry that he would overhaul his teammate. It required him to manage a long stint on Hard tyres, a job he did admirably well, and a neat double overtake into Turn 2. If nothing else, it was a sobering reminder for Checo that he may be quick, but Max be da man of the moment.
British Art
Talking of great drives in Miami, on Sunday, that went unremarked, Lewis Hamilton took the hapless W14 from thirteenth to sixth, and George Russell climbed two places to fourth. Hardly spectacular but probably the best result Mercedes could have hoped for after qualifying. Maximising their position is something of a consistent trait for both drivers and the team.
No doubt they are looking forward to the first of the two Italian Grand Prix's at Imola this weekend and taking the wraps off the W19. Fortunately for Toto, the W14s already have a potential home. They only have to be wheeled a few garages down to be sprayed Ferrari Red, or maybe McLaren Orange. Either way, both teams would I'm sure gratefully receive the Mercedes cast-off after last weekend.
Nothing new under the sun
So Max Verstappen and Red Bull appear set to dominate the rest of the year and probably the next too. As I said at the beginning, there is nothing new here in a team and driver dominating F1: Lewis – Mercedes, Michael – Ferrari, Senna – McLaren, Stewart – Tyrell, Fangio – Ferrari. I could go on, but it's just the way it has always been.
However, what is unnatural is that not one team looks like it might challenge them. I expect FOM will be knocking on Christian Horner's door if the next two races go the way of the first five with the message; cease and desist. Maybe Fernando Alonso will then get to see the adoring crowd from the top step of the podium once more!